So, beards and the best beard trimmers. Let's talk about them.
My first something that resembled a beard was that distinctive weak stubble some people get as teenagers. I was 14 and took great pride in those few stray hairs that popped up on my face.
It's been 15 years since then. Safe for some really short periods of time, I've always kept a beard. Combine that with me shaving my head on my own, and BAM! you've got the motivation to start a site on hair cutting tools.
Which is why you'll see me always testing a bunch of stuff – and yes, that is my recommended Philips Series 3500 in the middle: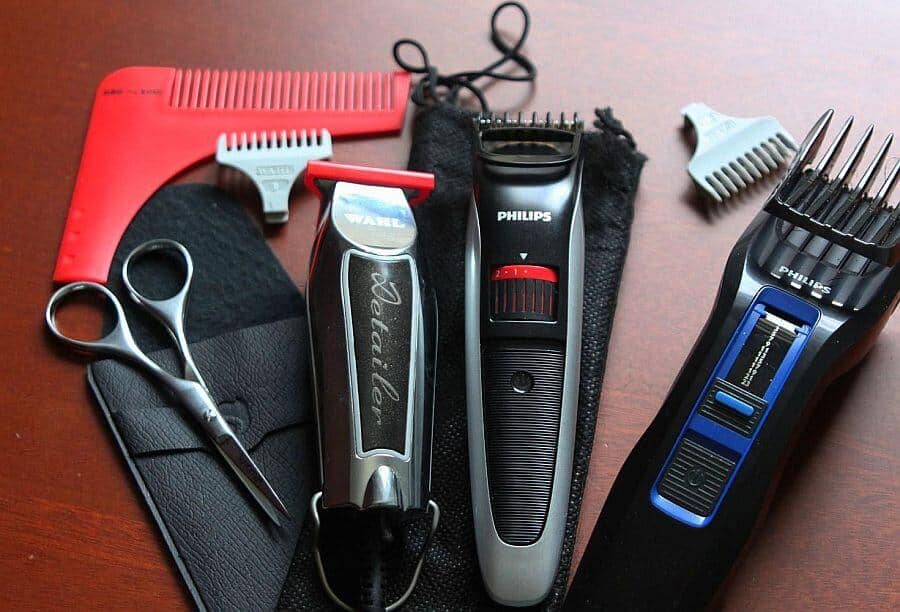 Usually, I dislike the uniformity of "Best <something>" articles. Take beards for example. There's the 5 o'clock shadow, the stubble beard, goatee, the full-on lumberjack-style long beard…
You can't really say there's one best beard trimmer to take care of it all. Which is why I'll take a deeper look into 6 different models of the best beard trimmers for your specific beard grooming needs.
Oh, and newsflash: hair clippers are actually way better for taming long beards. A good reason why I threw Wahl's Elite Pro in the mix.
In this article we will go over what clippers are best for what type of beard. And why that is. You need details so I will give you the reason why I think they work best for the given job.
Every job has its tool and beards are no different.
Let's kick it off with a quick comparison table and jump to the reviews. I also have some beard keeping tips for you too 🙂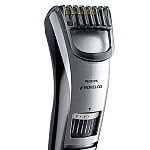 Philips Norelco 3500

Best for:
General styling. Most well-rounded pick on a good price, with a good battery and trimming quality.

Lengths:
20 lengths from 1/32" to 13/32"

Blades:
★★★★

Battery:
2 hours on 1 hour charge.

Price: $$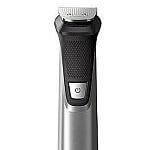 Philips Norelco 7000

Best for:
Norelco's finest, most modern trimmer. Strong fiberglass combs, a lot of accessories for overall grooming, longest battery life.

Lengths:
14 different, reinforced fiber glass guards.

Blades:
★★★★½

Battery:
5 hours on 1 hour charge.

Price: $$$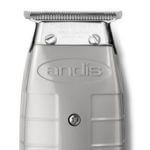 Andis T Outliner

Best for:
5 o'clock shadow & close stubble. A barber-grade trimmer with extra powerful motor and a professional, sharp T Blade.

Lengths:
No guards included. Best used for 5 o'clock shadow/short stubble.

Blades:
★★★★★

Battery:
This is a corded model.

Price: $$+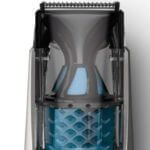 Philips Norelco 7200

Best for:
Vacuum trimmer that collects your leftover stubble hair. No post-shave cleanup!

Lengths:
20 lengths from 1/32" to 13/32"

Blades:
★★★★

Battery:
80 minutes on 1 hour charge.

Price: $$+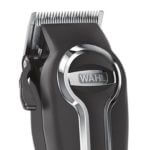 Wahl Elite Pro

Best for:
A hair clipper that will trim any longer beard in no time. Powerful, with quality steel guards. Perfect for DIY hair cutting too!

Lengths:
A full set of guards from 1/16" to 1".

Blades:
★★★★★

Battery:
This is a corded clipper.

Price: $$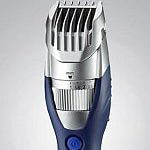 Panasonic Milano Series

Best for:
A true Panasonic classic. More than decent performance, wet shave/trim-friendly, ergonomic design.

Lengths:
19 lengths from 1/32" to 13/32"

Blades:
★★★★

Battery:
50 minutes on 1 hour charge, older battery technology.

Price: $$
What to look for in a beard trimmer
Not all beard trimmers are created equal. Even the best ones may not be exactly the best fit for you. It all depends on what you need and what the particular strengths of that trimmer are as to whether that will be the best one for your needs.
Here are a few factors that may influence your decision before we get into the actual reviews.
The Blades
With most of the beard trimmers on the market right now the blades will be fixed to the body. Some can be adjusted by using a lever that will open and close the blade, while others will need to use plastic comb attachments.
There are some clippers that use detachable blades, but those are professional grade and used for all around hair cutting and not just as a beard trimmer.
Look for blades that are made out of stainless steel or titanium. These will stay sharp for longer and will resist corrosion. This is important since you're going to be using these in some obviously wet environments.
A nice to have feature is also self sharpening blades. This takes a lot of maintenance out of the equation and means a longer lasting set of beard trimmers. This doesn't mean that you don't need to be taking care of them, but there is a lot less to do when they sharpen themselves.
Corded vs Cordless
Going cordless may seem like the obvious choice, but there are pros and cons to each, so it isn't so cut and dry.
Corded trimmers will always be reliable. You never need to worry about the battery dying mid trim. They also cost less in the long run since there is no risk of a battery needing to be replaced, or in most cases the trimmer itself being replaced as all rechargeable batteries eventually stop charging.
It used to be the case that corded trimmers meant having more power, but that is quickly changing. Many corded trimmers these days have just as much power as their corded counterparts.
Cordless trimmers give you a lot of mobility. You can take them to the gym and not worry about all the outlets being in use. You can travel with them and not need to worry about international voltages and different plugs. And you can even take them into the shower with you. Well, some of them.
With better Lithium Ion technology, you can get well over an hour on a full charge these days, which is roughly 6 to 8 trimming sessions.
The way to charge the cordless trimmers will also factor into your decision. Some have charging stands that take up space. You may not have the room for that and will instead want to look for one that plugs in. The other benefit of having a cord instead of charging dock is that if your battery dies you can use it while it is plugged in.
Wet or Dry
Going back to the corded or cordless decision is the fact that using a corded one can only be done dry. This limits you since you won't be able to use it in the shower or rinse it under the faucet to clean it.
This may not be important to you if you plan to always use it dry and to clean the blades manually.
There are pluses and minuses to using it wet, however. For instance, if you are trimming your beard and not cutting it off or trimming down to stubble, then using it in the shower is not really an option. The hair will lay flat and be stuck to your skin so the blade can't properly lift it and cut it cleanly. It will take forever to trim and it won't come out even.
It is nice to be able to wash off a trimmer under the skin, however.
Evaluate what you need the trimmer for and then decide how important it is to have the option to use it wet.
Versatility
Most men don't only have hair on their face. We can be a really hairy lot with it sprouting from lots of different places, including some areas we would rather not have it coming in.
If this is the case then you'll want to look for a trimmer that can handle other trimming duties. Some can do a whole haircut at home, some can trim your body or shave your pubes. Some of these all in one trimmers try to do too much and fail at some of their responsibilities. I highlighted the ones that I think work great no matter where you use them in the review section.
Attachments
This also ties in with versatility. You will want to have different accessories depending on what you want the trimmer to do.
For instance, you may want your beard to be different lengths or tapered into you hairline, for instance. In this case you'll need to have some plastic comb attachments to regulate the length.
These plastic comb attachments can give you an even trim all over your beard without needing to freehand the trim at the risk of balding a patch or not evenly trimming your beard.
With some of the all in one trimmers, you can even have different head attachments. This way you can use the same tool to trim, shave and even remove nose hair with the same body. Again, evaluate how you want to use the trimmer so you can know what you require from different accessories.
Professional vs Home Use
In some cases you may want to go with the same tools the barbers use to get great results.
These can be expensive, though and often are mono use tools. What I mean by that is that they will only work well as trimmers or clipper for your head and beard and may not be able to help you with other grooming situations.
What you will get is considerable power and longevity. Many of the at home beard trimmers and groomers are not built to last more than a couple of years. You can get a lifetime out of a professional hair clipper.
They usually have the option to adjust length with different clip on guards and can give you an awesome haircut and beard trim that takes far less time to do yourself.
If you have a long beard and want to also cut your hair then you may want to look into some good clippers that the barbers use.
The 6 Best Trimmers for Beards [In-depth Reviews]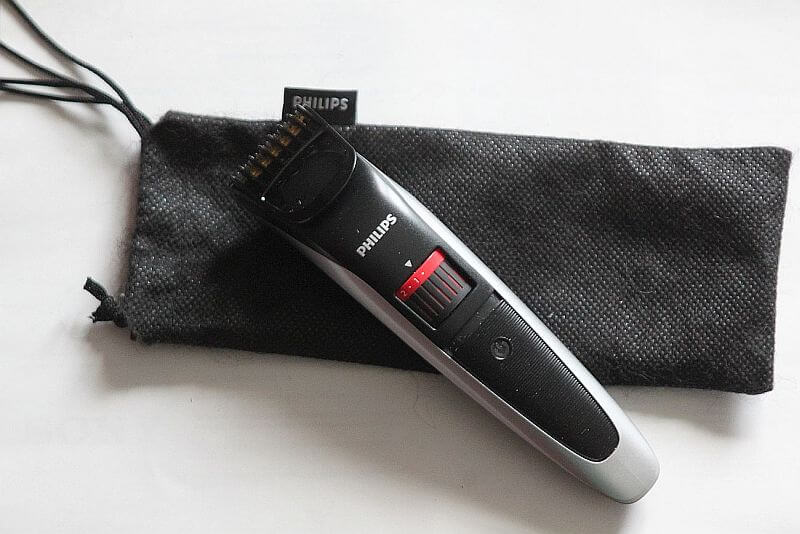 Whenever I decide to keep a neat stubble, I get my Norelco 3500 out of the box and get to work. The past year or so I've been sticking to this formula and it's been working out great.
As most of the medium-range Norelco best beard trimmers, the Series 3500 has an adjustable dial with 20 lengths. They go from 1/32″ to 13/32″, which is plenty if you think about it. You can easily rock anything from a slightly longer 5 o'clock shadow to medium length beard territory!
This is excellent for those guys that don't want to take up a lot of space with accessories. Instead of attaching plastic combs to change the length, all you have to do is use your thumb to go to a different setting.
You won't need to carry around a bunch of guards in your Dopp bag, or fumble around looking for the right one, or even risk breaking not being able to finish your trim.
You can also make more incremental length changes so you have a more precise trim. This is really great when you want to taper into your hairline or even have the beard longer around the chin or mustache. Using the dial instead of a fixed guard can get you a smoother taper with a great blend in without leaving any lines or too much of a difference in length.
I like three things about it: it's lightweight, cordless, and pretty affordable. To top it off, it has all these length settings and actually trims quite well!
I've learned to be cautious with cordless hair cutting tools and their batteries. However, 2 years later, my 3500 Series keeps a full 2 hour runtime on a mere 1 hour of charging. Ain't that sweet?!
For those of you who aren't keen on maintenance, there's some good news too. First, you can pop the trimmer head off and rinse it with water. Second, there's no oil needed to make this neat gadget trim your facial hair with precision. Making the cleaning easy is a great way to make sure you do actually keep it clean. So, make sure you don't slack in that department. Hair is very acidic and will dull the blade if you leave it sitting there. Just by taking a few seconds to rinse the hair off, you are adding years on to the life of the trimmer and making sure it alsys cuts cleanly without pulling hairs.
When the hair dulls the blades, it doesn't just make it harder to cut the hair, it also makes the motor have to work harder. This ends up putting a strain on the internal parts which will eventually fail.
The blades have rounded tips, and there's a neat plastic comb that ensures additional skin comfort. Made of stainless steel, they aren't as amazing as what Wahl would make…But still do a mighty fine job!
That said, if you have a bigger beard, or your hair is very thick/dense, there are better choices amongst the best beard trimmers. For your general beard owner, though, the Norelco 3500 is perfect.
How long do they last?
That depends on how well you treat them. Always rinse the hair off of them or at least use a small brush to wipe them away.
Let the battery run down once in a while and charge it from zero to make sure it lasts a long time.
The Lithium Ion battery, though very durable, will eventually stop being able to hold a charge. It is hard to say when this will happen but they tend to last a lot longer than their Nickel Cadmium based rechargeable batteries.
The LI batteries last so long that typically the motor goes out before the battery does. This should definitely last you many years.
If you take care of your tools, they will take care of you!
2. Best luxury, all-in-1 beard trimmer:


Philips Norelco Multigroom 7000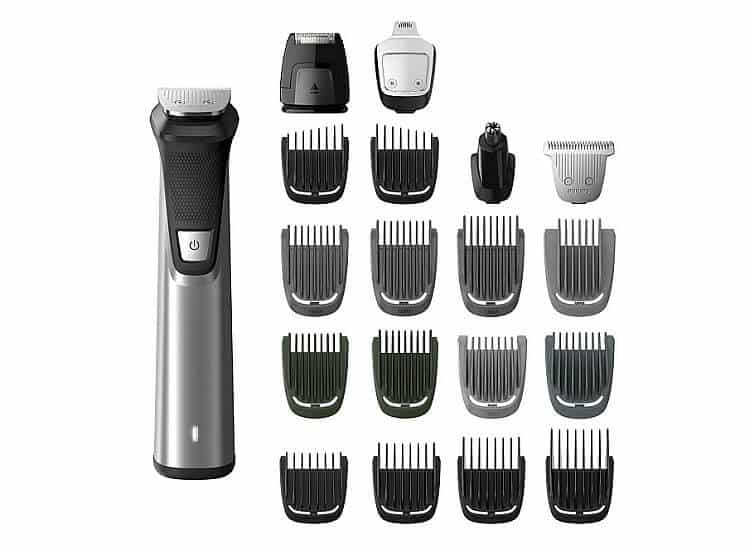 If you're willing to splurge a bit more on the best beard trimmers, Norelco has something out of this world for you. Normally, I insist that Wahl and Andis deliver the most powerful, classy performance. But…
The Multigroom 7000 is definitely cutting-edge. Philips' newest addition to their trimmer models, it's designed for those of you who want A Kickass Grooming Session With Your Awesome Beard.
The 7000 goes above and beyond your typical Norelcos in a few ways.
First of all, it has a stunning amount of 23 combs. That's right: 23! A complete All-in-one solution for anything facial and body hair-related. You've got:
14 standard guards for beard trimming: but reinforced so they are sturdier and protect your skin even better

Foil shaver for outlining the beard on your cheeks

Nose + ear hair trimmer for those nasty hairs there

A special addition for extra-wide hair trimming
Let me go through each of those points in more detail.
The plastic combs that clip on to change the length of the trim are way better than you would expect them to be considering this is not a professional tool. They are smoother so they glide across your skin with more comfort and ease. But, what really helps is that they are so sturdy. Many times, the teeth of a trimmer can be easily broken. You can have these for years without the plastic breaking down and getting weak so you don't have to run the risk of one breaking mid trim.
The foil shaver is like a mini electric shaver that makes it ideal to keep your beard properly edged and looking sharp. The foil covers some fairly sharp blades, but it allows only the hair to get through the holes so it doesn't nick your skin. I wouldn't use it to do my whole face, especially as the head is narrow so it would take a long time, but for the edges and detail work it is really great.
The nose and ear trimmers will keep you from being tempted to yank those pesky nose hairs out, which is really not a great idea.  Rather than needing a cabinet full of different you can take care of your hair on your ears and in your nostrils by just snapping on another head.
All that customization would be in vain if it wasn't for one additional detail:
The stainless steel blades are way better than older Norelco models. This is due to the so called DualCut technology: self-sharpening blades of next generation quality. Crisper cuts, same gentle treatment on the skin, more precision.
For usual cordless sceptics like me, the Series 7000 also dishes out an outrageous running time of 5 hours per charge. This is unrivaled. No, I'm serious. I don't know of any trimmer or clipper which can get close to this insane runtime.
I mean, this is a nobrainer. Fiberglass strengthened combs, lots of customization, outstanding blades, longest battery around…Oh, and you can rinse the trimmer without any problems.
The only thing not to like is the slightly increased price. But, if I'm to be honest: even at its price, it's currently better than some of Wahl's stainless steel trimmers when compared with other best beard trimmers that do an amazing job. Good job, Philips!
All too often when you have a tool that tries to do too many things, it falls flat in one or more areas.
When they try to do everything, then end up doing nothing well.
Luckily that is not the case with the Series 7200.
All the small details are covered so each job it needs to do it delivers.
Because of that, you can seriously do it all with these trimmers. They might not be as professional as the Wahl and Andis as I stated, but that is not their purpose.
3. Best 5 o'clock shadow/short stubble trimmer:


Andis T Outliner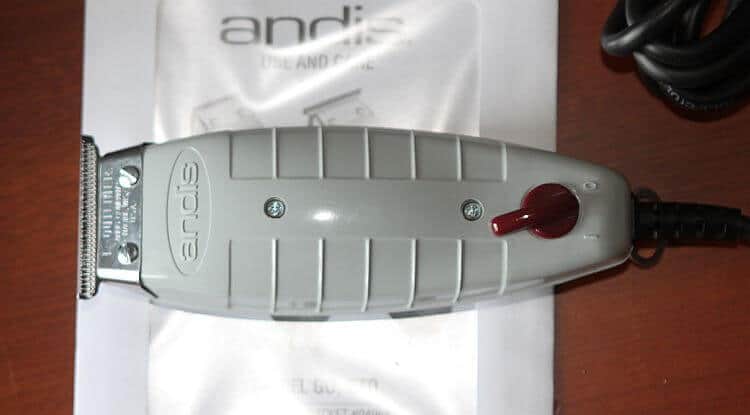 I've mentioned the T Outliner in a lot of my other best of lists, it's one of our best beard trimmers, including the best hair edgers/liners one. There's a reason: the T God is a true classic for barbers and casual users aside.
Here's the trick though: this is only for very close stubble. Or, alternatively, for those of you who are in love with the sexy 5 o'clock shadow style.
Why?
Because it doesn't come with any additional combs for length control. It's just the naked blade and your skin. Sounds scarier than it is, to be honest: it's my most favorite hair trimmer for dry shaving.
The main benefit you get here is Andis' distinctive T blade. One of the most precise, most crisp-cutting action delivering stainless steel beauties you'll ever find.
This grey babe is perfect for mustache trimming, necklines, cheeks and some touch ups across your hairline. Its 7200 strokes per minute electromagnetic motor leaves Norelcos in the dust. This is the most powerful motor you'll find in any trimmer.
The bad news?
Well, it heats up, and is not cordless. And, as I mentioned, if you want something longer, you're better off looking at other beard trimmers. But for those of you who want a very short, neat beard and something barber-grade to help out with shaping it…Yep, it's the T Outliner.
I love having tools that do everything, but many times the edger part of the trimmer is the weakest link.
If having tight lines around your beard and hairline are important to you, then I recommend going with these outliners to make sure you always have those lines crisp.
They will last a lifetime as they are made to be used all day in a busy shop. Day in and day out.
So if you make sure you keep the blade cleaned and oiled, then you will get many years out of these when you use them at home.
I still have the original ones I bought out of barber school that I keep at home for this very purpose.
4. Best beard trimmer for clean freaks:


Philips Norelco Series 7200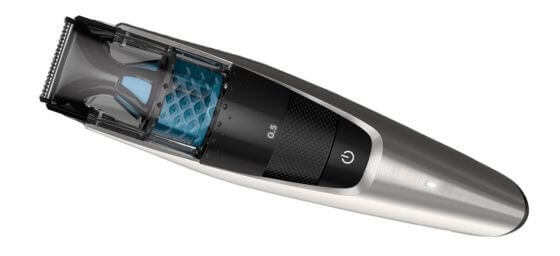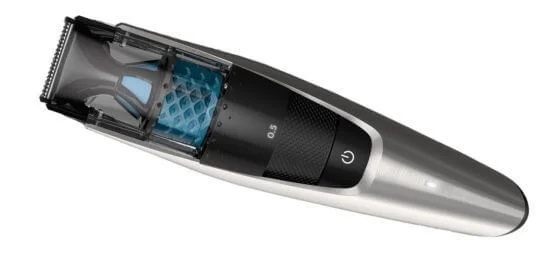 I've been praising this model in my dedicated vacuum beard trimmers & clippers article. For those of you who love stubbles, but hate sinks full of small facial hair scattered around, the Series 7200 is a life savior.
Obviously, the key factor here is the built-in vacuum function. It sucks in the hair you cut, and while it's not totally perfect, it's pretty darn good. An estimation would be that some 80-90% of cut hair will fill this beard trimmer's container, instead of making a real mess out of your sink.
But anyways: we care about convenience, true. What about utility, though?
Good news: this is one of the most recommended and best beard trimmers that doesn't sacrifice comfort for trimming quality. Similar to the Series 3500, it has 20 built-in lengths which you can control via an adjusting dial. From 1/32″ to 13/32″, you'll be the King of the Stubble in no time.
The battery is a bit weaker at 80 minutes runtime on an hour of charging, but it's not something to cry about. Still, plenty of time, considering you can be done in less than 10 minutes.
Overall function is typical for the mid-range Norelcos. No oiling, stainless steel blades, easy cleaning process. The blades stay sharp for quite a long time. So, no pulling of your hair after you've used it a few times and no having to go over the same spot multiple times to get it cut evenly.
The only issue is the fact that it's a bit noisier than your usual beard trimmer. But with a built-in vacuum, can we really expect a totally silent grooming tool? That wouldn't be fair!
Even with them being a bit on the loud side, having a clean bathroom after trimming is definitely worth the extra noise from the vacuum.
The convenience doesn't stop there, though. Having a one handed operations is also very nice. Adjusting the length by using a zoom wheel on the body means you can change lengths on the fly. Just use your thumb to set the length and you can give yourself a nice beard fade into the hairline if you choose.
If you love the idea of a tapered beard that gets longer as you get closer to the bottom, then having an adjustable blade without needing to pop on a guard every time you change the length helps give you professional looking results. And it takes way less time to trim when you aren't messing around with trying to find the right length comb. I can't tell you the number of times I have grabbed the wrong comb. Thinking it was a longer one that it actually was, I ended up trimming my beard way too short. Luckily that can be a thing of the past when you use an adjustable one.
5. Best hair clipper for beards:


Wahl Clipper Elite Pro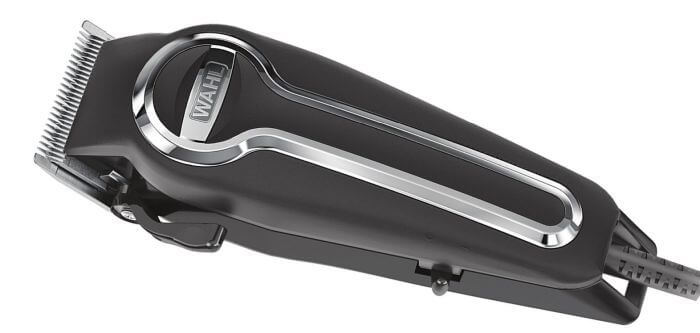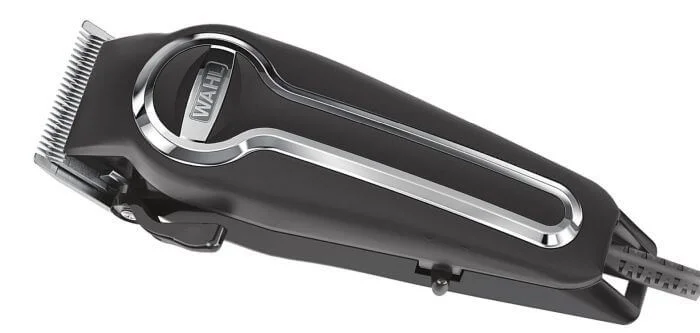 That's right. I just recommended a hair clipper for you, long-bearded friends. And I'll tell you what: you'll never go back to your usual beard trimmers after using it.
The problem with longer beards is that some of the 'best beard trimmers' max out at around 13/32″ or 20 mm. I mean, you can't work with that length if you want to go for the full bearded look, right?
At the same time, grooming scissors come into play a bit later. Somewhere around the Full Lumberjack Style on. Even if you plan to grow it out into a yeard or longer, then you still will need to be trimming it with the beard trimmer with an attachment until you are ready to let it go after that. Use the longest clip on guard to make sure the growth it even before you let it grow out longer. This will result in a smoother beard as it gets longer without any split ends.
I'm choosing the Elite Pro as a good solution due to several factors.
The most important factor is the stainless steel guards it comes with. Norelco's fiberglass combs are good, but there's nothing better than stainless steel. It doesn't bend, allows for the crispest cuts ever, and makes a sharp, precise blade even better.
Flimsy guards are something that no gentleman should ever feel around his facial hair. I've had plastic combs lose a tooth because they were not as solid as they needed to be. This was not good because it always happens while you're in the middle of a trim. What happens if they lose a tooth? The hair does not get guided in towards the blade easily and results in a patchy cut.
Another good reason is the balance between price and versatility. The Elite Pro is priced very moderately, but comes with a huge number of combs for different beard lengths. You also get a storage case (a heavy-duty one!), a pair of scissors, and a barber's cape.
Speaking of lengths, they range from 1/16″ to 1″. You also have two blending combs if you ever decide to do some beard fading.
Best of all, if you ever decide to start cutting your hair on your own, you can combine beard trimming with DIY hair cutting.
Being a hair clipper, this neat gadget is way more powerful than any beard trimmer you'll see. While it's not among Wahl's powerhouses, for a home use cutting tool it's pretty beastly and highly recommended amongst out top pick best beard trimmers.
The bad news? Well, it's also significantly heavier than your typical trimmer. It's also way noisier and can jump around in your hands due to that roaring motor sending vibrations all across the clipper's body.
However, if you're sporting a lengthier beard, you definitely want to pick this one for your grooming sessions. You'll want that power in your trimmer when you need to get through the long, thick hair. And this is especially true if you plan to trim it back after its gained some length. Having a tool that can get you through all of the phases of beard growth is something to prize.
If you have ever had your beard hairs get pulled by a trimmer, then the answer to that is to use what the pros use. And though this Wahl might not be as powerful as a pro needs, it has more than enough to power through a thick beard.
Use plastic guards over the blade to trim down to the right length and then you can freehand the rest with the naked blade.
Either way, you'll have a much more comfortable and precise cutting experience when you use the right tool for a thick beard.
6. Best beard trimmer classic:


Panasonic Milano series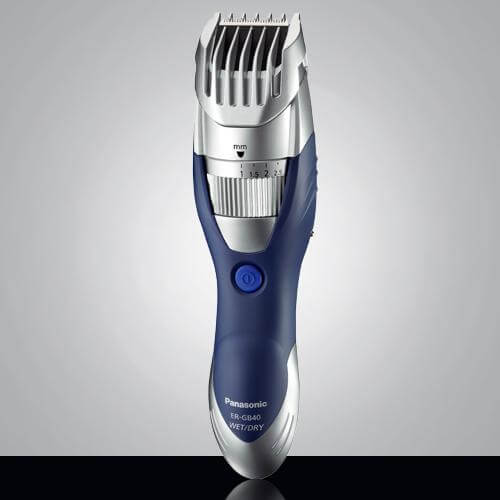 I was 50/50 on including this one in the best beard trimmers list, but a lot of people still like this well-designed little guy. And it's definitely the best out of Panasonic's mid-range trimmers.
The GB40 kicks it off with stainless steel blades that live up to Norelco's ones without an issue. A specific manufacturing technique on Panasonic's side are the 45 degrees angled blades.
You know how Japanese view accuracy and perfection, right?
Somewhere down the R&D line, they came up with the calculation that 45 degrees is the optimal cutting point. Which means that this trimmer delivers outstanding trimming with gorgeous facial hair after a grooming session with it.
The thing is, other brands like Philips have improved a lot in their own products. This is how you get the Norelco DualCut blade technology, for example, which Panasonic lacks.
If we move on to lengths, the Milano comes with 19 included settings: from 1 to 10mm. This is a bit more limiting than most Norelcos, but it still gives you plenty of freedom.
One of the most distinctive parts here is the design. Milano was the To-Go-Trimmer a few years ago, because it just looks cool. Obviously this is more personal of a view, but to me it's quite stylish.
Unlike a lot of other models, this Panasonic beard trimmer is totally OK with wet use too. In case you're into trimming with a foam or gel, you'll be obviously happy to hear this. I'm not that much of a wet shaving fan so I'm indifferent to that feature.
Being a bit older, it doesn't sport that long of a runtime. You'll get 50 minutes on an hour of charging with this one.
Which is where we get to the core of things:
You'll see a lot of guides recommending the Milano, and I dig it too, but…
But it's gotten older. Beard trimmers have evolved a lot over the recent years. The Milano is a beautiful, well-designed, nicely working product. But it's slowly becoming a remnant of the past, but still collects points for being one of the best beard trimmers.
Some people like classics. Others are into the latest thing. If you're from the latter, the Minalo won't be your jam.
Objectively, it's still pretty good: but it falls a bit flat when compared with the most recent trimmer models on the market. That's the harsh truth.
General tips: preparing yourself for a beard trimming session
In many cases, trimming your beard neatly takes only a few minutes and doesn't involve a lot of preparation.
Obviously, this holds true for shorter beards most of the time.
In any case – especially you, gentlemen with longer beards, should remember two things.
First, your beard has to be clean before trimming it. This means you'd better wash it with soap/shampoo (I prefer mild soaps) and comb it with a nice beard comb.
Combing the hairs in one direction will ensure even, smooth trimming and lack of embarrassing stray hairs.
Second, wet beards are a mess to trim properly. At least that's what my experience shows. Drying your beard is crucial to having a quick and fruitful grooming session.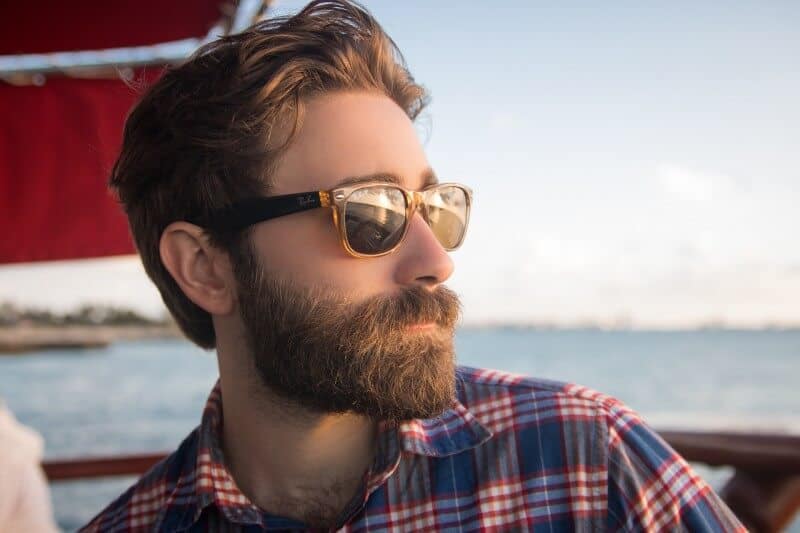 To those of you who have a ridiculously sensitive skin like me: be careful when choosing the best beard trimmers, and when trimming your beard.
Consider exfoliating your skin before a trimming session, especially if you keep a shorter style like a 5 o'clock shadow. In my case, I use gentle exfoliating gloves and a sensitive skin soap. It will clean up your pores and get rid off dead skin cells which can cause irritation.
After your trimming session, I recommend you to use some witch hazel. Close trimming, similar to shaving, can cause some ingrown hairs or razor bumps. Obviously, that's only if you're going for a very short stubble or 5 o'clock shadow.
I know, I know, some of the best beard trimmers mention their blades and guards are sensitive-skin friendly. And they really are. It's just that some of us are cursed with an insanely delicate skin. It's not the trimmer's fault.
I like witch hazel because it's a natural astringent. Especially if you get Thayers' witch hazel (which we've spoken about in our guide to razor bumps) you'll also have a non-alcohol product that soothes the skin.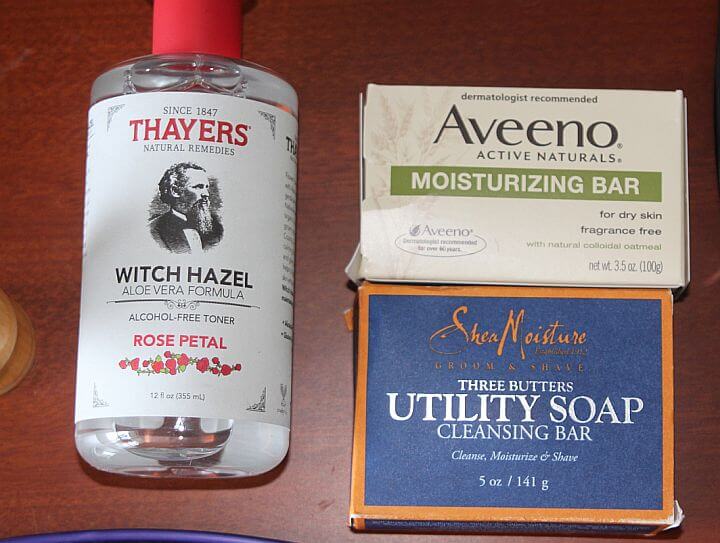 What about beard balm/oil?
In addition to choosing the best beard trimmers, definitely use it.
If you keep a shorter beard, beard oil/balms will soothe the skin and reduce the irritation which occurs by having prickly, short stubble.
With longer beards, beardruff has always been an issue.
Also, the longer your facial hair is, the easier it will be for it to get dry, exhausted and malnourished. Beard oil comes especially handy in such cases, as it revitalizes your beard. You'll be getting soft, luscious locks instead of a hard, disheveled mane that's not fitting for a real gentleman.
If you have any questions about our list of the best beard trimmers, let us know in the comments below. We'll happily help you out.
However, I think that you can hardly go wrong with any of the beard trimmers I recommended above. Just keep in mind what style are you after exactly, and pick a beard trimmer that's best suited for it.
My final recommendation is to also always stick to established brands. As you see I didn't list any off-brand beard cutting tools, and that's with a good reason. It's not worth it to save, say, $10, to sacrifice trimming quality and have the cheaper product break down in less than an year, for example.
I'm an outdoor enthusiast and have sported a full beard since I was in my early 20's. Originally, growing a beard was a way to save time when getting ready each day, but I quickly realized that keeping a neatly trimmed beard takes work and some forethought. That's where this site comes in.
You get to benefit from my years of experience. I've reviewed many of the top hair clippers on the market today and also included some information on what works best for me. A great beard will turn lots of heads in your direction.
Since I never know when I'm going to find myself being photographed, whether it's climbing in Yosemite, or playing volleyball on the beach, it's important to me to always look my very best. Maintaining my beard is part of my daily routine and I hope you'll find some useful tips and information on this site to help you on your journey.