I recently reconnected with an acquaintance of mine I hadn't seen for ages. He's a good dude – intelligent without the part where some people get cocky/obnoxious, confident, great company for a couple of beers.
How does this relate to the best barber aprons, of all things?
You see, above all, he's pretty fashion-conscious. Especially when it comes to hairstyling, rocking the latest trends etc. Given the fact I did some barbering in what seems like another lifetime, at one point our conversation touched on barber aprons, too.
"You know, Ryan", he said. "It's pretty great to see barbers being absolutely on point with their outfits."
I didn't quite catch his drift, so I asked what he meant by this.
"Oh, you know, all the barber aprons and smocks. That kind of stuff. People not only using their haircutting tools, but also looking pretty slick in doing so. Very professional and fashionable. I feel it's recently become quite widespread."
Somehow I wasn't surprised he noticed this. Most people only focus on the style they "receive" upon going to a barbershop.
Others, like him, also take an outward look towards the pros themselves. What is their style? What barber apron should people be wearing?
How to choose a barber apron
Beyond finding the right style that fits your shop decor or even your personality, you need to find the right barber apron that will get the job done and not become yet another thing that you have to be thinking about.
You want to put the apron on and forget it's even there without worrying about how it is going to hold up to the rigors of working in a barbershop.
Material
The right fabric is going to make or break your apron working for you or not. Not only does it need to be durable, but it needs to be able to allow the hair to slide off of it. The biggest reason to wear an apron is so you aren't covered in hair all day.
Cotton or Linen

– Either of these fabrics should be avoided. Not only will they fail to hold up to the rigors of working in a barber shop, but they will only serve to collect hair. Not only that but they are prone to stains. Any hair product that spills on them, or clipper oil or grease will absorb right in and not want to be removed. Some types of

cotton

fabrics are denim, twill and canvas, though some canvas is treated with wax which is definitely ok. I don't need to draw too fine a point on it other than to say just stay away from these materials.

Synthetic Fabric

– Depending on the type of synthetic, you can definitely find a good, durable apron made out of these materials. Nylon,

vinyl

and other similar materials will allow water and hair to shed right off the apron keeping you and your apron clean and dry. The downside is they are not breathable and can trap your body heat making it uncomfortable to work. They are quite durable though and not prone to tearing or wearing out.

Coated Aprons

– These are made out of the fabrics I told you to avoid, but this is the exception. When you coat canvas, cotton or linen with either a type of varnish or a paraffin wax, the fibers absorb it and it creates a seal over the actual fabric. This makes it waterproof, stain proof and allows the hair to slide right off and keeps you comfortable. They do tend to trap some of your body heat, but are much better at keeping you from overheating than a nylon one.

Leather – Unless you are a vegan, leather is a really good choice of material for your barber apron. It is extremely durable and won't trap any cut hair on its surface. Over time it develops a nice patina that adds to how stylish the original design of the apron was. Think of it like your favorite pair of leather boots that you've had for years that have broken in so nicely and look better than when you bought them. The only downside is that they are quite heavy and can lead to you overheating.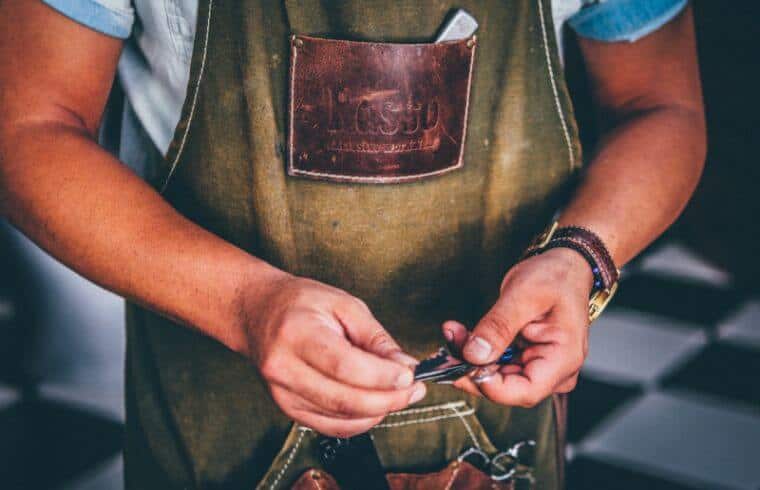 You know…can't argue with him. Barbering has experienced a Renaissance over the past few years and it's gotten "upgraded".
Men have grown increasingly concerned about their grooming habits and look for quality services so they get quality results. Barber schools are full and barbershops open to accommodate the rising demand.
You got demand – you've gotta meet the trend.
Being a barber has always been a mix between a profession and an art. And right now, there's also the element of fashion – with barber aprons or vests playing somewhat of an important role.
The barber apron: fashion or utility at this point?
Barber jackets have grown into a symbol of sorts. It's similar to another popular cliche – the full-beard-plus-full-sleeve-tattoos barber (who also happens to wear a barber apron, often a leather one.)
Every industry has its cliches and in fact, I think the image presented above is a cool one anyways.
However, I also feel that it's easy to go overboard nowadays due to exactly this fashionable element.
You see people grabbing loads of clippers just to show them off, not because they need them. The truth is, you don't need that many tools to start your career and learn the ropes.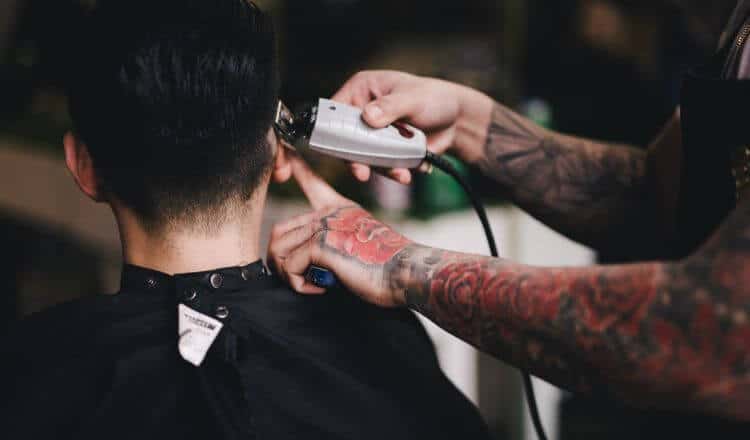 Instead of grabbing a detachable clipper, adjustable cutter and a T-blade trimmer, a lot of beginners create whole collections. Sometimes it's like the focus lies on having the tools – but not mastering them.
I've seen something similar with hairdresser aprons. Heavy-duty, seemingly expensive and genuine leather barber vests…when your barbershop doesn't even serve that many customers.
There's something very solitary about a quality/custom-made vest with empty pockets and sleeves. Will it make that "oh-so-fashionable" impression on some clients (like my friend?)
Absolutely.
But to me, it's more of a "Hey, weren't these things a question of being practical anyways??"
Jeez, my ramblings might have sounded pretty bitter/critical. Don't get me wrong, guys and girls!
In bustling barbershops, you won't survive without a vest to accommodate scissors, combs and all the myriad of stuff you need around. And come on, let's be straight – some of these look kickass.
Especially the custom-made, high-end salon aprons. Even some of the medium-range barber jackets can be clean and stylish at the same time.
Just make sure you complement the barber aprons fashion with hard work and dedication. The art of barbering goes way deeper than trends, sparkles or beards and tattoos (as cool as they are.)
I'm an outdoor enthusiast and have sported a full beard since I was in my early 20's. Originally, growing a beard was a way to save time when getting ready each day, but I quickly realized that keeping a neatly trimmed beard takes work and some forethought. That's where this site comes in.
You get to benefit from my years of experience. I've reviewed many of the top hair clippers on the market today and also included some information on what works best for me. A great beard will turn lots of heads in your direction.
Since I never know when I'm going to find myself being photographed, whether it's climbing in Yosemite, or playing volleyball on the beach, it's important to me to always look my very best. Maintaining my beard is part of my daily routine and I hope you'll find some useful tips and information on this site to help you on your journey.