Essential Barber Shop Tools You'll Need For Your Salon
I really miss my times as a barber sometimes. Giving a few haircuts to my friends before I even dare join the pros with their barber shop tools. Stressing over how I'd do. The thrill of the beginner.
Listen, folks, what we've got here is not just a profession. No. It's an art. Barbershops will always be around, bustling with clients who are waiting for your next masterpiece.
But what barber shop tools and equipment do barbers use exactly?
A lot can be said about any "must have" list of barber tools. It depends on what kind of barbering you're exactly planning to do.
I plan on covering the complete basics – continue reading for my personal tips on all of the barber shop tools I'll mention.
Image below: what Alex, the co-founder of our site, uses for his DIY home projects: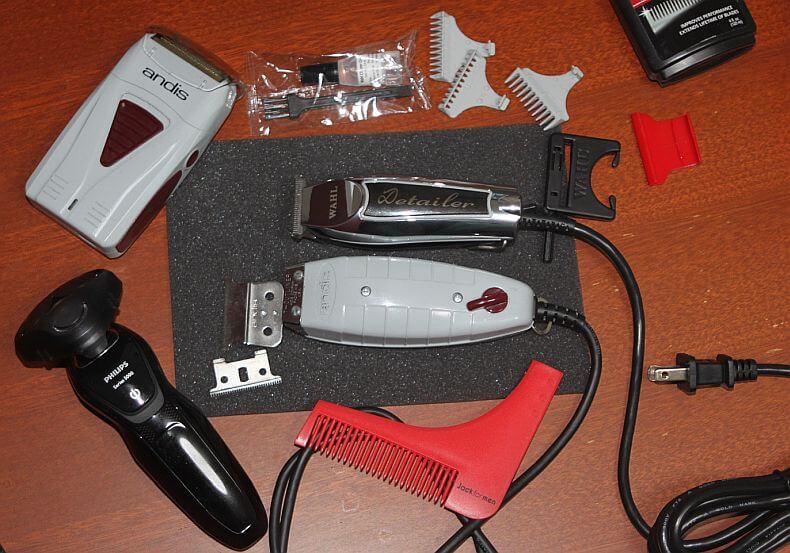 The fundamentals you want to keep in mind are:
Hair clippers (one detachable, one adjustable)

A T-blade trimmer

If you're still a student/on a budget: get a basic barber combo instead

Pro shears, 3 types (hair over fingers, shears over comb, texturizing)

A clipper case to store all your main tools

A straight razor for close shaves

Clipper accessories: additional guards & blades for different lengths

Prep work: hot towels, brush, pomades & preshave oil, neck duster, cape

Appliances: blow dryer, towel warmer
The complete barber shop tools list
Every self-respecting barber should own at least one detachable clipper, one adjustable clipper, and a T-blade trimmer.
If you're on a very strict budget, aim for a barber combo (adjustable clipper + T trimmer) instead. You can upgrade later.
You'll use the detachable for cutting hair in bulk. Quality detachables like Oster 76 Classic plow through hair effortlessly. The blade sizes will help you control the length of your cuts.
Adjustables are convenient for tapering/fading due to their easily used side lever. Most adjustable clippers are significantly cheaper as you don't need to invest in additional blades.
A standard choice are Wahl's 5 star Seniors: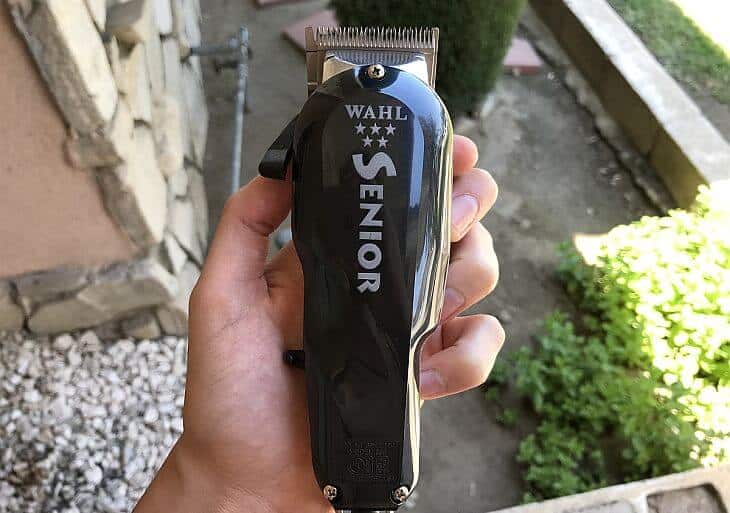 Using clipper guards and your thumb to adjust the lever, you'll style outstanding tapers in no time. Choices vary, you can pick anything from a Wahl Magic Clip to the Seniors or the high-end Andis Master.
T blade trimmers are for more delicate work like shapeups, touchups, outlining, necklines and similar tasks. Corded or cordless, they'll be very lightweight, catering to their gentle purpose.
>>>Head over to our list of the best barber clippers & trimmers if you want more precise recommendations.<<<
Note: When it comes to styling your client's hair, sometimes you need to consider using a pomade.
Some of your clients will want to keep that fresh, slick hairstyle for a while after they leave your salon.
A good pick would be this Imperial product from Amazon.com as the guys have long-lasting tradition of high quality pomades in the veins of American traditions. Their product is easy to apply and its hold is quite spectacular. What more do you need?
Also, many people deem a proper clipper storage case as one of the barber shop tools you must have. I agree: it feels great to have everything properly stored and organized.
A barber shop tools case is an inexpensive solution to the clutter you might encounter with your salon equipment. Truly everything a barber needs, considering how much of a mess your barbershop surroundings can get.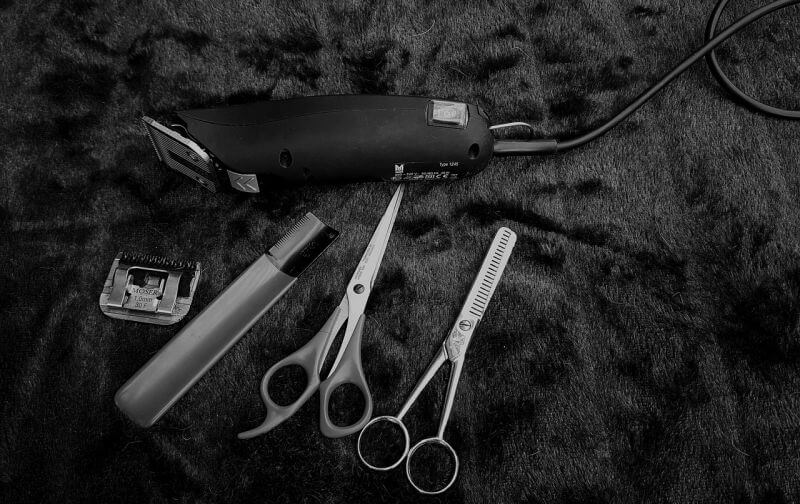 Professional shears are a crucial complement to your clipper work. In some cases, you'll actually use them instead of our electric hair cutter fellows.
Generally, you'll need a few types of shears:
Blending/texturizing or thinning scissors

Smaller hair scissors for cutting hair over your fingers

Bigger, more heavy-duty shears for the scissors-over-comb technique
I'm a huge fan of Equinox Razor Edge, as the series combines good price for beginners with great performance. This duo from Amazon.com includes a normal hair scissors plus a sharp, precise cutting thinning shear.
Here's a very quick video on layering with barber shears to get you started:
3. Shaving-related / Prepwork
Come on, you didn't forget about facial hair, right? I loved helping out clients with their beard or mustache styling ideas. To do so properly, though, you'll need a few barber tools.
Your main tool of choice is the straight razor. If you're just starting out, you can fetch a rather cheap manual shaver like this razor on Amazon.com.  Don't worry, it's not of poor quality – I actually used the same.
Of course, nobody's stopping you from getting a high end straight razor for your clients if you can afford it.
But wait. That's a razor. You can't just hack your customer's skin like this. Any good stylist will perform some proper prep work. This includes a) hot towels and b) a decent pre-shave oil to make things smoother.
Now, on the topic of preshave oils, there's tons of possible products you can use. I'm partial to The Art of Shaving pre-shave oil. Mixing olive and castor oils, it doesn't have any synthetic rubbish or alcohol as ingredients.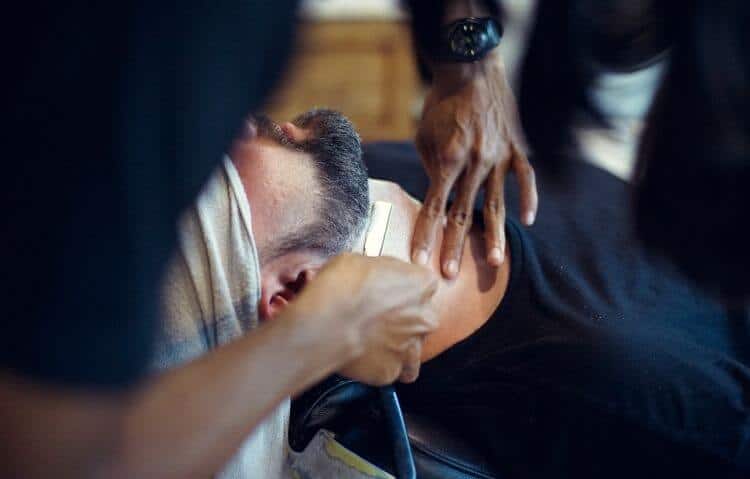 I haven't had a single thing to complain about it throughout a few years of using it waay too often. It also smells amazing, your clients will adore it.
In case your customers suffer from easily irritated skin, there's one more thing to cover in your barber shop equipment list.
Yes, that's a bump care lotion. Bump Patrol from Amazon.com is a classic, but once again, feel free to discover what works for you best.
Regarding the whole prep work with hot towels, pre-shave oil and whatnot, here's a good demonstration video. Note: the barber here uses way too many hot towels for my taste, but it's nevertheless a good tutorial!
Probably it's needless of me to mention the barber cape, neck duster and proper hair brushes…but anyways, I'm saying it. They don't need to be super high end, even cheaper capes and neck duster work wonders.
I'd like to specifically elaborate a bit on the brushes. There's a high chance you'll need a few different types of them.
If you think about it, it makes sense, right? A woman's long locks will require different brushing than a tight fade or a military cut.
If it's about close cuts and close fades, I'm a huge fan of this boar brush from Amazon.com. It's not too stiff and of average firmness. Keep in mind you'll need another brush for more delicate types of hair.
A chilly winter isn't needed for you to get a hairdryer in your salon. I've seen way too many people get a poor-perfoming one, though.
Look, you'll be using this thing much more than any home user. So skip on the cheaper models targeted at girls or guys who need them for a minute or two per day.
I don't like BaByliss' clippers, but their Ceramix Xtreme blowdryer on AMazon.com is a total king. 2000 watts of awesomeness, paired with a special technology to protect your clients' hair from heat damage. You've also got 4 heat settings to pick from, depending on the cut you've just styled.
Plus, its design is great: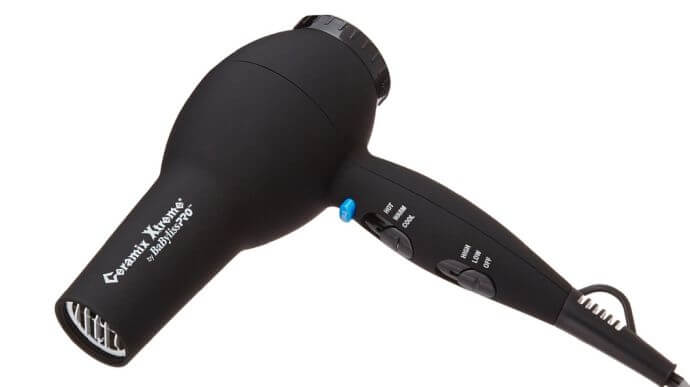 Now, this next thing is purely optional, but I've seen a few stylists do it. I'm talking about the towel warmer as an entry into the barber shop tools list.
You can prepare hot towels by yourself manually too, of course. Some people are too busy, however, and prefer to have a "sidekick" to help them out.
Personally, I wasn't that busy to need one. But… if you find yourself short on time, consider something like this cabinet on Amazon.com. This specific model can contain up to 24 towels which is a very healthy number. The UV sterilizer lamp is only an icing on the cake.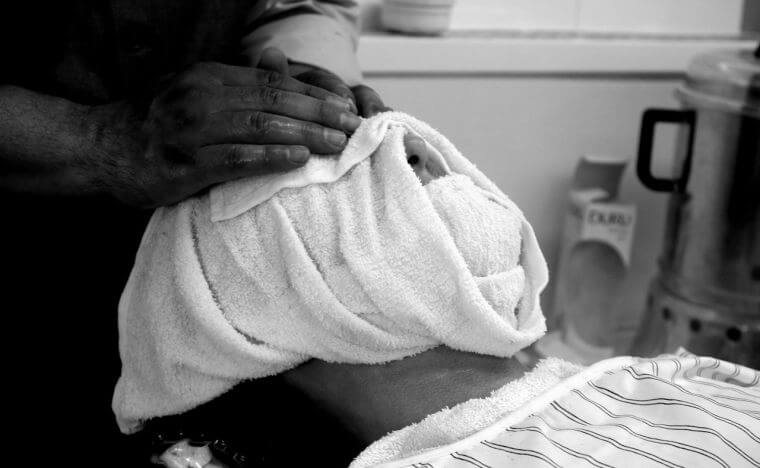 Did I forget something? Do you have any specific questions you want answered? Let me know in the comments below!
In the mean time, here's a few helpful guides that might help you too:
For external sources, I love Ivan Zoot's extremely valuable insight on detachable blades and how they function in this guide here.
If you're keen on a completely DIY approach to hot towels, don't forget to check the Art of Manliness' guide. It's a-m-a-z-i-n-g!