I really miss my times as a barber sometimes. Giving a few haircuts to my friends before I even dare join the pros with their barber shop tools. Stressing over how I'd do. The thrill of the beginner.
Listen, folks, what we've got here is not just a profession. No. It's an art. Barbershops will always be around, bustling with clients who are waiting for your next masterpiece.
But what barber shop tools and equipment do barbers use exactly?
A lot can be said about any "must have" list of barber shop tools. It depends on what kind of barbering you're exactly planning to do.
I plan on covering the complete basics – continue reading for my personal tips on all of the barber shop tools I'll mention.
Image below: what Alex, the co-founder of our site, uses for his DIY home projects: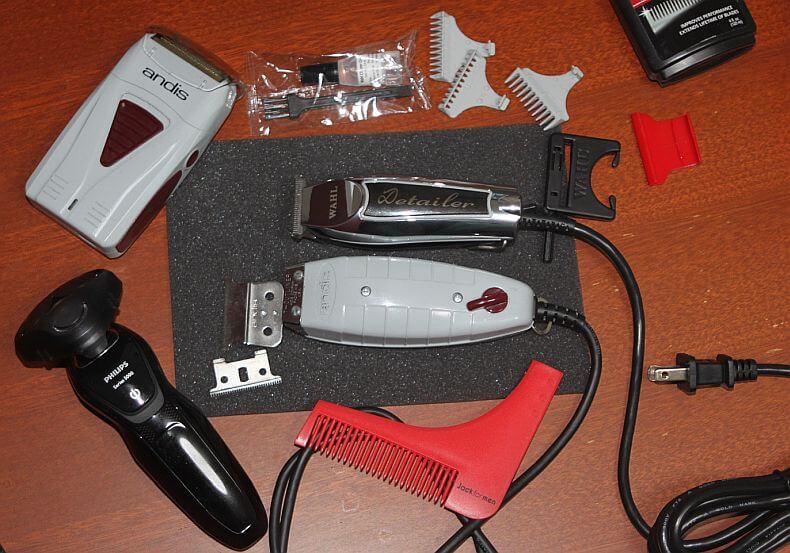 The fundamentals you want to keep in mind are:
Hair clippers (one detachable, one adjustable)

A T-blade trimmer

If you're still a student/on a budget: get a basic barber combo instead

Pro shears, 3 types (hair over fingers, shears over comb, texturizing)

A clipper case to store all your main tools

A straight razor for close shaves

Clipper accessories: additional guards & blades for different lengths

Prep work: hot towels, brush, pomades & preshave oil, neck duster, cape

Appliances: blow dryer, towel warmer
The complete barber tools list
Every self-respecting barber should own at least one detachable clipper, one adjustable clipper, and a T-blade trimmer.
If you're on a very strict budget, aim for a barber combo (adjustable clipper + T trimmer) instead. You can upgrade later.
I will say this, though, if your budget isn't so strict and does have some wiggle room then go for the best tools you can afford.
I know how it is to be broke getting started and wanting to save money. The reality is that the right tools are going to make you more money in the short and long term. The better your tools are the better the haircuts will be and the faster you'll be able to finish a cut. This means more money right off the bat. Those expensive clippers will pay for themselves after just a few months.
You'll use the detachable for cutting hair in bulk. Quality detachables like Oster 76 Classic plow through hair effortlessly. The blade sizes will help you control the length of your cuts.
Adjustables are convenient for tapering/fading due to their easily used side lever. Most adjustable clippers are significantly cheaper as you don't need to invest in additional blades.
It really depends on what type of cuts you will be doing primarily. If you think you'll be in a shop with a lot of clients looking for fades, then you'll need adjustables as your primary clipper.
Think your clients will be looking for regular business cuts mostly? Then go for the Oster 76 or another detachable blade clipper that has the power to get through longer hair. You're going to end up with a few clippers anyway after you've been working for a while.
A standard choice are Wahl's 5 star Seniors: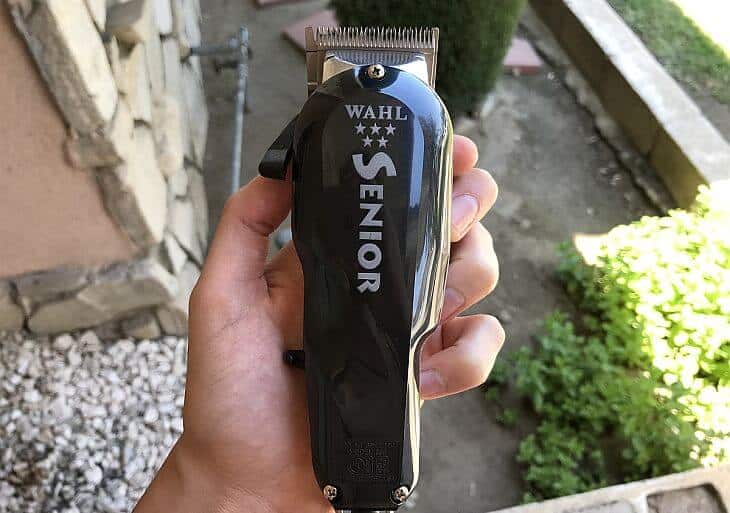 Using clipper guards and your thumb to adjust the lever, you'll style outstanding tapers in no time. Choices vary, you can pick anything from a Wahl Magic Clip to the Seniors or the high-end Andis Master.
I started out with the Master clippers as my primary. I didn't have a secondary and had to hope I didn't break these.
Quickly, though I realized the Masters were not going to get the job done. I was doing mostly business regular cuts and was really slow since I had to keep changing the plastic guard and going over the same spot multiple times to get the hair evenly cut. I quickly switched to the Oster 76 and then used the Master as my secondary to do fades and short tapers.
T blade trimmers are for more delicate work like shapeups, touchups, outlining, necklines and similar tasks. Corded or cordless, they'll be very lightweight, catering to their gentle purpose.
>>>Head over to our list of the best barber clippers & trimmers if you want more precise recommendations.<<<
Note: When it comes to styling your client's hair, sometimes you need to consider using a pomade.
Some of your clients will want to keep that fresh, slick hairstyle for a while after they leave your salon.
A good pick would be the Imperial Barber Grade Fiber Pomade as the guys have long-lasting tradition of high quality pomades in the veins of American traditions. Their product is easy to apply and its hold is quite spectacular. What more do you need?
Also, many people deem a proper clipper storage case as one of the barber shop tools you must have. I agree: it feels great to have everything properly stored and organized.
A barber shop tools case is an inexpensive solution to the clutter you might encounter with your salon equipment. Truly everything a barber needs, considering how much of a mess your barbershop surroundings can get.
You may find yourself in a shop where you have to share a chair. In other words working in shifts. If you want to make sure that your colleague is not using your tools then you need to pack them away in a sturdy case.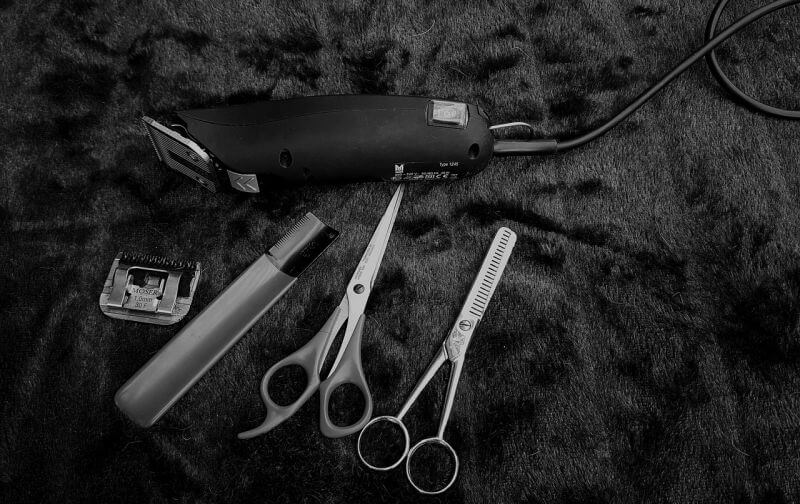 Professional shears are a crucial complement to your clipper work. In some cases, you'll actually use them instead of our electric hair cutter fellows.
Generally, you'll need a few types of shears:
Blending/texturizing or thinning scissors

Smaller hair scissors for cutting hair over your fingers

Bigger, more heavy-duty shears for the scissors-over-comb technique
It's important to find something comfortable and that fits your thumb and finger well. You'll be using these day in and day out for years.
They need to be lightweight enough to not cause hand fatigue, but also weighty enough to get the job done.
Don't be tempted to get a cheap pair from Target. I know you're on a budget since you are just starting out and don't want to overspend. I was in your shoes, too. But, luckily I came from a family of barbers and knew that you have to get the right tools in the beginning.
If you can afford it, try going for shears made in Germany or Japan, as they are made with high carbon steel that will last for a very long time. And, they can also be sharpened for when they inevitably start getting a little dull.
I'm a huge fan of Equinox Razor Edge, as the series combines good price for beginners with great performance. This duo from Amazon.com includes a normal hair scissors plus a sharp, precise cutting thinning shear.
Here's a very quick video on layering with barber shears to get you started:
Come on, you didn't forget about facial hair, right? I loved helping out clients with their beard or mustache styling ideas. To do so properly, though, you'll need a few barber tools.
Your main tool of choice is the straight razor. If you're just starting out, you can fetch a rather cheap manual shaver like this razor on Amazon.com.  Don't worry, it's not of poor quality – I actually used the same.
Of course, nobody's stopping you from getting a high end straight razor for your clients if you can afford it.
But wait. That's a razor. You can't just hack your customer's skin like this. Any good stylist will perform some proper prep work. This includes a) hot towels and b) a decent pre-shave oil to make things smoother.
Even more important than the razor is the prep that I just mentioned.
How do you properly prep a face for shaving?
The key is to get the skin and stubble totally hydrated. If you're able to use a shaving brush, then that is the best way to go. If you live in a state where that is not allowed, then you have to make sure you use a very wet towel that has been properly heated.
Now, on the topic of preshave oils, there's tons of possible products you can use. I'm partial to The Art of Shaving pre-shave oil. Mixing olive and castor oils, it doesn't have any synthetic rubbish or alcohol as ingredients.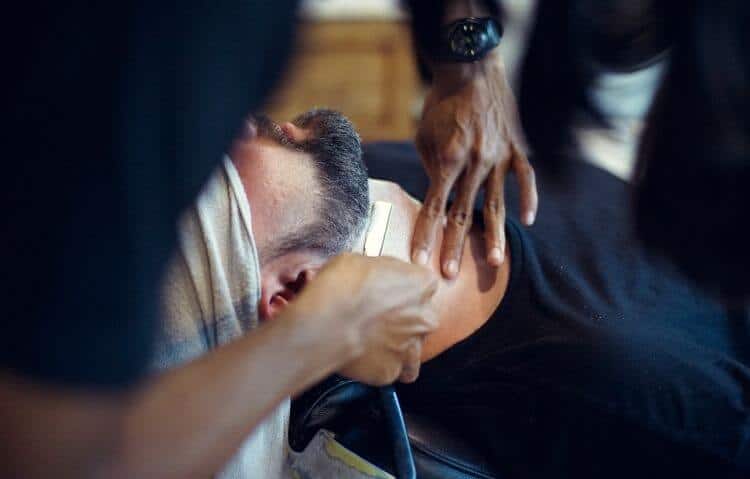 I haven't had a single thing to complain about it throughout a few years of using it waay too often. It also smells amazing, your clients will adore it.
Actually I do have one complaint but this goes for all pre shave oils, not just the AOS. That is that your shavette or safety razor can get clogged from the oil and it is tough to rinse it off.
In case your customers suffer from easily irritated skin, there's one more thing to cover in your barber shop equipment list.
Yes, that's a bump care lotion. Bump Patrol is a classic, but once again, feel free to discover what works for you best.
Regarding the whole prep work with hot towels, pre-shave oil and whatnot, here's a good demonstration video. Note: the barber here uses way too many hot towels for my taste, but it's nevertheless a good tutorial!
Probably it's needless of me to mention the barber cape, neck duster and proper hair brushes…but anyways, I'm saying it. They don't need to be super high end, even cheaper capes and neck duster work wonders.
I'd like to specifically elaborate a bit on the brushes. There's a high chance you'll need a few different types of them.
It's important that they be of high quality. I remember going to a barber for a haircut when I was on vacation and his brush was scratching my scalp something fierce. You don't want that to happen so make sure you're getting brushes that will be a pleasure for your clients.
If you think about it, it makes sense, right? A woman's long locks will require different brushing than a tight fade or a military cut.
If it's about close cuts and close fades, I'm a huge fan of this boar brush from Amazon.com. It's not too stiff and of average firmness. Keep in mind you'll need another brush for more delicate types of hair.
Once again, it is about finding the right fit for your needs and to make life comfortable for you. As I stated about the shears, even your other tools need to have your comfort considered since you will be using them a lot.
Hand fatigue is something you may not realize is going to be a problem when you are new. But, trust me, after a while, you will be feeling the pain come Saturday afternoon as you struggle to get to the end of the shift after working the whole week.
Find a brush that fits well in the hand and is not heavy. That brush made out of heavy, stained wood might look pretty cool, but if you are working on women's hair and brushing all day, you'll want a lighter resin one that is still durable.
A chilly winter isn't needed for you to get a hairdryer in your salon. I've seen way too many people get a poor-perfoming one, though.
Look, you'll be using this thing much more than any home user. So skip on the cheaper models targeted at girls or guys who need them for a minute or two per day.
Look for ones with at least three different heat settings and come with accessories like a diffuser. Ionic hair dryers are the way to go since they won't leave any static electricity in the hair and make them frizzy. You definitely want to find the right one for you as a hair dryer can really dial in that style with some grooming products.
I don't like BaByliss' clippers, but their Ceramix Xtreme blowdryer on Amazon is a total king. 2000 watts of awesomeness, paired with a special technology to protect your clients' hair from heat damage. You've also got 4 heat settings to pick from, depending on the cut you've just styled.
Plus, its design is great: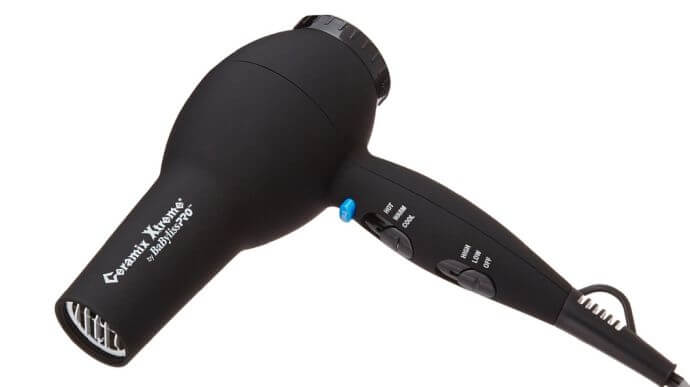 Now, this next thing is purely optional, but I've seen a few stylists do it. I'm talking about the towel warmer as an entry into the barber shop tools list.
You can prepare hot towels by yourself manually too, of course. Some people are too busy, however, and prefer to have a "sidekick" to help them out.
Personally, I wasn't that busy to need one. But… if you find yourself short on time, consider something like this cabinet on Amazon.com. This specific model can contain up to 24 towels which is a very healthy number. The UV sterilizer lamp is only an icing on the cake.
A downside to keeping your towels in a UV box is that they can end up smelling a bit musty if they are left too long in there. If you don't use them then at the end of the day you will need to take them out and put them in your laundry.
I used to love to use whatever hadn't been used on my own face at the end of the day!
Pro Tip: Put a couple of drops of essential oil on the hot towel as it comes out of the box to give the client a little aromatherapy. A drop or two of lavender oil is a great way to help the client relax. Just make sure you put the oil on a part of the towel where it won't irritate his eyes.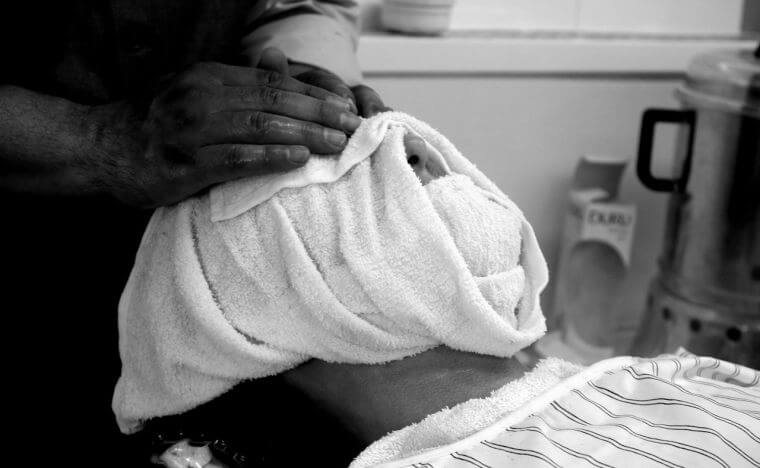 The last item on the list is a professional attitude. Unfortunately you can get that on Amazon.com.
Too often I see new, young barbers that don't respect the craft. They think they can just hang around all day shooting the you know what with their boys and think that's good enough.
Learn the ropes of how to do a variety of haircuts. Get a feel for your customer so you know if he wants to talk or be left alone. Don't talk about your night at the strip joint if the guy would rather talk about something less frivolous. Stick with the weather as boring as it is.
This will make you more money and lead to tons of success if you maintain a professional attitude.
Did I forget something? Do you have any specific questions you want answered? Let me know in the comments below!
In the mean time, here's a few helpful guides that might help you too:
I'm an outdoor enthusiast and have sported a full beard since I was in my early 20's. Originally, growing a beard was a way to save time when getting ready each day, but I quickly realized that keeping a neatly trimmed beard takes work and some forethought. That's where this site comes in.
You get to benefit from my years of experience. I've reviewed many of the top hair clippers on the market today and also included some information on what works best for me. A great beard will turn lots of heads in your direction.
Since I never know when I'm going to find myself being photographed, whether it's climbing in Yosemite, or playing volleyball on the beach, it's important to me to always look my very best. Maintaining my beard is part of my daily routine and I hope you'll find some useful tips and information on this site to help you on your journey.