The Absolute Best Beard Balm Recipe
You love your beard balm, and you could never part with it. However, it 
certainly
 isn't cheap. Buying beard balm every few months adds up pretty quickly. There is an alternative though. Our best beard balm recipe only calls for four basic ingredients, and whipping up a batch takes a matter of minutes.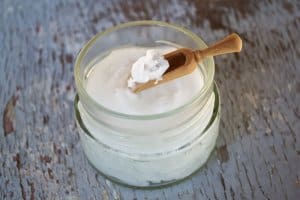 Not only will you save money every month on your best beard balm recipe, but you'll also be able to control exactly what goes into your balm. After all, this is going on your face, so you certainly don't want any preservatives, toxins, or harsh chemicals on the ingredient list, do you? In this post, we"ll show you which oils and butters to buy, how to mix the ingredients, and what you'll save by making the balm yourself.
Why Make Beard Balm?
Why look for a beard balm recipe in the first place? The truth is that beard balm you make at home will cost you a fraction of the price you'll pay anywhere else–even on Amazon. It does take a bit of time and effort, but you could save yourself hundreds of dollars in the lon-run. We reviewed beard balms and shampoos in a previous post, and while many of them are reasonably priced, the mark-ups are still fairly high.
Let's take Professor Fuzzworthy's Beard Balm Leave-In Conditioner from Amazon.com. The balm on its own costs $14.95, and a single tin is 1.28oz. Okay, not bad, but what will you pay if you make it yourself?
Though all of the ingredients will cost you roughly $50 ($47.64 to be exact if you're using our ingredients), a single ounce will cost significantly less. Beeswax-$9.95 Shea Butter-$15.75 Carrier Oils-$8.99 Essential Oils-$12.95 A single batch should cost roughly $3.50.
That means you save $11 on every single purchase. Maybe $11 doesn't seem like that much to you, but it depends on how much you go through. One bottle means $11, but two means $22, three means $33…the numbers could add up PRETTY quickly. Why spend so much extra money on something you could make yourself? And this isn't even the most expensive of balms. A nice beard balm can cost up to $50!
Secondly, even if beard balms contain essential oils, many of them contain sulfates, parabens, and toxins that actually damage your hair. The balm at your local drug store may not cost that much, but you can bet they're loading up the tin with chemicals.
Ingredients In Every Beard Balm Recipe:
Beeswax
Shea Butter/Cocoa Butter
Carrier Oils
Essential Oils
Beeswax:
Chefland Organic Beeswax & Stakich Beeswax Pellets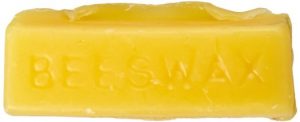 Honey bees produce beeswax from glands on their abdomen when building the hive to house the queen bee. The wax helps build the honeycomb cells where their young will eventually grow into bees. Because it's a tough, organic material with a neutral pH, it functions as a non-reactive, constructive building material.
It also has a relatively low melting point, so it's fairly easy to mold and sculpt. Beard balm typically contains beeswax for this exact reason: it helps to hold the beard in place. You'll frequently find beeswax in cosmetics because it's keeps the skin moisturized without weighing it down. It's also anti-bacterial, anti-inflammatory, and anti-viral.
Beeswax comes in either the bar form you see pictured above or in pellets. While both will work for our purposes, the pellets do happen to be easy to measure. You can find both by clicking on the buttons below.
Butter:
Unrefined Cocoa

&

Shea Butter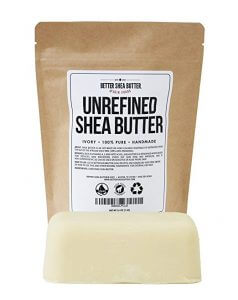 The second ingredient typically found in beard balm is either shea or cocoa butter. These butters give the balm its substance and make it soft and spreadable.
Shea butter is fat extracted from the nut of the African shea tree. It's widely used to treat blemishes, eczema, wrinkles, insect bites, dermatitis, and itchy skin. Because it's rich in vitamin A and E, it also helps to protect your skin from damaging UV rays and enabling it to maintain its elasticity.

Cocoa butter is the fat extracted from the cocoa bean. It gives chocolate its silky, smooth texture and contains an impressive amount of the flavonoid antioxidants that boost your immune system. Cocoa butter does an excellent job of hydrating the skin, reducing signs of age, and healing infections and burns. You can use either of these. In this beard balm recipe, we're going to use cocoa butter because I love the smell. However, feel free to experiment using shea butter as well.
Carrier Oils:

Coconut Oil

and

Carrier Oil Set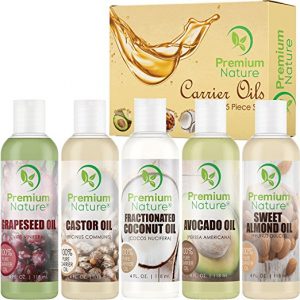 You might have heard of carrier oils with regard to perfumes. Perfumes are made with either alcohols or oils. They are vegetable oils that serve as the base for other scents. Essential oils can damage the skin if applied directly. Not only do carrier oils dilute these concentrated formulas, but they also "carry" the lighter oils onto the skin anchoring the fragrance. This set from Premium Nature includes grapeseed oil, castor oil, coconut oil, avocado oil, and sweet almond oil. However, you can also purchase the oils separately. If you want to try one before committing to the set, we highly recommend coconut oil. Coconut oil is a saturated fat commonly used both in cooking and in cosmetics. It has a faintly tropical scent and can help you stir-fry vegetables and as a makeshift shaving cream. If you don't end up using all of it in your best beard balm recipe, you can easily use it in other ways around the house.
Beard Balm Recipe:
Now that we've finally gotten all of the ingredients for our best beard balm recipe, we're ready to get started. Measure out your ingredients, get out a pot and some measuring tools, and let's get started!
Ingredients:
-6T. Beeswax
-6T. Shea Butter
-3T. Cocoa Butter
-3T. Coconut Oil
-6 Drops of Peppermint Oil
-3 Drops of Eucalyptus Oil
Mix the beeswax, shea butter, and cocoa butter in the pot and stir over low heat until completely melted. Keep a close eye on it to make sure it doesn't burn.
When the wax and butters have melted completely, stir in the carrier oil. In this case, we're using coconut oil. Stir until completely combined and then remove the pot from the heat.
Add your essential oils and give the pot a few good stirs before pouring your beard balm into storage tins or jars to let them set. Even though now the mixture is liquid, once it cools, it will thicken. However, if it's not the right texture, you can always reheat it. If it's too runny, add more beeswax, and if it's too thick, add a bit more shea or cocoa butter.
Lather up! Enjoy how smooth your beard is!