By this point, just about everybody with a beard is familiar with the Honest Amish brand.
With a range of other beard products, it's easy to forget that it was their original beard balm that put them on the map.
Found in just about every barbershop these days, it is the go to beard balm for many guys.
After all, who would you trust more with your beard care than the Amish?
It makes sense then that they have produced a beard conditioner that works well since beards are so important in the Amish culture.
In this Honest Amish beard balm review, I will go over the many features that put it up to the top of the list of best beard conditioners.
If you have a beard and haven't tried it, then I think you've been missing out on a top notch beard product.
By the time you finish reading, I think you'll wonder what took so long for you to finally come around and try Honest Amish beard balm!
What sets it apart?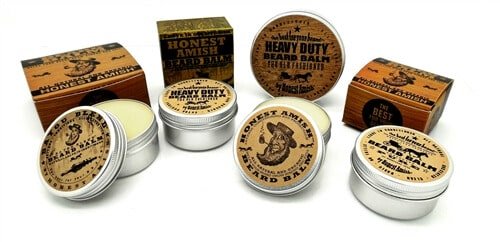 Ingredients
Before I get into what the bead balm contains, let me highlight what it doesn't contain.
No man made preservatives

No harmful chemicals

No synthetic fragrances

No added colors
All the Honest Amish beard balm ingredients are all natural and many are even organic. They are vegan and not tested on animals.
Since it is a proprietary blend the Honest Amish beard balm recipe is not up for everybody to see.
However, there is a list of some of the essential oils it contains.
Argan oil
This essential oil plays a major role in this beard balm. It repairs damaged hair, strengthens and softens it. For guys with brittle or wiry beards, this is a must have in your beard butter.
Avocado Oil
This ingredient will penetrate the beard and keep the hairs fuller and softer. Not only that, but it can unclog the base of the follicles and improve blood flow to the skin. This makes your hair much healthier and stronger as a result.
Virgin Pumpkin Seed Oil
This essential oil is important to have when you are regularly washing your beard. It replaces the sebum, or natural oils of the hair that gets stripped by shampoos and soaps. If your beard grows slowly then this should also speed up the process due to being rich in Vitamin B7.
Apricot Kernel Oil
Full of antioxidants, this oil will keep the natural balance in your hair by fending off the free radicals. These free radicals can prematurely age your hair causing it to become brittle.
Sweet Almond Oil
Add silkiness and shine to your wiry, scraggly beard. If you want your beard to be soft and touchable then having this in the beard balm is a must.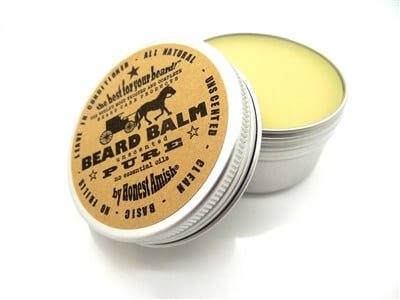 How does it work?
The addition of beeswax along with the essential oils will allow the Honest Amish beard oil to stick to the beard and absorb all the goodness the oils have to offer.
Beard oils do the same thing, which is softening and strengthening your beard hair, but there is a difference.
A beard oil doesn't act so much as a conditioner because it doesn't have that beeswax to let it sit longer on your beard.
The other nice thing about that beeswax is that it allows you to style your beard. If you want to make sure it stays put when your comb it out, then it will.
With beard oils, after you comb it, it will still move around a bit. They definitely are not suitable for styling beards.
The scent is very subtle and hard to define. It smells a bit woodsy, but not in a spicy or patchouli kind of way. Natural, I guess you could say.
And the aroma doesn't last long so it won't conflict with any cologne you're using.
The Results?
The results after using this beard balm will be hard to miss.
If your beard generally grows slowly, then you may see it coming in a bit faster due to the properties of some of the essential oils present.
It will definitely look fuller and have a nice healthy shine to it. If your beard is wiry and frizzy, you will notice it looks more smoothed out.
And it will feel remarkably smoother to the touch, too.
If you have a significant other, they will definitely appreciate the difference!
How to Apply Beard Balm
Before applying the beard balm, you should heed the old saying, "too much of a good thing".
You don't want to put too much in or your beard will look greasy.
You want it to leave a shine, but more of a healthy shine and not a "My bacon dripped all over my beard" kind of shine.
Take about a dime size ball of the beard butter and rub it between your palms.
When it is sufficiently melted enough to be spreadable, then rub it into your beard.
Make sure you get all the way down to the skin as the Honest Amish beard balm is just as good for your skin as it is for your beard. In fact, the two go hand in hand.
Once you feel like you have gotten it all into your beard, use a beard comb or brush to evenly coat the entire beard. You can even use them to style your beard.
You don't really need to apply it more than once a day.
If your beard is in particularly bad shape, then you can definitely apply some in the morning and then again in the evening to give it a boost early on until it gets back on track.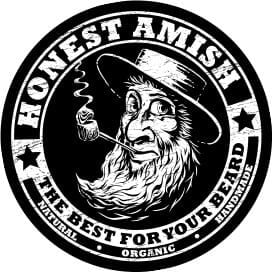 Final Thoughts
If you're serious about your beard, and you should be, then you need the best to look your best.
Out of all the beard balms that I have seen, I would have trouble recommending one over Honest Amish.
This is especially true if you have a long beard. You can keep it looking good by trimming the dead ends if it is long. But, to really get it where it has a healthy shine, it's fuller and thicker and attracts the right kind of attention, then use this beard balm and you'll see the difference.
Have you used Honest Amish beard balm leave in conditioner before? What was your experience?
If you want to add to the story or have any questions, make sure to drop a line in the comment box below!
I'm an outdoor enthusiast and have sported a full beard since I was in my early 20's. Originally, growing a beard was a way to save time when getting ready each day, but I quickly realized that keeping a neatly trimmed beard takes work and some forethought. That's where this site comes in.
You get to benefit from my years of experience. I've reviewed many of the top hair clippers on the market today and also included some information on what works best for me. A great beard will turn lots of heads in your direction.
Since I never know when I'm going to find myself being photographed, whether it's climbing in Yosemite, or playing volleyball on the beach, it's important to me to always look my very best. Maintaining my beard is part of my daily routine and I hope you'll find some useful tips and information on this site to help you on your journey.