How did a Mom and Pop beard product company in a small town in Western Pennsylvania become the industry leader?
Honest Amish is the go to product for most guys with beards and has become ubiquitous now that the beard trend seems here to stay.
I'm intrigued by this company so I decided to shine a spotlight on them. I love promoting small businesses that work hard and offer good products that actually help people.
Maybe that is it in a nutshell.
They are a company that do all the little things right and their work ethic has them on the top of the beard product heap.
Very often I review products, but not companies.
So, here is something a little different.
The Difference
What it is that sets Honest Amish company apart?
They use only natural and sustainable ingredients, but so do lots of other small beard product producers.
They make everything by hand in a single location. Just in the Boston area where I am, there are many others that do the same thing.
If others are pretty much doing what Honest Amish does, then how did they become so popular?
I really believe it was by starting out before the beard trend exploded, and sticking with a sustainable system.
What I mean by that, is that they were one of the first But, when they started seeing beard culture take off and they were making more money, they stuck with their guns and didn't start cutting corners just to maximize profit.
People realize when a good product changes. And the fact that things are still being done the same way is definitely appreciated by their loyal customers.
Amish Work Ethic
I don't know if the owners are actually Amish or not.
I reached out to the company asking a few questions but at the time that I write this, they haven't gotten back.
One thing I do know is that they definitely take the Amish work ethic to heart.
Working in a small team they handcraft all of their products.
Beard Balm Ingredients
Honest Amish company is most known for their beard balm recipe.
Let's take a look at what the beard balm ingredients are.
While the exact Beard balm ingredient list is proprietary, there are plenty of items that we know it contains.
Argan Oil – Moisturizes hair and skin and repairs damaged cells

Golden Jojoba Oil – Restores the natural balance of sebum in the hair and skin

Avocado Oil – Helps unblock clogged follicles

Grape Seed Oil – Helps repair frizzy hair and locks in moisture in the hair

Virgin Pumpkin Seed Oil – Helps strengthen the shaft of the hair

Shea Butter – Among other things, it helps moisturize the skin under the beard and prevent dryness

Aloe Vera – Leaves hair shiny and soft and the skin hydrated
The way the beard balm ingredients are mixed makes it more like a beard butter than anything. The texture is literally like butter with some beeswax mixed in for consistency and to keep it on the hair of the beard.
The beeswax makes sure the balm is absorbed properly by the hair and skin to get the most out of the conditioner.
It's the beard balm recipe that put Honest Amish company on the map and is their biggest selling product to date.
Other Products
Besides the beard balm which is a beard hair conditioner, there are a number of other all natural beard grooming products.
Beard Wax – Similar to beard balm but different. Just as beard balm will help keep the beard style in place, this is a high hold beard wax that will shape and style your beard as well as provide some shine and scent.
Beard Oil – "Better than an oil" is how Honest Amish describe their beard oil. Made with 10 different essential oils instead of the typical 2 or 3 oils found in other brands, it is much better at nourishing your beard. Choose between Classic, Pure and Premium blends.
Beard Soap – This soap is made to wash the hairs of your beard without stripping it of its natural oils. In addition, it helps keep your skin clean and hydrated. You can use it on your entire body and it comes in four different varieties.
Hand and Body Salve – If you work with your hands, then you can definitely use some all natural salve like this one from Honest Amish company. If you have dry or rough skin anywhere on your body then this salve does a great job at repairing the damage and smoothing your skin.
Lip Balm – Since they have plenty of products for beard, it makes sense that they also would be thinking about your lips. With three different natural lip balms to choose from, you can find the right formula to treat your dry or cracked lips. Including one that is medicinal.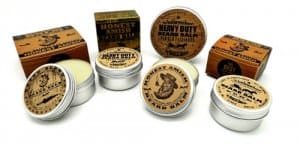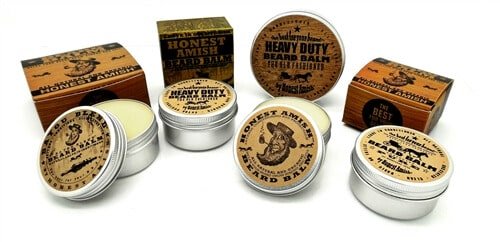 Sustainable, Eco Friendly and Fair
It's easy to see how a customer can become so loyal to a brand like Honest Amish since they provide a guilt free way to take care of your beard and skin.
Not only are the ingredients all natural and mostly organic, but the container of most of the products are packaged in a 100% recyclable tin that is also biodegradable. They also look pretty cool so can be reused for other things.
You could use the tins to keep little knick knacks, or even your own grooming products if you are so inclined to make some.
Then the fact that everything is made in the USA in a small town makes it very easy to support. They put people to work in an area where there aren't many job opportunities and paying them a good wage.
You end up keeping your beard looking on point and people working. What a bonus!
Final Thoughts
There are a lot of different brands to choose from for your beard care products these days.
In my opinion, choosing the one that uses the best ingredients, that are also all natural, and that is also a Mom and Pop operation makes the choice a no brainer.
I love picking products that work better than advertised and also do the right thing by their workers and consumers alike.
I'm curious about what others think about that stance. Would you be more likely to purchase products from a company that is trying their best to do the ethical thing? Or does it not factor at all in your decision making process?
Leave a comment in the box below if you want to weigh in!
I'm an outdoor enthusiast and have sported a full beard since I was in my early 20's. Originally, growing a beard was a way to save time when getting ready each day, but I quickly realized that keeping a neatly trimmed beard takes work and some forethought. That's where this site comes in.
You get to benefit from my years of experience. I've reviewed many of the top hair clippers on the market today and also included some information on what works best for me. A great beard will turn lots of heads in your direction.
Since I never know when I'm going to find myself being photographed, whether it's climbing in Yosemite, or playing volleyball on the beach, it's important to me to always look my very best. Maintaining my beard is part of my daily routine and I hope you'll find some useful tips and information on this site to help you on your journey.