After our previous comparisons, many of you asked us to do the same with an Oster Fast Feed vs Wahl Senior showdown. As the Fast Feed and Wahl Seniors are these brands' most popular models, we figured out we'd do just that.
For those of you who're impatient: the Fast Feeds are a better choice for casual users who prefer a lighter, cooler machine. The Seniors are a better heavy-duty clipper for barbers.
The 5 star Senior is an especially high-end choice and a machine my colleague Alex enjoys despite its relative heaviness: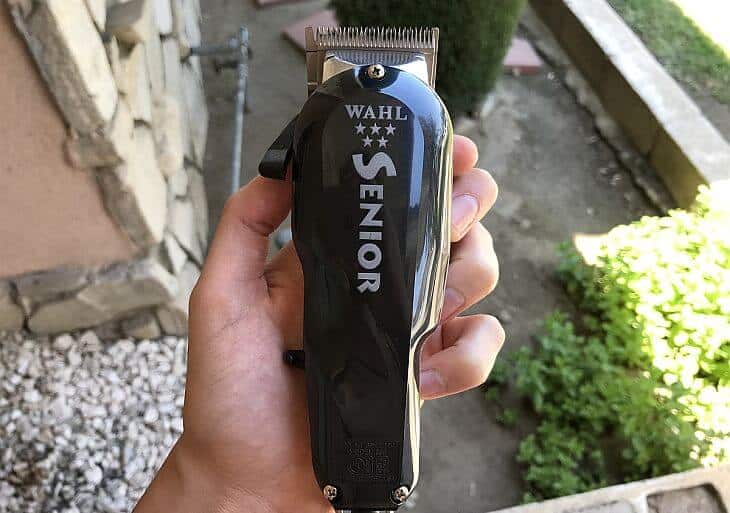 We're looking at two very different clippers here. No doubt that the Wahl Senior is way bigger with its 6.5″ and heavier at 1.2 lbs. The standard 8500 Seniors combine grey hard plastic on top with durable chrome bottom part.
In terms of design, nothing too amazing. I've already mentioned that there's an industrial, get-the-job-done feel to Wahl's famous model. A very practical professional hair cutter.
In fact, the Seniors are considered a workhorse among barbers due to it's powerful motor, and very durable body casing. They can take the abuse that comes with working in a professional shop as bumps and bruises are inevitable.
Oster counter this with their typical vintage looks. The Fast Feed weighs the standard 1 lbs and is more maneuverable than the 8500 Seniors. Great for people who prefer to move around more or need a lighter home buzzer.

Fast Feed clippers come with a break-resistant housing. Its overall durability is comparable to the Senior, so with both models you get a good deal.
While both models look rather mundane, Seniors have a special Reflections model from Amazon.com. At 1.3 lbs, it features premium looks, with whole chrome housing and outstanding elegance.
Oster Fast Feed

86%

86%

Wahl Senior

80%

80%
A lot can be said about these two models, Oster Fast Feed vs Wahl Senior. Let's start with the Seniors and their V9000 electromagnetic motor.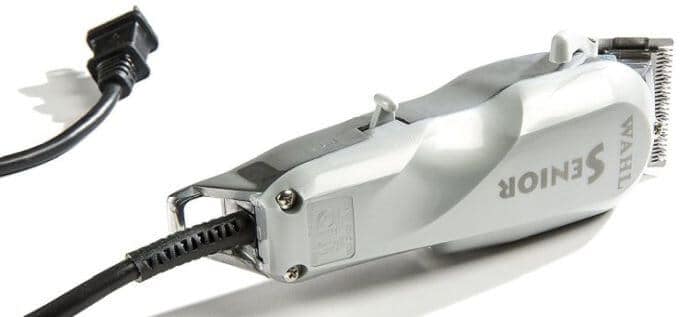 This motor type is top of the line for Wahl clippers. Indeed, it's this part that makes the Wahl 8500 Senior the heavy-duty beast of a cutter it is.
The regular Senior comes with a #1005 all-purpose blade. You can adjust it using a side lever to control the length. It will glide through all hair types with zero resistance, performing crisp cuts. Achieving a zero gap to make the blade cut closer is very easy with the Seniors.
If you want a fading clipper and better performance, you can always opt for the similarly priced Wahl 5 star Seniors. Its special fade blade paves the way to outstanding fades.
Compared with the V9000 motor, Fast Feeds' pivot motor doesn't perform as strongly. This doesn't mean it won't go through coarse hair or shape both wet and dry hair properly. Just don't expect to achieve similar heavy-duty action here.
RPM speed is a lot less important when it comes to ratoray motors since they have way more torque. It's this torque that allows it to cut through thick hair and even wet. The blades have way more power behind them to get through that difficult to cut hair. They are small and lightweight but don't be fooled. You'll be surprised at how much hair you can cut with these quickly.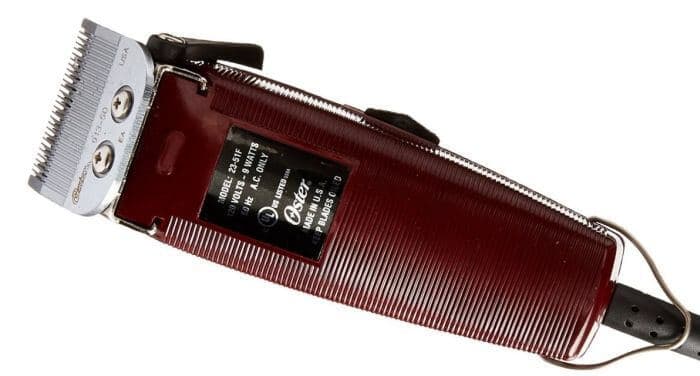 Oster are famous for their detachable blade clippers like the Classic 76. However, the Fast Feed's adjustable blade is a state of the art too. Cryogenically tested to ensure its sharpness and durability, it's ready for professional-grade cuts.
Keep in mind that doing a zero gap on the Fast Feeds is a little bit tricky. You can achieve it, but it will require a bit more time and efforts than the Seniors.
I think that these are not the right tool if you need to do skin fades. Every tool has its job and it doesn't make a lot of sense to try to force these clippers to do something it wasn't designed for. There are much better clippers for skin fades out there.
If you need to do a lot of regular cuts but like having the versatility of an adjustable blade, then these will work great.
While we listed this Oster clipper in our best fading clippers list, the 5 star Senior performs significantly better in this regard.
Oster Fast Feed

81%

81%

Wahl Senior

95%

95%
If the Oster Fast Feed lagged behind a bit in the previous section, here comes its time to shine.
Electromagnetic motors usually heat a lot more due to the faster moving parts. As Seniors have the top V9000 motor, they will get hot very easily. At the same time, the Feeds' pivot motor stays significantly cooler.
An additional factor is the chrome part of the 8500 Senior. It's no rocket science: having a metal part with a strong motor is a recipe for heating issues. The Fast Feed relies on tough plastic so it evades this.
Your customer will appreciate not having a hot blade against his skin and may be more likely to sit in your chair the next time he comes to the shop if your peers are using Andis clippers.
Not only that but when your clippers stay cool you won't be messing around with cooling sprays to keep them from overheating. The less time you spend fussing with your tools the faster you can work. This ends up making you more money.
In terms of noise, the Fast Feed vs Wahl Senior battle also ends with Oster's contestant winning. The Feeds will be close to humming in comparison with the louder Seniors and their heavy-duty presence.
That's the reason I'd recommend the Fast Feed for those of you who want a home use clipper with a professional edge to it. And if you cut a lot of kids hair then you'll have a much easier time when since they are quiet. Kids hate clippers because they get scared by the buzzing noise around their ears. They won't even notice these are on!
Oster Fast Feed

92%

92%

Wahl Senior

78%

78%
Honestly, there's quite a few variations of the Seniors, priced quite differently. That said, the Fast Feed is cheaper than any Wahl Senior model. In some cases, the price gap isn't that substantial, but it's still there.
In terms of accessories, you're getting a similar bargain with both models. Both come with 3 basic combs, clipper oil, cleaning brush and a blade guard.
The difference is that the Senior's guards are 1/16″ to 3/16″ in length. The Fast Feed comes with 1/4″, 3/8″ and 1/2″ guards, but you also receive a bonus blending comb.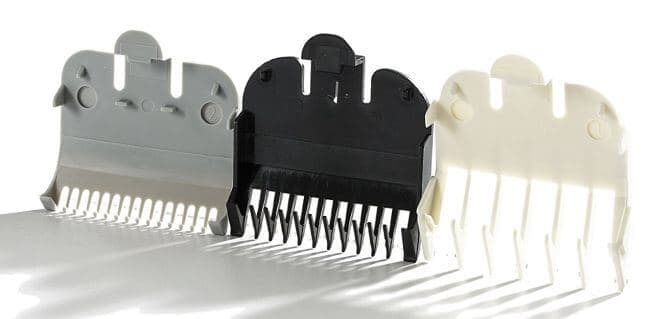 I'll be honest: I'm not a fan of pure plastic guards and both models' combs can feel flimsy. Oster's are a bigger offender for sure.
That said, the Fast Feed can use the famous Andis Nano magnetic guards from Amazon.com that fit better and achieve crispier cuts. Just make sure they're the double magnet guards.
Oster Fast Feed

85%

85%

Wahl Senior

80%

80%
As I mentioned in the beginning, if you're looking for a more casual, home-use ready clipper, you should go with the Fast Feed. If you're seeking a heavy-duty, more versatile model, it's Wahl all the way.
Especially with its variations like the 5 star Senior and the Reflections Senior clipper, you're getting an access to a whole universe of possibilities. For barber action, comparing the Oster Classic 76 to a 5 star Senior for example would be way more fitting.
All said and done, both models deserve their popularity. They're a solid choice that you won't regret. Just pick according to your specific preferences.
Note: The benchmark scores in this Oster vs Wahl comparison might differ from other comparisons or standalone review scores. They are reserved specifically for the Oster Fast Feed vs Wahl Seniors comparison, based on their features.
I'm an outdoor enthusiast and have sported a full beard since I was in my early 20's. Originally, growing a beard was a way to save time when getting ready each day, but I quickly realized that keeping a neatly trimmed beard takes work and some forethought. That's where this site comes in.
You get to benefit from my years of experience. I've reviewed many of the top hair clippers on the market today and also included some information on what works best for me. A great beard will turn lots of heads in your direction.
Since I never know when I'm going to find myself being photographed, whether it's climbing in Yosemite, or playing volleyball on the beach, it's important to me to always look my very best. Maintaining my beard is part of my daily routine and I hope you'll find some useful tips and information on this site to help you on your journey.