How is a beard oil "better than beard oil"?
When the oil is Honest Amish Beard Oil, according to them.
I've tried a lot of different beard oils in the shop and have loved some and then some, not so much.
How does itl rank among the ones I loved?
Well, I don't want to spoil the surprise just yet!
To get all the details, you'll need to read the whole Honest Amish beard oil review. SPOILER ALERT: I do actually love Honest Amish beard oil.
But, what makes it rank among the best beard oils?
It's pretty simple. They actually care about the brand and their customer. To read more about the Honest Amish company, you can check out an article I wrote about them here.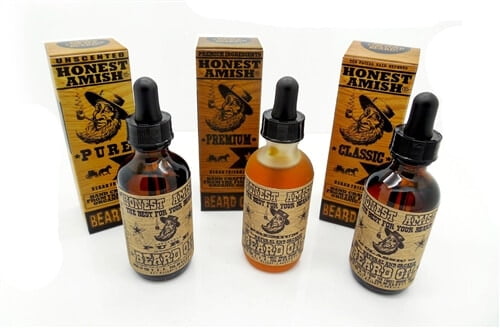 Honest Amish vs The Competition
When Honest Amish beard products were first produced, there was not nearly the amount of choice for beard oils.
Nowadays, you can find hundreds to choose from made from a wide array of ingredients.
Many of them claim to do wonders for your beard, and many of those claims are accurate.
So, why choose Honest Amish? Are they actually the best?
I'll go into the ingredient list in a moment, but first let me tell you about what separates them from the competition aside from using premium oils.
When Honest Amish started out, they were a Mom and Pop operation in a small town in Western Pennsylvania in Amish country.
They employed locals to make the products by hand and paid them a fair wage.
And that is still the case today. With revenue over $4million per year, they still do things the same way.
With a hands on approach, they ensure the quality is as good now as it has ever been.
Ingredients
This is how a beard oil becomes "better than an oil".
They have chosen some great ingredients, that all have a role to play in keeping your beard healthy and manageable.
There are three different oils to choose from. Classic, Premium and Pure.
The Classic beard oil contains Avocado oil, Virgin Pumpkin seed oil, Sweet almond oil, Apricot kernel oil, Golden jojoba oil, Virgin argan oil, Kukui oil.
Most beard oils these days contain jojoba oil as it acts as a natural way to defrizz your hair. Wiry beards get softer and shinier thanks to jojoba oil.
Argan oil, aka Moroccan oil, is becoming more prevalent in beard oils and other hair products since it is an excellent hair product as it is rich with vitamins A, C and E. its properties help boost cell regrowth in hair for healthier, stronger beards.
So, those same Honest Amish beard oil ingredients would be expected in just about any self respecting beard oil.
Where they separate from the pack is with the rest of the list.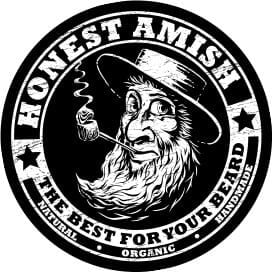 Avocado oil
Nourishes beard hair with and softens it to keep it from getting brittle.
Apricot Kernel Oil
Besides adding volume to your beard, it can also stimulate faster growth of the beard. If you have a patchy or slow growing beard then this ingredient is a must.
Virgin Pumpkin Seed Oil
This oil is also seen as a stimulant for hair to help it grow faster and may even increase new growth.
Sweet Almond Oil
Rich in zinc, magnesium and calcium, your hair will end up thicker and stronger, especially if you lack these minerals in your diet.
Kukui Oil
If you have dry skin under your beard, as many men do, then the itchiness can be eased with kukui oil.
Honest Amish Premium Beard Oil
In addition to the same ingredients as the Classic, the Premium beard oil adds a few others to really kick it up a notch.
Black Cumin Seed Oil
Rich in antioxidants, it protects your hair from free radicals which can prematurely age your beard.
Virgin Boabab Oil
Packed with Vitamins A, D, and E, it can bring back elasticity to your skin and nourishes your hair to keep it full and strong.
Rosehip Oil
An excellent source of fatty acids that will repair damaged hair follicles and stimulate faster growth.
Moringa Oil
Your hair follicles need good blood flow for strong and healthy hair growth which is supplied by this all natural moringa oil.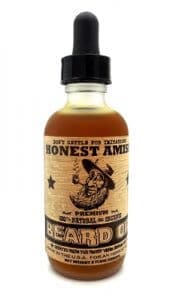 Honest Amish Premium Beard Oil for Growth
You may have noticed all the Honest Amish beard oil ingredients that promote hair growth in that list. Does that mean that your beard will grow faster, thicker and less patchy if you use these oils?
Before I answer that, let me say that not all beard respond in the same way to the same ingredients.
So, in theory, yes, your beard will grow better.
Honest Amish premium beard oil is definitely the best beard oil for patchy beards. Besides the fact that it will stimulate growth in dormant hair follicles, it will also beef up and thicken your beard hair so it looks less patchy anyway.
If your beard is growing slowly, then you should definitely be using this beard oil. With so many essential oils that stimulate growth, it will definitely give you a boost and you should see some faster growth.
This is especially important if you're on vacation and growing a full beard before returning to work, for example.
How to Apply
With any beard oil, it is important to not go too heavy.
Always use the amount indicated on the instructions to avoid it weighing your beard down.
Luckily, most of the oils used are lightweight. However, you don't want your beard to look greasy.
Make sure you spread it evenly in your hands before you apply it to your beard.
Then rub it in all the way down to the skin.
To make sure all the hair gets evenly coated, use a beard comb or beard brush.
Now, just style it the way you like.
How does it smell?
There are no added fragrances, so it is hard to pin down exactly what the scent is.
It's a sort of earthy aroma that is very subtle. Likely because the essential oils all have their own light scent to them.
You really only smell it for the first hour or so after you apply it.
And, luckily it won't clash with your cologne.
Final Thoughts
Look, Amish have long beards, so I am going to go with somebody who lives amongst them that makes a beard oil.
That only makes sense.
I have had Honest Amish sitting on my barber station for years now and have not had anybody not rave about the results when I use it on them.
If you use this, then you will see some very positive results.
From a thicker, fuller beard. To a healthier shine. To a much softer feel, you won't be disappointed after using either of these oils.
Hopefully this Honest Amish beard oil review has helped you to cut through the clutter.
With all the different choices out there, make it easy on yourself and go with a proven winner.
I'm an outdoor enthusiast and have sported a full beard since I was in my early 20's. Originally, growing a beard was a way to save time when getting ready each day, but I quickly realized that keeping a neatly trimmed beard takes work and some forethought. That's where this site comes in.
You get to benefit from my years of experience. I've reviewed many of the top hair clippers on the market today and also included some information on what works best for me. A great beard will turn lots of heads in your direction.
Since I never know when I'm going to find myself being photographed, whether it's climbing in Yosemite, or playing volleyball on the beach, it's important to me to always look my very best. Maintaining my beard is part of my daily routine and I hope you'll find some useful tips and information on this site to help you on your journey.