Are We Really Getting A Cordless Andis T Outliner?!
Hoold on a bit, man. Don't play with my feelings like that!
Alex was stoked about the news of a cordless Wahl Senior hitting the salons soon.
But I'm the Andis fanboy around the site. And, let's be honest: if there's a symbolic Andis' product, that's the good ol' T Outliner from Amazon.com.
So imagine me, minding my own business online and BAM!, I see this, a cordless Andis T Outliner: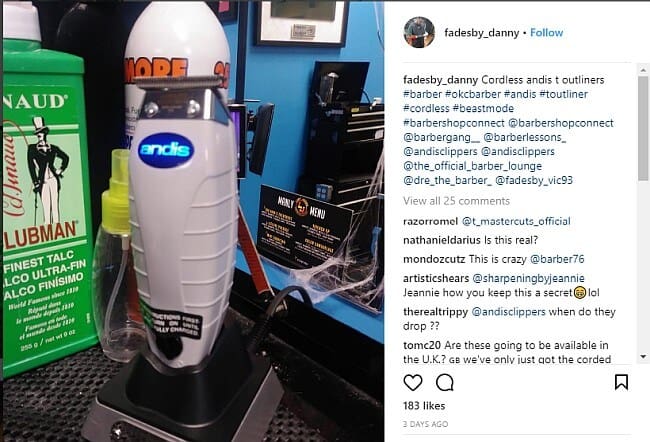 (Credits to Danny Arreola @ Instagram)
Talk about my heart entering full overdrive!
At first I was sceptical. Andis haven't said a thing yet and the somewhat blurry image looked a bit fake.
But what if it's real?
I mean, a cordless Andis makes sense as a succession to the Slimline Pro Li . Doesn't it? The Li is great, but I feel the classic T hits the spot better with its blades.
And then I saw this short video that showcases what appears to be a battery-powered T Outliner:
I'm as much confused as you are.
Are we really getting a wireless T Outliner soon? If so, when? How much will it cost?
Or more importantly, what can we expect of it?
I guess Andis will try to match the long-lasting (close to 2 hours) battery of the Slimline Pro Li…But will it have the same T Blade as the corded liners?
It looks the same, but I'm still hoping for a "deep tooth" blade like the GTX T liner.
What about the motor? What I like about the T Liners is the 7200 SPM motor which is significantly more powerful than the 6000 SPM the cordless Pro Li has.
I mean, don't get me wrong. The Pro Li trimmer from Amazon.com is one of the best cordless models a barber can have right now. But the potential with the T Liners is HUGE!
I wonder whether Andis keep that beast of a motor in a (tentative) cordless T Outliner? That would be crazy!
So many questions while we're still in the dark. Hope the upcoming 2018 (or even earlier, please!) brings us good news in this regard!
Peace out,
Ryan
P.S. Until then, let's enjoy the corded brilliance of the T Outliner!