Are We Really Getting A Cordless Andis T Outliner?!
Hoold on a bit, man. Don't play with my feelings like that!
Alex was stoked about the news of a cordless Wahl Senior hitting the salons soon.
But I'm the Andis fanboy around the site. And, let's be honest: if there's a symbolic Andis' product, that's the good ol' T Outliner from Amazon.com.
So imagine me, minding my own business online and BAM!, I see this, a cordless Andis T Outliner: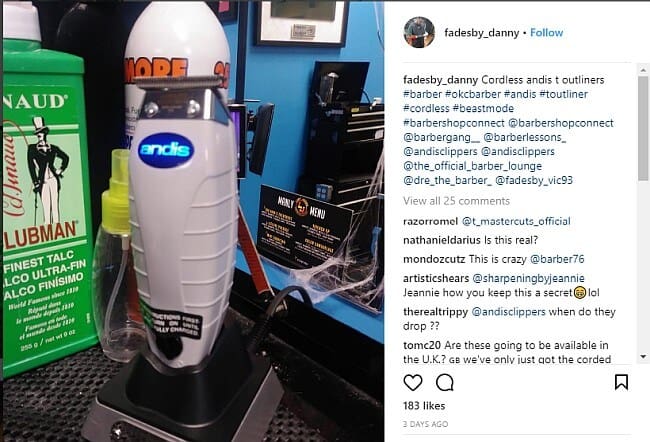 (Credits to Danny Arreola @ Instagram)
Talk about my heart entering full overdrive!
At first I was sceptical. Andis haven't said a thing yet and the somewhat blurry image looked a bit fake.
But what if it's real?
I mean, a cordless Andis makes sense as a succession to the Slimline Pro Li . Doesn't it? The Li is great, but I feel the classic T hits the spot better with its blades.
And then I saw this short video that showcases what appears to be a battery-powered T Outliner:
I'm as much confused as you are.
Are we really getting a wireless T Outliner soon? If so, when? How much will it cost?
Or more importantly, what can we expect of it?
I guess Andis will try to match the long-lasting (close to 2 hours) battery of the Slimline Pro Li…But will it have the same T Blade as the corded liners?
It looks the same, but I'm still hoping for a "deep tooth" blade like the GTX T liner.
What about the motor? What I like about the T Liners is the 7200 SPM motor which is significantly more powerful than the 6000 SPM the cordless Pro Li has.
I mean, don't get me wrong. The Pro Li trimmer from Amazon.com is one of the best cordless models a barber can have right now. But the potential with the T Liners is HUGE!
I wonder whether Andis keep that beast of a motor in a (tentative) cordless T Outliner? That would be crazy!
So many questions while we're still in the dark. Hope the upcoming 2018 (or even earlier, please!) brings us good news in this regard!
Peace out,
Ryan
P.S. Until then, let's enjoy the corded brilliance of the T Outliner!
Update!
So, the cordless Andis T Outliner is actually out!
Here is a brief review of what to expect if you opt for the cordless version of the classic trimmer.
Price
Ok, this may be a deal breaker for some. The best thing about the corded version as opposed to the new cordless Andis T Outliner is that it was a great budget way for a new barber to set up their kit and still get a good quality trimmer.
At roughly $200 at the time this is written, it is not at all budget friendly.
Performance
You're really getting the same type of performance of the original T Outliner, which is a good thing.
The blade is very sturdy and sharp and the shape helps you get into the hard to reach areas.
It can be zero gapped for a very tight line.
The power is just the same as if it had a cord. So no issues with being weaker by being cordless at all.
Design
The look of the new cordless version looks almost identical to the original. The body is made of the same, hard body case. One difference is the blue LED charging light.
The charging dock is very sturdy and doesn't take up too much space. I would have prefered a cord to plug in to tcharge so it could be used corded while it charges if you are in a bind with a dead battery.
Cons
For some really odd reason, Andis decided to leave the power switch the same. I love one handed operation and the fact that you need to use two hands to switch it off was always a downer for me. I never understood why that wasn't updated and it is even more baffling now.
Who Should Buy It?
Anybody can decide to own one, but I think the price puts this more in the range for professionals that can write it off as an expense.
It is really expensive for the home DIY barber. If you are only using it as an edger then it's a very expensive one. I wouldn't use it to cut hair as that is not what it is made for.
If you are a barber already using the original and are already looking to upgrade, then I think this is a great option.
Verdict
Right now the price is really the only thing that might be holding people back. But, the price will surely go down over time. Remember, it only just came out so it is going to have a high price for a while.
If you really want to know more about the cordless T Outliner, then head over to my more thorough review to get all the finer details about it.
If you are an Andis fan then you may already be hearing from others about it. Any questions? Let us know by dropping a comment in the box below!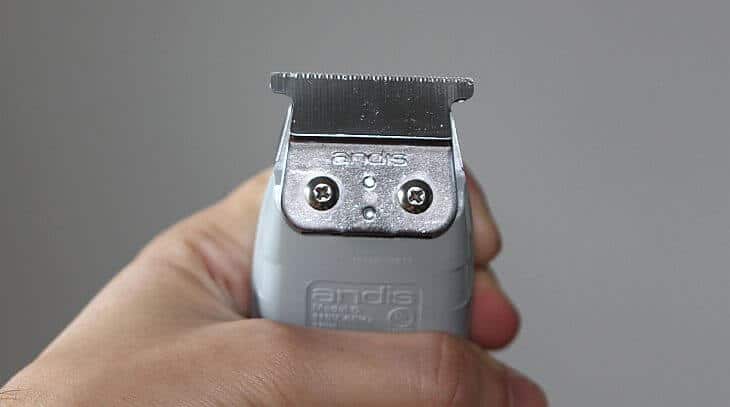 Salvatore Jamison
I'm an outdoor enthusiast and have sported a full beard since I was in my early 20's. Originally, growing a beard was a way to save time when getting ready each day, but I quickly realized that keeping a neatly trimmed beard takes work and some forethought. That's where this site comes in.
You get to benefit from my years of experience. I've reviewed many of the top hair clippers on the market today and also included some information on what works best for me. A great beard will turn lots of heads in your direction.
Since I never know when I'm going to find myself being photographed, whether it's climbing in Yosemite, or playing volleyball on the beach, it's important to me to always look my very best. Maintaining my beard is part of my daily routine and I hope you'll find some useful tips and information on this site to help you on your journey.