Salon Recommended: 5 Best Professional Shampoo Brands to Look Out For!
Why would you ever want to buy the best professional shampoo brand?
I mean:  the best professional shampoo bottle sets you back some $50-60! At the same time, your nearest supermarket can give you a good-enough-solution for $9.
It's an understandable concern. Money is money, after all.
The same applies for quality, though. Salon shampoos come with special proprietary formulas, a product of cutting edge research.
Imagine this: scientists have held numerous meetings so your hair can be pampered like never before. And it works, it really does.
The best professional shampoo for our family is Pureology's Hydrate series on Amazon.com. Here's the shampoo + conditioner set: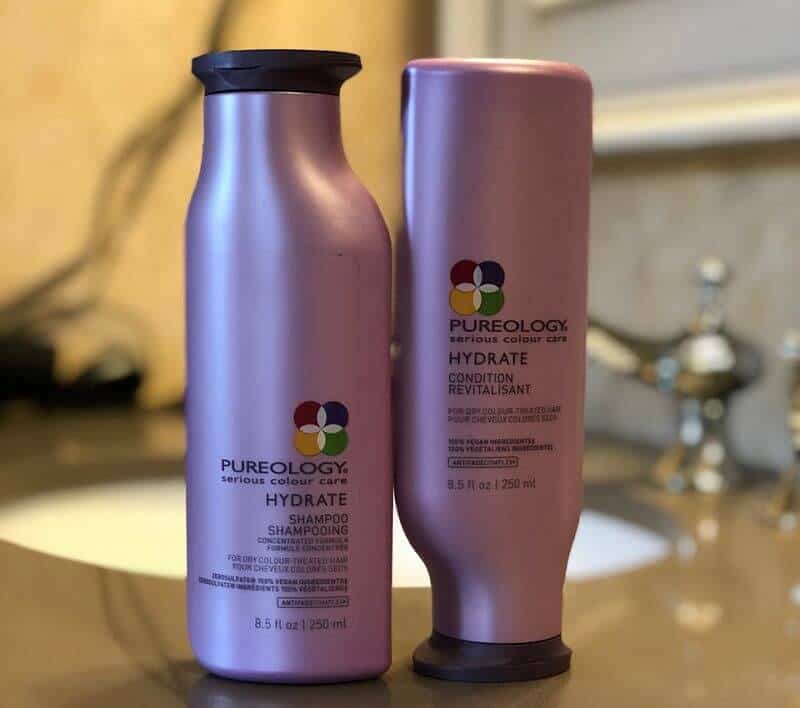 That said, there are 4 other salon-grade brands that deserve my praise. Namely: Kerastase, Nexxus, and Bumble and Bumble.
Let's see WHY are they worthy of being mentioned here and what hair type/case are they best used for.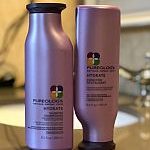 Pureology Hydrate

Best for:
Color-treated hair in need of retaining its vivid colors. Ultra concentrated formula, good for all hair types.

Formula:
Anti-Fade complex and Advanced Hydrating technology. Extra fragrance with bergamot and patchouli.

Lather:
★★★★★½

Fragrance:
★★★★½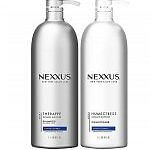 Nexxus

Best for:
Lightweight shampoo for extra nourishment and moisturizing. Brings elasticity to your dry, damaged hair.

Formula:
Caviar, Protein complex based on Concentrated Elastin.

Lather:
★★★★½

Fragrance:
★★★★½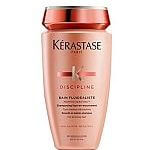 Kerastase Discipline

Best for:
Stubborn hair prone to tangles or frizz. Especially great for curly hair that needs to be disciplined.

Formula:
Ceramide plus Cationic Polymer for less frizz, more flexibility and humidity protection.

Lather:
★★★★½

Fragrance:
★★★★½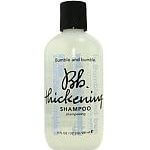 Bumble & Bumble Thickening

Best for:
Adds volume and thickens thin, fine hair. Provides additional moisture and pairs thickening effects with softness.

Formula:
Wheat protein, aloe vera gel & panthenol.

Lather:
★★★½

Fragrance:
★★★★★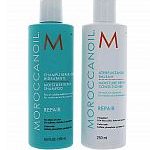 Moroccan Oil

Best for:
Dry, damaged hair - especially thicker hair types. Argan oil for natural oil hair nutrition.

Formula:
Argan oil, paired with protein, keratin and coconut oil-based fatty acids.

Lather:
★★★★★

Fragrance:
★★★★
1. Best salon shampoo for colored hair:

Pureology Hydrat
e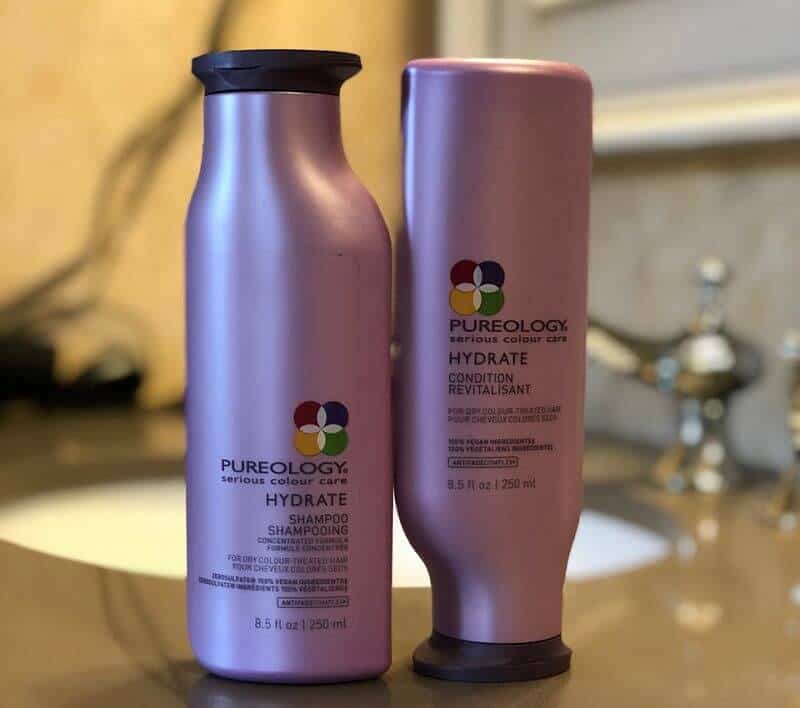 My personal note: Pureology have numerous best professional shampoo product lines, suitable for different hair types and beauty needs. Hydrate is their line focused on colored hair and it aims to nourish damaged hair, while sustaining its vibrant colors.
If you have damaged hair and lots of split ends, look at their Strength Cure line. If you have frizz-prone locks that are extra coarse, Smooth Perfection on Amazon.com is your jam.
So: why Pureology best professional shampoo? There are a lot of people who have accused the brand of over-hyping and overpricing their product.
I mean, it's definitely not a cheap set to have. But to me, the price tag is more than justified. There's a reason you'll see it pop up in a big portion of salons and barbershops.
There's a reason why we have a full in-depth review on it too!
First of all, this is a truly SLS-free and paraben-free shampoo. Some brands advertise that, but if you take a sneek peek at their ingredients you'll see some inconsistencies. Not with Pureology.
The secret here is the ultra concentrated formula in this best professional shampoo. Sure, you get a rather small bottle. However, you actually need HALF of the amount you'd normally use.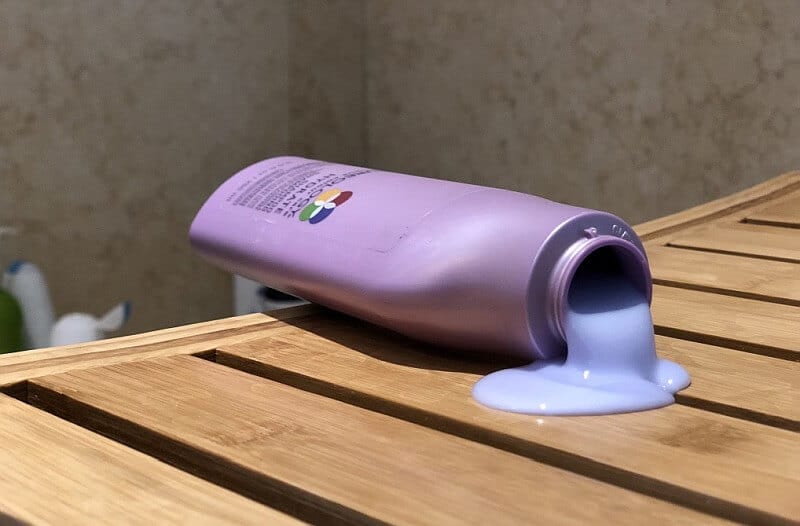 That's right: it evens out, so you're left with a seemingly small salon shampoo bottle…That actually will last you as much as a product that's 2x its size.
The lather is pretty good. Keep in mind that this is an extra thick shampoo, no other salon brand will be like this. Also note that the original Pureology should have a purple-ish tint to it.
Are you one of those girls or guys who exclusively stick to colored hair? Do you want to see these colors remain as vibrant as they were in the beginning?
Pureology is the best pro shampoo for you, then.
2. Best lightweight professional shampoo:

Nexxus set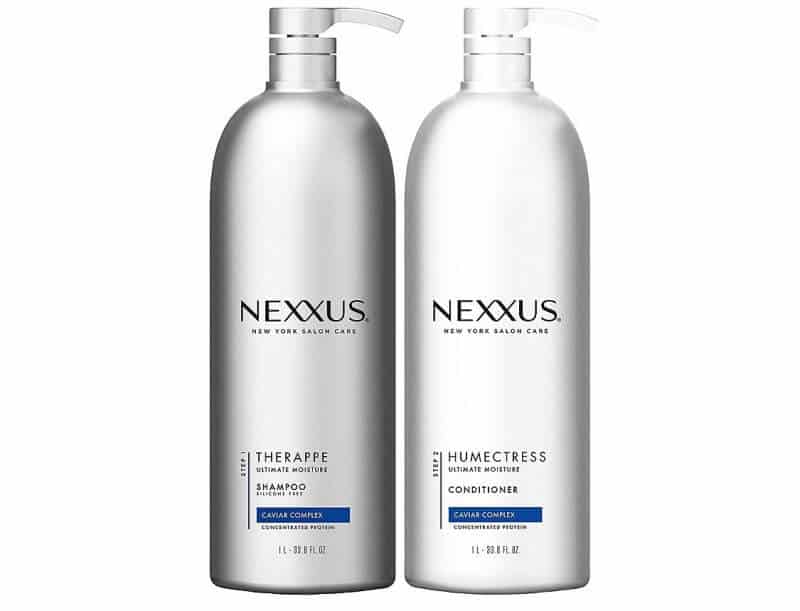 I mentioned Pureology having somewhat of a thick consistency. Obviously, some people might dislike this.
Nexxus is definitely the most lightweight take on salon shampoos. Don't worry: that doesn't mean that you won't get any lather. Plenty of foam to be had around your locks.
The keywords for this best professional shampoo include: moisture and replenishment.
Nexxus use a very specific formula: a mix of caviar and protein complex based on Concentrated Elastin. It's a completely silicone-free formula too.
Concentrated Elastin protein doesn't speak much to you, does it? It's understandable: lots of weird names and marketing hype terminology can be found with salon shampoos.
What this means in simpler words is elasticity, better hair consistency, and a proper nourishment to your hair fibers.
Nexxus should be your pick if you have dry, damaged hair that feels stiff and painfully exhausted. With its light, gentle feel and pleasant aroma, this set of salon conditioner & shampoo will take care of that.
3. Best curly hair salon quality shampoo:

Kerastase Discipline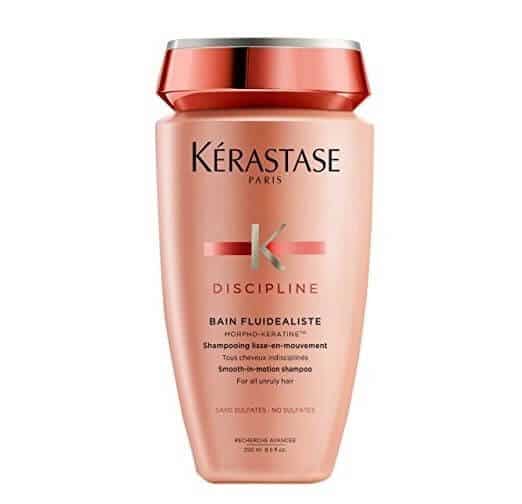 Obviously, Kerastase also has a wide range of professional products, just like Pureology do. You can shop around to check them all, but I want to focus on the Discipline line here.
By the way, 'Discipline' sounds kind of cool, right? Very strict indeed.
That's because this one is a godsend for those of you with unruly hair. Obviously, the unruliest of all would be curly, frizz-prone hair that just LOVES to turn into a tangled mess.
Kerastase's formula uses ceramide plus something called Cationic Polymer. The latter is an active ingredient that changes how your locks behave. Kerastase call it 'surface-morphing'.
In this case, this academic-level expression means more flexible hair, less frizz, good protection from humidity and an amazing detangling effect.
Your hair will be moisturized, repaired, but above all: way easier to work with! Decent smell and lather, definitely less than Nexxus for example.
But the focus here is clear: a salon quality grooming product that is a godsend for rebellious locks. Discipline.
4. Best thickening professional shampoo:

Bumble & Bumble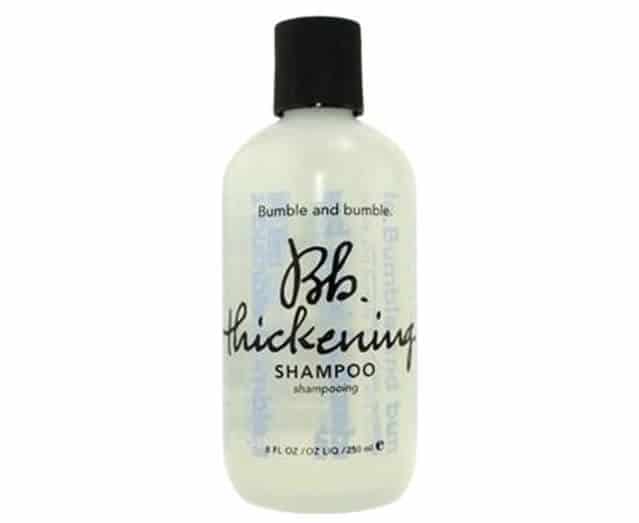 We had color-treated hair, we focused on curly locks…now it's time to take care of those of you with fine, thin hair.
The question that's always spinning in your head is:
How can I make my hair look fuller, thicker, more brilliant?
Bumble & Bumble is a very good practical answer to your worries.
The formula here is very organic, if I can say so. You've got a mixture of wheat protein, aloe vera gel, and panthenol. The latter is responsible for hair thickness.
Bumble & Bumble will help you get a solid amount of bounce and shine to your otherwise fine, mundane-looking locks. To top it off, it also moisturizes as well as Nexxus and delivers outstanding softness to those bouncy locks of yours.
The weak point? Not much lather, or at least not as much as the previous 3 stylist shampoos I mentioned. But hey: as long as you get the volume, does it really matter that much?
A must for ultra fine, thin or thinning hair, this will transform your locks into a shiny, fluid waterfall of healthy locks to behold!
5. Best stylist shampoo for thick hair:

Moroccan Oil set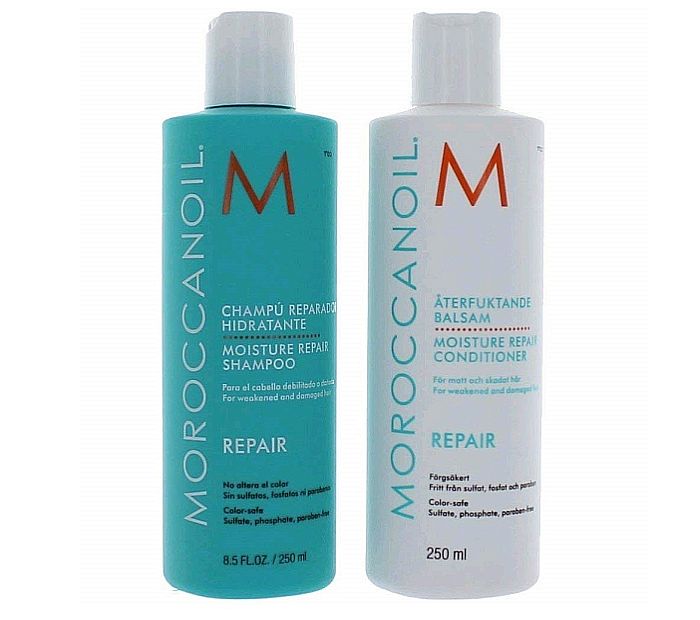 *If the button above doesn't work, check out Moroccan Oil from Amazon here.
As a last entry in this list of the best salon shampoos, I'm going to talk about Moroccan Oil.
First of all: this set is best used for dry, damaged hair that is thick in terms of consistency. If you have one of those bulky jungles that have unfortunately dried up…You might want to try this brand out.
Can you guess why the brand has this name?
If you thought about argan oil, you'd be right! Argan oil has finally started to make its way in shampoos and conditioners: probably because all the beard oil hype it generated a few years ago.
Moroccan Oil were one of the first to base their formula on the best natural oil (at least to me.) The formula here also contains protein, coconut oil-based fatty acids and keratin.
Note: This set will NOT be as powerful as a dedicated keratin treatment. I wouldn't rely only on it if you're looking for a more focused, long-lasting way to treat your hair the way keratin sessions work.
Considering the added jojoba and lavender extracts, the smell is also pretty pleasant. Just make sure to check where you get these from, as there have been many complaints about counterfeit products.
But really:
Is there much difference between salon shampoos and drugstore equivalents?
It's not only about the neater packaging, yes.
Generally, with some professional and best professional shampoos you get:
Formulas better tailored to specific types of hair/hair problems. More comprehensive, powerful and long-lasting effect.

Less ingredients with a focus on being healthier to you and more ethical/eco-friendly. Good salon brands get rid of those chemicals or parabens you'll see in cheaper shampoos.

Better fragrance that smells naturally, not your typical strong, artificial scents.
There are actually lots of articles on this, including this short HuffingtonPost look at how they differ.
Brands like Pureology aren't only consumer-oriented: they also concern themselves with the well-being of our planet too. There's a reason why all Pureology bottles are made of 95% post-recycled materials, and they're 100% recyclable. Cruelty-free and vegan too.
I'd like to specifally turn your attention to the color-preserving qualities of a shampoo + conditioner combo. Salon shampoos are, without a doubt, vastly superior at preserving the brilliance comparede to your standard drugstore brand.
Here's a very short video that demonstrates the difference:
Do I have to use a conditioner too?
Salon shampoos might be sophisticated and extra nourishing for your hair, but they are still shampoos.
If you want a comprehensive solution, it's always a good idea to get a set containing a conditioner too.Speaking of buying…
A specific tip I'd like to give you is to always start small. Most best professional shampoo – including Pureology, Kerastase etc come in two packages. You'd have a 8.5oz bottle, or the huge 33.8oz variety.
Better yet if you can get your hands on a small tester, but that's becoming a rare opportunity.
Thanks to their concentrated formulas, your initial small bottle will last you as long as a regular-sized drugstore shampoo, for example.