What makes clients trust the same barbershop again and again? Or even better – refer your business to others?
Certainly that would be your skills as a barber and the way you treat them. Clean, tight haircuts. Positive attitude and friendly small talk. Respect.
A good barber chair is the cherry on top when it comes to client treatment. Who doesn't love comfort? A cozy, relaxing salon that's furnished with the best barber chairs will make your clients feel like true kings.
Still, I've seen a lot of fellow stylists make a mistake. A personal story: before we bought a few of these Keller all purpose chairs on Amazon.com, our barbershop was about to shell out some serious cash.
Luckily, the owner's entrepreneur friend gave us a piece of his mind.
Here's the thing: having a barber shop is a business. And businesses deal with investments. You have to estimate at what stage your barber business is so you know the amount of money you want to spend now.
If you have a salon that's just starting out, you won't need a super expensive barber chair. Start with something reasonable and upgrade when business starts booming.
On the other hand, if you are already established, there's no reason for you not to invest in the best barber chairs.
Let me just share two more words of advice.
One is that even though you don't need to spend a fortune on your chairs it is important to get the right ones that will convey what your shop is all about. Go retro for a hip shop or modern for the cutting edge look.
The other is that you should spend to the top of your budget. Again, this is not to say pretend money is no issue. Just that if you have $1,000 to spend don't go and spend a lot less. Get the best ones you can for the money as they are an investment.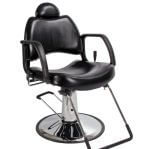 Keller salon chair

Weight capacity:
250 lbs

Build quality & comfort:
★★★★½

Reclining mechanism:
★★★★
Decent reclining range.

Seat size:
21.5" width 19" depth

Height adjustment:
19.5" to 25.5"

Price: $$+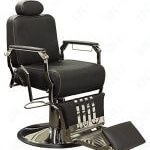 SkinAct vintage salon

Weight capacity:
Up to 900lbs

Build quality & comfort:
★★★★★

Reclining mechanism:
★★★★★
Very flexible.

Seat size:
21.5" width 20" depth

Height adjustment:
23" to 31"

Price: $$$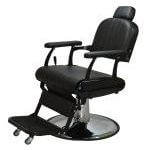 LCL Beauty hydraulic

Weight capacity:
400lbs

Build quality & comfort:
★★★★★

Reclining mechanism:
★★★★
Decent reclining range.

Seat size:
22" width 20" depth

Height adjustment:
22" to 27"

Price: $$+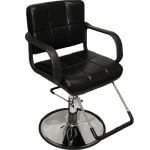 LCL Beauty styling

Weight capacity:
400lbs.

Build quality & comfort:
★★★★

Reclining mechanism:
No reclining mechanism with this model.

Seat size:
20" width 20" depth

Height adjustment:
19" to 25"

Price: $+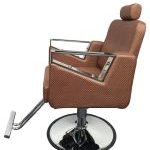 D Salon Rose Gold

Weight capacity:
200 lbs

Build quality & comfort:
★★★★

Reclining mechanism:
★★★½

Seat size:
19.5" width 19" depth

Height adjustment:
19" to 25"

Price: $$-
1. Best all purpose barber chair for the money


Keller's Hydraulic salon chair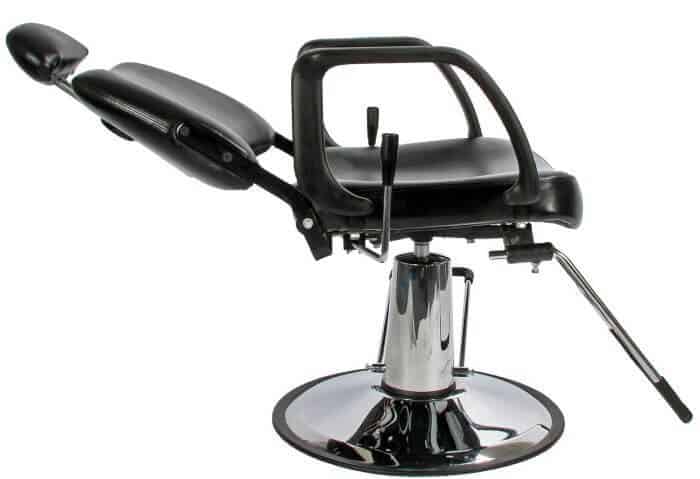 Keller International is one of the best barber chairs brands around. Their portfolio encompasses quality salon furniture across various price ranges. This one is targeted at barber shop just starting out who want to have a solid base to their art.
We absolutely loved these.
The first thing I want to note here is the quality of the hydraulic pump, which is why it makes it to our list of the best barber chairs. Now, this is very important as an inflexible pump mechanism will annoy both your clients and you.
Keller's hydraulic barber chair for salons features a fully 360 degrees rotating pump that also freely moves upwards and downwards. In addition, you've got an extra secure lock to prevent any unwanted rotation. No more chairs jerking and risking to ruin your crafty cuts.
This stylist chair has a capacity of 250 to 300 lbs. While there's more heavy-duty options out there, this is a respectable limit. Neither too little, nor too much. The reclining angle is very decent, even though it doesn't go as further as a close-to-a-flat 180 degrees.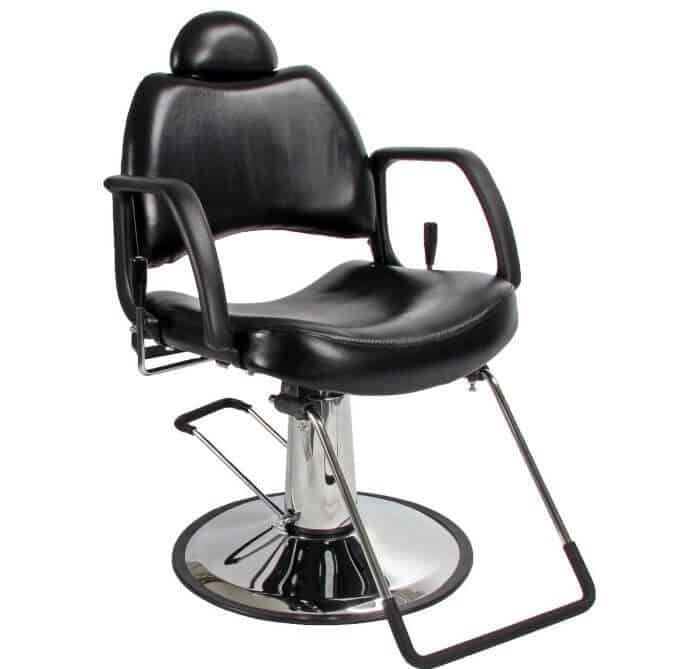 The seat is the average size too at 21.5" width and 19" depth. The chair itself adjusts its height from 19.5" to 25.5". A good travel range, but if you're very tall you might feel it's a tad short for you.
As with most professional barber chairs, you can remove or adjust the headrest. You can actually remove the footrest too, but keep in mind it's not adjustable. Just something I found out.
As far as materials go, I loved the feel of this piece of furniture. You've got PVC vinyl that is both stain-resistant and incredibly easy to clean. Only a minute or two and you're done.
The footrest has rubber cover so your client's feet stay where they are. Finally, there's a very elegant, sturdy chrome base. It brings a nice balance to the chair, no wobbly frustrations involved at all.
Keller have got you covered with a 2-year warranty on the pump and a 1-year warranty on the reclining mechanism. The icing on the cake of why I think this is the best barber chairs and best salon hydraulic barber chair you can get for your money!
The only issue I've had, and it doesn't happen often, is that the chair ends to tip when heavier guys are getting up out of it. It literally has never caused a problem or even any concern, it's just something I feel like I should inform you about.
2. Best vintage barber chair pick


SkinAct Vintage Salon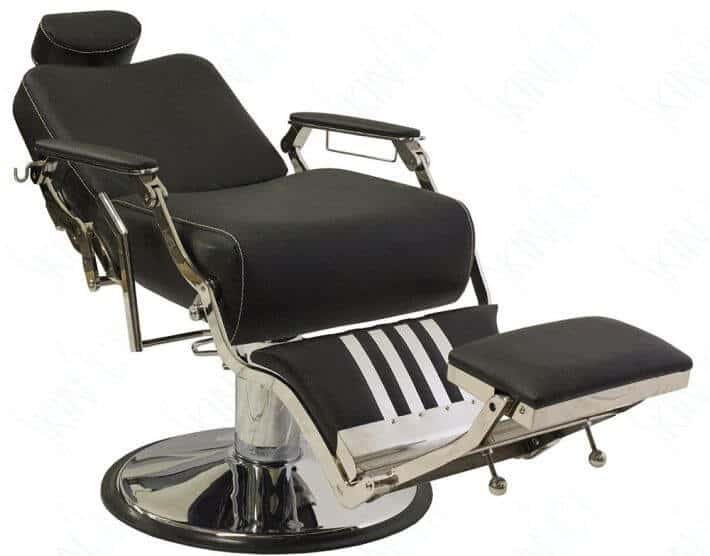 SkinAct is another great brand that makes it to our list of the best barber chairs with quite a few pieces of barber furniture. This model is more of a middle ground: not as expensive as ultra high end vintage chairs, but pricier than standard salon furniture.
I have to say that I am in love with these barber chairs. If we had a bigger budget it is exactly what we would have gone with.
The look is exquisite in that vintage barber shop style that I love. But, it also shows some craftsmanship from the materials used to the stitching. Stitching that not only looks classy, but is also really durable. So far out Keller chairs are not separating at the seams, but our older chairs that needed to be replaced were doing just that. I love when something looks nice, but also has a function that elevates its usefulness and longevity.
The most important thing I want to point out here is how incredibly heavy-duty this chair is. It withstands up to 900 lbs of pressure which is twice the amount of other barber chairs in this list.
The secret lies in its build: SkinAct blend tough stainless steel body with a very durable round base to keep things balanced. The hand-stitched upholstery adds elegance and class to this durability.
Actually, everything about this salon piece screams heavy-duty ready. The seat height adjusts from 23" to 31" – perfect for taller stylists, quite the range involved. The seat itself is also larger than other models at 21.5" width and 20" depth.
The cushions themselves are made softer with high density foam. Not only will your clients have a lot of space, but they will enjoy high end barber chair comfort too when sitting on the best barber chairs.
These cushions are not prone to breaking down either. They bounce right back every time so you won't end up with a butt print that sags into the middle of the chair. You'll have a flat, like new set cushion for years to come thanks to the high tech memory foam.
It's also heat and moisture wicking so it won't reflect heat back to your customer. This keeps things cool down there and they won't leave a sweat stain on your chair afterward.
 Here's a short presentation video so you can see this vintage beauty in action.
The reclining angle is great. I think you can easily get to around 155 degrees or so, definitely better reclining in comparison with the Keller model. If you're versatile in your work, this will be your best friend.
The headrest here is removable too, with a few position adjustments possible. It just pops out easily whenever you want to get rid of it, no complicated mechanism involved.
You've got a 1-year warranty here, with the guarantee of SkinAct being a very presentable brand. Definitely one of the great salon reclining styling chairs you can grab yourself, preserving the vintage feel we love.
Something specific I want to mention. With heavy-duty, more vintage chairs a big point of concern is the time you'll need to spend to assemble the piece of furniture. This model goes rather easy on you and shouldn't take more than an hour and a half or so.
3. Best balanced classic style barber chair


LCL Beauty hydraulic chair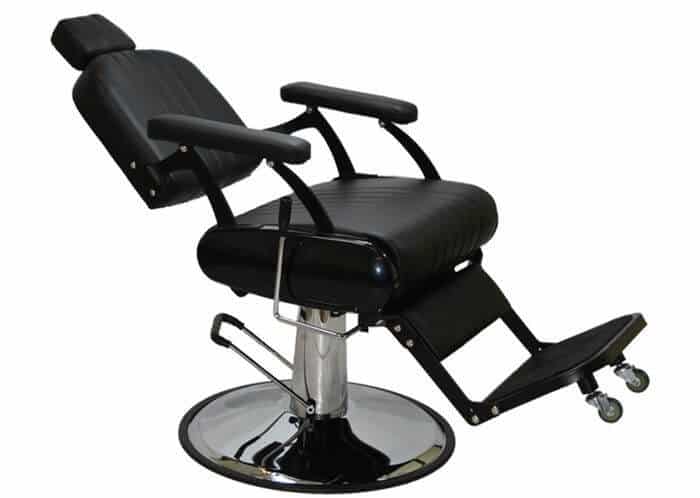 If you liked the price range of Keller's pick, but wanted just a little bit more capacity…you'll love this model. LCL Beauty dish out a classic-looking, quite durable barber salon cutting chair, one more addition to our list of the best barber chairs.
Though I love retro and vintage design, in most things I am a minimalist at heart. I love the simple and understated design of this chair with its straight lines and utilitarian looks. It has a bit of an industrial quality to it so I think it would fit in well with that style barber shop rather than an ornate old school chair that you find in the retro style shops.
First things first: the capacity. You've got 400 lbs of supported weight, which is better than similar all purpose barber chairs. Of course, this doesn't take from the overall comfort your clients will feel.
The larger style carries on to the seat and the hydraulic barber chair's height too. You've got a 22" (width) x 20" (depth) deep inside seat.
The adjustable height travels from 22" to 27" which is the sweet spot for semi-tall barbers. As you can see, these parameters are a little upgrade over what some other brands offer for the same price. Once again, you have a solid round base to balance things – it's 27" big.
The reclining angle is also great. You won't get the flexibility of SkinAct's vintage barber chair. However, at 130 degree reclination possible, LCL Beauty do give you quite the flexibility when you style your customers in your barbershop.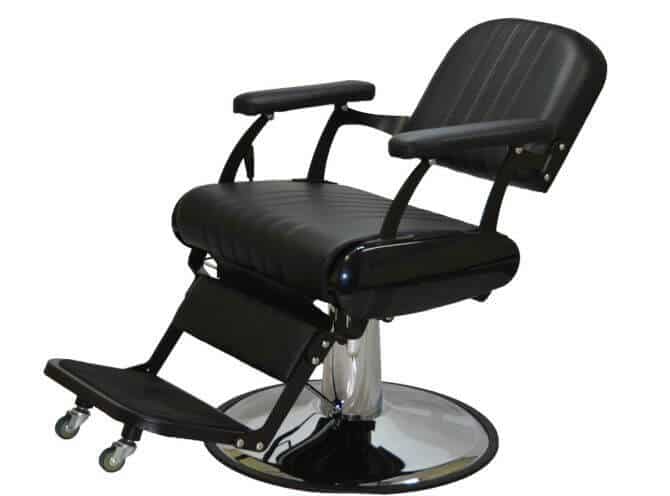 Once again, you get a removable headrest. It has a whole lot of 4 positions if you decide to keep it while grooming. That's plenty variety to fit to clients of all heights, so the brand's not cutting corners with this feature either.
I mentioned one issue with the Keller chairs was that it tended to tip when guys were getting up, but that does not happen with this chair, ever.
It has caster wheels on the base of the foot rest. When you lower your client and he steps on it to get out, it can't tip because the foot rest is against the floor. It can also spin around when it is at its lowest position due to the wheel which other chairs cannot do. You usually have to raise the chair a couple of inches to be able to spin the chair. As long as it is unlocked you have free range of motion with this one.
What might be a little harder than Keller's model will be assembly. You might need two hours to get all things together and I've heard some people complain about instructions being tough to follow.
If you need an all purpose barber chair that's suited for slightly bigger clients, this might be a great pick from our list of the best barber chairs for you. They'll love the extra space this hydraulic chair for salons provides them with.
4. Best cheap barber chair


LCL Beauty styling chair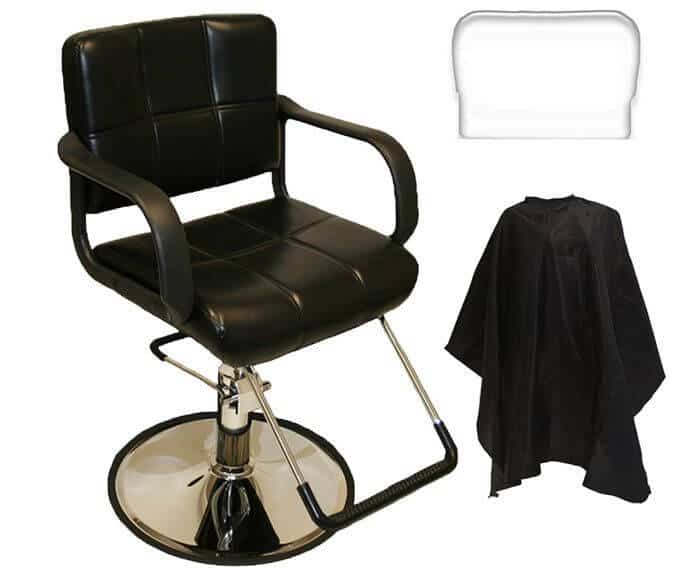 Sometimes you're starting your business on a shoestring budget. In such cases, you don't need ultra high end barber chairs. Instead, you aim to get a budget option from our list of the best barber chairs and upgrade from it once the cash starts flowing.
While this piece of furniture isn't the best salon barber chair you'll see, it's quite good considering the low price. I want to point out that this model doesn't recline! Keep that in mind.
I know you want to save money as you get started, but if you plan to be doing shaves then this is not going to work. And you should plan on doing shaves. First, you lose money by not offering add ons to the haircut. Second, a guy that comes for a shave may come back another time for a haircut and vice versa. It's good to give guys plenty of reason to some to your shop.
That said, you may have your reasons for not doing shaves in which case this is a good cheap barber chair.
So, what exactly are we looking at here? Surprisingly, this fellow holds up to 400 lbs of weight, which is outstanding for its price range. I mean, LCL Beauty's previous model had the same capacity!
The removable seat also comes with quite the acceptable dimensions at 20" width and 20" depth. The height adjustments vary from 19" to 25", so that might be a tad short for you. At least compared to the brand's more deluxe barber chair models.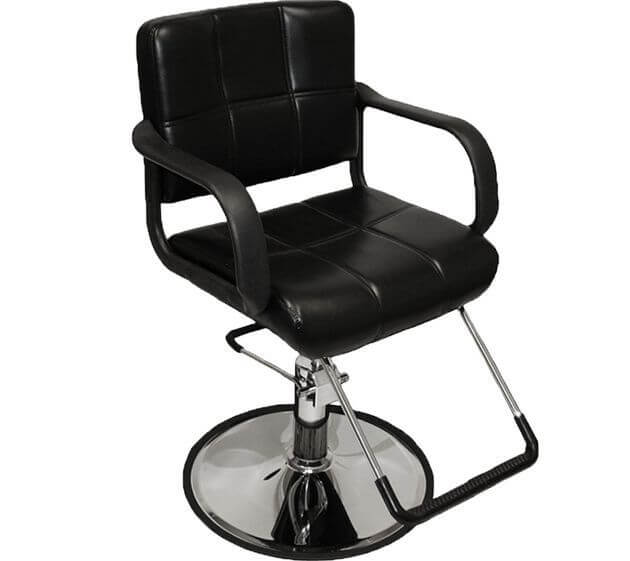 What you'll love about the seat is that there's a layer of 4" foam. Fluffy and extremely cozy, it'll have your clients rejoice in sweet softness and comfort.
The budget barber chair is made of polyurethane as material. In other words, it'll be easy to clean and hairs won't stubbornly stick to the surface. Not the most luxurious feel, but quite practical!
Not that you don't want to consider your client's comfort, but you also have to think about what is going to work best for you. And an easy clean up is something that you will love.
Assembling time is quite short here, though. I think you won't need more than an hour to get this cheap salon chair up and running. You'll also get a 1-year warranty covered by the brand, which is the standard for this furniture.
You don't get a removable headrest here, as you can see from the chair's design. You can, however, remove the footrest. I wouldn't do this in this case, though, as it might throw the balance a bit off.
Of course, the lack of reclining mechanism is something you won't like. However, if you want to get up and running quick and on a budget, this is the best cheap barber chair on the market. Get it, love it, and think of upgrading at one point!
5. Best design stylist chair pick


D Salon Rose Gold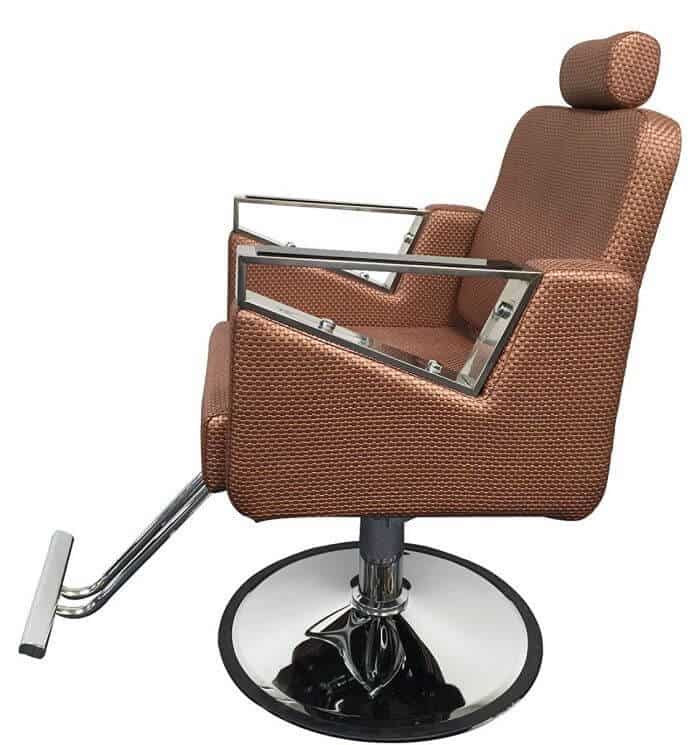 This is a very curious and situational pick, to be honest. However, if you love eye-candy and want to dazzle your clients, this chair is a sure way to do so.
Note: I don't think you should make this chair your main one. But you might consider getting one of these to add mood to your barber shop. The rose gold design and polished looks are killer!
So, D Salon offer you a very beautiful and stylish chair. It can't really compare to more heavy-duty picks, but it still performs alright. There's some inherent limitations involved, so keep them in mind.
First, you've got a capacity of around 200 lbs here, which is one reason it made it to our list of the best barber chairs. Beauty is fragile, as they say, so this well-designed furniture adheres to the cliché.
The seat is also slightly smaller with its 19.5" x 19" dimensions. The feel of the material is great even though it lacks the foam higher priced salon chairs use. Don't worry about comfort here: you'll get it.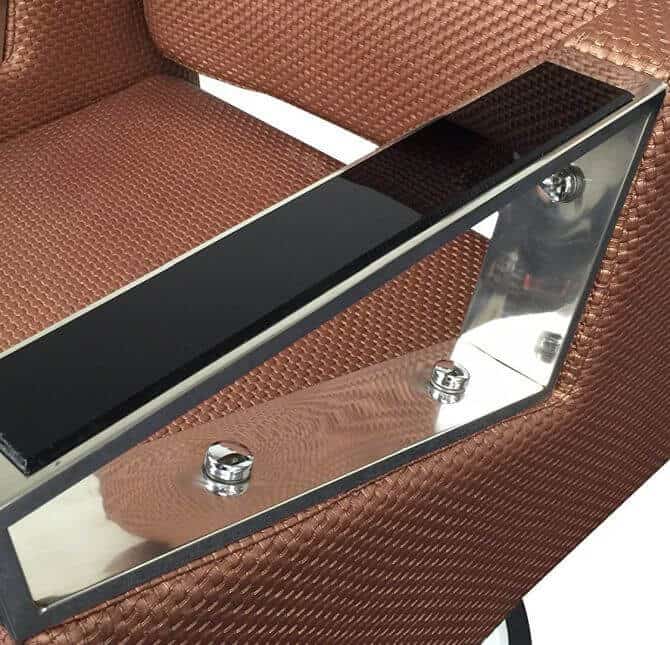 Height adjustment travels from 19" to 25" which is not bad at all. Once again, it caters to stylists who aren't enormous – the vintage pick I talked about would be better if you're that huge.
As far as the reclining mechanism goes, it's not bad. It doesn't go as far as you'd like if you're very versatile. However, at least it's present unlike the LCL Beauty budget pick I introduced earlier.
I think this makes a good option for a shampoo station chair. It reclines enough to get your client's head securely over the sink and has a very stylish way to do it.
I can't stress how clean looking the rose gold design is. Paired with the premium chrome round base and flexible footstep, it really is a total eye-catcher. Your clients will be moved for sure.
Both the headrest and the footrest are removable if you want to go more minimalistic. The process is pretty straightforward, popping them back is very easy too.
I have to say this once again: this is a very classy-looking salon reclining styling chair. However, it lacks the flexibility and sturdiness of some other models.
This chair from our list of the best barber chairs will be perfect for shorter clients, kids and customers who appreciate elegance and stylishness. For heavy-duty jobs, however, it won't quite cut it. I suggest you grab one to spice up your barbershop's atmosphere – because you will certainly be able to do so!
Factors to consider when buying a barber chair
If you noticed, both in the charts and the best barber chairs reviews I did, I've mapped out the most important things you should be looking for. These are namely:
Quality of the chair build (materials, balance)

Hydraulic pump quality and warranty

Reclining mechanism – how far back does it go, at what angle

Seat dimensions

Weight capacity

Customization (headrest and/or footrest removable or adjustable)

Height adjustment of the chair itself
As you can see, a quality reclining or hydraulic barber chair for your salon is a mixture of many things. You don't want to skip on any of these factors if you want to have satisfied clients.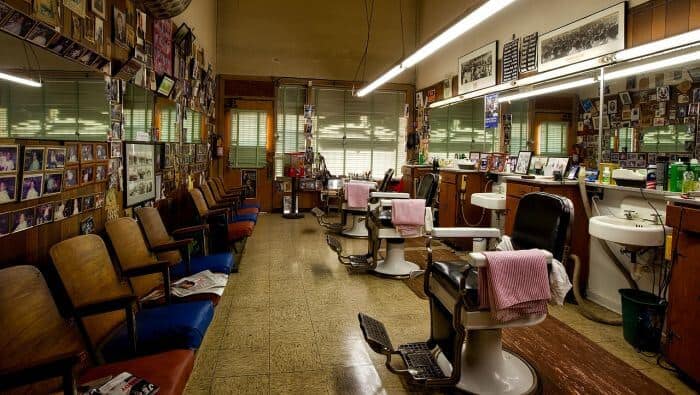 Before choosing your piece of salon furniture, think:
How busy is your barbershop? Do you need a real heavy duty chair for stylists, or you can go with a medium-range one?

What is your typical customer? Are your clients taller, bulkier, so they would need a hydraulic barber chair that withstands higher amounts of pressure?

What do you plan to do? Will you stick to haircuts and trimming, or do you plan additional services as a stylist? Reclination levels are a great feature and you'll need quite the angle if you're versatile in your services.

How technically adept are you? Can you go through more complicated instructions and assemble your newly bought all purpose barber chair or vintage chair for barbershops from scratch?
 All of these are fair questions that you should brainstorm about before making your choice. As I said: being a barber is both an art and a business. Informed decisions will help you grow and invest your funds accordingly.
What are the best barber chair brands?
The best barber chairs list I've prepared is targeted at stylists starting out or mid-range barbershops.
Keller are an amazing brand and I respect them madly. There's a reason we chose them in our barbershop. Despite the fact that I left the industry, I still cherish their quality furniture.
SkinAct and LCL Beauty are also good choices in this range, as are Exacme or Best Salon.
If you're already in the extremely high class range, you might be interested in knowing about top of the top, though.
I'm talking about Pibbs, Belvedere and of course, the masterpieces of Takara Belmont, shortened as Belmont.
These pieces of furniture are on a whole another level for me. High end barber chairs? No, son: these are beyond that.
However, as these guys' products easily go into several thousands of dollars, I suggest you look at them once you've established yourself. Once you reach that stage, it's the real show time.
Basic barber chair maintenance
Sometimes barber chair parts can cause you a little bit of headache. If it's a serious problem, you should always contact your seller. Luckily, most of the best barber chairs on our list come with proper 1 or 2-year warranty. In many cases, however, you can do it by yourself. A very common problem I've seen is the hydraulic pump of salon chairs going ham. It starts moving upwards and downwards, causing you and your clients quite the nuisance.
Here's a very concise video
on adjusting the pump of your hydraulic barber chair. This is one of the most common issues so don't worry about it too much. Easily fixable!
I'm an outdoor enthusiast and have sported a full beard since I was in my early 20's. Originally, growing a beard was a way to save time when getting ready each day, but I quickly realized that keeping a neatly trimmed beard takes work and some forethought. That's where this site comes in.
You get to benefit from my years of experience. I've reviewed many of the top hair clippers on the market today and also included some information on what works best for me. A great beard will turn lots of heads in your direction.
Since I never know when I'm going to find myself being photographed, whether it's climbing in Yosemite, or playing volleyball on the beach, it's important to me to always look my very best. Maintaining my beard is part of my daily routine and I hope you'll find some useful tips and information on this site to help you on your journey.