Have You Seen These Beard Shampoos Yet?
Thought beard shampoos and conditioners were just for your head?
Think again. Every beard grooming kit should include beard shampoos and conditioners. The longer your beard, the more effort you need to put into maintaining it, and shampoo meant for your head is too harsh for your facial hair.
I never used to use beard shampoos until I started growing out my beard. Now I won't go more than three days without using my
Polished Gentleman beard shampoo and conditioner on Amazon.com
. My full beard tends to catch crumbs occasionally and trap dirt and pollutants throughout the day. 
My hair felt dry, dirty, and most of all itchy against my chin until I started using proper beard grooming products like beard shampoos and conditioners. Now it feels so soft and smooth against my skin.
If you don't a want greasy, oily beard, you'll want to invest in 
high-quality 
beard shampoos and conditioners
. Though washing your beard will add a few minutes to your morning routine, you'll come to find that you love how fresh your beard feels when you've cleaned it properly.
And adding a couple of minutes per day to your beard will pay off with a picture perfect beard.
I should add also, that you don't want to stop with just using beard shampoos. You should also follow some other grooming habits including putting on some beard oil or beard balm after your beard is nice and clean.
Polished Gentleman sells a set of beard shampoos and conditioners full of natural, organic ingredients that will tame your mane and help it grow full and thick.
Though the conditioner in particular is a bit on the pricey side, you get what you pay for. Filled with manuka honey, biotin, eucalyptus oil, argan oil, tea tree oil, and rosemary, these organic cleansers are free of toxins and harsh chemicals.
The essential oils will fill the role that a chemical would just without any awful side effects.
Your skin under your beard will be disinfected so you can keep acne at bay.
Blood flow is improved to you can get more nutrients from your blood into your beard. The best way to increase the vitamins in your beard is by using tea tree oil to stimulate your circulation.
And your beard will naturally be hydrated and look fuller and thicker.
The conditioner will make your beard soft and manageable.
If you opt to forego any beard oil or beard balm, then you should at least be using their beard shampoos and conditioners to improve your beard.
#2: Best Beard Shampoo and Conditioner for Course, Thick, Unmanageable Beards
Professor Fuzzworthy's Beard Care Kit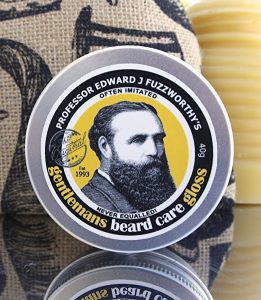 The beard care products sold in Professor Fuzzworthy's convenient kit are perfect for men with wild, unruly facial hair. The kit includes a shampoo bar, conditioning balm, and a beard wax.  
Unlike a wax for your mustache, this beard wax has a looser hold. It's not quite strong enough to shape your beard into different strange shapes. However, used in conjunction with the shampoo and conditioner, the wax will tame a disorderly mane. It will also give your beard a nice glossy sheen.  
If you often find your beard is brittle or have lots of split ends, then the beeswax will help strengthen and smooth out your beard even though it won't do much to help style. If you need to style your beard then after using beard shampoos you should also look into a beard balm.
Though many found the woodsy sent a bit overpowering, Professor Fuzzworthy's beard grooming products are absolutely essential for any men with curly, thick whiskers. 
Though the scent may conflict with any cologne you may be wearing, you could instead wear a scent that matches the fragrance of the shampoo. In any case, it doesn't last very long.
#3: Best Beard Shampoo and Conditioner for Men With Beardruff
Fulllight Tech Beard Grooming Kit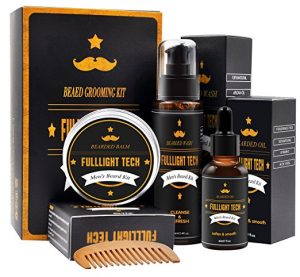 As I mentioned earlier, you shouldn't just rely on beard shampoos to get your beard at its best. That's why I love to recommend going with a total beard care kit if you are new to the beard grooming game.
If you take a holistic approach and treat each phase of your beard grooming seriously, you will be rewarded with an epic beard that has others in beard envy.
If you have ever seen a perfect beard and wondered how his beard is able to look so good, it is because he is using all the products available to groom his beard.
This complete beard grooming products kit includes a moisturizing beard wash, organic beard balm, orange-scented beard oil, and a wooden comb. With its gentle, organic ingredients and multiple moisturizing products, this kit is perfect for anyone who suffers from dry skin or beardruff. 
Your skin normally releases oils to nourish your facial hair; however, if you start to grow out your beard or if your skin is particularly dry, there might not be enough oil. In that case, you'll start to notice white flakes collecting on your shirts and shoulders. 
This kit comes with a balm to use on your beard when its wet as well as a citrus-scented oil to freshen up in the morning or before a big night out on the town.  
#4: Best Beard Shampoo and Conditioner for Men Who Want to Smell Incredible
Zeus Beard Shampoo and Conditioner Set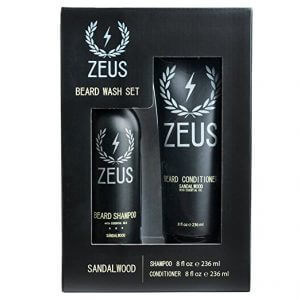 If the king of the gods on Mt. Olympus needed to wash his beard, he would certainly use the Zeus Beard Shampoo and Conditioner Set. The products come in three delicious scents as well: vanilla rum, verbena lime, and sandalwood, all three of which are simply intoxicating. 
Made with aloe vera and pro-vitamin B5, this beard shampoo and conditioner will relieve the itch from irritated skin without stripping the hair of its natural oils. Though the price point is slightly high, you'll find that your hair is noticeably softer and smoother. 
The Zeus brand are definitely one of the big players in the beard grooming market and are one of the most asked for in the barbershop where I work. They have built a lot of trust with their customers by offering up beard products that work as advertised.
How Often Should I Wash My Beard? 
You don't need to wash your beard every single day. In fact, you probably shouldn't even be washing your hair every single day. The shampoo you use is meant to strip your hair of oils, and your whiskers will dry out if you're constantly scrubbing them clean. You should of course follow up your shampoo with a nice beard balm or beard oil, but don't use them to compensate if you've scrubbed your chin until it's raw.
Unless you work outside all day or play sports regularly, you probably shouldn't wash your beard more than 2-3 times a week. Rinsing it in the shower should be enough to wash out any dirt or grime that might have built up during the day, and you should definitely wash your face regularly. You can always run some beard oil through your beard to freshen up a bit, but otherwise keep washes to the minimum.
If after some time of shampooing your beard it goes from soft and silky to a bit rough and dry, then it may be a sign that you are washing it too often. Take a few days off from washing it and then make sure to use beard shampoos less frequently.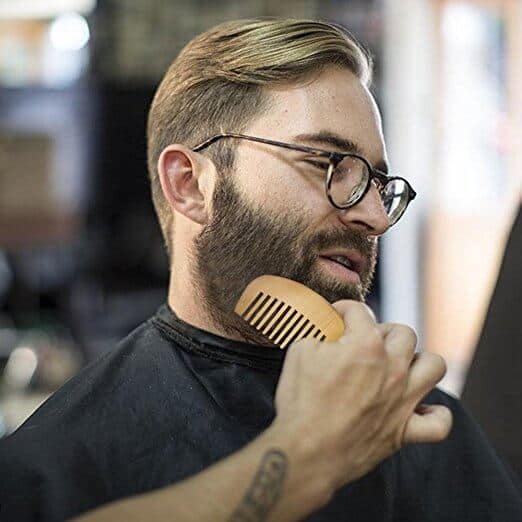 Why Should I Use Shampoos and Conditioners for Beards?
Everyone wants a clean beard and 'stache, but not just any soap will do.  
Not even Clint Eastwood or Abraham Lincoln, men with beards worthy of admiration, could jump out of bed looking perfect. Anyone with praiseworthy facial hair uses the proper beard grooming products. 
Without beard shampoos and conditioners, you'll quickly dry out your whiskers. Sebaceous glands secrete oil to your hair follicles to keep them healthy. These glands secrete far more oil to the hair on your head than the hair on your face though. The chemicals in standard beard shampoos are meant to strip your hair of oil to keep them from sticking to your forehead and to each other.
When you use these same chemicals on your face, you'll strip your facial hair of its natural oils. If you start noticing split ends in your beard, you know you need to start using the proper beard grooming products. Now, beard shampoos and conditioners can't replace shaving cream, which should be used to as a lubricant to protect your skin during shaving. Rather, it should clean out excess oil and protect your hair from drying out.
Not only will your $2 bottle of shampoo from the drug store dry out your beard, it will also dry out your skin. The skin on your scalp is much thicker than the skin on your face because it's meant to protect your skull. If you start noticing beardruff on your shirts, you'll know it's time to invest in a beard shampoo and conditioner. 
Any of the brands in this list are a great place to start. You may not find the first one you picked to be exactly what you needed, because every beard is different. Trial and error will get you where you need to be.
Do you use beard shampoos and conditioners? Tell us your top tips for beard grooming in the comment section below.