Usually, Oster would be the first name you think of if it's about detachable clippers. Big mistake. Andis are also in the detachable game and boy can they play it like true chessmasters.
Andis Supra ZR clipper is the brand's peak achievement. Exquisitely lightweight, featuring a 5-speed motor and coming with masterful ceramic blades, it's among our best barber clipper picks.
Barbers tend to always do an Andis Supra ZR Review vs Oster Octane comparison, so I'll touch on that too. Hopefully, this will prove to be an insightful review for you.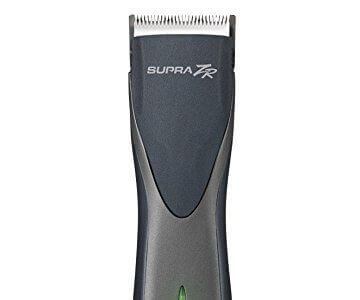 Supra ZR Clipper Review: An Overview
| You'll love it for these | But you won't like these |
| --- | --- |
| High class ceramic blades | |
| 5-speed motor for optimal cut control | |
| 2 hours of cordless Li-Ion operation | Only a #000 blade included |
| Ready for global use (100-240V/50-60Hz) | |
| Very lightweight considering its power | |
Benefits of using detachable blades
Some people swear by detachable blades while others only have love for an adjustable one. I believe that every job has the right tool, there is always a situation where one is better than the other.
I suggest having one clipper each, one with adjustable and another with detachable. Here is why I love detachable blade clippers:
Strong and Durable
Made with either thick carbon steel or ceramic, detachable blades are much hardier than their adjustable counterparts. For one thing the blade is much, much thicker and the teeth have a wider girth.
They tend to last much longer than the thinner adjustable blades and are less likely to get damaged when you accidently bang them. Which is inevitable.
Great at Bulk Cutting
Since the blades are much stronger and sturdier, they can handle thick hair much better than the thinner adjustable blades. When you need to blast through a lot of hair to get down to where you can manage it better, then you'll want to use a detachable blade.
They are less likely to slow down or get stuck. On that note they also don't pull your customers hair.
No Attachments Needed
When you use an adjustable blade clipper, you have one handed operation which is nice, but only up to ta certain length. It highly depends on the blade, but usually you are talking the variation of a few millimeters. For everything longer, you need to put plastic comb attachments.
With detachable blades, you have a sturdy, strong and effective blade for any length. From skin all the way to about an inch, you have a huge variation. With a plastic attachment, you almost always have to go over the same spot twice, with a detachable you cut right through the first time.
Makes You Money
Yes, detachable blades are really expensive. But, they will pay for themselves and even make you money eventually.
Let me explain.
When you are needing turn off your clippers to put on a plastic attachment and then adjust the lever every time you change lengths, it takes time. Then when you have to go over the same spot over and over to cut the hair evenly, it slows you down. When you slow down, you take longer to do the haircut.
With detachable blades, you leave the clipper running and swap the blades out quickly. And you never need to keep running the clippers over the hair to cut it evenly. One pass is almost always enough to cut the hair evenly.
That being the case, you are able to finish a top notch haircut in no time. Which means you can do more haircuts in less time and make more money.
Andis Supra ZR: Andis best detachable clipper yet
When Andis go for cordless detachable blade cutters, they do their best. The Supra ZR is one notch above that and enters masterpiece territory. At only 1.1 lbs, it's quite lightweight considering the output it gives you. And sure, 8.13″ is rather bulky, but look at its slim design to compensate for that: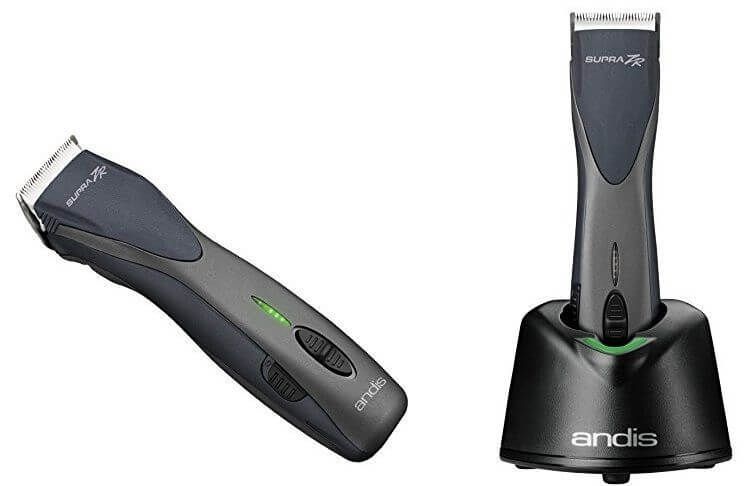 Andis aren't going to do a cheapskate stunt with the build of the cutter either. The Supra ZR clipper is made of tough polymer with dark-toned colors. I like the switch here – it's more intuitive than the uncomfortable switch of models like the T-Outliner for example.
In the package you'll get one #000 blade (leaves hair at 1/50″ or 0.5mm), a charger stand, clipper oil and the cord pack adapter.
Big news for all of you non-US based barbers in this Andis Supra ZR review! Andis mention the machine runs on 100-240V and 50-60Hz, so you should be able to use it globally. One of the few models with such a feature.
Blades. Motor. Convenience
Here's what Andis does that no other brand executes that well: the ceramic blades. Pairing precise cuts with the ability to stay cooler and sharper longer than steel ones, they're a total win.
Unsurprisingly, your #000 blade with the Supra ZR is a ceramic one. Can you imagine something more fitting for such a beastly machine?
Of course, if you already have other detachable blades – even Oster ones, you can plug them onto the clipper. They will fit right in. You'll save money for sure, but keep in mind Oster don't have ceramic blades.
The one thing to be careful about with ceramic blades is that they can be fragile. They stay sharp forever, but they are more likely to break if you drop them. Any blade can break if they hit the ground right, but ceramic ones are more prone.
I'd like to point out  in this Andis Supra ZR review that the 5-speed rotary motor, as this is something you won't see in many detachable clippers. It spans across 1800 to 3800 cutting strokes per minute with only one flick of the switch.
It's exactly this motor that allows you to have complete control on your haircuts.
For bulk cutting, you'll need the 3800 SPM mode. A stronger mode that will chop through the densest/thickest of hair without any issues. Keep in mind that in this SPM mode the blades will warm up a bit.
What about the slowest 1800 SPM speed? Here you're looking at something aimed at closer, detailed work. Think of tasks like balding out where you want slower rotations and less blade friction.
Even more important than speed is torque. And the rotary pivot motor of the Andis Supra has a lot of it. For bulk cutting of thick hair, there is no substitute for torque. I used to only swear by the Oster brand for this reason, but lately Andis has caught up and now offer some serious power. When you are trying to get through tons of haircuts per day, then you can really see some efficiency because of that torque. Which means you end up cutting more clients in a day because you have been able to take a few minutes off of each haircut. These clippers pay for themselves when you keep that in mind.
In this Andis Supra ZR review, we confirmed that this diversity is missing in any fixed motor hair cutter. You're essentially getting a 5-in-1 deal here, sparing you the need to switch between clippers mid-haircut.
Supra ZR clipper: any barber's long-lasting friend
Before I do the Octane comparison: a few people asked me if the Supra is better than Andis BGRc. Well, 5-speed motor aside (compared to BGRc's fixed 2900 SPM one), here you simply have a better battery.
The Supra ZR runs on quite the powerful Lithium-ion battery with a 2 hour battery life. This ranks up there with the most durable cordless clippers. BGRc relies on the older NiCd battery technology which doesn't quite pack the same punch.
The ZR recharges fully in 2 hours. If you work in a busy barbershop, you can substitute it with another detachable for a few cuts. Before you know it, it'll be ready for round two after its quick rest.
There is hardly anything more important than efficiency when it comes to being a barber. Nobody likes sitting in a waiting room watching their barber fumble around with his equipment. The sooner you can get through the line of customers, the happier they will be and are more likely to become regulars. If your clipper battery can't handle the workload then you are not going to be as successful. When you're working with the Andis Supra this is not an issue.
Andis Supra ZR vs Oster Octane
I love Oster. I mean, the juicy Classic 76 is the darn thing I couldn't get my hands off back in the days when I was styling serious cuts.
By all means, I should love the Octane clipper too, right?
Well, about that…I have to admit: the Supra ZR performs better. The ceramic blades and 5-speed motor offer you amazing versatility over what you'd get with the Octane. Call it diversity.
Of course, you can install Andis ceramic blades on the Octane, but that's going the extra mile. The Supra ZR is also way more quiet and feels slimmer, more ergonomic in your hand.
There's a catch as you will find out in this Andis Supra ZR review, though.
The Oster Octane on Amazon.com performs better in terms of durability. The carbon fiber finish and ultra tough body outshine the ZR's. You also get two blades with Oster – #1 and #000, but then again their model is a bit more expensive.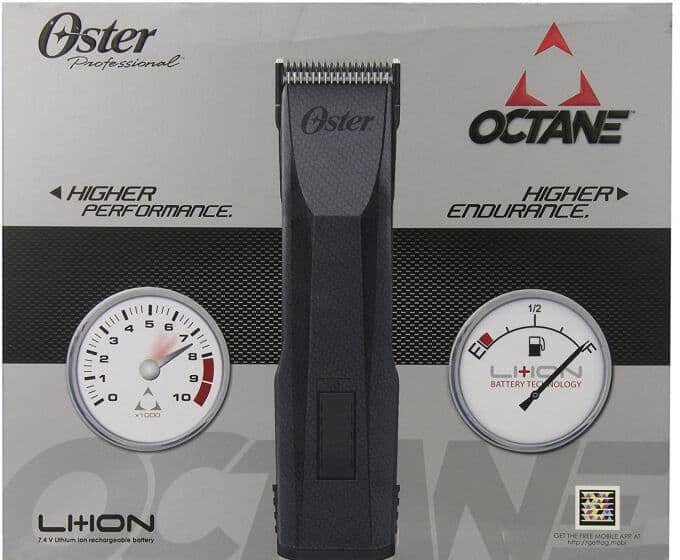 Octanes also charge faster at around an hour and include an additional battery slot if you want to have a "reserve" battery.
In this sense, they might be a better pick if you want to go through your day with only one detachable in hand. Just swap one battery for another and you're ready for the next round.
Still, Supra ZR clipper's versatile motor and lightweight body would be my preference here. Both models are the best of the detachable blade cordless clippers, though. Others lag behind these titans.
If you want to see the ZR in action, check the #SupraZR hashtag on Instagram. Plenty of testimonials from stylists and examples of what this beast can help you achieve.
Some weak points of the Supra ZR
As I mentioned before, the ZR is a bit expensive. However, this is not your usual clipper: we're talking about a durable, professional tool for barbers. Its price tag is completely justified.
What you won't like is the fact that you'll have only one #000 blade. Depending on what cuts you want to perform with it, you have to shop around for a few more. It might be a good idea to grab a #000 CeramicEdge blade.
While the Andis ZR clipper maintains a lightweight body, 8.13″ might be a bit too much for some barbers. With most usual clippers being around 6″ to 6.5″, this is quite the difference.
Still, as I said, the slim design with ergonomics in mind softens this bulkiness. You might be surprised by how the ZR will fit your grip.
Andis ZR is Andis' latest detachable blade wireless clipper and without a doubt: their biggest masterpiece yet. Aside from the body size and price, its functionality and sheer power can't be disputed.
With a 5-mode motor, outstanding Lithium-Ion battery life and the high quality build you can expect of Andis barber cutters, it's a total "Yes!"
If you're looking for a flexible, mobile clipper with professional capabilities, look no further. The ZR is your pal and will lead you to masterful haircuts.
I'm an outdoor enthusiast and have sported a full beard since I was in my early 20's. Originally, growing a beard was a way to save time when getting ready each day, but I quickly realized that keeping a neatly trimmed beard takes work and some forethought. That's where this site comes in.
You get to benefit from my years of experience. I've reviewed many of the top hair clippers on the market today and also included some information on what works best for me. A great beard will turn lots of heads in your direction.
Since I never know when I'm going to find myself being photographed, whether it's climbing in Yosemite, or playing volleyball on the beach, it's important to me to always look my very best. Maintaining my beard is part of my daily routine and I hope you'll find some useful tips and information on this site to help you on your journey.