Men's grooming doesn't begin and end with keeping your hair and beard neat.
You have lots of other hair that needs to be groomed. Without seeing a picture of you, I already know that you have too much nose hair, your ears are sprouting and your eyebrows are all out of whack.
Time to add a personal trimmer to your grooming arsenal.
The Wahl Micro Groomsman is the ideal tool and is the best eyebrow trimmer, nose hair clipper and for trimming your ears and other areas.
It's great for all kinds of personal grooming, but excels as the best eyebrow trimmer.
Having a small personal trimmer that can do a number of jobs and is easy to use as well as very travel friendly makes the Wahl mens eyebrow trimmer indispensable.
In this review, I will outline all the things I love about the Wahl Micro Groomsman, and even let you know where it falls short. That way you can figure out for yourself if the Wahl eyebrow trimmer is going to be the right one for you.
When you have finished reading the review, make sure you check out our detailed guide on how to trim your eyebrows.
Let's dive in and get a detailed look at the Wahl Micro Groomsman!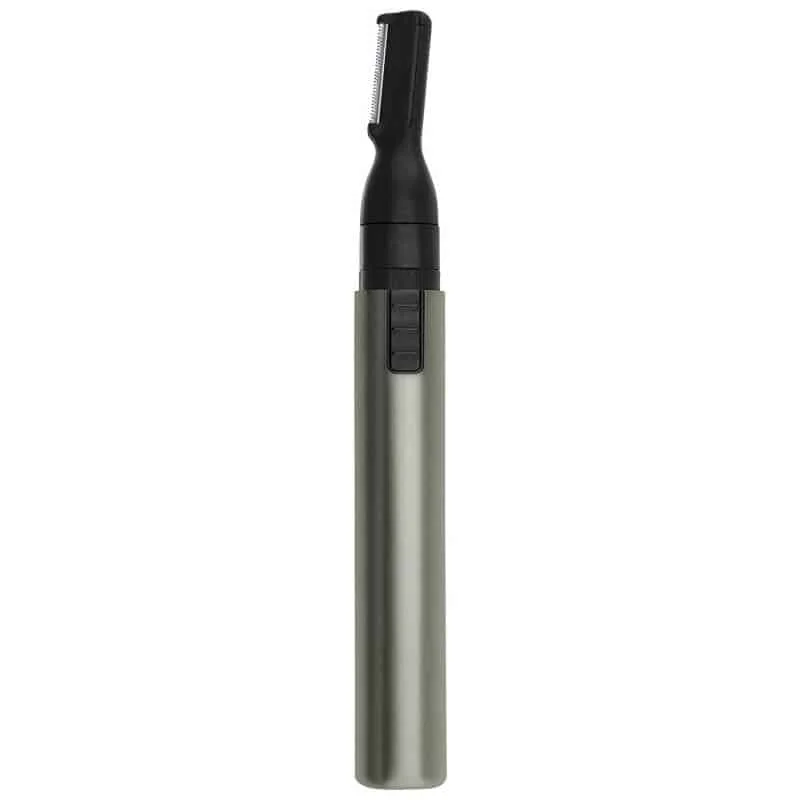 Features of the Wahl's Micro Groomsman Trimmer
Lightweight, Yet Powerful
At 1.6 ounces, Wahl was not joking when they called this Wahl Micro Groomsman.
It has a very slim profile and just the right length. Very similar in size to a pen and only slightly heavier.
This Wahl personal groomer has the power to do way more than it's small size would have you believe.
It is a mens eyebrow trimmer, a nose and ear hair trimmer, a beard detailer, a personal trimmer for pubic hair or bikini trimming. In other words, it can handle most of your personal grooming needs.
I can't stand when a personal groomer is so weak that you're lucky if it can even trim your nose hairs.
So, it was a bit surprising to see how well the Micro Groomsman performed in all areas.
The Wahl Micro Groomsman runs on a single AAA Lithium battery which comes included.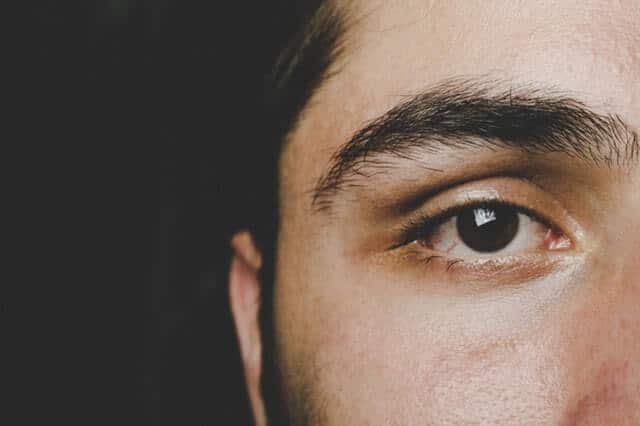 Wet/Dry Operation
The Wahl Micro Groomsman eyebrow trimmer can be used in the shower since the body is water tight. The blades don't slow down when wet, so you technically get the same level of performance and can save time by grooming in the shower.
With that said, however, depending on what it is you are trying to groom, you may not be happy with the results if you use it wet. Most hair gets hard to cut when it is wet.
Using it as a nose hair trimmer will see decent results as it does as an ear hair trimmer. As a mens eyebrow trimmer, it works fine, but you may need to go over your brows twice to make sure you got all the stragglers if they are wet.
If you are trying to edge your beard in the shower, well, good luck with that. And even when trimming your eyebrows, I would only use it in the shower to trim the long hairs, but not to use it as an edger detailer to shape eyebrows.
Where I think the wet operations works well is in cleaning the blade.
Instead of brushing it off, you can save time by running it under water in the sink, for instance.
Hair is very acidic and will dull your blade over time. Make sure you are keeping it hair free by rinsing it or brushing the hairs off when you are done with it.
This will extend the life of your trimmer.
Nice Trimmer Attachments
To make this a really great all around mens eyebrow trimmer and personal groomer, it comes with some handy attachments.
To trim your eyebrows it comes with a guide comb attachment to simply run right over your eyebrows. Or other areas, really. You could trim down a mustache or thin out your sideburns by using these combs, also.
You can switch from men's eyebrow trimmer to a nose trimmer in a second by pressing the button to release the trimmer head. Then just snap on the nose trimmer head and you're on your way.
The nose trimmer head is quite long and slender and can get way inside your nostril. I don't recommend going in too far though and just trimming the visible nose hairs. Your immune system relies on those hairs to trap pollutants and germs and stuff so try to not over trim.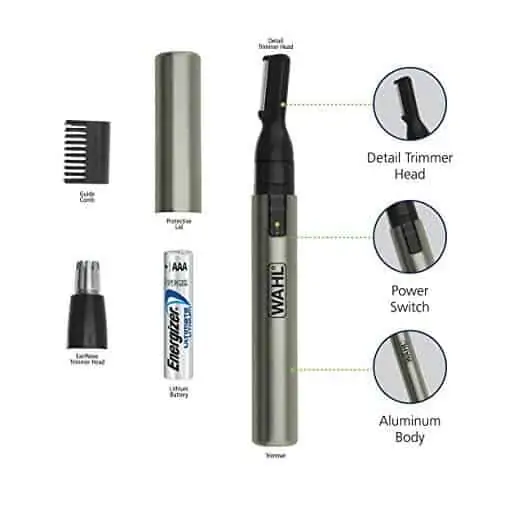 How to Use the Wahl Eyebrow Trimmer
Before you get started with the Wahl mens eyebrow trimmer, make sure your eyebrows are neatly combed. Use the fine part of a hair comb to comb the hairs going the direction that they grow.
Next, pop on the eyebrow trimmer comb attachment.
Going against the grain, just run the blade with the attachment on it across your eyebrows. This will even out all the hairs and leave them the same length.
Take off the comb attachment to edge them.
This part is a bit tricky. Not so much in the operation, but a guy doesn't really want to shape eyebrows too much. You especially don't want to arch them.
Just get the fuzzy hairs on the edge of your eyebrows. If you trim in too deeply then when it starts to grow back you have some stubble around your eyebrows. This just won't look right and should be avoided. You'll end up having to deal with your eyebrows every few days if you do this, or have to deal with awkward looking brows while you wait for them to grow back in.
The key is to make your eyebrows straight, so just use the foil guard blade to get the spots on the edge of your eyebrows that are a bit thin. This should more or less make your eyebrows look more straight.
Then just wipe off your eyebrows with a damp washcloth to get the cut hairs off and you're done.
What else does the Wahl personal trimmer do?
Nose Hair Trimmer
With the nose hair trimmer head on, you can quickly and easily trim down your nose hair.
To do this, make sure your nose is clean. You may want to blow your nose and then wipe out the nostrils with a tissue.
Then turn it on and put the tip of the trimmer inside your nostril. This makes for very quick nose hair removal as the hairs are able to get way inside the blades.
The top of the cone is open so you don't want to press it up against the side of your nostrils as it may end up pinching the skin.
If you don't do that, then you have a pain free nose trimming experience that will get the hairs right down to just barely stubble.
The cone only buzzes ever so slightly so it is great for those with sensitive nostrils that end up in a sneezing fit. This won't tickle your sensitive nasal membrane nor will it pull out any nose hairs leaving you sneeze free.
Not only is the Wahl Micro Groomsman the best eyebrow trimmer, but it scores as one of the top nose hair trimmers, also.
Sideburn Detailer
Using the foil guard head, you can easily trim and edge your sideburns. Many barbers will do this service for a small fee, but doing it yourself at home can save you time and money.
When your sideburns and edge of the hairline start to get unruly that is when you feel like you need a haircut. Usually if you trim them up then you'll see you didn't really need a full haircut after all.
With a fine tooth comb, make sure your sideburns are combed down with the hair all going down in the same direction.
While looking in the mirror, use the edge of the comb to determine the best place to make the bottom edge.
Now, just use the blade to create a nice straight line across going to your ear.
If you want the sideburns a bit more narrow, use the Micro Groomer at a position perpendicular to the floor and parallel to the side of the sideburn and slowly shave the hair a little at a time until you think the width is good.
Now, if you want to think out the sideburns because you think they are too bushy, then use the comb and lift up the hair and run the blade over the comb.
Alternatively, if you want your sideburns really thin, you can use the eyebrow attachment comb and just run that over your sideburns going from the bottom to the top against the grain.
Keep it low if you do that, though. You don't want to get too high into the haircut because then it will be harder to blend it into the longer hair on the sides of your head. You won't be able to use these to trim your hair, so you'll need some scissors to do the blend in if you end up going too high.
Ear Trimmer
Trimming your ears is a snap using the Wahl Micro Groomsman.
With the nose hair trimmer head attached, place the cone inside the ear and move it in a circular motion. It literally only takes a few seconds to clean out the ear hairs growing on the inside.
To get the other hair growing along your ear lobe or the outside of your ear, attach the foil guard and run the blade over your ears. Again, this only takes a few seconds per ear.
Beard, Goatee and Mustache Detailer
Edging your beard or goatee is really easy with the Wahl personal trimmer. Using the foil blade, you can clean up the edges of your beard in just a few seconds.
I wouldn't use it to trim a beard, however as that is just too big a job for a small personal groomer.
If you want to think out your goatee or mustache, however, I think it is up to the job.
Either use the eyebrow comb attachment on the foil guard head if you want a very tight mustache or goatee. Basically, it will trim it down to around ⅛ of an inch.
If you want it a bit longer than that, then use your comb to lift up the hairs leaving the length that you want it to be and run the blade over the comb.
If you trim your beard, mustache or goatee down first then edging it with the Wahl detailer will be a lot easier and you will get cleaner lines.
Pubic Hair or Bikini Trimmer
This is where things get a bit tricky.
If you already have your pubic hairs tightly trimmed down but want to detail the edges, like a bikini area, for instance, then the Wahl detailer works great for that.
The key is that the hair should already be stubble or a little bit longer.
This is a mens eyebrow trimmer more than anything so it can't really handle long hairs.
So, don't attempt to shave all your pubes off with this. As a personal groomer, it can tidy up your groin, but it can't do any heavy lifting.
The blade works well on sensitive areas like your genitals, though, so if you need to trim your balls then this won't end up leaving the skin irritated.
Even though it is the best mens eyebrow trimmer, it is only adequate as a personal genital groomer.
What I Don't Like About the Wahl Groomsman Trimmer
No grooming product is perfect and the Wahl eyebrow trimmer is no exception.
So what are the cons when it comes to the Micro Groomsman?
Luckily, there aren't a lot of negatives.
Though the Wahl personal groomer is lightweight, that is due to the construction mainly being plastic parts and a thin aluminum casing.
I wouldn't mind paying a bit more for better parts that would last longer. I mean, if it were 3 ounces instead of 1.6 ounces, would that be too heavy? No. So using stainless steel parts would have been better.
What can happen, then, is after a few months of use, the plastic part that moves the blade can come loose. Luckily it is an easy fix so you don't have to jump through any hoops for a refund.
Here is a quick video that shows you what to do if the internal parts aren't catching and the blade isn't moving.
Operation is a bit loud is the other thing I am not crazy about. It isn't like ear-shatteringly loud or anything, but to be the best eyebrow trimmer, I expected it to be quieter.
There is a 60-day money back guarantee, so if you feel these cons are too much to bear, you can send it back. There is also a one-year manufacturers warranty, so if any of the parts of this Wahl Micro Groomsman fail and can't be fixed, then they will replace it for you.
So, that gives some piece of mind that the Wahl eyebrow trimmers will last you a while.
Wahl Micro Groomsman vs Philips Norelco NT3000/49
To really give an in depth look at the Wahl Micro Groomsman to see if it is going to be the right choice for you we need to put it to a head to head comparison with another trimmer in its class.
A very popular nose and ear trimmer is the Philips Norelco NT3000/49. Though they look really different they both do the same thing.
Let's take a look at how they compare so we can see which one is a better fit for your needs.
The Trimmer Heads
The most similar aspect of the two nose hair trimmers is the head. Both of them sport the same type of angled trimmer head that works to get around some funny areas that might be hard to reach otherwise.
As far as how close they shave, they are both on the same par. They get very close with only the slightest bit of stubble remaining.
One area where the Norelco comes out on top as far as the trimmer is that the teeth are rounded for a smoother feel on the skin. Though the Micro Groomsman doesn't ever pull the hair unless something went wrong, the design of the Norelco is better to guarantee that yanking the hair doesn't happen.
The Nose Hair Trimmer Head
The head for the nose hair is very similar for both models as well. The cap is small enough to fit into any nostril and wide enough to cover a lot of the area so you can work quickly.
Neither model ever pulls the hair as they have sharp, stainless steel blades. I will give a slight edge to the Wahl Micro Groomsman in this section because they do make better blades since they manufacturer professional equipment too. It seems like they use the same type of standards across their lineup of groomers.
Ergonomics
Here is where the product diverges slightly. The bodies look very different and handle differently.
The Microgroomsman is very slim and can be held by the fingertips It is lightweight so it is easy to maneuver while using a very light grip.
The Norelco on the other hand is heavier at 2.7 ounces. I actually prefer the more sturdy feel of the Norelco over the Wahl because it feels more resistant to any knocks or bruises it might take.
The shape of the Norelco is also very different. It has a wider body and longer, thinner neck where the trimmer is attached.
Does this make it easier to use or to grip? I feel like you can get your hand around this a little better even though you wouldn't use it delicately with the fingertips as you would with the Wahl. This is going to depend on how big your hands are and how you need to use it.
The slimmer Wahl is going to be better when you are venturing away from your face to use it to trim other areas. Getting around your pubic hairs, for example is going to be easier.
When it comes to anything above the neck, I think that they both have equal ergonomics.
Attachments
Neither one of these trimmers has a wide variety of attachments. They are for the guy that wants to do a specific job and doesn't need a ton of bells and whistles.
That said, the type of attachments that come in handy are the plastic combs that go over the trimmer head. These will help you run the trimmer over an area like your eyebrows and evenly trim them down. You can use it on a mustache or your sideburns as well. The Norelco wins this round as it has two comb attachments. One will trim your hair down to 3mm while the other will get them to 5mm. The Wahl only has one and it trims down to 5 mm so you have more versatility with the Norelco.
Both of the guards work the same way for either model. That is to say that you can move in two directions with it instead of the comb only working one way.
Battery
Though both work on a AA battery and they each come with one included, the Norelco has the upper hand. The Norelco has a Lithium Ion rechargeable battery where the Wahl has a non rechargeable one.
The downside is this only helps you if you have a charging base for AA batteries. There isn't a plug to charge the battery while it is in the body of the trimmer.
As far as battery life, I think the edge goes to the Wahl. It's simpler operation and lighter body makes it easier to use and thus uses less juice from the battery.
Verdict
I think either is great, but you get more value from the Wahl as it costs a few dollars less.
Final Thoughts
I am a fan of Wahl clippers in general so it shouldn't come as a surprise that I think these are the best eyebrow trimmers around and that they also work great as an overall personal groomer.
If you don't expect these to last a lifetime then you won't be disappointed.
If you have tried other personal trimmers that just don't get the job done, then give these Wahl Micro Groomsman a shot.
If you need to see how it stacks up against the competition then check out this review of the best eyebrow trimmers.
Good points
Compact, easy to work with
Comes equipped with eyebrow, nose and ear trimmer
Works wet or dry
Nose trimmer attachment is good on sensitive noses
Comes with a long lasting lithium ion battery
Bad points
Plastic internals tend to wear out
I'm an outdoor enthusiast and have sported a full beard since I was in my early 20's. Originally, growing a beard was a way to save time when getting ready each day, but I quickly realized that keeping a neatly trimmed beard takes work and some forethought. That's where this site comes in.
You get to benefit from my years of experience. I've reviewed many of the top hair clippers on the market today and also included some information on what works best for me. A great beard will turn lots of heads in your direction.
Since I never know when I'm going to find myself being photographed, whether it's climbing in Yosemite, or playing volleyball on the beach, it's important to me to always look my very best. Maintaining my beard is part of my daily routine and I hope you'll find some useful tips and information on this site to help you on your journey.