Vacuum cleaner hair cutters have become quite the trend recently.
I mean, who doesn't like minimizing post-haircut clutter and mess?
Without a doubt the most popular models are all Remington hair clippers with vacuum function. Remington might not produce the most powerful clippers, but what they get right is product innovation.
This time, I'll focus on their Remington HKVAC2000 Vacuum review. It's a more than a decent cutter, especially considering its price. Most importantly, though, it has this revolutionary vacuum function you'll love.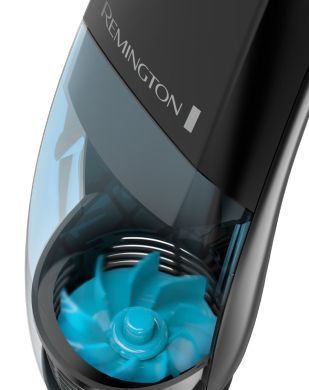 Remington HKVAC2000 Review: An Overview
| You'll love it for these | But you won't like these |
| --- | --- |
| Convenient vacuum function | |
| | |
| | Blades can pull sometimes |
| | |
| | |
Get ready for a convenient Remington vacuum trim
To begin this Remington HKVAC2000 Vacuum review, the Remington HKVAC2000 hair clippers with vacuum make your life a whole lot easier. Instead of worrying about messy counters or sinks, you now have a way to collect your hair inside your clipper. This is done through a mini suction fan inside this hair cutter. It will "store" your strands into a small tray, so you can dispose of them after you've finished.

A godsend, right? What's even better news is that opening the "chamber" of the fan and throwing out the collected hair is very easy. You just put your finger between the bottom of the blue plastic chamber and the black base, and pull gently. Takes only a mere second, yet saves you so much cleaning.
I'll be honest in this Remington HKVAC2000 Vacuum review: this hair clipper won't catch all your hair. A fair estimation is that around 80 to 90% of your strands will be collected. Still, this is a huge improvement on your usual hair cutting habits. Bear in mind that the Remington vacuum function will also work better on short to medium hair.
The Remington HKVAC2000 vacuum clipper body
These hair clippers with vacuum feature a polished, elegant body design. You can get the HKVAC2000 either in blue or gray, but I think the blue version is more presentable.
The clipper provides a good grip for solid haircuts. It's also not too heavy and shouldn't tire your hand.
Beneath the hard plastic casing you'll find a combination of motors. One is for the vacuum cleaner hair cutter itself, while the other powers the suction feature.
The motor is alright, but don't depend on it performing too greatly. The price tag on the HKVAC2000 so and so means you're leaning towards more casual clipper options.
The blades of this Remington hair cutter with vacuum are made of stainless steel and sharp enough. They will cut close and somewhat precise.
I'd say the titanium-coated blades of the Remington HC6550 vacuum clipper perform a lot better.
A wide range of vacuum clipper accessories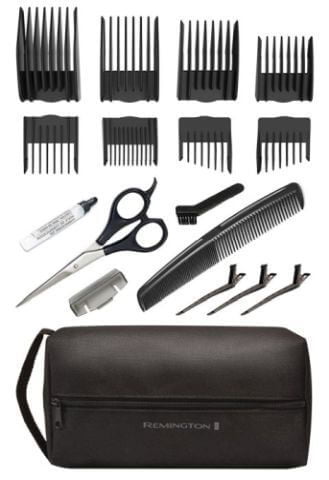 When it comes to their hair clippers with built-in vacuum, Remington provide a fantastic collection of accessories.
You'll receive a 18-piece kit that is a killer deal considering this model's price. It includes:
6 combs for different lengths + a styling comb

Right & left tapers

Barber scissors

Cleaning brush

Blade guard

3 sectioning clips

Oil bottle

Big-sized storage pouch
The brand really goes above and beyond and gives you all the customization you might need for some at-home hair cuts.
Shortcomings of the Remington HKVAC2000 vacuum hair clipper set
Body issues
I pointed out this vacuum clipper's design is presentable, but its hard plastic is still a bit fragile. You have to be careful to treat this machine right, because it's not the most durable model out there. The vacuum suction is amazing, but it's still way less powerful than what the bigger "brother" Remington HC6550 can offer you. HC6550 is also cordless so it allows for more flexible usage around the house.
Blades & combs
The HKVAC2000 vacuum hair clipper's blades have an average performance. They cut close and somewhat precise, but sometimes they might pull your hair. Cuts can also get uneven but this seems to be mostly dependent on your hair type. I've heard some people with fine hair complain about the quality of the cuts they get in this Remington HKVAC2000 Vacuum review.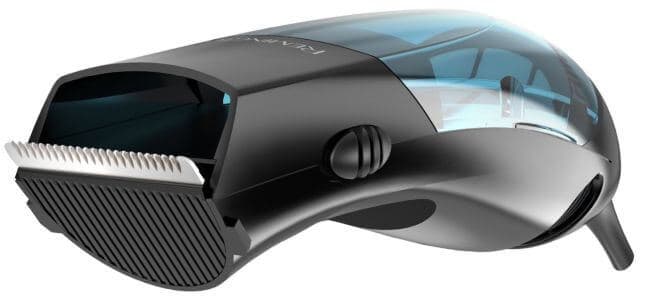 You also lack the lever adjustment present in so many other clippers. This makes performing fades possible, but not that comfortable with the HKVAC2000 vacuum hair cutter.
Accessories
No doubt about it: Remington are once again fantastic with their accessory kit here. However, the shortest comb you'll receive is only 1/8″. This puts a certain limitation on people who want to rock a very short buzzcut.
I'll throw in my disdain towards the pouch (same as HC6550), but I've come to realize it's a very petty thing of me to focus on.
For the price tag, the Remington HKVAC2000 vacuum hair clipper set is a real bargain. It's comfortable, amazing for casual hair cutting habits and includes the convenience of Remington vacuum trims. You'll leave behind the dreaded mess after you've done a haircut at home.
At the same time, though, this vacuum clipper scores lower on blade and motor performance. This is natural: the main feature you're paying here for is the vacuum cleaner.
If you're looking for a simple to use clipper on an attractive price, this is your best bet. If you still want a Remington vacuum hair cutter but can splurge some dollars, I'd recommend going with the HC6550 model. It outperforms the HKVAC2000 in every aspect except price.
I'm an outdoor enthusiast and have sported a full beard since I was in my early 20's. Originally, growing a beard was a way to save time when getting ready each day, but I quickly realized that keeping a neatly trimmed beard takes work and some forethought. That's where this site comes in.
You get to benefit from my years of experience. I've reviewed many of the top hair clippers on the market today and also included some information on what works best for me. A great beard will turn lots of heads in your direction.
Since I never know when I'm going to find myself being photographed, whether it's climbing in Yosemite, or playing volleyball on the beach, it's important to me to always look my very best. Maintaining my beard is part of my daily routine and I hope you'll find some useful tips and information on this site to help you on your journey.