If your toolkit doesn't have a body grooming device, then you either were born with no body hair, or you need to get your grooming game on point.
Look, these days, some body hair is back in style, but you can't let yourself get overgrown.
But, you already know that or you wouldn't be reading this. You want to know if the Philips Norelco Bodygroom Series 7100 BG2040 is the real deal or not.
Can it handle what you are going to throw at it?
I don't want to ruin the suspense, but let me just say that Norelco is not the leader in men's grooming tools for no reason.
Let's take a closer look at the Norelco Bodygroom 7100 available on Amazon.com.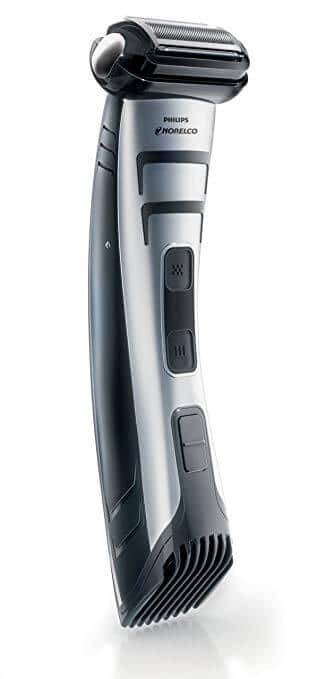 Where to Use It
If you are thinking of using the Norelco 7100 as an all over shaver and trimmer so you can also shave your face, then think again.
The Philips Norelco Bodygroom 7100 is a body groomer and is only meant to be used from the neck down.
So once your face and neck are shaved/trimmed/shaped, you will then use the Norelco Bodygroom 7100.
You can shave or trim your chest hair, your pubic hairs and even your arm and leg hair with this since it sports both razor and trimmer heads.
You can use the Philips Norelco Bodygroom Series 7100 BG2040 on your back hair, as well, but you will definitely need somebody to do it for you as I can't see any way you could contort yourself to reach.
If you need a back hair remover you can use yourself then click that link to read a full article about them.
It isn't just for guys, either. A woman can make good use out of this for underarms, legs, pubic hairs, etc. In fact, I recommend this over female specific body groomers as my wife says this is far more powerful than the trimmers and shavers she has used to tidy things up.
Remember, most marketing for grooming separates the girls from the guys strictly as a way to extract more money.
Most of the time there is either little difference between products besides the colors, or you are charged more while getting less just because you feel you need a gender specific product.
The Philips Norelco Bodygroom Series 7100 is ideal for either sex.
Design
Looking at the way the Norelco 7100 is designed, you can see right away how useful a tool it is. It's like they wanted little to no wasted space. For this, there are both types of heads so you never need to swap one out.
On one side you have the foil razor for shaving down to the skin.
The flip side has the trimmers where you can attach a plastic comb to change the desired length.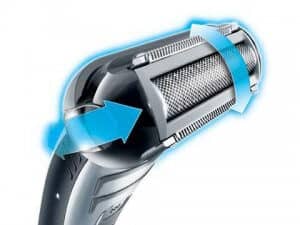 The Norelco Bodygroom Shaver
With a unique 3D pivoting head, it can flex up and down and side to side. There is no angle on your body that is too extreme that you can't get a close shave due to this feature.
The razor acts like your typical electric shaver for your face with a couple of key differences. The blades are covered with foil for a smooth and close shave that won't leave your skin getting nicked.
What's different, and very welcome, is the addition of two pre-trimmers on the top and bottom of the razor head.
This helps lift the hairs up from the skin so you don't pass over any that may have been lying flat.  
Having one on each side means that you can shave in any direction without needing to keep awkwardly turning the razor to get the hairs you want. It doesn't matter what direction they grow in.
It also means that you won't be going over the same spot multiple times with the Philips Norelco 7100 to get a close shave.
And since the blades are self sharpening, it will never go dull on you as time goes on.
The Norelco Bodygroom Trimmer
When you just want to trim the hair, or leave it shorter without shaving down to the skin, simply flip the Philips Norelco 7100 over to use the trimmer head.
Once again, you have everything you need in one spot. Instead of having multiple plastic comb attachments which have to be taken off and then put back on, the trimmer has an adjustable comb.
You can set it at its lowest to ⅛ of an inch up to 11/25 which is more than half an inch long.
Just slide the head to the desired length with five different settings and you're good to go.
The blades are rounded to go easy on the skin and prevent the hair from pulling.
The plastic comb is very sturdy and durable. Unless you drop it on a hard surface from up high, I don't envision it ever breaking on you. At the very least, it doesn't bend and push the hair into one small area.
The Battery
To charge the Philips Norelco 7100 battery, it comes with a very handing dock that also acts as a great way to store the Norelco 7100 to keep it dry.
Plug it in and it takes about an hour to fully charge. Then you get about 50 minutes per charge.
There is an LED light that shows when it is charging, when it has been fully charged and when the battery is low.
The Philips Norelco 7100 can only be charged with the dock. You can't plug it in and use it if the battery has died on you. I suppose this is to prevent people from attempting to use it in the shower while it is plugged in.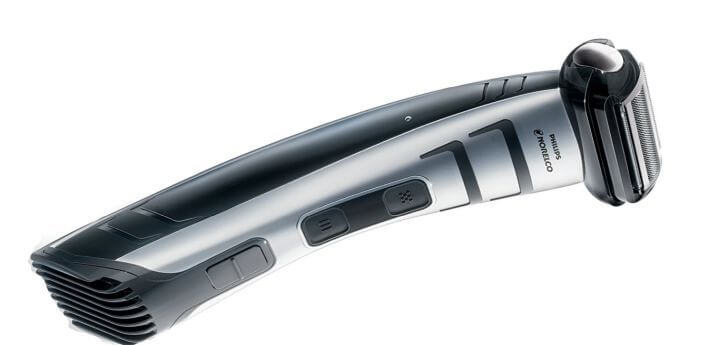 Wet/Dry Operation
The Philips Norelco Bodygroom is fully immersible so you can use it in the shower. In fact, it has a handy cord to hang it from your shower caddy so you can keep it within reach while you wash up.
In addition, it can be used with shaving cream or gel with the electric razor head, and also rinsed out under the faucet to clean it when you use it dry.
How does it work in the shower?
Well, I wouldn't try to use the trimmer on longer hair. If your hair is long, it is difficult to cut. And I don't mean very long, I just mean if it is more than stubble where it could clump together when it is wet. The Norelco Bodygroom trimmer works best dry when you are trying to trim. If you are shaving down to stubble, also when the hair is long.
The Philips Norelco 7100 razor, on the other hand, works best in the shower.
First of all, your skin and hair are soft so it is easier to cut the hair. And under the running water, it is less likely to gum up the razor as it would if you used shaving cream.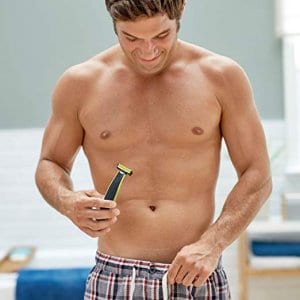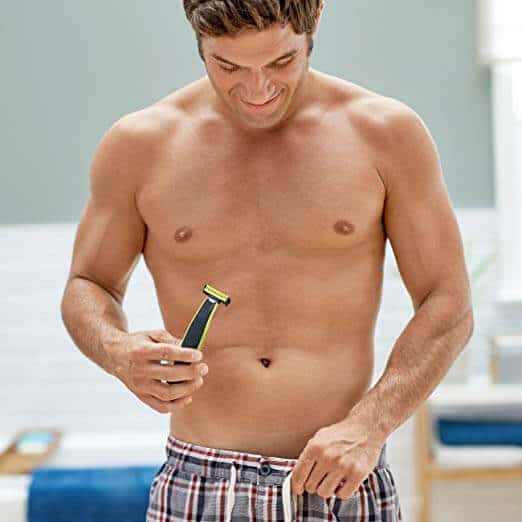 How Does it Work on Pubes?
As a trimmer the Philips Norelco Bodygroom 7100 excels all over the body. Since the profile is slim, it can really get just about everywhere.
Including the groin.
If you are looking to keep the nether region trimmed tightly, then you can do it very comfortable. Thanks mainly to the rounded blades. This is not an area where you would want to feel your hairs being pulled out by your trimmer.
Now, the  Philips Norelco Bodygroom shaver also can work really well, with some patience and care.
The downfall with the shaver when using it on your balls and pubic hair if you want to shave down to the skin is from the pre-trimmers.
Yes, the Norelco Bodygroom is an excellent shaver because of these since they lift the hair. With the loose skin of a scrotum, it also, unfortunately, lifts the skin as well as the hair.
Make sure you keep your skin pulled tight if you plan to use the Norelco Bodygroom 7100 shaver.
Maintenance/Cleaning
Since the blades are self sharpening, the razor needs very little maintaining. You don't need to lubricate them with oil before and after using, and you don't need to ever replace them.
To clean it all you have to do is rinse it under water and then let it air dry.
I don't recommend rinsing it under water if you plan to put it in a bag right away or won't be able to let it air dry for some reason.
It comes with a small brush, so in this case you should simply pop open the head and wipe the hairs off of the blades. Don't be tempted to let it sit with hair on the blades. Hair is highly acidic and will dull your blades after a while. This is especially true on the trimmer head since the blades are not self sharpening.
You should change the foil once per year to make sure it is letting the razor run smooth and stay hypoallergenic. You can order a replacement foil head here from Amazon.com.
It is really easy to pop the old one off and replace with a new one. No special tools are required and it literally only takes seconds.
What We Don't Like
There is no perfect product, obviously, and the Norelco 7100 is no exception. There are a couple of things that can be frustrating. Are they deal breakers? I'll leave that for you to decide.
There seems to be a case of the battery being hit or miss.
Some people will see the battery outlive the body of the trimmer after years of use.
Others find the battery won't hold a charge anymore after less than a year.
Your mileage will definitely vary depending on if it is defective or not. Essentially, it may not be something that affects you. It isn't super rare, but it also isn't so prevalent that I couldn't give an honest recommendation.
Also, the foil head can be a bit fragile. If you are going to use the  Philips Norelco Bodygroom shaver over most of your body, and use it frequently, then you may need to replace it in less than the two year warranty. I suggest buying a backup one to have in case so you don't have to go without it while waiting for another one to arrive.
Not unique to the Norelco Bodygroom Series 7100 BG2040 is the fact that you can't use the unit while it is plugged in. This fact doesn't make it any less inconvenient, though.
As I said, these probably won't be deal breakers to most, but if at this point you are not sure if it is going to be right for you, then check out this article on other hair removal options.
There is a 45 day guarantee so if you don't like it you can send it back.
Final Thoughts
Is the Philips Norelco 7100 the best body groomer out there? In my mind, it is one of the best around. For pure convenience, it tops the list. I love when I can have a tool that has everything you need in one place. The worst part about so many grooming tools is the fact that you need a toolbox to keep all the attachments and accessories in. With the Norelco Bodygroom Series 7100 you just grab it and get on with your life. No parts to lose, no wasted time.
And the best part is that the Norelco 7100 works great. Yes, it may pinch if you use it on your balls and aren't carefully pulling the skin taught, but I have yet to review a groomer that wouldn't do the same if you aren't taking your time.
Do you have any questions about the Philips Norelco Bodygroom 7100? Ask away y leaving a comment in the box below. I love getting questions and am happy to help so don't hesitate!
Philips Norelco Bodygroom Series 7100
Good points
Good for wet and dry shaving
Two-way design features a trimmer and a shaver
3D pivoting head
5 length settings for trimmer
Great for pubes
Bad points
Battery life is hit or miss
Shaver foil needs frequent replacing
I'm an outdoor enthusiast and have sported a full beard since I was in my early 20's. Originally, growing a beard was a way to save time when getting ready each day, but I quickly realized that keeping a neatly trimmed beard takes work and some forethought. That's where this site comes in.
You get to benefit from my years of experience. I've reviewed many of the top hair clippers on the market today and also included some information on what works best for me. A great beard will turn lots of heads in your direction.
Since I never know when I'm going to find myself being photographed, whether it's climbing in Yosemite, or playing volleyball on the beach, it's important to me to always look my very best. Maintaining my beard is part of my daily routine and I hope you'll find some useful tips and information on this site to help you on your journey.