I'm not gonna lie.
Writing about the best toenail clippers does not get me very excited.
But, you asked, so I listened.
After reading our guide to proper foot care, many of our readers sent messages telling us that they are sick of weak toenail clippers that break their nails or lead to ingrown toenails. It seems like the problem is to many guys are using their finger nail clippers to do a job they aren't cut out for.
What does get me excited is the fact that I know that I can help you guys out. Duty calls, so here is a review of the top rated toe nail clippers with a buyer's guide to help you decide which one is right for you.
What to look for in the best toenail clippers
It would be easy for me to just say Product X is the best toe nail clippers and you should just go buy that. The reality is that there are a lot of different things to consider that will determine which brand and model is actually the best for you.
It doesn't matter what kind of grooming product we are talking about. Whether it is toenail clippers or skin creams, your individual needs will determine which one is the best for you and it could be very different than what the best one id for me.
With that in mind, here are the factors that you need to be aware of to find the best match.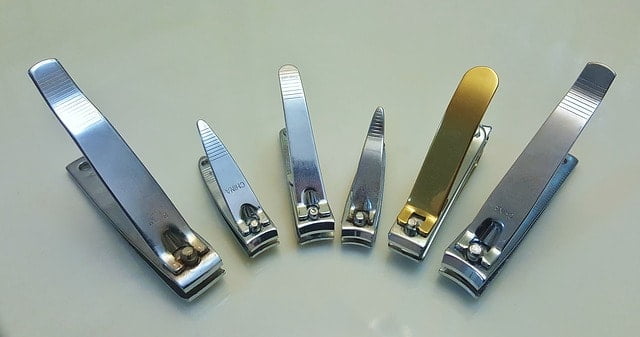 Types of Toe Nail Clippers
Lever
This is the classic nail clipper that uses a lever that pushes the blade down to cut the nail. Most fingernail clippers use this ancient technology.
The positives is how easy it is to find this type of nail clipper as they are the most common. The downside is that they aren't usually strong enough to cut the nail cleanly. There are types that use a different style lever which I will talk about in a bit.
Nippers
What looks like surgical pliers of some sort are the nipper style toenail clippers. These are probably the type that are the best toenail clippers for thick nails.
They are easy to use and are great at preventing ingrown nails.
Scissors
You may have been tempted to use some regular scissors on your toenails but I have to dissuade you from doing that. These special toe nail clippers type scissors have a very sharp and special blade to cut right through the nail like buttah. And the curve of the blade helps you keep the shape of your toenails.
Grinder
Very much like a Dremel grinder and buffer tool is the grinder type of toe nail clippers. Usually reserved for pets, the grinder is one of the best ways to trim down your nails without going too far or ending up with an ingrown toenail.
They are a bit messy, but do a good job. They can also buff out your nails making them nice and smooth.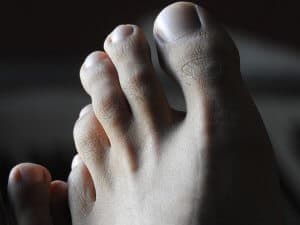 Must Have Features of the Best Toenail Clippers
Whichever kind of toenail clippers you end up looking into, they should have a few features that you really don't want to skip.
Anything that is worth buying should be top notch, even if it is as mundane as a set of toe nail clippers.
Large Cutting Surface
Since your toenails are much wider than your fingernails and also much thicker, you really need a cutting surface.
To cut cleanly through the nail it has to have some beefiness to it and a thin and narrow blade won't get the job done.
If you are used to getting cracked toenails then it probably means your nail clippers were not strong enough.
Material
If we are talking about the lever, nipper or scissor style toe nail clippers then it is really important that it be stainless steel.
Stainless steel is strong, durable and will resist corrosion. When dealing with grooming in an area that is prone to carry bacteria and fungus, you don't want to be using a material that could end up rusting or getting dull.
Ergonomics
It may come across as sounding ridiculous to suggest that something as innocuous as cutting your nails could be dangerous, but you do need to watch out.
When you're dealing with a sharp instrument, particularly the scissor type of toe nail clippers, then you need to have a good grip.
Look for an ergonomic design. A long handle or wide lever will help you keep your grip.
Blade Shape
When you are dealing with cutting toenails the shape of the blade matters. For the lever type of clippers, you want the blade to be straight and not too curved. For nippers and scissors, a curved blade is best.
The reason for a straight blade when dealing with toenails is to prevent an ingrown nail from forming.
Though this can happen due to the curved blade of a scissor, you just have to take extra care to not cut too deeply into the edge of the nail to keep it from growing under the skin.
Long Handle Toenail Clippers
Unless you are a contortionist, it makes sense that you need to have long handle toenail clippers. This way you don't have to bend into different uncomfortable areas to cut your nails.
The best ones if you have trouble reaching your toes, for example if you are elderly, are the nippers and scissors.
Our List of the Best Toenail Clippers
SZQHT Toenail Clippers for Thick Nails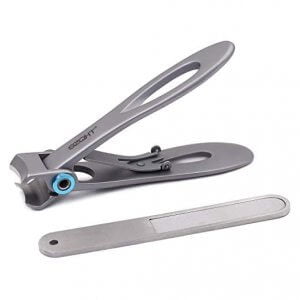 I have to deduct a couple of points from these otherwise exceptional toenail clippers for thick nails.
First, the name. How about a vowel? I have no idea how to pronounce the name.
Second, the blade is slightly curved. I prefer a straight blade for a toenail clipper, but it is very difficult to find. It seems like these days people use toenail and finger nail clippers interchangeably so this may be why.
Anyway, these are excellent toenail clippers and I will go into the details as to what makes them ideal.
Ergonomic
The design of the clippers makes it very easy to grip. It has a longer handle than you normally see for a toenail clipper and is easy to use.
Unique Design
I love the lever and the wide open jaw of these toenail clippers. The way the lever works is really unique and offers up way more force than your ordinary nail clippers. This is the biggest reason I give these such high marks even after the couple of strikes against them. They simply cut too well due to the engineering of the lever.
The jaws open up really wide so there is no toenail too thick to be cut by these blades.
Quality Material
Made of very durable stainless steel it is built to last. The blades stay razor sharp so for years you'll be able to cut right through even the toughest nails.
Verdict
It takes so little pressure to cut through your nails and the cut is so smooth that you won't be dealing with split nails from your weak nail clippers anymore.
The price might seem high, but these are not your typical drug store nail clippers that aren't made out of quality material. You should expect to have these last at a high level for years to come.
Dr Heally Nipper Toenail Cutters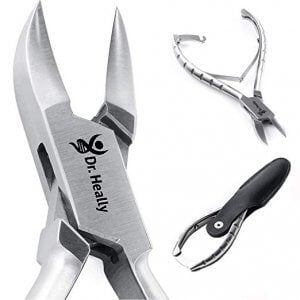 When you're serious about clipping your toenails then you need to think about nippers as opposed to levers.
These are what the professionals use. Both pedicurists and podiatrists alike swear by these types of toenail clippers. Particularly when you have thick toenails.
Quality Materials
Made of surgical grade stainless steel, these nippers are durable and extremely sharp. The quality of the steel can be felt all throughout the construction from the blades to the handle.
Very Ergonomic
Wide handle provides a lot of gripping ability, plus the grooves etched into it. You get a good grip so it is easy to have a steady hand when trimming your nails.
There is some weight behind these as well, so it feels solid and actually makes it easier to trim without using a lot of pressure.
Long handle toenail clippers like these make it easy to reach your foot if you're not very flexible.
Thoughtfully Designed
There are a few small details that make this a pleasure to use.
The springs that pop open when the latch is removed are very solid so it makes it easy to operate. For safety it closes with a latch and even a leather case to store it.
For added durability and ease of use, the face where the pivot is wide.
It is even very balanced to give you stability when you are trimming.
Verdict
These may very well be the last toenail clippers you will ever need. They are long lasting, stay very sharp and are easy to keep hygienic.
The cut you get is clean and smooth with very little need to use a rasp afterwards.
3 Swords Germany Inox Toenail Scissors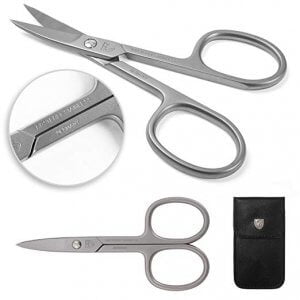 When you see a product made in Germany, you know you are getting quality. And when it is a blade made of German steel and from Solingen, then you can be even more confident that you are getting the best.
Solingen has been the home of the best German bladesmiths for over a century and is the center of manufacturing for the top of the line razors and knives as well as scissors.
Different Versions
If you followed that link on the button above, then you were taken to their page on Amazon and no doubt saw that there are several versions of these scissors.
I will focus on the curved nail scissor version as I feel it will suit the needs of the person cutting toenails best. There is also a straight blade version, but I don't recommend those ones.
They are too hard to cut the nail well as the blades are thicker. Then the other versions are far too thin as they are more geared towards trimming cuticles.
Solid Construction
As I mentioned, these are made in Germany and are built to last and work to a very high standard.
INOX stainless steel resists corrosion even better than regular and is very hard. They are very durable and will last quite a long time.
Verdict
If you prefer to use toenail scissors over clippers, then this is easily the best choice out there. You won't find better quality steel used and the engineering is exactly what you would expect from a German manufacturer
Helix Naturals Long Handle Toenail Clippers Scissors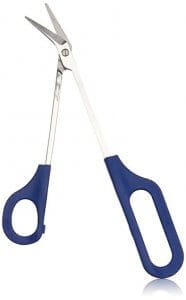 If you have a hard time reaching your toenails or need a gift for an elderly person who has some mobility issues, then these are the ideal long handle toenail clippers.
The 8-inch long handle gives you plenty of reach.
Then, the blades are angled upward giving you the perfect angle to cut your nails without needing to move into a funny position.
It is made out of durable stainless steel and the blades are even serrated for extra cutting power.
Adding to the ergonomics for the elderly, the grip is made out of an easy to grip rubber type of material.
There isn't too much to say about this as it is very simple. It just works well and if you need a long handle toenail clipper then there aren't too many out there that will give you more than 8 inches.
How to Use Toenail Clippers
Is cutting your toenails rocket science? No, it obviously is not.
That said, though, you are probably not cutting your nails the right way.
Here is a guide on how to do it the right way and enjoy healthier toenails as a result.
Step 1 – Get Wet
It is so much easier and so much better to cut your toenails when they have thoroughly soaked. Now, you can set aside some time when you plan to cut your toenails and soak them in warm water, or you can just make sure you cut them after taking a shower or going for a swim.
Step 2 – Make Sure It's Clean
Before you get to work, make sure that your tools are clean and ready to use. You should clean them after use, but always double check that there is no residue from the last use or anything that looks kind of gnarly there.
Step 3 – Don't Get Too Close
I don't know about you, but one of the worst feelings in my opinion is when a nail is cut too short. That raw and sensitive feeling when you put your socks and shoe on is so annoying and all you can do is wait for the nail to grow.
Avoid that by not cutting it so close. Yes, it means that you have to cut your nails more often, but taking care of yourself shouldn't feel like a burden.
You're also opening yourself up to an infection, particularly on your toes when your nail is cut too short. You're exposing some new skin there that doesn't have the proper barrier to fend off fungus and bacteria.
Step 4 – File It Down
If you use any of the clippers I reviewed in this list then your nail edge shouldn't be too sharp or mangled, but to be safe, take a rasp to it. Gently go around the edges and make sure they don't have any jagged spots.
Step 5 – Add Some Argan Oil
Argan oil is some of the best stuff you can be using on your hair and skin and even your nails. It will strengthen them and keep them from getting brittle by locking in their moisture to keep them hydrated.
Make sure you get extra virgin and pure argan oil like this one from Amazon.com and just dab a bit on the nails and rub it in.
Final Thoughts
After all is said and done, I ended up enjoying writing about such a mundane subject. I do really enjoy helping our readers out so it turned out to be a pleasure to write about the toenail clippers for thick nails believe it or not!
I don't know if there is too much else to add besides that you should make sure you are taking care of your nails and not just cutting them once in a while. In fact, this is a good time for me to recommend that you go for a total manicure and pedicure set to make sure you do take care of them.
Do you have any questions about these clippers or anything else regarding toe nails? Let me know by dropping a line in the box below and I will get back to you ASAP!
I'm an outdoor enthusiast and have sported a full beard since I was in my early 20's. Originally, growing a beard was a way to save time when getting ready each day, but I quickly realized that keeping a neatly trimmed beard takes work and some forethought. That's where this site comes in.
You get to benefit from my years of experience. I've reviewed many of the top hair clippers on the market today and also included some information on what works best for me. A great beard will turn lots of heads in your direction.
Since I never know when I'm going to find myself being photographed, whether it's climbing in Yosemite, or playing volleyball on the beach, it's important to me to always look my very best. Maintaining my beard is part of my daily routine and I hope you'll find some useful tips and information on this site to help you on your journey.