When it comes to home haircuts, there are plenty of cheap clipper brands that end up pulling your hair and failing after a few months.
I used to put Conair clippers into this category until I recently decided to give them another look.
Are the new Conair hair clippers any good? Are they too cheap?
I won't tease you with a drawn out way to say, yet they are actually pretty good clippers now.
In this article, I will go through the different models and let you know which ones made the cut.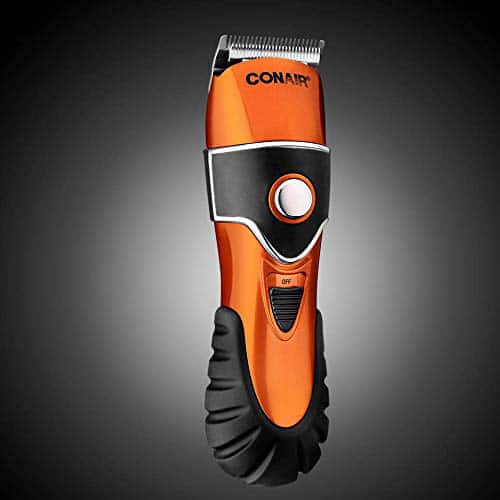 The Chopper Complete Grooming System

Accessories:
9 plastic comb attachments, trimmer attachment, combs and carrying case

Motor power:
★★★★

Blades:
★★★★

Easy to use:
★★★★½


Price: $$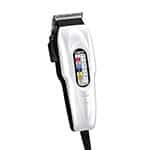 Conair Number Cut 20-piece Haircut Kit

Accessories:
20-piece kit with 9 hard plastic combs included.

Motor power:
★★★

Blades:
★★★


Easy to use:
★★★★★


Price: $$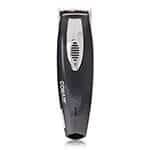 Conair Lithium Ion Cord/Cordless

Accessories:
10 guide combs, barber scissors and comb, styling comb, cleaning brush and oil, barber cape, styling clip, blade cover storage case

Motor power:
★★★

Blades:
★★★★

Easy to use:
★★★★★


Price: $$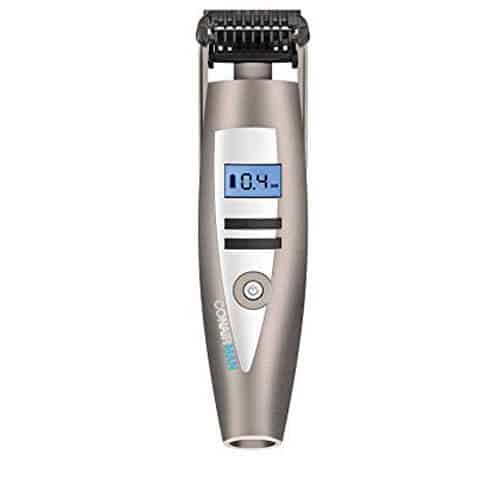 i-Stubble Ultimate Flexhead Conair Trimmers

Accessories:
15 Digital Settings ranging from 0.4mm to 5.0mm

Motor power:
★★★★

Blades:
★★★★½

Easy to use:
★★★★½

Price: $$$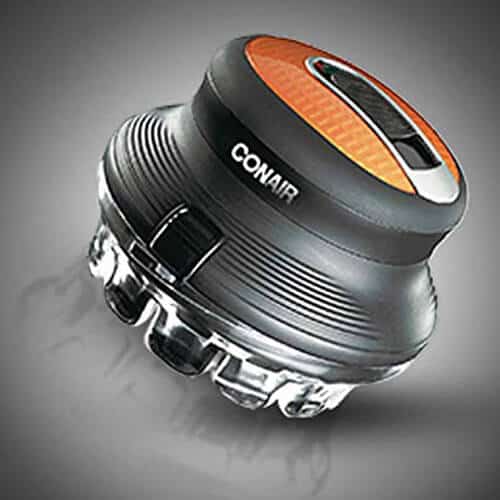 Even Cut Rotary Hair Cut Cutting System

Accessories:
Adjustable guard for 5 different haircut lengths

Motor power:
★★½

Blades:
★★★


Easy to use:
★★★★


Price: $$$
What are the best Conair hair clippers?
Before I get into the meat of the review, I have to say that I was pleasantly surprised at the quality of recent Conair models.
The price would suggest that they are cheaply made, but some recent innovations mean that they are making some high quality clippers for a very good price.
Here are some that stand out.
Conair 2-in-1 Clipper and Trimmer/The Chopper Complete Grooming System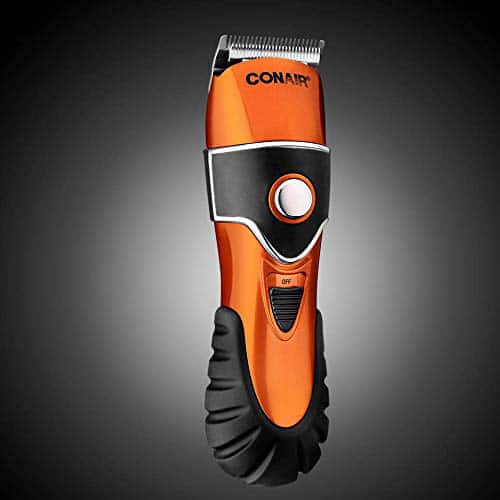 | You'll love it for these | But you won't like these |
| --- | --- |
| Durable build with no-slip grip | Cord seems to be the first thing to go on this model |
| Can be used as clippers or trimmers | |
| Loads of attachments for tapered cuts | |
| | |
| Turbo boost button for extra power | |
These Conair clippers look positively rugged. But, are they as solid as they look? Yes and no. The no-slip grip is a nice addition since many men cutting their hair or detailing a beard are usually going to have wet hands. It also adds a bit of protection from any bumping around in a Dopp bag.
The case is plastic, however, so it does need that added bit of protection from the grip.
Overall, though, it is much more solidly made than past Conair clippers.
The set comes with 9 plastic comb attachments for the hair clipper, four combs for the Conair trimmer attachment, two combs for beard and hair and two carrying bags.
Pretty much everything you need to groom yourself from head to toe.
The blades are very sharp stainless steel and feel about the same quality as some professional barber clippers. The length of the blade on its own is roughly equivalent to a 1 guard on a professional clipper.
With the comb attachments, tapers are easy since you can use the different length comb attachments that go all the way to about an inch of length.
A really nice benefit is the fact that these can be turned into Conair trimmer by removing the blade and attaching a smaller trimmer blade for better detail work.
The motor is very quiet. Quiet to the point that you can barely tell it is even on.
It isn't the most powerful set of clippers out there, but it does get the job done. If you have particularly thick hair, there is a turbo button that gives a nice boost to the motor to blast through some stubborn hair.
Overall, these are a nice set of clippers and hard to believe how low the price is for the quality that you get.
Conair Number Cut 20-piece Haircut Kit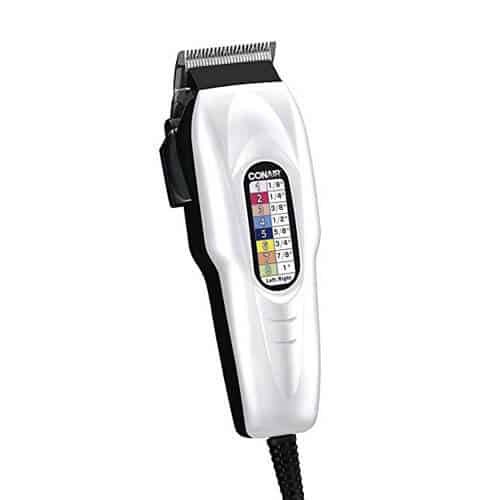 | You'll love it for these | But you won't like these |
| --- | --- |
| Color coded chart and comb attachments make cutting hair simple | Has trouble with long, thick hair |
| Adjustable blade for precision cuts | |
| | |
| | |
Cutting your own hair when you don't have experience is a challenge, to say the least.
You will probably like these Conair hair clippers with color-coded comb attachments with a handy chart right on the body.
This takes all the guesswork out of the equation and simplifies the whole process.
Making things even easier, they have an adjustable blade. Using a lever on the side of the blade, you can really get precise and detailed haircuts without leaving any lines or shadows.
The set comes with literally everything you need to cut hair including a barber's cape.
Using the clipper without any guards and the blade closed, you can get right down to stubble and then taper it up to leave it an inch long with the longest comb attachment.
The motor is not all that powerful, so these Conair hair clippers work best for shorter or finer hair. Thick, bushy hair might cause some pulling from the blades since they can't really cut through.
That said, though, these are really good clippers for home haircuts for a great price.
Conair Lithium Ion Cord/Cordless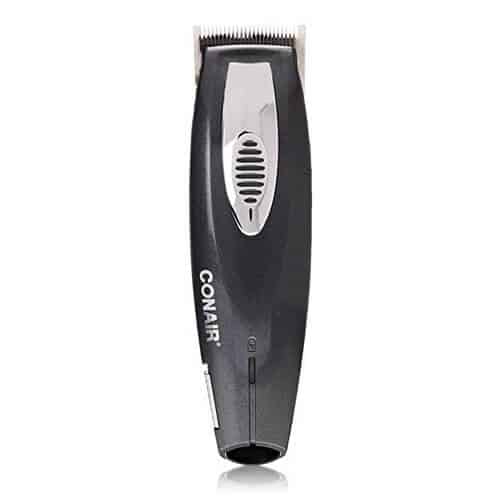 For added convenience, there is this cordless Lithium Ion powered Conair hair clippers. While still being a really great price.
It's kind of hard to believe these Conair hair clippers work as well as they do. They are certainly more powerful than they appear. The charge lasts an hour or so without slowing down when the charge is getting low. If they do run out of juice, they can be used while plugged in to complete the haircut.
As with the other sets, this Conair hair clippers set comes with everything needed to complete a home haircut.
The blades are stainless steel, durable and very sharp. They have no trouble getting through thick or curly hair.
An adjustable blade gives you a lot of precision. Combined with the plastic comb attachments, you can go from stubble to an inch of length for a nice taper.
The operation is very smooth and incredibly quiet. Combine that with the fact that they are cordless and you have the best cheap clippers for cutting kids hair.
i-Stubble Ultimate Flexhead Conair Trimmers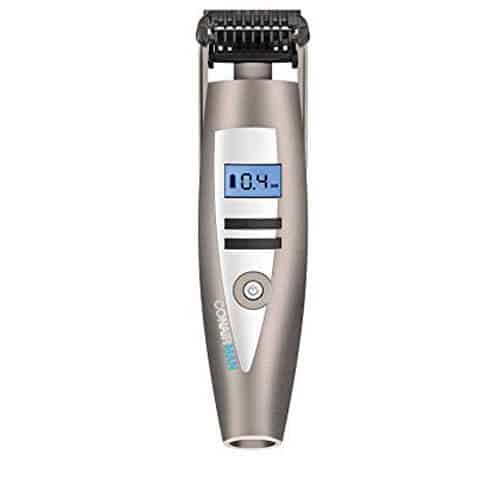 | You'll love it for these | But you won't like these |
| --- | --- |
| Cordless operation that lasts 45 minutes between charges | Plastic body feels flimsy |
| Easy to adjust blade length through an LED screen | |
| Great for detail work or trimming | |
| | |
Conair has finally come of age and joined the rest of the beard and body groomers out there. These Conair trimmers have a flexible head, 15 length settings from 0.4 mm to 5mm that can be set using an LED screen, and a removable comb for detailed trimming.
And it is cordless. Sporting a 45 minute run time on a full charge, you can pretty much groom your whole body in one session.
The price is higher than you might expect from Conair trimmers, but it joins the ranks of a very good detailer that you would expect from a professional one.
The blades are very sharp and leave a crisp line when detailing, or cut very close to the skin when shaving.
A flexible head can glide along the contours of your face making sure that everything is trimmed evenly.
Use these Conair trimmers for detail work like lining up a beard or sideburns or to trim down a beard or eyebrows with the plastic comb.
Overall a very solid performer and proof that Conair is finally committed to making quality products and not just the cheapest possible.
Conair Professional Cord/Cordless Even Cut Rotary Hair Cut Cutting System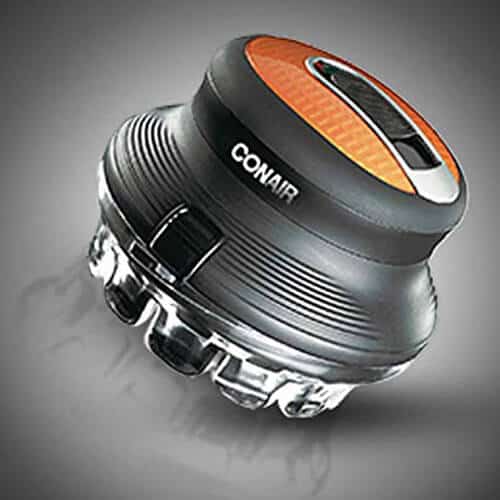 | You'll love it for these | But you won't like these |
| --- | --- |
| Ergonomic design is easy to hold and maneuver | Weak blades make cutting time consuming |
| Rotary blades cut in any direction | Battery doesn't last long |
| 5 different lengths to choose from | |
I really wanted to love these rotary Conair clippers. The ergonomic design should make it easy to shave your head. Five different lengths to choose from up to a half an inch should make it easy for any buzzcut. And the fact it can cut in any direction had the potential to cut down the time it takes to cut your own hair.
However, it doesn't deliver on these points as well as I had hoped.
It isn't terrible and I wouldn't recommend you not buy it, just don't have super high expectations.
Let me explain.
The first problem is the blades are not super sharp. Any time savings from multi-direction clipping is negated since you end up going over the same spot multiple times to remove any stray hairs.
Then the shape doesn't lend itself well to getting around the ears.
Another problem is the battery. It does not last very long at all, and considering you have to run it over your head several times means that it could run out at any time. And the battery loses its ability to fully charge after a few months.
If you're looking for quality Conair clippers for a good price, I would recommend other models that I reviewed here over these.
Maybe at some point, Conair will address these issues, but for now, it is definitely a case of buyer beware with these Conair clippers. You may not have any issues, but prepare yourself to be disappointed.
Wrapping it up
Conair trimmers and clippers have come a long way and they can provide a great value, so it is time to rethink if they are worth it.
Whether you are buying some Conair trimmers or hair clippers, you still need to be careful about your purchase. Some of the other models simply do not make the grade. Their Chrome is probably their most popular set of hair clippers, but they don't really compare to their newest models like the ones I reviewed here.
Overall, though, I am happy to say that they are finally making some quality products at a good price.
Do you have experience with Conair clippers or other grooming products? Or do you have questions about another that wasn't on the list? Ask your questions by making a comment below and we will help you out!
I'm an outdoor enthusiast and have sported a full beard since I was in my early 20's. Originally, growing a beard was a way to save time when getting ready each day, but I quickly realized that keeping a neatly trimmed beard takes work and some forethought. That's where this site comes in.
You get to benefit from my years of experience. I've reviewed many of the top hair clippers on the market today and also included some information on what works best for me. A great beard will turn lots of heads in your direction.
Since I never know when I'm going to find myself being photographed, whether it's climbing in Yosemite, or playing volleyball on the beach, it's important to me to always look my very best. Maintaining my beard is part of my daily routine and I hope you'll find some useful tips and information on this site to help you on your journey.