Everybody knows a simple fact: beards are cool.
However, sometimes I get tired of sporting a bushy long beard. Especially during those sticky, god-I-can't-breathe summer months.
A bit of the stubble would do just fine, I think to myself. True, big beards are majestic and inspire respect.
Well, the stubble goes for sexy, classy looks instead. Oh, and it's way more convenient.
My usual sidekick is my trusty Norelco Series 3500 stubble trimmer. Cordless, with 20 lengths (1/32″ to 13/32″) and affordable, it's found its place among my grooming tools: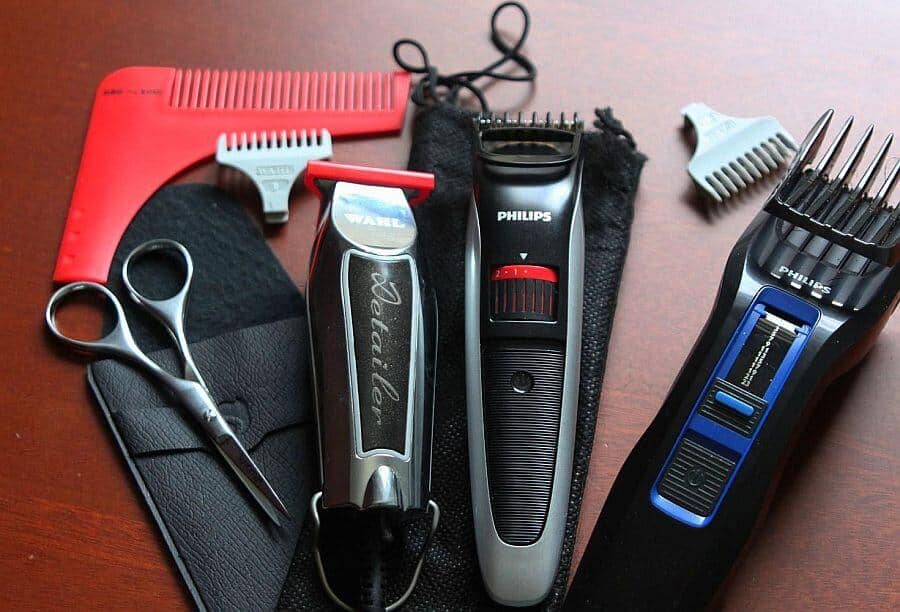 But here's the thing, gentlemen. I'd like to ask you this:
What does The Stubble mean to you? Because for some, 'stubble' goes into the 5 o'clock shadow territory. For others, it's obviously longer than that.
If you're into that whole 5 o'clock thing, a Wahl Detailer (pictured above next to the Norelco) is a better option.
Truth is, the term 'best stubble trimmers' can vary according to your preferences and actual needs. I'll dig deeper into some reviews, but take a peek at this comparison chart of the best stubble trimmers first: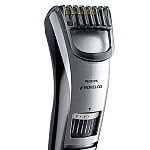 Philips Norelco 3500

Best for:
General stubble styling. Most well-rounded pick on a good price.

Lengths:
20 lengths from 1/32" to 13/32"

Blades:
★★★★

Battery:
2 hours on 1 hour charge.

Price: $$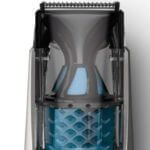 Philips Norelco 7200

Best for:
Vacuum trimmer that collects your leftover stubble hair. No post-shave cleanup!

Lengths:
20 lengths from 1/32" to 13/32"

Blades:
★★★★

Battery:
80 minutes on 1 hour charge.

Price: $$+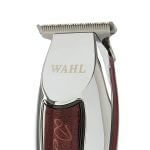 Wahl 5 star Detailer

Best for:
Professional-grade trimmer. Great power, crisp trimming: perfect for 5 o'clock shadow or short stubble.

Lengths:
3 combs: 1/16", 1/8" and 1/4"

Blades:
★★★★★

Battery:
This is a corded trimmer.

Price: $$+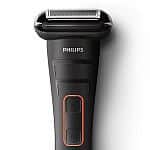 Philips Norelco BG2039/42

Best for:
All-in-one solution: stubble trimmer and body groomer. Waterproof and innovative in its design.

Lengths:
5-length beard comb for short to long stubble.

Blades:
★★★★½

Battery:
50 minutes on 1 hour charge.

Price: $$$
Alright, enough with the intros! Let's study these best stubble trimmers in detail!
What to look for in a stubble trimmer
I think the best thing that you can do when hunting down the best stubble trimmers is to get one that can do other things. Not only are you getting your money's worth by it multitasking, it can still be used if you decide to change your stubble beard up.
If you decide to grow your beard out, for instance, then you can still use it to edge and trim your beard.
Here are some things will make this a great purchase.
Power
When you are keeping up on your stubble, then it can cut really easily and power is not so important. What happens when you have a full beard and you want to shave it down to stubble? Then power becomes a big factor.
The more power you have then the less time it takes to shave. I think everybody can agree that that is a pretty important factor.
Look for high SPM or RPM for the speed of the blade from the motor. Also, rotary motors are really efficient and cut much more quickly and evenly thanks to the additional torque they have so if you are on the fence between models and one is rotary, well there's your answer right there.
Different lengths
If you have the option to adjust the length, either by a dial on the trimmer or by using attachments, then this is your best bet. Especially if you are just shaving down to stubble for the first time. You'll want to start out with a long setting and work your way down to the length you like so you aren't cutting it too short right off the bat.
Any time you have options that is the way to go.
Corded or cordless
My money is always on having a cordless trimmer for shaving to stubble or for beard trimming. Mobility is great and being able to take your trimmers to the gym for example and not worry about an available plug in the locker room.
If you think you'll only be using the trimmer in the same spot every time then I suppose it isn't so important to be cordless.
If you're worried about the battery running out then don't. If you get a Lithium Ion battery operated trimmer, then they typically last quite a while for plenty of trims.
You can get anywhere from 40 minutes to 2 hours per charge which is more than enough for most guys.
Ergonomics
You should look for an ergonomic design that is comfortable to use and makes it easier to maneuver.
The size should not be to long so you can get around the contours of your face and other body parts if it does double duty. But long enough that it can reach where you need it.
The grip should fit well into your palm and preferably be non slip if possible.
Wet or dry
Once again, options are your best bet. You may not think of shaving in the shower, but it sure is nice to have that option if you are running late for work and want to multitask. Not only that, but wet trimmers can be cleaned easier by running them under the sink.
Make sure you pay attention to if they can be used while wet. Some that claim to be wet or dry only mean it is ok if you clean the blade under running water but won't work if they get soaked.
And if you run out of battery, you obviously can't use the trimmer with the cord on while in the shower.
Attachments and accessories
This goes back to the possibility of adjusting the length. If the trimmer itself doesn't have a dial to adjust the blade then it should have plastic comb attachments to be able to regulate the length. At least 4 is enough but some come with an entire set.
Other attachments that could be handy but not completely necessary would be changeable heads so you can use it for other jobs. You may find heads with foil shavers, a detail edger or even a nose trimmer.
4 Best Trimmers for Stubble
1. My Pick for Best Stubble Trimmer

Philips Norelco 3500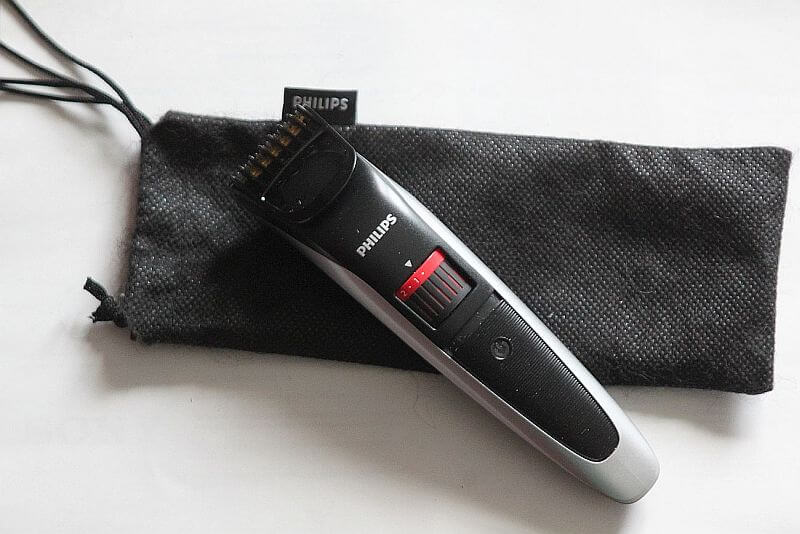 There are three things I value when it comes to my grooming habits: convenience, freedom of choice, and…yeah, you guessed right, how much do the best stubble trimmers cost? What the price to pay for a great looking beard?
The Series 3500 ticks all boxes perfectly.
First of all, if you want stubble, you don't need that many lengths. Anything above 13/32″ (or 10mm) might be superfluous. However, you still want to have that customizability.
I mean, different situations call for different beard lengths, right?
This neat gadget spans from 1/32″ to 13/32″ as I said, with 20 lengths altogether. An adjustment interval of 1/32″ between every level is just the right amount for quality stubble shaving.
Now, onto the convenience part: cordless is always a good thing to have. Sure, with hair clippers I might be a little sceptical, as they need more power.
But a wired beard trimmer is just torture. Luckily, the Series 3500 is not only cordless: it holds a darn-that's-spectacular 2 hour battery. All of that on a mere 1 hour charge!
Plug it in on a sunny Saturday afternoon and voila: you'll have enough battery for a whole week of stubble trimming. Sounds good to me!
Maintenance can be a hassle with some grooming tools, but not here. First of all, you don't need to oil the Norelco 3500. Not only this, but you can easily remove the plastic comb (designed to protect your skin) and rinse the blades from excess hair.
Pretty cool, right? This reduces your maintenance to some 3-4 seconds after each trimming session.
On the quality of shaving, I'd classify it as 'Pretty good for your general needs'. The blades are made of stainless steel, they're self-sharpening and won't nick the skin.
That said, the Series 3500 is nowhere near as powerful and professional as a Wahl Detailer when compared with the best stubble trimmers in the market, for example. Then again, it's targeted at people who don't need a powerhouse tool anyways.
Keep in mind that this is a dry only operation. You can't take this into the shower with you or rinse it under the faucet.
But, you do need to keep it clean so make sure you are brushing the hair off of the blade after every use so the blade doesn't get dull. It is self sharpening but they will get dull eventually anyway if you don't keep it clean.
2. Best vacuum stubble trimmer:

Philips Norelco Series 7200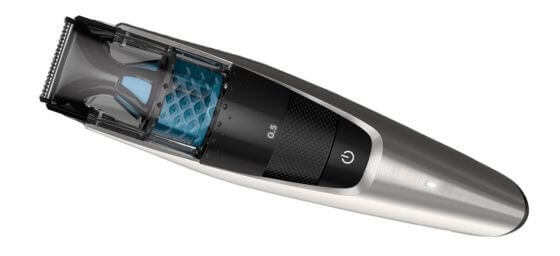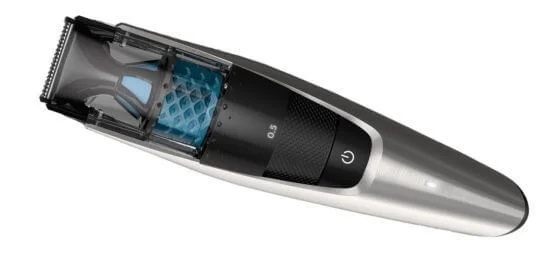 It's a Norelco-dominated beard world, huh? Or so it seems.
Can't blame Philips for dominating the market with quality grooming tools, though. And the 7200 has a very, very important advantage:
It says NO to messy sinks full of hair. And that makes you – and if you have a partner, them too, way happier.
So, what's up with the specifications here?
Performance-wise, the 7200 is quite similar to the Series 3500. The lengths are the same (1/32″ to 13/32″) and it's cordless. Well, the design is newer and more beautiful, but that's not something to focus on so much maybe, right?
A small difference you'll observe here is the shorter Lithium-ion battery runtime. Instead of the 3500 series with their 2 hours, you have 80 minutes here.
80 minutes is more than respectable, however. If you consider that to trim your stubble takes roughly 7 or 8 minutes plus any time extra to edge the beard, then you get at least 8 sessions before the battery runs out.
All you need to do is plug it in once a week and you're guaranteed a fully charged trimmer every time you use it.
That makes sense: we have a vacuum function here after all! Reduced battery is totally worth it, though. While not perfect, the built-in vacuum will sweep up some 80-90% of the hairs you cut.
I don't know about you, but a sink full of hair is not cool at all. Especially if you trim often, you'll either have to buy a beard apron (more money spent and inconvenient), or spend a few minutes post-trimming and clean up.
Once again, you can wash the blades and you don't need any oil. A good addition are the 3 precision combs for finer detailing and shaping up your stubble. Extra customization is always handy!
Even though Philips mention the 'DualCut' technology with the blades here, their performance is exactly the same as the Norelco 3500. The real deal here is the vacuum function, no matter how we cut it.
Depending on how thick your beard is and how long it is when you shave it, you may find yourself going over the same spot a couple of times to get everything evenly cut. It isn't a tool you'll find any professionals using so you have to consider that it isn't going to power through anything too tough.
3. Best professional close cut trimmer:

Wahl 5 star Detailer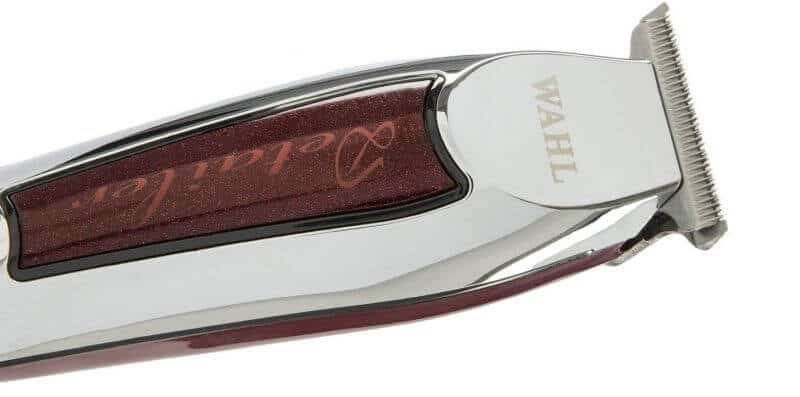 Let's break the Norelco hegemony for a bit and go for something that you would probably see your barber use.
Wahl are a stylist's brand and the Detailer is inarguably one of the best stubble trimmers from their lineup. It's classy, powerful, and its blades blow Norelcos out of the water.
There's a catch: you don't have built-in lengths here, and it's better suited for those of you who prefer 5 o'clock shadows.
What the Detailer operates with are standard combs. You have three of them: 1/16″, 1/8″ or 1/4″. So, you either go without using a comb for the 5 o'clock, or you snap a comb on the blades for some longer stubble.
Also, it's NOT cordless. This is a wired trimmer that once plugged, will jump in your hands with its tremendous rotary motor. Norelcos are child's play compared with this beast!
If you read the earlier section I mentioned the rotary motor. There is nothing this motor can't handle. You can literally go from lumberjack to George Michael in a matter of minutes. It will cut through the thickest facial hair so quickly and smoothly like it isn't even there.
The reason you might want to get this is the sheer quality of the shave.
The wide T-blade features Wahl's 5 star stainless steel blades. It delivers crisp cuts without skin irritation, a true symphony of quality trimming moments.
Seriously, there is a reason why you're seeing numerous barbers swearing by this neat tool and its quality.
That said, you're looking at a bit more maintenance here too. The Detailer's blades need oiling to keep running smooth. Luckily for you, you'll receive a cute tube of oil with your purchase. It'll take care of them.
Don't be put off by any possible maintenance. Unless you're working professionally in a shop, there is not much you need to do to them. And oiling is something that you don't necessarily need to do before and after every use. Especially since you are doing stubble trimming. What you should make sure you do, however, is wipe away any hair that is on the blade. Hair is very acidic and can end up making your blade dull over time.
If you want crisp 5 o'clocks and expert-gradee cutting on the price of some convenience: this is your sidekick!
4. Best all-in-one trimming solution:

Philips Norelco BG2039/42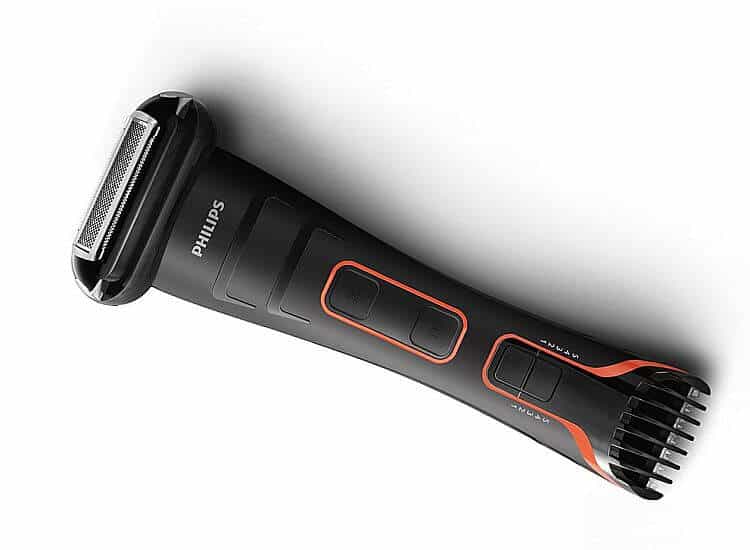 Aaand…we're back to the Norelco kingdom.
The thing is – unlike me, a lot of people would love to see an all-in-one grooming tool. In short: a trimmer that has different attachments to take care of your facial hair and body hair.
No, it doesn't sound as gross as you think it does. There's a small catch here:
The BG2039/42 doesn't have a set of numerous attachments. Instead, it has a revolutionary dual-sided design.
Not only does it look futuristic, but it also does a darn good grooming job for all your body!
I love when a tool that can handle multiple jobs does them all well. Instead at trying to do a lot and only achieving mediocrity, you'll get excellent results no matter what you are shaving and how close you want it.
The foil razor won't get your face as smooth as a baby's bottom, but it does get close enough.
So, the stubble action is guaranteed by one of the sides, and a 5-length beard comb. The lengths aren't as juicy as the standalone Norelco stubble trimmers, but they're pretty ok. You can remove them and go with the naked blade if you want close cut stubble too.
The cool thing here is that it's not only cordless, but also showerproof. So, if you're into it, you can skip the sink mess and do your grooming under the showerhead (with or without the singing part!)
The battery isn't spectacular at 50 minutes runtime on an hour of charging. What's better are the self-sharpening titanium blades. Generally, titanium is a tad better than your usual Norelco stainless steel used with their blades.
Needless to say, but this is a valid/needed choice only if you want to have some body grooming done too. This model works well as a pubic hair trimmer, or as a tool to help you out with underarm hair maintenance and other delicate regions.
If you want a strictly stubble grooming tool, it might make sense to do as I do: just pick the best stubble trimmers from the other 3 models I listed.
I do recommend occasionally shaving down to skin even if you are looking to maintain a stubble beard. It's nice to kind of reset and let it grow back once in a while. This helps to keep good blood flow to the skin for better skin health and also to make for a stronger beard if you decide to grow it.
All good! How can I maintain a neat stubble?
Having the best stubble trimmers is one thing.
Perfecting the art is another.
Wait, don't get all demotivated! Luckily for you, the stubble isn't exactly rocket science. Still, I'd advise you to stick to a few important things. Follow them and you'll be fine and dandy.
First of all, you need to be consistent. I don't know how fast your hair grows (mine does so at an alarmingly quick rate!), but you can't slack.
Make sure that every 2-3 days you keep to your desired stubble length. Sometimes hair doesn't grow equally, and there's nothing worse than a mix of shorter and longer facial hair instead of an even, clean stubble.
Keeping a stubble doesn't mean letting things run its course on all parts of your face. Sure, the stubble has that leisure, care-free vibes, but you shouldn't overdo it.
There are three areas you want to particularly focus your attention on: cheeks, neckline, and moustache: these are especially critical when choosing the best stubble trimmers.
Your neckline area should be clean, period. Especially around and under your Adam's apple. Above it, I prefer to set the stubble 1 or 2 lengths shorter than the facial area. Think of it as fading, because that's what it really is. Your neckline should always be trimmed closer than your beard.
To figure out where to make the line under your chin, follow these simple steps. One, go about an inch over the Adam's apple and use that as your starting point. Second, make a straight line from there to the bottom of your earlobe on one side. Third, do the same for the opposite side. Fourth, shave under that line down to the skin. Use a razor or an electric shaver to make it nice and smooth. You want to see a well defined line there. Try to not make it rounded as it will make your face look funny. You need some angles there. You may need a three way mirror to properly do this. Or, you can ask your barber to do it for you and then just follow that line he made every time you shave.
As for the cheeks, I'd like to clean them up a bit. Look at this guy: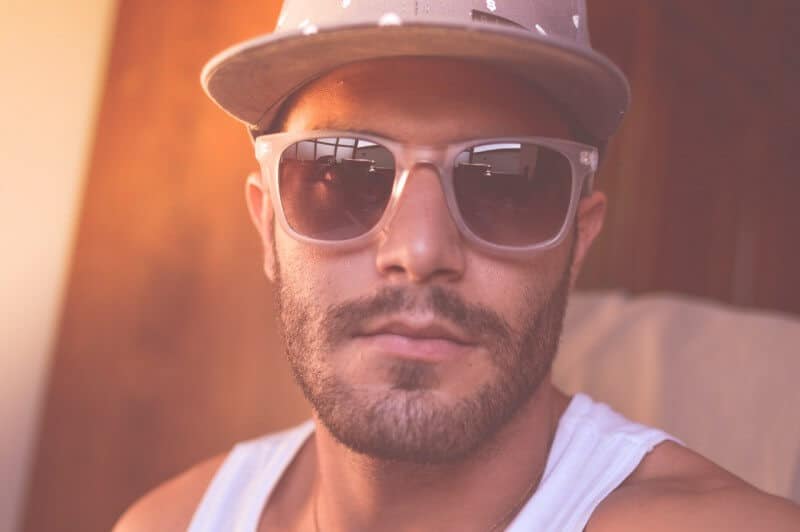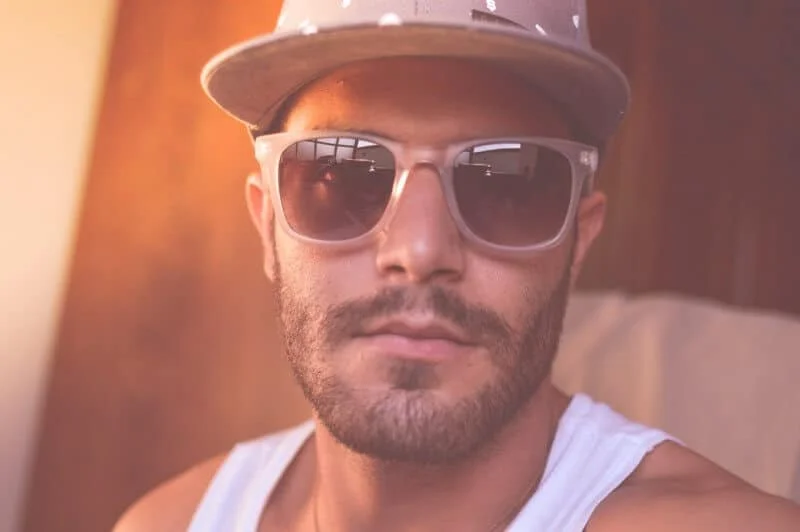 His stubble game is pretty strong, but for me the cheeks are a bit lazy. You might want to do some parallel cleaning with a naked trimmer blade so you shape your cheeks a bit better.
I've written quite a bit on things like beard balm and beard oil. Usually people think these apply only if you have a long beard.
Ding-ding, newsflash: the stubble compels you to care about your facial hair and skin too!
A simple product like jojoba oil will nourish your stubble and your face. Remember that even shorter hairs can irritate your skin (a.k.a. Beardruff.) A soothing moisturizer – preferably natural like the jojoba oil, will soften the hair and calm down any inflammation.
But is it really attractive?
Yes, it is. But what is more attractive is confidence, as you might probably know.
I've given you the options for the best stubble trimmers to help out with you rocking a marvelous stubble. The confidence part is up to you.
But you know, I'm pretty sure of something: you'll be marvelous. It's impossible to go wrong with a well-trimmed, well-kept stubble. Armed with the best stubble trimmers, you're well on your way!
I love Alpha M's videos on YouTube, so here are his tips and opinion on the stubble beard:
Need more advice on maintaining or starting a stubble beard? Let us know by dropping a comment in the box below!
I'm an outdoor enthusiast and have sported a full beard since I was in my early 20's. Originally, growing a beard was a way to save time when getting ready each day, but I quickly realized that keeping a neatly trimmed beard takes work and some forethought. That's where this site comes in.
You get to benefit from my years of experience. I've reviewed many of the top hair clippers on the market today and also included some information on what works best for me. A great beard will turn lots of heads in your direction.
Since I never know when I'm going to find myself being photographed, whether it's climbing in Yosemite, or playing volleyball on the beach, it's important to me to always look my very best. Maintaining my beard is part of my daily routine and I hope you'll find some useful tips and information on this site to help you on your journey.