Van Der Hagen Safety Razor Review
Van Der Hagen is owned by Universal Beauty Products. They are based in Glendale Heights, IL in a 250,000 sq. ft. facility that houses their laboratories, marketing teams, warehouse, and customer service representatives. For over 20 years, Van Der Hagen has been committed to creating the finest personal care products available, and today we're here to do a complete Van Der Hagen Safety Razor Review.
This is a great budget option to enter the world of doing a classic wet shave at home. Though you're not likely to be passing this down as an heirloom, and you'll probably want to upgrade at some point, it does provide a way to learn how to do an old fashioned shave without breaking the bank.
Because we love Van Der Hagen so much, we thought we'd review some of their other products as well. So, in this Van Der Hagen safety razor review, we'll also discuss the Van Der Hagen safety razor blades, the luxury shaving set, and the shave butter. So here goes.
Van Der Hagen Razor Review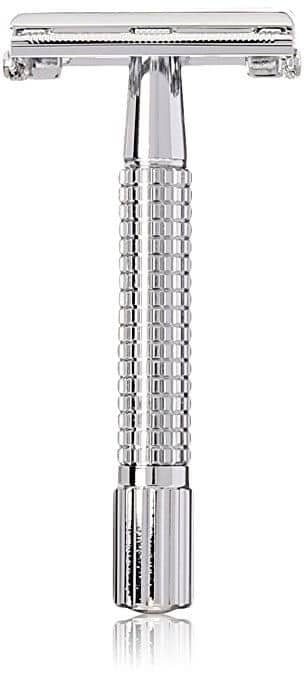 Let's begin this Van Der Hagen Safety Razor Review by saying that Van Der Hagen Safety Razor is an inexpensive safety razor that's still very well-made.
The body is chrome-plated, but the base metal is brass. You'll always want to make sure you're razor is made from brass. Zinc alloys and stainless steel razors develop a white powder when they oxidize. Brass, on the other hand, is durable enough to last you a while.
The Van Der Hagen safety razor has knurling along the handle to prevent your hand from slipping even in the shower. With a total length of 3.5", the handle is fairly short on this razor. While plenty of new wet shavers will find that they're not used to the short handle, this is actually the ideal length. A razor with a longer handle won't be as easy to maneuver, so while it may feel somewhat uncomfortable at first, you'll learn to love the size of this razor. That being said, the handle is only about 1/2" in diameter, so if you do have especially large hands, you might want to consider a safety razor with a wider handle.
The safety razor weighs in at about 2.4oz. making it significantly lighter than, say, the classic Merkur 34C, which is almost twice as heavy at about 5.26oz. When it comes to safety razors, weight is a significant factor. The heavier the razor is, the more aggressive it is and the more effectively it can cut hair. You shouldn't have to apply any pressure to your razor because as soon as you do, you risk cutting yourself. Instead, you should allow the razor to do the work for you.
Even though it is lightweight, you won't need to be using any pressure to do the shave. It is still weighty enough to give you a close shave without being too aggressive.
Lastly, the van der hagen safety razor has a butterfly close mechanism that's very easy to use. The double doors open up with a simple turn of the knob at the end of the handle. Instead of juggling three pieces at once, you can quickly and easily turn swap out one blade and replace it with a fresh one.
It's a very nice looking safety razor with classic lines and an old fashioned sensibility. It will look right at home on your bathroom vanity or sink.
This safety razor is really suited for the beginner. Because it's light, easy to maneuver, and fairly mild, newbies can experiment with safety razors before putting down the money for a more aggressive device. You might also consider it as a cheap travel razor you can just throw in your bag for anytime when you won't be home.
Van Der Hagen Safety Razor Blades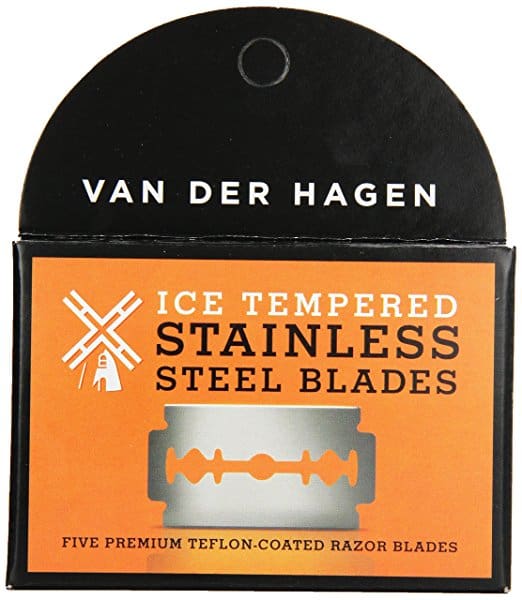 While we love the razor, we can't necessarily say the same thing about the blades. The blades cost about $0.57 per blade, but they simply don't perform. While $0.57/blade might be a bargain when compared to, say, anything from Gillette, even Feather blades will only cost $0.26 per blade, and they're practically double what Personnas cost.
Unfortunately, these blades are far too sharp but not at all smooth. They won't give you the kind of close shave you're looking for, and they'll probably cut you up in the process. You might even get better from a disposable razor from the drug store.
I don't mean to scare you off of trying them. Just know that you need to be careful. It is very important to get the prep right and that your face and beard are properly hydrated to prevent any drag on the razor. If you are careful then you should be fine. If you don't feel super comfortable after having read this, then go ahead and swap them out for different razors.
Thankfully, you don't have to use Van Der Hagen safety razor blades with your razor. You can instead, pick up a pack of Astras. You could use Derby's if you want a really mild blade. If you're a beginner looking for a gentle razor, you can't get much better than Derby blades in a Van Der Hagen razor. Alternatively, you could pick up something sharper like a pack of Feathers and get a much closer shave despite the less aggressive razor. It's really a matter of preference though. If you want to know more about safety razor blades, you can read our guide by clicking here.
Don't allow these blades to influence your opinion of the razor though. The razor is really a great purchase in spite of the blades. You can always swap out the blades, and you can even compare different blades. Safety razor blades are relatively easy to come by, so you might want to consider testing different brands to find one that suits you.
Van Der Hagen Safety Razor Shave Set

The Van Der Hagen Safety Razor Shave Set is the perfect kit for anyone who wants to explore wet shaving. For less than $30, you'll receive shaving soap, a shaving brush, a ceramic mug, and a stand for your brush and Van Der Hagen safety razor. This kit isn't the highest in quality by any means, but it will provide you with the tools you need to master wet shaving techniques properly. Then when you're ready for something a bit more advanced, you'll have no problem committing to a more expensive kit.
If you're tired of the lather from a can, you'll want to try a shaving soap. The shaving cream you get at your local drug store will clog your razor in only a few passes, and besides, it will still leave you with razor bumps. You can whip up the Van Der Hagen shaving soap in the ceramic mug into a nice, rich lather.
Shaving cream out of a can may be convenient, but it does nothing to help your shave. It is far too dry. You need to use soap to properly hydrate your skin and beard. Shaving cream or gel only helps the razor glide across the skin without causing razor burn.
But, it doesn't even always do a good job at that. If you've ever used a cheap foam and mediocre razor, then you've gotten razor burn.
A properly prepared face for a wet shave won't irritate your skin even when using a traditional razor.
When you apply it with the shaving brush, the natural badger bristles will lift the hair on your face preparing them for the razor. On a side note, because the brush has natural bristles, it will unfortunately tend to shed. That being said, this is totally normal and no cause for concern.
Essentially, even though this shaving kit isn't really a luxury kit, if you've only ever used cheap, knock-off shaving products, this kit will amaze you. The kind of smooth shave you'll get with an old-fashioned shaving set is leaps and bounds better than what you're getting now. I assure you.
Once you have the wet shave mastered, then think about upgrading your set or at least experimenting with other products.
Van Der Hagen Safety Razor Shave Butter

The Van Der Hagen Safety Razor Shave Butter is perfect for your skin. As a shave butter, it won't lather up like foams or gels, but it will keep your skin extremely soft. Alternatively, you could use this gel as an aftershave to moisturize your skin and prevent razor bumps when you're finished shaving. It won't clog up your razor as easily, though it might leave some residue when you're finished. This cream contains no strong fragrance, so it is suitable for men with sensitive skin. Lastly, if you're using this cream every day, it should last about a month, but it could last longer depending on how frequently you shave.
Made from macadamia nut oil and mango, shea, and cocoa butter, this lotion will give your skin the hydration it needs. Macadamia nut oil is one of the best carrier oils for skin products. It's non-comedogenic, so it won't clog your pores or cause you to break out. Plus, besides jojoba oil, it most closely resembles sebum, the oil your skin produces naturally. It's rich in phytosterols that combat irritation and itchiness, and while it's highly emollient, it's light and spreadable so it won't feel greasy.
Mango butter is a lesser-known skin care ingredient that's taken from the meat inside the pit of the fruit. The butter is packed with skin-plumping vitamin C and revitalizing vitamin A. It provides moisture that reduces the appearance of fine lines and wrinkles, and gives you that perfect glowing, youthful look.
Remember, shaving cream is going on your face, and so you want to make sure it's actually beneficial to your skin. men with sensitive skin will give you a close shave and improve your complexion.The Van Der Hagen safety razor shave butter though is full of the nutrients your skin needs.
Final Thoughts
Are you looking to explore the world of wet shaving but don't know where to start? Looking for an affordable safety razor or shaving set that will still provide an excellent shave? The Van Der Hagen safety razor might be just for you.
We hope you've enjoyed this review, and now we want to know your thoughts! Leave them in the comments section below.
Van Der Hagen Safety Razor