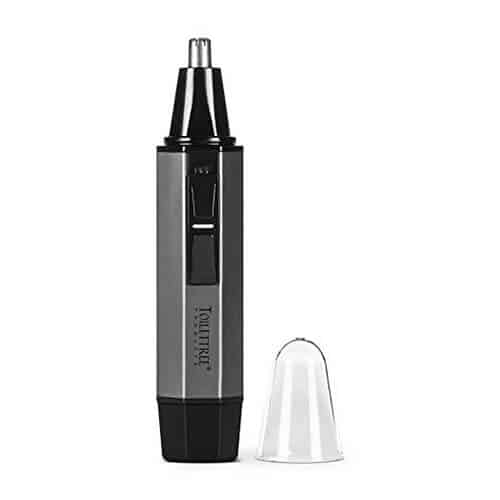 When a tool only gets used for literally a few minutes per month, it is easy to brush it off thinking that quality is not so important. This is definitely the case with electric nose hair trimmers. I am here to change that. I want you to use better grooming products that do a good job, last a long time and won't break the bank. Enter the ToiletTree nose trimmer. Its name may be a little bit silly, but they are very good electric nose hair clippers that you should keep in your Dopp bag or in your medicine cabinet in your bathroom. It deserves a place among your most trusted grooming gear. To read up on just how you should trim your nose hairs, check out this helpful grooming guide for your nose. Let's dive into this ToiletTree nose trimmer review and see what makes it one of the best nose hair clippers than others on the market.
A Little Bit About ToiletTree Products
Even the company admits that the name is silly, but they are a family company that is serious about creating intelligent products. Since it is a family business, they actually care about making products that help people. Which is smart since that is how you build brand loyalty. Nose grooming may not seem important to many, but they took it seriously enough to make the best nose trimmer on the market. ToiletTree products are sold via Amazon.com mostly since it has the best supply chain logistics that works great for a smallish company like ToiletTree. They have won various awards from Consumer Reports and Hammacher Schlemmer Institute for their grooming products, and toiletries, pun intended. For this review, we're just talking about the ToiletTree nose and ear trimmer with LED light and stainless steel body. I just wanted to shine a spotlight on them as a company for a moment as I like to support small family companies like this one that deserves our business.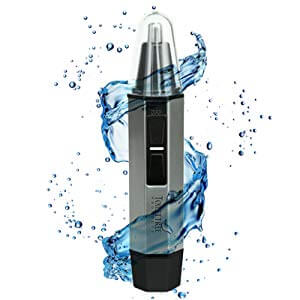 Features of the ToiletTree Professional Water Resistant Heavy Duty Steel Nose Trimmer
The Motor
At just about four ounces, this electric nose hair trimmer is so light that it belies what a powerful motor it has.
It is equipped with a rotary motor with blades that rotate rather than rock back and forth.
This makes it very efficient, power wise, to get the most out of the motor.
Run by a AA battery, it doesn't need to charge or be plugged in, yet is powerful enough to cut even thick, wiry hair easily without painful pulling.
The Blades
Made out of stainless steel, the blades of this ToiletTree nose hair trimmer are very sharp. Ideal for longer nose hairs, they cut cleanly and leave only the tiniest bit of stubble.
Using stainless steel is also hypoallergenic so people with sensitive skin or allergies won't end up with a rash or worse from using it.
Wet or Dry Use
The ToiletTree nose hair trimmer can be used in the shower since it is totally waterproof.
As long as you don't try to open the body of the nasal hair trimmer while using it, then you don't have to worry about the battery getting wet.
If you use it dry, in front of the mirror for instance, then you can clean it easily by running it under the faucet.
LED Light
How useful this feature actually is, really depends on the user's perspective.
Some people may find that it is just another bell or whistle to use as a selling point for a nose trimmer that has no real value. others may feel it puts it up there as the best nose trimmer.
My opinion?
It definitely does help a bit, but when the ToiletTree nose trimmer is running and the nozzle is in your nostril, it isn't like the light can get in there for you to see if you got all the hairs.
It does help if you use it as a flashlight to check things out, but not really useful while you are trying to trim down your hair.
Stainless Steel Body
Though the ToiletTree nose trimmer does have some plastic parts, the fact that most of the ToiletTree nose hair trimmer body is made of durable stainless steel is a nice feature.
Since things get wet when using in the bathroom, it is easy to let something slip. It's nice to know that if you drop these nose hair clippers, it isn't doomed to shatter into pieces.
Not that I recommend dropping it to test its durability, but I feel the construction is solid enough to survive some bumps and bruises.
How it works
To get started, you will need a AA battery since one is not included. Try to get the best one you can since you don't want to be constantly replacing batteries.
How long it lasts depends on the quality battery you use. The top cover over the blades is just the right size for getting into your nostrils and to move it around. The size is ideal for tilting it at an angle to get right down to the base of the nose hair leaving only the slightest stubble. Depending on how quickly your hair grows, this should be tight enough of a shave to give you a couple weeks before you notice the nostril hair making a comeback.
The hairs can get in to be cut on top or to the side of the head since there are slots on top and on the side. Since the top is covered, you won't end up with nicks from exposed rotating blades. The housing of the top is made of stainless steel, as well, so it doesn't buzz around. This may seem like an odd thing to point out, but those with sensitive noses will understand how nice that is. Essentially, the lack of a buzz makes for a sneeze-free experience.
I have a sensitive nose and used to often end up in a sneezing fit when trimming my nose hair with a nose hair clipper. You can even use this for ear hairs that are growing inside your ear. You probably won't get the hair growing outside due to the shape of the blade housing. But, if that isn't a problem for you, then this can be a nice 2 in 1 nose and ear hair trimmer providing even more value for you.
ToiletTree vs Panasonic ER430K
Since ToiletTree is not exactly a household name brand I thought I would make a rough comparison between that and one of the most popular nose hair trimmers out there. The Panasonic ER430K.
They are quite different in some of the functions but they both do the same job so let's see how they stack up against each other.
The Blades
On paper the edge should definitely go to the Panasonic, as it has dual edge blades that are very efficient at cutting your nose hair. Two blades spinning around seem like they would cut better than the type found on the ToiletTree.
Yet, this one comes out to be a push.
The ToiletTree blades are incredibly sharp and the edge lasts a long time. So they work equally well. One might have their blades marketed better because they are Panasonic, but that's all it is. Don't get me wrong, the ER430K are excellent but as far as blades, it doesn't beat the ToiletTree.
Ergonomics
When it comes to being ergonomical, the shape and grip are important. A nose hair trimmer should be easy to hold and give you the ability to maneuver around using various grips. Since you are likely to be in a wet environment in your bathroom when you use it, it shouldn't be easy to fall from your hand.
Both models here are just the right size, but the edge goes to the ToiletTree. The ER430K has a bit of a pregnant style as it widens on the lower half. It isn't hard to hold by any means, it's just that it has a vacuum function and the chamber for the hairs is rather wide.
This could have also been a push but a slight edge goes to the ToiletTree.
Wet or Dry
Both models can work in the shower if you really wanted to trim your nose there. I already mentioned earlier that I really don't recommend it since it is hard to cut them. But if I had to choose one to take in the shower I would go for the ToiletTree. It has a small hole and a sort of gutter to collect the water and let it drip cleanly away from the cutting head.
It seems like a small thing but it does make it easier to cut the hair.
Battery Life
Both models take AA batteries and how long they last does really depend on what brand you end up buying. That being said, if you were to use the same brind with either one then the ToiletTree will last longer. This isn't a defect or knock against the ER430K, it's just that the Panasonic has a vacuum feature. This is going to use more juice and result in less battery time.
Convenience
The clear winner in this section is the ER430K. Since it has a vacuum and can be rinsed under water it is way less of a hassle to clean up afterward. Just about every hair is pulled away into the chamber making it virtually clean up free. The ToiletTree does have the ability to rinse the head to get the excess hair and grime washed away but you will be sweeping up the cuttings.
Verdict
I actually like the ToiletTree better than the Panasonic as I think it does a pretty good job, feels more solid and I really don't need the vacuum feature. It does cost a few dollars more than the ER430K however. If the difference of a few bucks doesn't bother you then I say go for the ToiletTree.
Final Thoughts
I really like ToiletTree products in general, as I mentioned, since they do care about their customers. Their customer service is very good and they make a point to respond to all inquiries and do what they can to fix any problems. As far as this ToiletTree nose trimmer, I have to say it is one of the best out there.
Compared to many of its competitors, it does a better job and lasts longer. I'll repeat, since most people aren't looking for much from a nose hair trimmer, some companies will cut corners and not offer up much in the way of quality.
That definitely is not the case here. Whether you use it at home, or in your travel toiletry bag, in the shower or in front of the mirror, you will get a few years use out of it. Have any questions about the ToiletTree Nose Trimmer or other trimmers? Leave a comment in the box below!
ToiletTree Nose and Ear Trimmer
Good points
Compact, easy to work with
Works on nose and ear hair
Very sharp stainless steel blades
Can be used wet or dry
LED light helps get the hard to see hairs
Bad points
Runs through batteries kind of fast
Need to be gentle with the tip
I'm an outdoor enthusiast and have sported a full beard since I was in my early 20's. Originally, growing a beard was a way to save time when getting ready each day, but I quickly realized that keeping a neatly trimmed beard takes work and some forethought. That's where this site comes in.
You get to benefit from my years of experience. I've reviewed many of the top hair clippers on the market today and also included some information on what works best for me. A great beard will turn lots of heads in your direction.
Since I never know when I'm going to find myself being photographed, whether it's climbing in Yosemite, or playing volleyball on the beach, it's important to me to always look my very best. Maintaining my beard is part of my daily routine and I hope you'll find some useful tips and information on this site to help you on your journey.