The Best Shaving Brush To Transform Your Shave
Shaving brushes seem like a relic of the past. A time when every man had his barber shop and every man his barber. Alas, times of days gone by. Today, they need not be though. The 1950's have come and gone, but we need not forget the shaving traditions of those that have come before us. The best shaving brush kits should stand the test of time. My personal favorite shaving brush is the Anbbas Shaving Set. There's nothing like brushing silvertip badger hair across your face. Usually, I wouldn't indulge in a silvertip badger brush because they're quite expensive. However, this happened to be a gift from a dear friend of mine who knows I'm particular about my shaving tools.
While you certainly can spread on
shaving cream
with your hands, an old-fashioned best shaving brush and some high-quality shaving cream will do wonders for your skin. If you know the secret to whipping the cream into a thick lather, you'll enjoy a shave like no other. In this article, we'll show you options of the best shaving brush to transform your shave and then discuss why you should really be using the best shaving brush, how to work up a bowl of shaving cream, and where to find the best one.
Shaving Brush Kit for Luxury: 
Grutti Premium Shaving Kit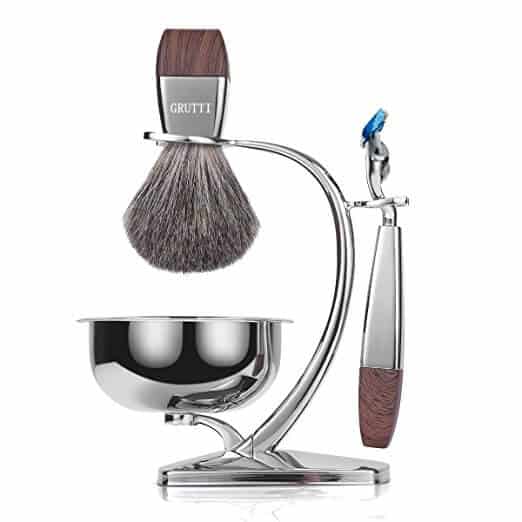 This Miusco shaving razor and brush stand is the best shaving brush kit for the elitist shaver. It is the epitome of luxury. With a polished chrome stand and matching razor, this shaving cream brush and bowl will look excellent on any vanity. It's minimalist style is striking, and the wood trimmings add a bit of class.
Best of all, the accessories are magnetic and will click right into place. The razor is a Gillette cartridge razor whose head you can replace with Fusion 5 heads. This best shaving brush is made with pure badger hair bristles that are soft and smooth to the touch, and the entire piece is a masterpiece. The brush sheds far less than even brushes in a higher price point, and it will last for years and years.
The photos can't really do this shaving cream brush justice. The weight and quality of the metal is fantastic, and it cleans up easily with the wipe of a damp cloth. The bowl is the perfect size for lathering up enough shaving cream to cover your whole face twice, and since it sits so nicely on the stand, you'll never lose it.
This best shaving brush kit works perfectly as a gift set for any father, brother, or husband, and the company will even send you an elegant, black gift bag with your purchase, so you don't even have to wrap it. With a nearly perfect rating on Amazon, you can't go wrong with the Grutti Premium Shaving Brush Set.
Shaving Brush Kit for Vegans: 
Complete Old Fashioned Shaving Set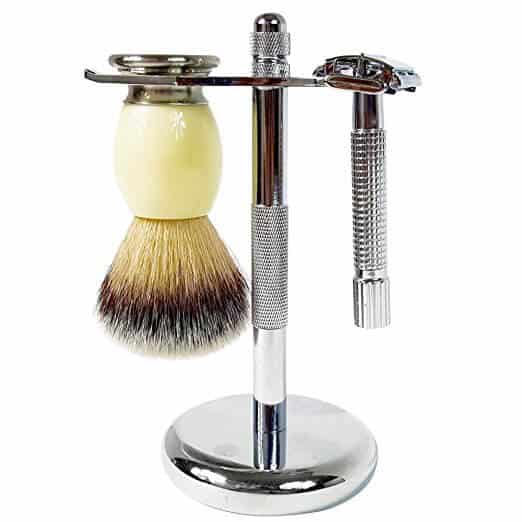 You can shave a badger like you can sheer a sheep; however you can never know exactly where the hair comes from when you buy a make-up or best shaving brush. Sometimes it comes from local farms; however, it could just as easily come from a slaughtering house or a fur trading company.
That is the unfortunate truth. If that bothers you, the only way to properly ensure your shaving brush is cruelty-free is to buy a synthetic one. Synthetic brushes need not be of lesser quality. In fact, this one is of very high quality. Better yet, synthetic brushes have a host of their own positive qualities. Animal hair traps oil and dirt and must be washed regularly. Synthetic fibers, on the other hand, are relatively sanitary and easy to clean.
Natural brushes also get stiff over time as they absorb products that you put on your face. Synthetic brushes tend to retain their soft texture and, as a result, have a longer lifespan. If you have sensitive or oily skin, synthetic brushes are an obvious choice because they won't irritate your pores.
This vintage shaving kit comes with synthetic silvertip badger bristles–quite a rarity. This synthetic brush rarely loses its bristles, and it will last you through years and years of wet shaving. The shaving brush kit even comes with a stand and your own safety razor to get you started.
You won't even be able to tell the difference between these shaving brushes and its natural alternative, and you might even like this one more. Its super soft bristles are nearly as good as real badger hair!
Shaving Brush Kit for Softness:
Anbbas Shaving Set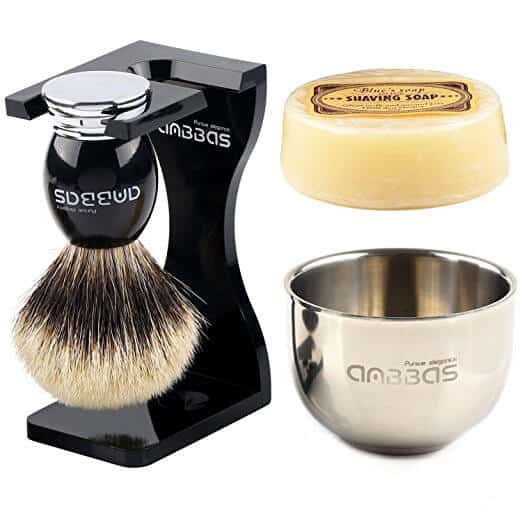 This Anbbas Shaving Set will perform heads and shoulders over your pure badger brushes. This authentic silvertip badger brush feels almost silky against the skin its so incredibly soft. The glossy resin alloy handle has a 28mm diameter that fits perfectly inside the elegant black stand. Because it's on the smaller side, you should purchase the whole best shaving brush kit together. The brush needs to hang upside down to dry, and it might not fit in other stands.
The knot on this brush is slightly smaller than most others, but its very dense and holds water very well. It won't shed its bristles, and it doesn't come with the nasty smell that usually accompanies brushes with animal hair.
For a silvertip badger brush, this stand is relatively inexpensive. Silvertip badger hair is, by far, the most expensive type of hair, and most brushes sell for $60 and up. This kit is less than $40, and it comes with a stand and shaving soap as well. Though you will be paying a good amount, you're getting great value for your dollar. There's really no need to pay over $100 for shaving brushes if you can get a great one like this for under $50.
Shaving Brush Kit with Boar Hair: 
Omega Professional Boar Hair Shaving Brush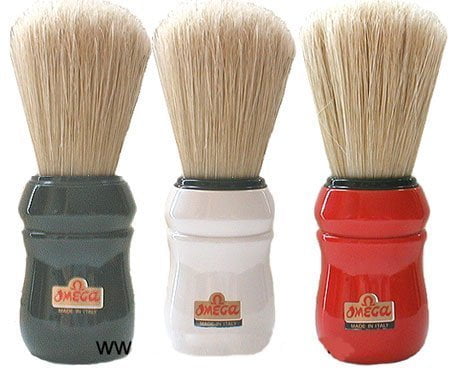 The best shaving brush is typically made of badger hair; however, that's not necessarily the case. Omega Professional Shaving Brushes are made of boar hair, and it works just as well as most badger hair brushes but for less than half the price. At less than $10, this shaving cream brush is a steal. You'll be hard-pressed to find anything that works nearly as well for such a price.
Like most boar hair brushes, this best shaving brush comes to you rather stiff with an odd smell, but the smell dissipates quickly, and the bristles will soften as they absorb water on your first shave. It will take a bit to break in, but once you do, it will be soft and supple. You do need to dry it properly upside down on a stand to keep it in good condition, but if you take care of it, it will last you for a long time.
With a large knot and stiff bristles, this brush is perfect for lifting the hairs on your face. If you're not lifting the hairs on your face before shaving, the razor might tug and pull at the hairs as you drag it across your jaw line. Any men experiencing razor bumps and ingrown hairs would benefit from this Omega boar's hair shaving brush. Though the bristles are stiffer initially, you'll find that you might even prefer them that way.
Shaving Brush Kit for Budget Shavers:
Miusco Shaving Set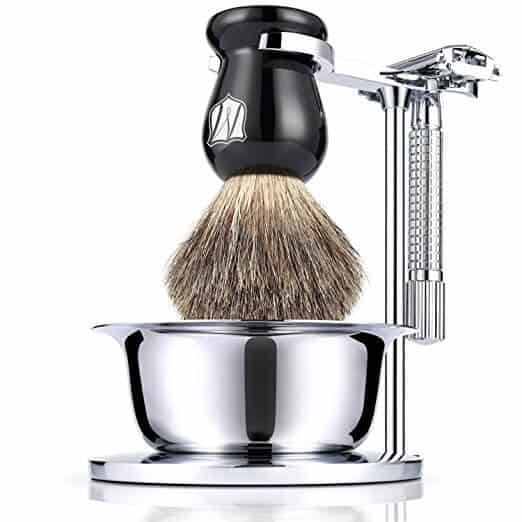 This Miusco shaving razor and brush stand is the economical choice for anyone who loves the soft fibers of a badger hair brush, but isn't willing to shell out the cash for a high-end one. This lovely stand keeps the brush in good condition and prevents the growth of bacteria and odor. The razor is compatible with Mach 3, Gillette Fusion, and Flexball so you can swap out the heads as you use them.
Though this best shaving brush does shed initially, it should stop after about a week as you begin to break it in. It's completely normal to see a bit of shedding from any brush of natural hair. In any case, it's unbelievable value for money. For less than $30, you can get the stand, brush, and razor. It is guaranteed to improve your standard shaving experience, and it won't break the bank.
If you're not ready to spend on a luxury brush, then this is the place to start using shaving brushes. It will give you a great shave, and if you like it, then you can eventually upgrade to one of higher quality. You might find though that you love this one! The brush is fairly balanced, and the entire thing is very well-built. It fits comfortably in the hand and comes with its own bowl for whipping up shaving cream.
Why Use a Shaving Brush Kit?
Why on earth should you use a shaving cream brush when you can just as easily use your hands? Great question. It does add a nice decorative touch to your bathroom counter, but you'll find that it does far more than that. 1. Exfoliate- The bristles on a shaving cream brush help to exfoliate your skin. You always want to make sure you are exfoliating your skin regularly because you need to remove dead skin before applying cleansers and moisturizers. Layers of old skin can make the skin look dry, rough, dull, and tired. Exfoliating helps rejuvenate your skin keeping clean and healthy. 2. Remove Dirt & Oils- The best shaving brush can help remove dirt and oil built-up on the surface of your skin. If you allow dirt and grime to sit on your face, it can easily clog your pores causing acne. Of course, you need to remember to clean your brushes regularly, but as long as you keep them in good condition, your skin will thank you. 3. Rich Lather- When you started shaving, you probably just slapped some shaving cream on your face and rubbed it on with your hands. To work shaving cream up to a really thick, rich lather though, you need to use a shaving cream brush. Some shaving cream foams are self-lathering, but they can only give you so much. 4. Moisturizes Skin- A shaving cream brush helps you to work the shaving cream into your skin and beard. Your skin should already be moist when you shave–shaving after a shower is ideal. Even still, the more you can soften the hair, the easier it will be to shave it off. 5. Lifts Hair Follicles- When you rub on shaving cream with your hands, you push the hair in different directions, and many of the hairs will be matted against your face. However, a proper shaving cream brush will lift the hairs so a razor won't have to tug at your beard when you drag it across your face. Prepping properly with a shaving cream brush can also help prevent ingrown hairs and razor bumps.  

How to Use a Shaving Brush Kit
A proper shaving brush kit should come with a stand for your brush to hang as it dries and a mixing bowl for the shaving cream. To prep your shaving brush, you'll want to follow these steps:
Wash out your bowl with warm water, but don't dry it out entirely. The water in the bowl will help to activate the shaving cream.
Wet your brush in warm water. A proper shaving cream brush can absorb quite a bit of warm water without losing its shape, so it will keep your skin hydrated as you shave.
Use your finger to hollow out the center of the brush and place a fingertip's worth of shaving cream in the center.
Mix your brush in the bowl until you work the shaving cream into a thick lather. It should be rich and foamy when your finish. If you just see small bubbles, you haven't mixed it enough. It'll take a bit of effort to get to the point where it's light and foamy, but if it looks liquidy, you haven't gone far enough. If you need a bit more water, take your fingers and sprinkle a bit of water onto the top. Make sure not to add too much though or you'll ruin the texture.
Apply the shaving cream to your face in a circular motion until it's completely covered. To coat the shaving cream onto your upper lip, simply brush it on in short downward strokes.
How to Find the Best Type of Shaving Brush Kit:
1. Type of Hair-
Shaving cream brushes come with either badger hair, boar's hair, horse hair, or synthetic hair, and the quality of the hair makes a huge difference in your shaving experience. The type of hair doesn't necessarily determine the quality of the hair, but each of them has their advantages and disadvantages.
Badger Hair- Badger hair is the standard choice for shaving cream brushes because its extremely soft and durable. Even though the hair feels soft and silky against your skin, when soaked in water, the brush will hold its shape. You can find, in increasing order of quality, pure, best, super, and silvertip.
If you can afford it, you'll want to go for silvertip hair, which are known for their distinctive silver tips. You can read more about the different grades of badger hair by clicking here.
Boar's Hair- Boar's hair is yellow in color and usually longer and stiffer than badger's hair. These best shaving brushes are great for exfoliating your skin and working shaving cream up to a thick lather, but it takes a while to break them in. Boar's hair shaving cream brushes are far cheaper than badger's hair brushes though and they still offer all the benefits of natural hair.
Horse Hair- Horse hair usually comes from the tail or mane of an animal, and so it's usually harvested without harming the animal. Horse hair brushes are fairly soft, but they are somewhat difficult to find.
Synthetic Hair- Synthetic brushes never shed, and they don't come with that peculiar smell natural hair does, which is why they make some of the best shaving brushes. Though some of the cheap ones feel a bit like plastic, you can find very high-quality synthetic brushes today.
2. Knot-
The knot essentially tells you how much hair a brush holds. Usually, the larger the knot, the better the brush because a thick brush will hold more water than a thinner one. However, this number can sometimes be misleading because a brush could be packed tightly or loosely.
3. Water Retention-
How well does the brush absorb water? The brush should hold enough water to keep your face moist and hydrated as you lather up the shaving cream. However, the brush shouldn't lose its shape when submerged in water or it won't be very effective.
4. Accessories-
Does your shaving brush kit come with a shaving brush and bowl? Does it include a stand? Don't skimp on accessories!
5. Handle Length-
Shorter handles will offer more control, but longer handles are more comfortable to hold. It's up to you which shaving brushes you prefer.