The world of men's grooming products can be a confusing space.
There is not only a huge variety of different brands, but even variations within a brand.
An example is the range of nose hair trimmers from Philips Norelco.
Just within this one branch of their grooming tools, there is the Philips Norelco NoseTrimmer NT5175/49 that I am featuring in this review, plus the NoseTrimmer 3200 and the Multi Groomer MG3750/60.
With the exception of the MG3750/60, the base micro trimmer is exactly the same. The difference is the attachments that come with it are different.
So, each of these will work as a nose trimmer equally well. Which one you should buy, then depends on what you want to be able to do in addition to trimming your nose and ear hairs.
With that out of the way, I want to focus on how the nasal trimmers work on nose and ear hair as well as handling some other grooming jobs. Which is why I picked the NT5175/49 as it works as the best nose and ear trimmer without getting too bogged down with other uses.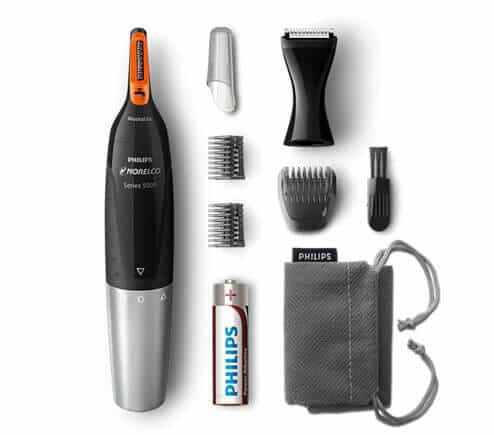 What Comes With the Norelco Nose Trimmer 5100?
The Base – A foil guard system nose hair trimmer.

Two Eyebrow Combs – one is ⅛ inch and the other is 3/16 inch.

One Detailer Trimmer – This works as a beard edger or sideburn trimmer.

Beard Comb – This will leave your beard a tightly trimmed ⅛ inch long.

Lithium AA Rechargeable Battery

Cleaning Brush

Protective Cap – This keeps your nose trimmer blade clean from debris and dust.

Travel Pouch – Perfect for throwing your micro trimmer into your Dopp bag.
Ok let's go into detail about each of the Philips Norelco Nose Trimmer 5100 attachments.
The Micro Trimmer
The foil guard on the trimmer is ultra thin to be easy on the skin. If you have a sensitive nose where the slightest buzzing inside your nostrils ends in a sneezing fit, then you'll be happy to know that this shouldn't happen to use when using the Philips nose trimmer.
The tips are curved for one thing so they are much less ticklish.
Then the design of the Philips Norelco Nose Trimmer 5100 is such that hairs won't get stuck in the blades, resulting in hair pulling. It isn't good to pluck your nose hairs, anyway, so you definitely don't want your micro trimmer doing it for you.
The shape of the head makes it easy to maneuver inside your nostril, or even inside your ears. As an ear hair trimmer, it also works well, and very gently. You can run the foil guard on the outside of your hairs to knock down any unsightly hairs, too.
Also, the ear and nose trimmer is angled where the foil guard attachment connects to the base. This angle allows for excellent access to get easily inside the nose.
The body of the trimmer has a rubber grip so it won't easily slip out of your hands.
The Detail Trimmer
If you need to edge your beard or sideburns then the easy to attach detail trimmer will convert it from a nose and ear trimmer to a hair edger and trimmer. It will get right down to the skin while leaving only the slightest stubble. In fact, I would say barely noticeable stubble.
The Philips Norelco Nose Trimmer 5100 features DualCut technology to cut hair twice as fast and without the need to keep going over the same spots, reducing irritation.
With a beard comb guard, you can keep your beard trimmed down to a neat ⅛ of an inch.
There are also two other guards for your eyebrows. One to trim them down to ⅛ of an inch, also, and one for 3/16 of an inch.
To use the eyebrow trimmer, simply disconnect the Philips Norelco Nose Trimmer 5100 from the base and attach the detail trimmer. Clip on the preferred length guard and just run the clippers over your eyebrows going against the grain, or the opposite direction the hairs grow in.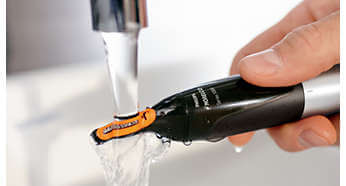 How to Use the Norelco Nose Trimmer 5100
The first thing to do after unboxing is to insert the battery. Twist open the body and pop the battery in. Make sure when you twist it to close that the arrows are lined up. You want a tight seal so no water gets inside when you clean it.
Blow your nose first and wipe inside your nostril with a tissue to make sure you don't have any hangers in the closet.
Now it is ready to go, so just put the tip in your nose and basically turn it round and round along the inside of your nostril.
This will cut the hairs at the base right up against your nasal membrane. You will be left with stubble. This is a good thing, so if you think it is some kind of deficiency with the product, that is not the case.
Your nose hair is there to filter particles out of the hair that would end up in your lungs. You need some stubble to let them do their work. On that same note, make sure you don't go too far up your nose. Only trim the ones that are poking out so that you leave enough full size hairs.
Though these can be cleaned by running under water they shouldn't be used in the shower.
The Philips nose trimmer might be sealed enough to keep the water out, so that is not the issue, but the fact is that they don't work on wet hair.
If you try to cut trim your nose, either in the shower, or right after while your nose hairs might still be wet, they will not get all of the hairs. That will definitely make for a frustrating experience, so make sure your nose hairs are dry.
After you are done trimming, just blow your nose into a tissue to get the loose hairs out.
Cleaning the Philips NT5175/49 Nose Trimmer
Clean up is a cinch and hardly takes a few seconds.
There is a small brush that comes with it that can be used to just wipe away any stray hairs. If you have a bit of build up on it, which you shouldn't if you do this after every use, then you can run the tip under warm water to give it a deeper clean.
It is very important to clean this as you go. If you leave it too long, the build up will cause it to run slow, or weak or stop altogether. Besides the fact that it is just nasty to think about what that build up actually is that is causing it to malfunction!
As far as maintenance, there is none. You don't have to oil the trimmers or ever have need to open them up to do any regular deep cleaning.
They are not something you need to add to any to do list, so they won't ever be a burden.
FAQ About the Norelco NT5175/49 Nose Trimmer
Q: Can the Philips nose trimmer be used as a pubic hair trimmer? A: If you are using it as a way to touch up after having done some routine manscaping, then I would say yes. You could put the eyebrow trimmers on and shave it a bit that way. Without the guards, you could probably do some trimming, too. Especially around the edges. Or, you could put the detail trimmer on with the beard comb and trim it down to ⅛ of an inch. I probably wouldn't use the detail trimmer on it's own as it might pinch. Q: How loud is it when used as a nose and ear trimmer? A: These operate very quietly, so when trimming your ears it won't be so loud as to be uncomfortable. And trimming your nose hairs won't disturb a sleeping partner, either. Q: Can I buzz my beard off with the detail trimmer? A: This is not the tool to shave your face with. It will definitely put too much of a strain on it. Yes, it can trim your beard with the guard on it, but I don't recommend doing that across your whole beard either.
Final Thoughts About the Philips Norelco Nose Trimmers 5100
In general, I like rotary nose trimmers over the foil guard ones. With that said, I am very comfortable recommending these nasal hair trimmers since I think they do a great job and at a great price. The biggest reason is because I have lots of other Philips products that I use regularly. They make some solid grooming products for home and the nose trimmers are no exception. If you're on the fence and want to see how they compare to other nose hair trimmers, then check out our guide to the best nose trimmers by clicking here. If you have used these nose hair trimmers and want to chime in on them, or if you have any questions, make sure to leave a comment below!
Philips Norelco NoseTrimmer 5100
Good points
Compact, easy to work with
Combo Ear, Nose, Eyebrow Trimmer
Doesn't Pull Hairs
Easy to Clean
Nice Assortment of Attachments
Bad points
Detail Trimmer Is Not Good For Beard Trimming
Can't Be Used in Shower
I'm an outdoor enthusiast and have sported a full beard since I was in my early 20's. Originally, growing a beard was a way to save time when getting ready each day, but I quickly realized that keeping a neatly trimmed beard takes work and some forethought. That's where this site comes in.
You get to benefit from my years of experience. I've reviewed many of the top hair clippers on the market today and also included some information on what works best for me. A great beard will turn lots of heads in your direction.
Since I never know when I'm going to find myself being photographed, whether it's climbing in Yosemite, or playing volleyball on the beach, it's important to me to always look my very best. Maintaining my beard is part of my daily routine and I hope you'll find some useful tips and information on this site to help you on your journey.