In the grooming world, Panasonic is a mainstay. Since they make electronic devices, it only makes sense that they would make some of the best grooming products out there.
The Panasonic ER430K nose hair trimmer is no exception.
In this review, I'm going to go into all the details as to what makes this Panasonic ER430K one of the best nose trimmers you can get.
Well, one of the best battery operated nasal hair trimmers, I should say.
If you want to read a review of what I think is one of the best overall nose hair trimmers, then check out this
review I did of an awesome manual nose trimmer
.
Otherwise, read on to get a sense of all the features that will make your nose hair removal routine easy, quick and mess free.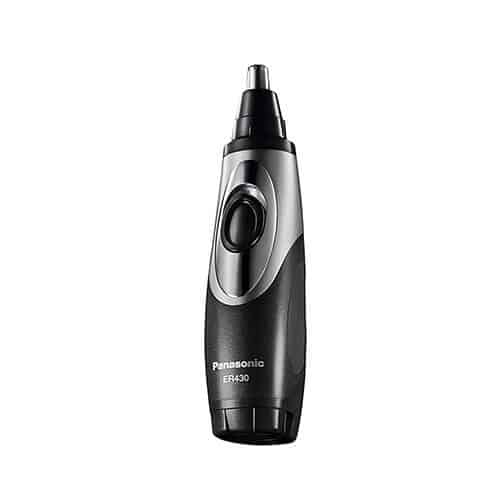 The Best Nose Trimmer for Neat Freaks
If you are like me, you dread having to clean up anytime you do your manscaping. Whether we are talking about your back or your nose hair removal, it can get messy. Unless you are using this Panasonic ER430K nose hair trimmer.
Features of the ER430K

Panasonic

| Our Review
Vacuum
With a micro-vacuum, you can go about your business while you trim your nose hairs with this Panasonic ER430K nasal hair trimmer.
No more standing over the sink and hoping that none of the nostril hairs end up on the floor to be swept up. The vacuum neatly and efficiently sucks all the hair cuttings into a chamber that can be easily emptied to keep the mess to a minimum.
If you have ever trimmed your nose and then had embarrassing hair keep raining out of your nose while talking to a coworker or somebody else, then you definitely will appreciate having all of the hairs that otherwise would get stuck get removed.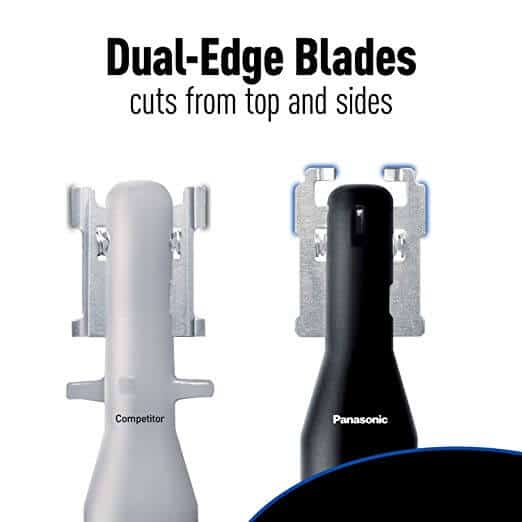 Dual Edge Blades
The two rotating blades are made of rigid and sharp stainless steel.
To make for even more efficient nose hair removal, they are rounded to really get as close to the skin without nicking you.
The unique shape means that hair is cut from the side as well as the top so it is less likely to pull your hairs as it cuts and make quick work. It can get most of the hair in a single pass so you don't have to keep going over the same spot.
This is great news for those that have sensitive nostrils. If you need to make sure your nose hair removal is swift to prevent you from sneezing, then this is the best nose trimmer for that.
Not only that, but the length of the nose hair that is left makes sure that the proper volume is left behind to continue the nostril hair's role as a natural filter.
Stainless steel is rust proof and corrosion free so these blades will stay sharp and effective for a long time. They likely will be the last thing to wear out on this nasal hair trimmer.
Safety Cone
The Panasonic ER430K nose hair trimmer is a rotary style motor with a safety cone on top with vents that allow the hair to come into contact with the blades.
The way the cone is designed, the hair goes in and gets cut, but the blades won't make contact with your nostrils.
Its size is small enough to let you maneuver it around inside your nose, while large enough for quick nose hair removal.
I wouldn't press the top of the cone too hard against the inside of your nostril so it won't give you a nick. Since the opening on top is slightly wide to allow a lot of hair in at once, it is also large enough for some of the soft nasal membrane to maybe get pinched.
Again, if you just don't press the top against the skin you won't have any problem there.
Wet Or Dry Use
The best nose hair trimmers should be as convenient as possible and since the Panasonic ER430K can be used in the shower that elevates it to one of the best nose trimmer that I have reviewed so far.
Designed for full immersion, it can stand up to the water of a shower as long as you don't open it up.
The body is nicely sealed to keep the battery dry and operating properly.
Even if you don't opt to use it in the shower, it can be cleaned by running it under the faucet to get rid of any hairs or snotty bits the vacuum missed.
Easy to Clean
With the handy included brush, you can easily wipe away any hairs and other debris to keep your nose trimmer working at its best.
Or, you can rinse the safety cone right under the water, as I just mentioned.
Once every few uses, you should open up the nose hair chamber and dump it out. To empty the , the top section disassembles and you just tip it over a bin to empty it. Use the brush to wipe away any hairs or you-know-what that got left behind. That's it. That's all the maintenance that you need to do.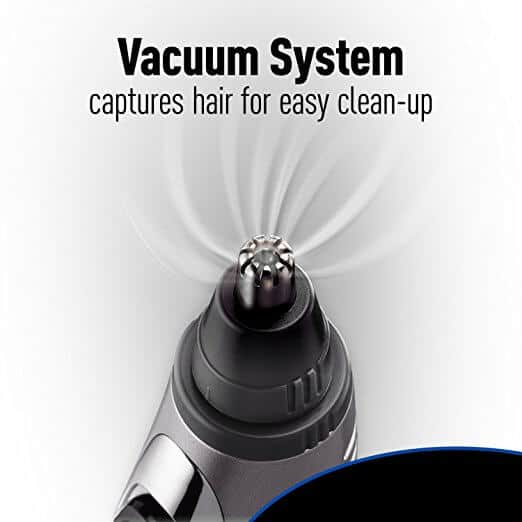 Using the Panasonic trimmer
Whether you use it dry or in the shower, the cutting action works great. While wet it seems like it should slow down a bit, but maybe due to the dual blade system, the Panasonic ER430K trimmer was able to cut the wet hairs no problem. The vacuum won't really work while in the shower. Which isn't a problem since the running water will clean it. The Panasonic ER430K trimmer takes a single AA battery to operate. How long does the battery last? That's impossible to say since it does highly depend on the quality of the battery you use. Assuming you use a good quality battery and trim your nostrils once a week, you can expect to get at least six months of use before replacing the battery. Most people only use it a couple of times per month, so it should last the better part of a year. That said, it is pretty economical even if you are changing your battery twice per year. Being lightweight at 4 ounces means it is easy to hold onto and use it with one hand. It comes with a handy carrying case so taking it on the road or thrown in a gym bag, it won't take up much space or weigh you down. Ergonomically, it fits nicely in the hand, although, oddly, it has something of a pot belly shape. The size of the safety cone make it also ideal for using on ear hair as an ear hair trimmer, too. It is marketed as a grooming tool that can also handle beard trims and eyebrows, but, honestly, it is really not worth it to go that route. It does not work well aside from using on your nose or ears. You will make a mess since the vacuum isn't good at picking up beard hairs, and have really no hope of doing a nice even beard trim.
What we don't like about the Panasonic trimmer
Even the best nose hair trimmers are going to have a few cons no matter how many pros it has. Among them is the fact that the operation is very loud. Especially because of the vacuum. Adding to that, I wish that the vacuum feature could be shut off. Since it is loud, it may disturb a sleeping partner if you choose to use your Panasonic ER430K nasal hair trimmer in the morning. The other aspect that I don't like much is that the blade can easily be lost when you are emptying the chamber of the cuttings. Make sure you either remove the blades when dumping, or just hold onto them to make sure they don't go down a drain or in the trash by accident.
ER430K vs ERGN30
How does the ER430K compare to its other Panasonic peers? Of course, these models are both very similar as you would expect from two of the same types of tools from the same brand.
There are differences, of course, but are there enough for you to want to convert and go for the ERGN30 instead? That remains to be seen. Let's take a closer look at these two nose trimmers.
The Blades
The blades are both identical on either one. They have the same rounded dual edge blades that cut efficiently and without pulling your nostril hair.
Battery Life
Both models use AA batteries so it does depend highly on the kind of batteries you use as to how long they are going to last.
With that said, however, if you were to put brand new batteries in both and of the same brand, the ERGN30 wins hands down. It sports 90 minutes of runtime which the ER430K can't compete with.
It's not because the engineering of the ER430K is inferior, it's because it has a battery hog in the vacuum feature.
Ergonomics
Well, even though this is a review of the ER430K, I have to say that the ERGN30 wins this round too. The body is much slimmer since it doesn't have a chamber for the clippings when the vacuum is working.
Because of that, the ERGN30 has a slimmer profile and can be gripped any number of ways making it the more ergonomic choice. The ER430K is no slouch either, it does fit well in the hand, it just can't be positioned too many different ways since it has that wider, pregnant belly from the chamber.
Both are easy to grip when they are wet.
Clean Up
Who wins this round is highly dependant on your personal idea of what constitutes easier clean up.
With the ERGN30 you don't have a vacuum so you will have the cuttings fall where they want. You'll have to careful do this over a sink if you don't want to have to sweep them up.
What it does have to make cleanup easier is a Vortex system that allows water into the cap and rush out a hole in the side so the water flushes all throughout the blades to clean them without you needing to brush them out.
The ER430K has the vacuum so you are free to wander around while you trim your nose.
Final Thoughts
Despite those minor flaws, it is easy to recommend the Panasonic ER430K as the best nose trimmer that you can buy. It is so easy to use and does a great job that you will definitely get your money's worth from it. Of course, if you want to see how it compares to other nose trimmers, you can check out this best nose hair trimmer review. I compared and reviewed the top five nose trimmers to help you if you aren't sure if this is the right one for you. With a vacuum, very sharp and curved blades and a great price, it is just what the doctor ordered if you need a battery powered nose trimmer. You don't really need to look much further! Any comments or questions about Panasonic ER430K nose trimmer or others? Drop us a line in the comment section below.
I'm an outdoor enthusiast and have sported a full beard since I was in my early 20's. Originally, growing a beard was a way to save time when getting ready each day, but I quickly realized that keeping a neatly trimmed beard takes work and some forethought. That's where this site comes in.
You get to benefit from my years of experience. I've reviewed many of the top hair clippers on the market today and also included some information on what works best for me. A great beard will turn lots of heads in your direction.
Since I never know when I'm going to find myself being photographed, whether it's climbing in Yosemite, or playing volleyball on the beach, it's important to me to always look my very best. Maintaining my beard is part of my daily routine and I hope you'll find some useful tips and information on this site to help you on your journey.