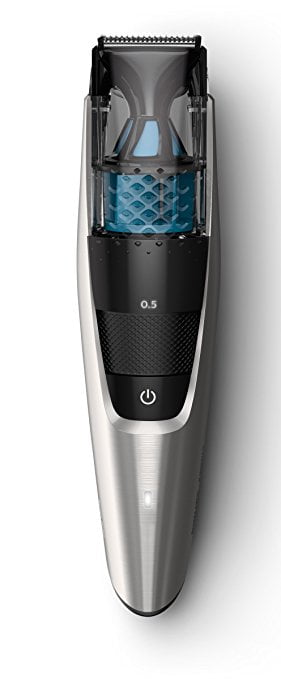 Philips Norelco has become the go to brand for anybody with a beard these days.
Now that the beard trend seems to be here to stay, beard trimmers are more popular than ever. I wish I had bought stock before!
Anyway, if you have a beard, you need a good, reliable and convenient way to keep it trimmed.
With so many choices out there, why should you pick the Philips Norelco beard trimmer Series 7200?
In this article I am going to go over the features that I think makes it one of the best beard trimmers out there. But, I will also highlight some things you need to know that you might not like about it for yourself. This way you can make an informed decision and know that you're getting the right trimmer for you.
Design and Ergonomics
Taking a page out of the Dyson design playbook, it shows off the inside of vacuum chamber that sucks up most of the hair as you trim.
The size fits nicely in the hand and is shaped well for a good fit.
On the body, you'll find the power button as well as a zoom wheel dial to adjust the length.
Everything works with a flick of a finger so the design makes it very easy to use and not just to make a fashion statement.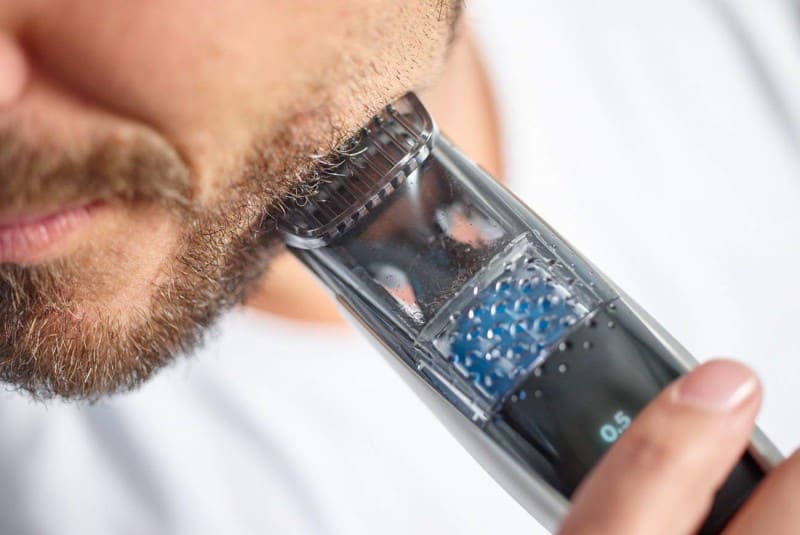 The Vacuum and Clean Up
One of the main complaints you will hear from the detractors of the Philips Norelco beard trimmer 7200 is that the vacuum doesn't collect all the hair.
This would be virtually impossible to achieve. Mainly because your beard hairs fly when you trim them. In fact, when I am trimming beards at the barbershop I make sure everybody closes their eyes. It is not uncommon for a stray hair to end up uncomfortably in somebody's eyes.
This being the case, there is no way those stray hairs could end up sucked into the chamber.
You're still going to have some hair to clean up, but it will be minimal.
The head and blades can be run under water to effectively clean it up without too much fuss.
The Battery and Power
With 80 minutes of battery life per full charge, you can get six or so trims before you need to recharge it. And it only takes an hour to charge, so you aren't down for long if you find the battery dead.
Though, you'll never be without the use of the Philips Norelco beard trimmer 7200 since it can be used while corded, as well. The Lithium-Ion battery is long lasting in the sense that they don't end up failing to charge after a year or two like can happen with Nickel-cadmium batteries. But, again, since you can use it corded if the battery does fail eventually and the trimmer is still in working order, you can always keep using it with the cord.
As far as power goes, the motor power is not listed, but from using it, it feels like it has some good torque. Enough to get through a thick beard anyway. It isn't meant for using for haircuts anyway, so it doesn't need to be powerful enough to cut head hair.
Whether you use it corded or cordless, the power is the same. You don't need to plug it in to make sure it is tough enough for the job. The Lithium-Ion battery provides the same amount of power.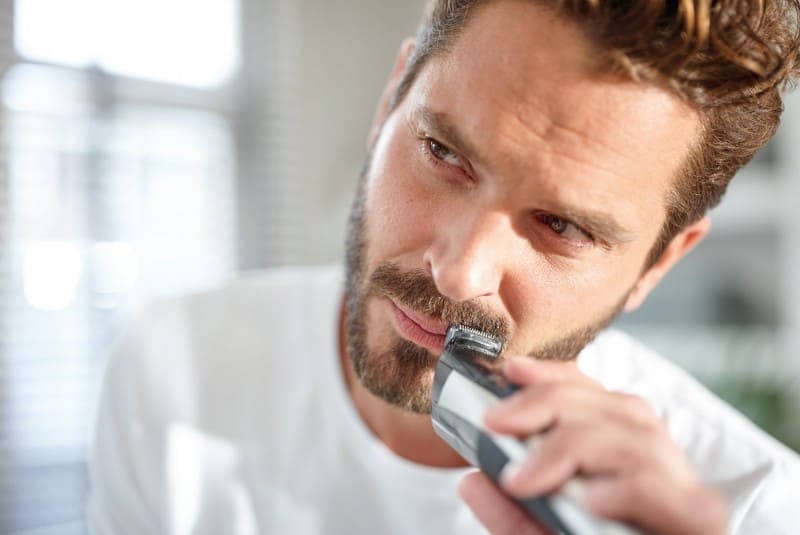 The Blades and Attachments
In the factory, the blades are double sharpened so they arrive extremely sharp and ready to cut. As they are self-sharpening, they will stay sharp for as long as you own the trimmers.
They are designed with a curved tooth to prevent any irritation on the skin. This is nice to have in a beard trimmer as the skin under the beard can be sensitive.
Making the blades even more effective is their lift and trim technology. To properly cut the hair they are lifted and the blade can get underneath, right down to the base of the follicle.
This cuts the hair easily, evenly and prevents any pulling as you pass over the beard.
It also is what keeps irritation to a minimum since you won't be going over the same spots multiple times to cut all the hair.
Rather than have a bunch of plastic attachments to cut your beard at various lengths, there are only three. Pop one on and then use the zoom wheel to adjust the length.
In 0.5mm increments you can set the length from 0.5mm up to 10mm. The Philips Norelco beard trimmer is obviously not going to be ideal for those with long beards, however.
For detail trimming, pop off the trimmer blade and attach the smaller detail trimmer blade. This will give you clean edges of the beard and can even be used around your hairline.
What I Don't Like
There is a five-year warranty in case there is a manufacturing defect, which sounds pretty good. But there are a few things it doesn't cover. Namely the prongs that attach the attachments to the body.
Unfortunately, they are a bit flimsy and you need to be very careful when changing the head. If they break, you're faced with either not being able to attach the trimmer head, or not able to take it off.
This is more likely to happen before the motor gives out on you.
Hopefully, this is fixed by the time you are reading this article, in which case we will update it.
And another thing that doesn't exactly count as a detraction but is something to keep in mind is that you can't get down to stubble with this or use it on long beards. Remember, the lengths are between 0.5mm, which is longer than stubble and 10mm, which is less than a half inch.
Overall Verdict
There is a lot to like with the Philips Norelco beard trimmer Series 7200. The vacuum makes clean up a breeze. Which is usually the worst part about grooming. This makes it so you don't procrastinate and actually use the Philips Norelco beard trimmer 7200 as often as you need.
It can get through tough beards quickly and without rubbing your face raw.
It doesn't tug or pull the hair, and the blades stay sharp for the life of the trimmers.
In other words, you would expect to pay much more for these beard trimmers than you would think.
Wondering if these trimmers will be right for you and are not convinced yet, then ask any questions you have and we will help you out. Just leave a message in the box below!