Growing a beard is not that complicated. Unless you're a black man.
In which case you have to deal with the threat of ingrown hairs and patchy facial hair. Oh, and a long growing time.
The answer to these problems? A mens beard oil for black men. It helps get rid of bacteria from ingrowns and makes your beard look fuller.
And sometimes, just sometimes – it also helps it grow faster!
There are plenty of good products out there. I'll discuss them later. However, my vote goes to Cremo's beard oil.
One of the oldest brands in men's grooming traditions knows how to do things properly. 🙂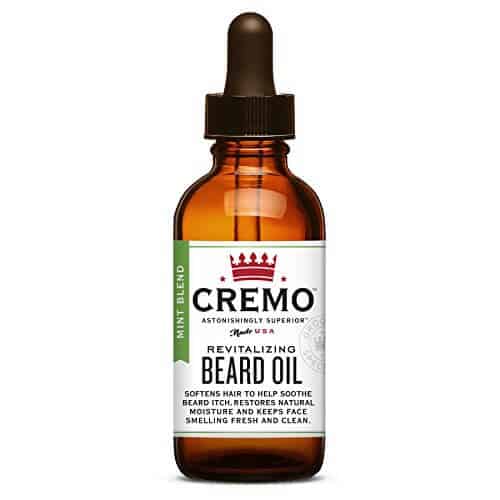 Cremo Men's Beard Oil

This beard oil contains soothing tea tree oil, has a refreshing, invigorating scent.
So yeah, in this article, I will highlight some of the best mens beard oil for black men. I'll even suggest some beard oil kits for a total beard grooming experience.
First, let's go over some beard grooming tips for black guys.
Black Men Beard Care
It's not just enough to use mens beard oil. There needs to be a total beard care routine. It isn't difficult and only takes a few minutes per day, but your beard will thank you.
Beard Shampoo
Don't be tempted to use your regular shampoo on your beard. Or, even worse, to grab that bar of soap. Unless the said shampoo and bar soap are all natural and contain things like argan oil, jojoba or shea butter, then they are doing more damage for your beard.
A typical shampoo can have a number of agents in it that end up drying out your skin and leading to an itchy beard or even dandruff.
Use a beard shampoo that will hydrate your beard and keep it from going dry. Even the best beard shampoos will strip the natural oil your beard needs, so you'll still need a mens beard oil for use after.
More on that in just a minute.
Beard Brush or Comb
Once you start using some beard oil, you'll need to use a beard brush or beard comb to properly distribute the oils to all of your facial hairs.
Which one you should use depends on a few factors that you can learn about if you click to the article I just linked to.
But, for most black guys, a beard brush will be the way to go.
A beard brush will help exfoliate the skin which can prevent ingrown hairs. It will give your beard oil a boost. And it will also straighten out your beard a bit so it will look longer.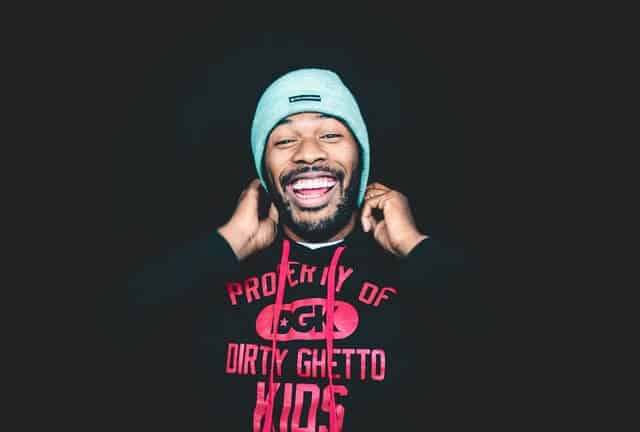 Best Beard Oils for Black Men
Cremo Men's Beard Oil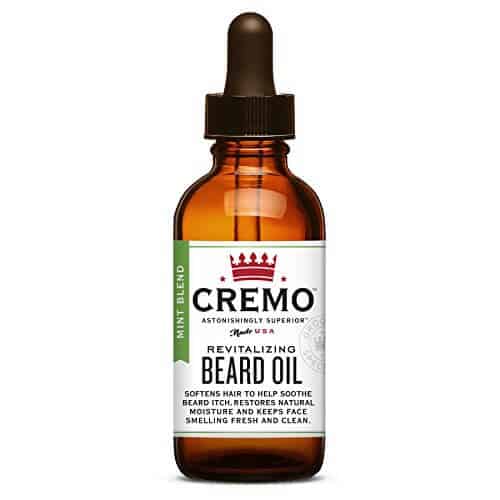 This Cremo beard oil has everything you need to keep your skin and beard fresh and clean.
With argan oil, coconut oil and jojoba as the carrier oils, your beard will end up nourished with essential vitamins. The jojoba oil mimics your skins natural oils that usually keep your beard conditioned, but are either stripped by your shampoo, or your skin just doesn't produce enough. This is especially true with long beards.
What makes it the best mens beard oil for black men is the fact that it contains tea tree oil.
Tea tree oil is a natural antibacterial that will cleanse your skin. If you have ingrown hairs, this essential oil will help to get rid of them by clearing away the bacteria. It can even prevent the bumps from occurring in the first place by cleaning out your pores.
It has a very refreshing scent that is invigorating from the peppermint essential oil. Combine that with the tea tree oil and it also livens up the senses by waking up your skin.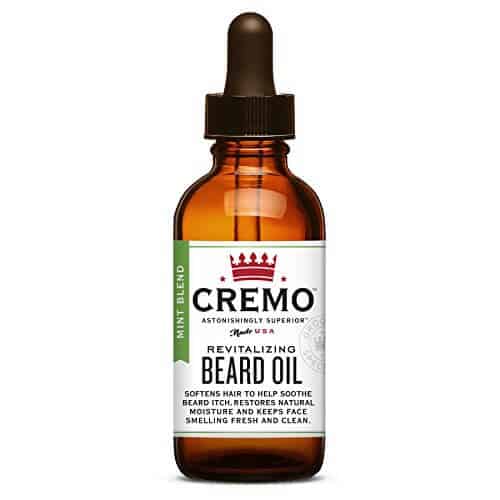 Cremo Men's Beard Oil

This beard oil contains tea tree oil, has a very refreshing invigorating scent.
Shea Moisture Complete Beard Oil Kit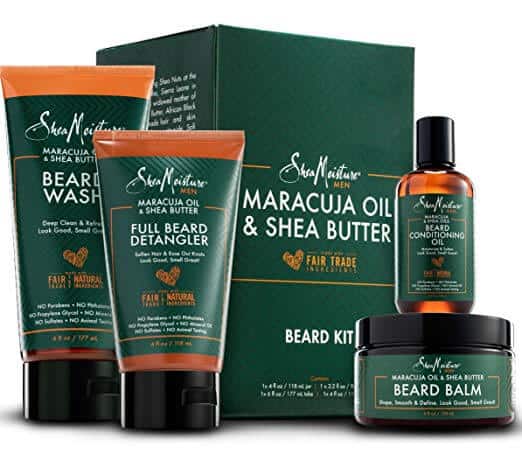 The key to maintaining a nice beard is moisture. You need your skin and facial hair to be hydrated properly or there is no hope of having a healthy beard that looks good.
When your skin and hair are hydrated everything else falls into place.
One of the best ways to do this is with shea butter.
This beard oil kit by Shea Moisturizer is a one stop shop for all your beard needs.
If you're just starting to grow a beard, or only just starting to take your beard grooming seriously, then a beard oil kit is a great way to go.
This beard oil kit has beard oil, beard balm, beard detangler, and beard wash.
The beard wash is a specially formulated shampoo for your beard so it doesn't get stripped of its natural oils. It leaves the beard soft and manageable.
The beard detangler is basically a leave in conditioner that helps get the nutrients absorbing all throughout the day.
As your beard is growing, you will need the beard oil to finish the job. It is lightweight so doesn't go on greasy. This really seals the deal the shampoo and detangler started by softening the beard allowing the beard oil to be readily absorbed.
Last is the beard balm. Use this when your beard has gotten long and you want to be able to style it. It sticks to the beard allowing it to stay in place when you comb it.
With a one two punch of shea butter and maracuja oil, it is one of the best beard oil kits out there for managing a black beard.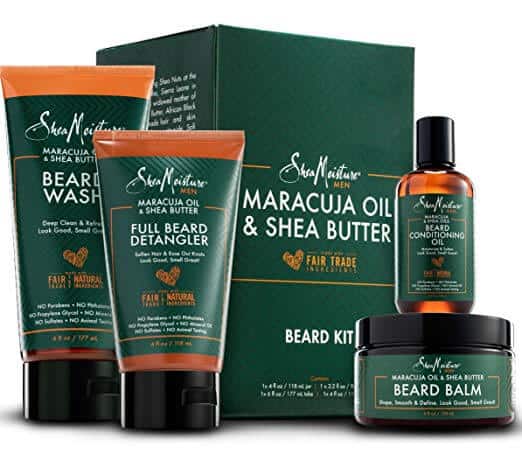 Shea Moisture Complete Beard Oil Kit

A one stop shop for all your beard needs, this kit has beard oil, beard balm, beard detangler, and beard wash.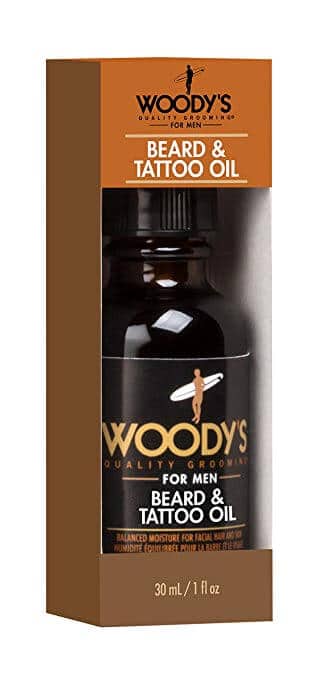 Woody's beard oil can do double duty, making it essential for guys that have beards and tattoos. As most bearded guys also have tats, then it makes sense to use a beard oil that also works great at keeping tattoos moisturized.
Due to the addition of kukui oil, it is very lightweight and gets absorbed quickly by the skin and facial hair. This will make sure your beard and skin don't end up feeling greasy all day. If you have ashy skin that ends up making your tattoo look dull, then this is a great solution.
Macadamia nut oil protects the cells of the skin, whether that skin is under your beard or covered in a tattoo. It will keep your skin from flaking under your beard, getting rid of and preventing the dreaded beardruff.
Woody's beard oil works best when you have a good beard grooming routine down. Make sure you wash your beard with a good beard shampoo and then apply this after.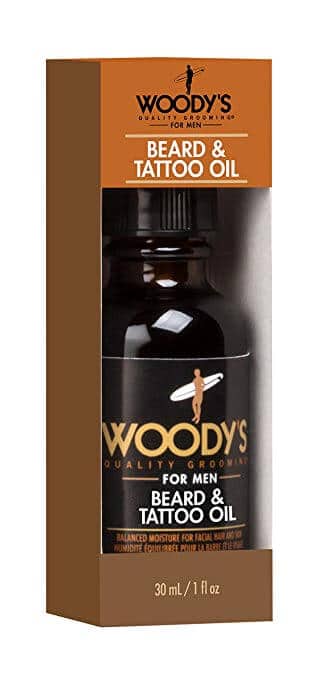 Woody's Beard Oil

No greasy feel and works great at keeping tattoos moisturized.
Beard Oil Checklist
Let's kind of review what makes a good beard oil.
Here are some of the must have ingredients for a beard oil for black men:
Argan oil for strong follicles

Coconut oil for healthy skin

Jojoba oil to replace sebum, or natural oils

Tea tree essential oil to combat ingrown hair

Cedarwood oil for a great scent and anti-inflammatory

Rosemary oil to prevent dandruff

Peppermint oil smells great and increases blood circulation

Shea butter is insanely hydrating for a soft beard and skin
If your beard oil has at least one of these you're good as it will help with the problems unique to black beards.
The more the better, so picking out a beard oil with a combination of these ingredients will help immensely.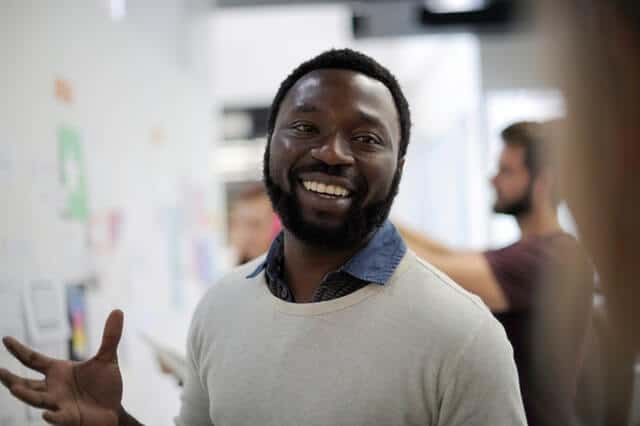 Wrapping it Up
Unfortunately, beard care for black men is slightly more complicated than it is for everybody else.
With the help of the right beard oil, it can be quite simple and effective. If you are just starting your beard, then this is the perfect time to get yourself a good beard oil.
If you have a beard and are seeing problems with patchiness, dry skin or ingrown hairs, then get a beard oil ASAP. Talk to some other black guys with beards or your barber to see what they recommend.
Otherwise, try any of the beard oils mentioned and you're well on your way to a glorious beard!
If you have some unanswered questions, then simply drop a message in the comment box below and I will help you out as soon as I see the message. Or, if you have some advice you'd like to share, we would love to hear from you as well.
I'm an outdoor enthusiast and have sported a full beard since I was in my early 20's. Originally, growing a beard was a way to save time when getting ready each day, but I quickly realized that keeping a neatly trimmed beard takes work and some forethought. That's where this site comes in.
You get to benefit from my years of experience. I've reviewed many of the top hair clippers on the market today and also included some information on what works best for me. A great beard will turn lots of heads in your direction.
Since I never know when I'm going to find myself being photographed, whether it's climbing in Yosemite, or playing volleyball on the beach, it's important to me to always look my very best. Maintaining my beard is part of my daily routine and I hope you'll find some useful tips and information on this site to help you on your journey.