Look Up To 20 Years Younger In Only 10 Minutes With Beard Dye
A bit of gray peeking through in your beard? A salt-and-pepper shaded beard may lend an air of maturity, experience, and even wisdom…or it could just end up aging you. If you're in your late 20's and 30's, the last thing you want is to appear older than you are. If you're looking for a job or looking for a girlfriend, old age will 
not 
be on your side.
How do you cover it up? Thankfully, there are hair dyes made by men and for men. These beard dyes come in natural colors and are easy to apply. In fact, most dye needs only 10-15 minutes to sink in. Then you can wash it out and get on your way.
TL:DR?
Here are top four picks:
After our reviews, we'll discuss how long the dye lasts, whether you can use hair dye to dye your beard, why you might be seeing red in your beard even though you're a brunette, and what you can do with beard fillers.
So, here goes.
Best Dye for Sensitive Skin
 

Bigen Permanent Powder Hair Color
Just because your dye is effective doesn't mean you should be putting it anywhere near your face.
Many permanent beard dyes are made with hydrogen peroxide and ammonia. Hydrogen peroxide strips your hair of its natural color leaving it dull and brittle. Not only does it change the color of your hair, but it also changes its internal structure. Ammonia helps to open up the cuticle of your hair allowing the dye to penetrate the shaft, also known as the inside of the hair. Ammonia is known to irritate the lungs and leave caustic burns.
Why you'd willingly put that on your face is beyond me.
Bigen Permanent Powder Hair Color is the kind of  dye you can rely on to color your hair properly without ever leaving long-term damage. Bigen beard dye for men just deposits color without ever lightening your hair. So, it leaves your beard healthy and soft. You can follow up with some beard oil, but you won't have to worry that the hair will start to feel like straw.
You could wreck months of beard-growing in one hour, but not with Bigen.
Bigen coats your gray thoroughly improving the look of your complexion and subtracting decades from your age.
Semi-Permanent Dye for Beards
 

Clairol Natural Instincts Semi-Permanent Hair Color Kit 

For

 Men

 
Clairol Natural Instincts Semi-Permanent Hair Color Kit 
For
 Men
is a semi-permanent beard dye for men that allows you to dye your hair without committing to a dye or color.
Semi-permanent beard dye fades after gradually over time. So, you'll never have to worry about awkward root lines mid-way through your beard because the color will wash away naturally. That is to say that you won't end up with a funky shoe polish look when trying to grow out a certain color. You'll want to use a gentle beard shampoo to preserve the color as long as possible, but as long as you take care of your facial hair, the color should last 1-3 months or about 28 washes.
Decide the color totally didn't work? No problem, you don't have to cut away your beautiful beard. Simply wait it out and next time choose more wisely. Thankfully, the colors from Natural Instincts Dye for Men are rich and varied. They are made to match your regular hair color and even enhance it.
Lastly, this dye is made with aloe vera, vitamin E, and essential antioxidants, so not only won't it damage your facial hair, but it will actually enhances the texture as well. Just apply, and after ten minutes you can wash it out and get going. It couldn't get easier than that.
Click on the button below if you want dye that actually improves the color and look of your beard.
Dye for Eyebrows
Refectocil Color Kit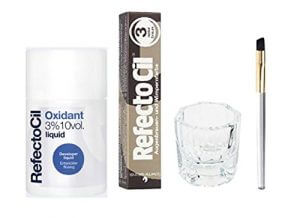 Refectocil Color Kit
 is the beard dye you want to use if you also need to dye more sensitive parts of your face. Let's say you're dying your beard a slightly lighter or darker color than your natural hair. Chances are you're going to want to dye your eyebrows too.
This might not be the case if you're, for instance, staying within the brown family. However, if you're going from blond to brown, you're going to want to make sure your eyebrows don't disappear.
That being said, because it's gentle on the skin, it is also a good choice for men with sensitive skin. You're still going to want to block off your skin with vaseline to make sure the dye doesn't stain though.
Hair Dye for Men: 

Just For Men Brush-In Color Mustache & Beard
Just For Men Brush-In Color Mustache & Beard is the beard color designed specifically for men. What makes this beard dye unique? Well, first of all, dye colors tend to be natural colors. Women's hair dyes often come in funky, eye-catching shades meant for women who want to be creative with their looks. You're a man though, and you just want your dye to blend in as well as possible. Plus, the dye doesn't color every strand of hair. It only colors the gray ones leaving patches of your hair showing through. Not only does this advanced color-match technology make your hair look fuller and brighter, but it makes it look more natural. No one's hair is only one color, and your dye should reflect that. Oh, and the dye is a gel-like consistency so it won't drip down your face. If you're putting it on your head, you might not mind a liquid dye, but you don't want dye dribbling down your beard onto your chest. That's just asking for a mess. Last but not least, Just For Men Brush-In Color has an auto-stop feature. After ten minutes, the dye will stop coloring your hair even if you leave it on your head. This incredible feature makes this dye one of the most reliable on the market. Never again will you have to worry about ending up with a beard 5 shades darker than your hair color. Click on the button below to experience the dye before and after for yourself, and you'll be hooked for good.

How Long Does Hair Dye Last For?
It depends on what kind of beard dye you use. Permanent dye won't wash out in the shower no matter how hard you scrub. Instead, you'll have to re-dye your beard when the root color starts showing through or simply shave it off entirely. By contrast, semi-permanent dyes will fade on their own. They lasts anywhere between 1-3 months depending on the brand of the beard dye and how frequently you wash it.
Can I Use Hair Dye to Dye My Beard?
You can use hair dye to dye your beard; however, there are some significant differences between dye designed for hair in general and dye designed specifically for beards. First of all, hair dye comes in a wide variety of colors many of which are not entirely natural. As a man, you're not looking to dye your hair burgundy. You'll want dye designed to mimic your natural color as closely as possible. Plus, dyes are usually not as runny as regular hair dyes, so it's easier to apply to your face without making a huge mess.
That being said though, hair dye will dye the hair on your scalp and on your chin.
Why Is My Facial Hair a Different Color?
Actually, it's quite normal to find men with hair of one color and beard hair of another color. It really all depends on how the pigment in your hair is distributed. Eumelanin colors hair brown or black, and pheomelanin colors hair blond or red, and as it turns out, different follicles simply produce more pigment than others. For instance, usually your eyebrows are even darker than the hair on your head. It's the combination of different pigments that gives you your unique coloring. So, pretty much it comes down to genetics.
Thankfully though, if you're planning to dye your beard, you can choose whether you'd prefer a color closer to your hair color or the natural color of your beard.
What Is a Beard Filler?
A beard dye will help make your beard look naturally thicker and fuller and might even detract from patchy spots. A beard filler, by contrast, is not really beard dye. It's a type of cosmetic for men designed to temporarily fill in sparse beards. You can paint on beard filler with a brush and then wash it off at the end of the day.
Hair Dye for Real Men
Do you use a beard dye? Which do you use, and is it permanent or semi-permanent? Is it designed specifically for men, and how do you choose your color? Leave us a comment now in the box to let us know how you color your beard. We read every single one of them, and we love to hear your responses.