I only just recently found out that Cremo has started making beard oils.
For the last few years, I have been a huge fan of their shaving cream, that my customers have also been delighted with.
If the Cremo beard oil is anything like the shaving cream counterpart, then it shouldn't be just another ordinary beard oil, I figured.
So? Is Cremo beard oil different or just more of the same when it comes to beard grooming products?
Well, you'll have to read on to find out.
Just kidding, it's awesome.
Though, now you do have to keep reading to see why I like it so much so you can decide if it is going to work best for you, too.
The Cremo Brand
As I mentioned, Cremo was known for its shaving cream to take the hair off of your face. Now, they have shifted gears and have started a line to groom the hairs you've kept.
Their shaving cream is unique as it has an invigorating scent that really opens the pores and makes for a great shave. It is a quite strong scent of peppermint and eucalyptus that also opens the sinuses and eyes!
They've really dived deep into the beard grooming world with a range of products to keep your beard fresh.
From beard oils to beard balm, beard shampoo and conditioner, and even a beard grooming set with comb and scissors.
Today, we're going to focus on just the Cremo beard oil review.

Beard Oil or Balm? What should you use?
This is a very common question and there seems to be a bit of confusion.
Let me start by saying that you will have a better beard whether you use beard oil or balm. Either way, your beard will look and feel healthier and fuller.
The way it breaks down is like this – if you want to just condition and keep your beard hydrated and looking full, then you use a beard oil.
If you want your beard hydrated and smoothed out, plus styled in a certain way, then use beard balm.
Beard balm has beeswax in it which sticks to the individual strands of hair and will keep them in place if you are looking to do something stylish. Like a box beard or a long goatee on the chin. Even a handlebar mustache that isn't too long could work by using a beard balm.
If your beard doesn't need styling then the question of beard oil or balm is easy to answer. You should just use oil.
Three Different Cremo Oils
All three versions of the Cremo beard oils are very good. Each serves a different preference for who is using it, however. So let's dive into the Cremo beard oil reviews and see which one is right for you.
Cremo Beard Oil Forest Blend Review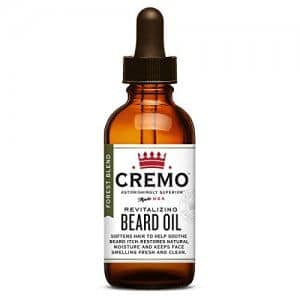 One of the more popular scents of any beard oil is one that has a woody vibe to it. Cremo takes that theme and incorporates into their Forest Blend oil, but keeps it very low key.
Unlike the in your face style scent of the shaving cream, this is subdued and relaxing. It doesn't have a long hang time, so it dissipates shortly after applying it. There is a bit of eucalyptus oil in it to give it a bit of zing to keep it interesting.
What can it do for your beard?
The mix of all natural essential oils will soften your beard and keep it from ever getting into the dreaded "itchy phase".
Something that Cremo beard oil can handle that many others do not do, is to reduce the instances of ingrown hair, which is a prevalent problem for beard growers. This is especially helpful when your beard is in the preliminary growth stages.
Your beard will feel much fuller and less brittle due to the oil replacing the lost moisture of the beard hairs, and keeping it hydrated long afterward. If your beard has been damaged due to the effects of air pollution, sun, cold or any other environmental condition, then it will be better nourished by using this oil.
What is in it?
Coconut oil and jojoba oil give your beard a one-two punch of hydration and conditioning. They act to keep your hair soft and give it volume.
Rosemary oil works with your skin to keep dandruff or the infamous beardruff from forming.
Argan oil steals the show though with it's healing properties to strengthen your facial hair. Say goodbye to brittle beards when you use argan oil based beard products.
Verdict
No matter what length your beard is, it can really benefit from using this Cremo beard oil. If you like subtle woodsy scents with a bit of a zesty aroma, then you will likely love using this beard oil.
Tea Tree Beard Oil with Mint Blend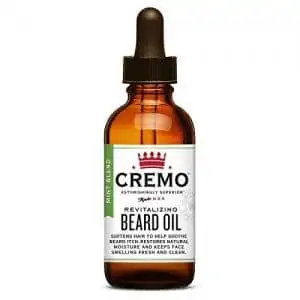 Tea tree beard oil is ideal if you have skin problems like acne or rough skin under your beard.
It can help defend against beardruff and prevent any infections from forming due to its antiseptic properties. Long known as an antibacterial and antifungal, it is an essential oil that will keep your skin and beard healthy.
Your skin will love the tingly tea tree beard oil and the addition of mint will make it even more invigorating.
The scent is light and refreshing and has a nice zestiness. Again, it is not sinus-clearing like the shaving cream, but it does liven up the senses a bit.
What is in it?
Besides the tea tree oil and mint, there is also argan oil to hydrate and strengthen your hair. Jojoba and coconut oil condition and thicken your beard hair leaving it soft and strokable. And tocopherol, aka Vitamin E, will nourish your hair.
Like the Forest Blend it can be used during any phase of your beard growth as it will prevent itchiness.
All in all, there are the same essential oils that make this tea tree beard oil the ideal product for any length your beard is.
Unscented Beard Oil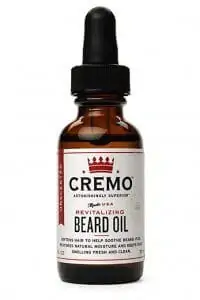 If you're looking for all the nourishing and softening properties of the other Cremo beard oils, but don't want your beard scent competing with your cologne, then try the unscented.
It will still leave your beard with a fresh smell because of the essential oils, but it won't have a scent that can be discerned.
This has all the essential oils the other two have minus the ones that would give it a smell.
You still get the strengthening benefits of argan, the softening of jojoba and coconut oils and the dandruff resistance of rosemary oil.
Is Cremo Worth it for Your Beard?
All of these Cremo beard oils go on very light, absorb quickly and last all day.
Your beard will be noticeably softer, fuller and shinier.
Just a couple of drops will do it. You may think that the bottle is tiny and won't last long, but really it will last a while. The dropper dispenses the oil perfect and you really only need a few drops.
Here's a general rule of thumb for how much beard oil you need:
1 to 3 weeks – 2 to 3 drops

3 weeks to 2 months – 4 to 6 drops

2 months to 6 months – 6 to 8 drops

6 months to 1 year – 8 to 10 drops
After reading any Cremo reviews, including this one, you may be asking if Cremo is any better than the other beard oils on the market.
I believe it is up there with some of the best beard oils out there. I love the brand and think that they have the right idea when it comes to staying on point with quality.
Wrapping it up
Beard oil or balm, shaving cream of shampoo, I love the fact that Cremo is covering all the bases with their new lineup of beard grooming products.
Have you ever used Cremo products? They're fairly new to the market so if you have anything to add to what I wrote here in this article, then we would love to hear your thoughts.
Leave a comment in the box below and let us know what you think!
I'm an outdoor enthusiast and have sported a full beard since I was in my early 20's. Originally, growing a beard was a way to save time when getting ready each day, but I quickly realized that keeping a neatly trimmed beard takes work and some forethought. That's where this site comes in.
You get to benefit from my years of experience. I've reviewed many of the top hair clippers on the market today and also included some information on what works best for me. A great beard will turn lots of heads in your direction.
Since I never know when I'm going to find myself being photographed, whether it's climbing in Yosemite, or playing volleyball on the beach, it's important to me to always look my very best. Maintaining my beard is part of my daily routine and I hope you'll find some useful tips and information on this site to help you on your journey.