Best Soap For Men Who Need A Good Scrub
Looking for the best soap for men?
There's simply something classically masculine about an old-fashioned bar of soap.
It's the kind of thing you'd want to use to scrub off layers of grime and dirt you picked up while running around in the woods all day killing animals with your bare hands. Men's body wash just doesn't seem to have the same appeal
You don't want some thirty scent bar filled with who-knows-what that was designed just to make a cheap buck though. You want the best soap for men. Something like Dr. Squatch's Pine Tar Soap from Amazon.com or Shea Moisture Men's Utility Soap from Amazon.com.
Now we're getting somewhere.
Below we'll review the best bar soap for men with normal, dry, oily, and acne-prone skin and then do a brief comparison between bar soap vs. body wash.
Best Soap for Oily Skin:

Dr. 

Squatch

 Pine Tar Soa

p

Dr. Squatch Pine Tar Soap from Amazon.com is a cold-pressed best soap for men made with glycerin to naturally hydrate your skin.
Because there are fibers added to the soap, it provides an intense exfoliating experience and is, consequently, is the best soap for men with oily skin. Exfoliating is an important part of skincare for both men and women. When you use a bar of soap like this one, you'll brush off dead skin cells leaving new ones in their place. By exfoliating, you're cleansing your skin of oil and impurities that could be clogging your pores.
Pine tar is produced while burning the wood of pine trees. It's a sticky substance that's been used for centuries in skin care because of its healing properties. Not only has it been known to cure eczema and psoriasis, but it also helps to treat dandruff. It's anti-inflammatory properties make it a perfect salve for a flaking scalp. It can even relieve the itch left by bug bites and poison plants. Plus, it has a woodsy, masculine scent that's impossible to resist.
Customers, absolutely loved Pine Tar soap from Dr. Squatch. They did find, however, that these best soap for men went extraordinarily quickly–sometimes after only a week or two, and for a bar of soap that costs about $10, that can turn into a pretty expensive grooming routine. To preserve the soap, you can lightly lather your body and then use a second sponge or loofah to do the rest of the work.
Best Soap for Dry Skin: 

Nature's Moisturizing Soap from Bliss of Greece
Nature's Moisturizing Soap from Bliss of Greece from Amazon.com is made from four oils meant to gently cleanse and deeply moisturize your skin day in and day out. Created from lavender oil, caster oil, olive oil, and coconut oil, Nature's Moisturizing Soap is completely organic and helps to reduce fine lines and wrinkles, even skin tone, reduce acne, and prevent against growth of bacteria. Packed with vitamins and antioxidants, these four oils will leave your skin soft and supple. regardless of what your day job is.
This soap is one of the best bar soaps for men because it's handmade, vegan, animal and eco-friendly, gluten and paraben-free, non-GMO. They're so confident in their product, that if you have any complaints, you can simply send them an email and they'll refund your entire purchase without even asking for the product back. You don't have to rely on their guarantee though. Their 90%+ 5-star rating on Amazon is impressive in its own right.
This is, by far, the best soap for men with dry skin. Whether you work with your hands and come home with cracked palms or simply suffer from long, cold winters, this will keep your body moisturized. It can even help you control the symptoms of eczema. Though the soap is made with lavender oil, it has a fresh neutral scent that's suitable for both men and women, so you can share this best soap for men with your whole family. Lastly, because it's made with natural oils, it's gentle on sensitive skin.
While this soap is a bit on the pricey side, each package comes with coupons to knock a few dollars off of subsequent purchases. If you like Ancient Greek Remedy soap, you can use the coupons to purchase some of their other skin products like their remedy oil, which we review here.
Best Soap for Acne: 

Aspen Kay Naturals Dead Sea Mud Soap Bar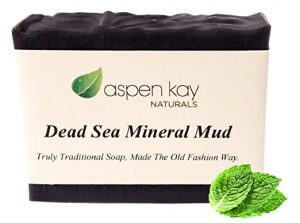 Aspen Kay Naturals Dead Sea Mud Soap Bar from Amazon.com is the best soap for men with acne because it intensely purifies and detoxifies the skin. It's made with extra virgin olive oil, organic sunflower oil, organic sustainable palm oil, castor bean oil, and unrefined shea butter. It also has naturally occurring glycerin to keep your skin hydrated. Plus, the scent is absolutely divine. With lemongrass, eucalyptus, and peppermint essential oils, this may be the best smelling soap in the world.
The Dead Sea is located in the Middle East on the southern border between Jordan and Israel. It's known as the lowest place on Earth, and it's been turned into a resort town in the past few decades. The Dead Sea is unique insofar as it's highly, highly salinated. It's so salinated, in fact, that you automatically float simply because the density of the water is much higher than the density of the average human being. People come from around the world every year to slather mud from the Dead Sea all over their bodies. Because it's rich in minerals like calcium, magnesium, and iron, it's known to do wonders for the skin.
Charcoal, the other main active ingredient, helps to pull dirt out of your pores making them less noticeable and reducing the chance of breakouts. It will also help absorb environmental pollutants and oils that collect on your skin during the day.
Customers absolutely adored this soap. If you have acne on your body or your face, this soap can clear it up within a matter of days. It will cleanse the impurities from your skin for a full-body detoxification.
I can attest from personal experience, actually. I myself have been using a Dead Sea facial cleanser for the past six months, and it's the only product I've ever used that keeps my face clear. I used to suffer from terrible acne over the lower half of my face. In fact, my face has never looked better since I started using the mud.
Best Bath Soap for Daily Use: 

Shea

 Moisture Men's Utility Soap

 

Shea Moisture Men's Utility Soap from Amazon.com is a moisturizing bar soap marketed specifically to men and has a deliciously fresh and peppery scent you might even call a "southern gentleman scent."
This is the perfect all-around soap. It lasts for weeks and weeks, and even though it uses completely natural ingredients, it lathers up wonderfully. In fact, it lathers up well enough that you can use it to shave as well. You can save a lot of money on shaving cream each month by simply defaulting to your regular bar of soap. You can even use this soap on your beard or on your hair if you have a short cut.
Though it's a tad on the pricey side, it's not nearly as expensive as some of the soaps we've reviewed above. Plus, you'll save almost fifty cents on every bar of soap if you purchase them in bulk online. You can also find them at Target, Walmart, and Walgreens, so if you don't want to wait for your package to come in, you can just head to your local drugstore. That all being said, this soap is definitely worth the price. Not only is it completely natural, but it's intensely moisturizing.
Bar Soap vs. Body Wash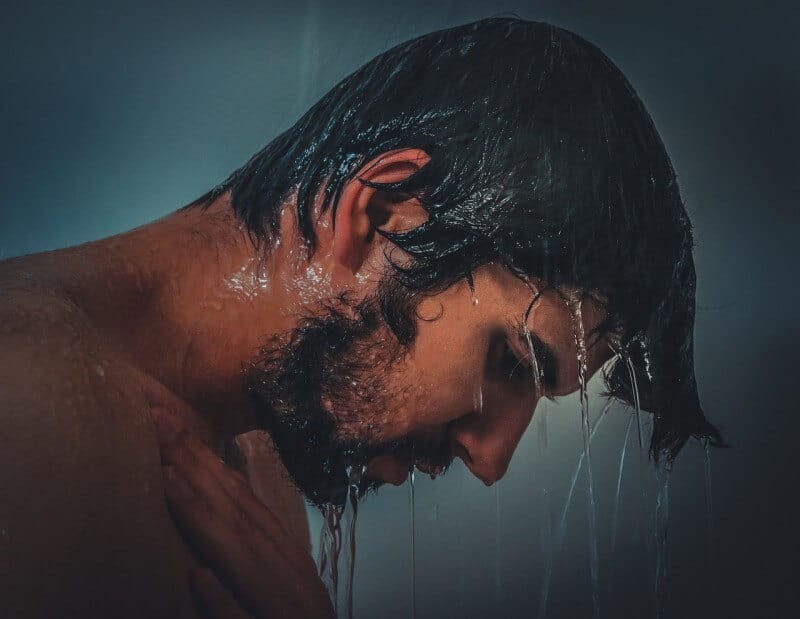 For the most part, your choice of the best soap for men is completely a matter of preference. However, there are two points you should know.
Firstly, bar soap tends to be more hygienic than body wash. While bar soap may collect bacteria sitting in a soap dish, it will wash right off the minute you turn on the water. On the other hand, the loofahs you use with your body wash are bacteria havens. Bacteria tend to grow in places that are warm and moist, and since most people keep their loofahs in the shower, they never have a chance to dry out.
Secondly, in the United States, it's illegal for a company to label a product as soap if it's technically not soap. That is to say that you might find a bottle of chemical surfactants labelled as body wash, body cleanser, or moisturizing cleanser rather than soap. These are the same products that claim to be pH balanced. Real soap is naturally alkaline. While there are plenty of all-natural, organic body washes, I find that it's often easier to use nomenclature as a guide with bar soaps. Of course you can always just glance at the ingredient list if you're not sure.
Final Thoughts?
Now we want to hear your thoughts. What best soap for men do you use? Are you looking for a moisturizing soap or an exfoliating one? How important is it to you to shower with an all-natural soap? Leave your comment in the box below to tell us your opinion.