Have you sat in the barber's chair and though how you would love to have one of those shaving cream warmers yourself?
That hot lather feels so good on the face and you know the shave is going to be top notch.
Well, you can bring the barbershop shave experience home by buying a shaving cream heater to put in your own bathroom!
Some are cheap enough that anybody can have one, while others are pretty expensive and are for the guy who spares no expense for his shave.
Which one is best? It depends on your needs and your budget.
That's why I wrote this handy buyer's guide to the best hot lather machine so you don't spend money on the wrong one.
Read on for all the details!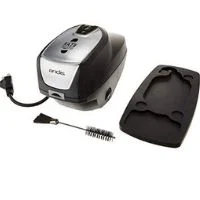 Andis Razor Lather Machine

Best For:
Barbers who need a dependable lather machine to last years

Heating Time:
15 minutes

Heat:
Medium

Foam:
Thick and wet

Price:
$$$$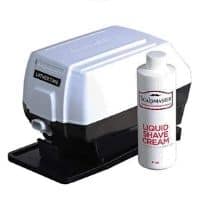 Lather Time Professional Hot Lather Machine

Best For:
That classic look in a barbershop and heats well.

Heating Time:
20 to 30 minutes

Heat:
Hot

Foam:
Medium, slightly watery

Price:
$$$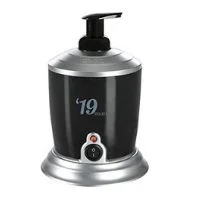 Wahl Professional '19 Hot Lather Machine

Best For:
The barber who wants a thick foam or fr home use

Heating Time:
50 minutes

Heat:
Low

Foam:
Very Thick

Price:
$$½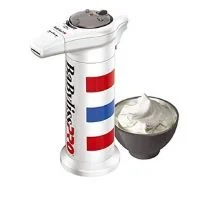 BaBylissPRO Barberology LatherFX

Best For:
For home or barbershop. Works with gel or foam.

Heating Time:
Seconds

Heat:
Very Hot

Foam:
Very Thick

Price:
$½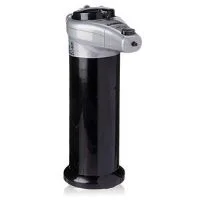 Conair Gel and Lather Heating System

Best For:
Nice budget option for hot lather at home.

Heating Time:
2 Minutes

Heat:
Very Hot

Foam:
Very Thick

Price:
$
Why use a shaving cream heater dispenser?
There are two key components to a quality shave.
Water and heat.
The water softens up your stubble so the razor can cut easily straight through the follicle. Then the heat helps to open up your pores so more of the follicle is standing up to be cut.
If you have both of these going for you then your shave it going to be really good. That's why doing a wet shave is the ideal way to shave.
Most guys don't have the time to do a wet shave so they are forced to use a canned shaving gel or cream.
Why is that a problem?
The heat. Or lack of it to be precise.
The best you can hope for is that the shaving cream is room temperature. In the winter it can be downright cold!
This in effect closes up the pores and makes it more difficult to get a good shave.
Your shaving cream of choice will still give you good lubrication to provide some glide to your razor, but it won't give you as good as shave as you can get.
This is where the hot lather machine comes into play.
Types of hot lather machines
There are essentially two types of shaving cream warmer.
One is the kind that you drop your can of aerosol foam or gel into and it heats it up without needing to mix soap or anything.
This type is often very cheap and widely available.
The other kind is for professionals, but more and more people want that professional experience at home and are buying them for non-professional use. These ones are hot lather machines that use a chamber full of a special soap that gets heated and then foams as it comes out of the machine.
Which one is better?
Hands down the professional hot lather machine are the better type. It isn't without its downsides, namely the price, but they use a much better lather, to begin with.
The canned gel or foam is not the best kind of shaving cream to use on your face to begin with, but it is better when it is warmed than not at all.
One of the benefits of these is that the foam doesn't dissipate so even if you take a while to shave you won't lose coverage.
The barber version, on the other hand, can dry out over time since it has a lot of water. It's a race against the clock to shave before it dries unless you don't mind reapplying as you go.
What to look for when buying a shaving cream heater
There are some crucial differences in shaving cream warmers to be aware of so here are some things to think about before you buy.
Price
I'll start with what is probably going to be the most important factor in your decision on which shaving cream heater to buy.
For the regular guy that wants a quick and easy way to heat his shaving cream, then there are some out there that cost less than $20. I may not recommend them because they are too cheap and probably won't last long, if budget is your biggest concern then you have an option.
The other end of the spectrum means spending hundreds of dollars on a professional hot lather machine that can be used by barbers.
These are built to last for years and are extremely reliable. At a cost. Now, if you think that spending more for high quality and durability is worth it then you will definitely get your money's worth if you decide to go for it. Years from now when you are still enjoying your heated shaving cream you won't mind how much you spent.
Then, if you are a barber and are starting to outfit your workstation, you really only have one choice. You have to go with a professional one as you need the reliability.
Temperature Control
One of the downsides to the professional hot lather machines is that it works by using a heating element at the dispenser so the temperature can't be controlled.
Having control is something you definitely want to look for when you are using it at home.
It's important that it is warm, of course, but some guys don't want it to burn them. Guys with sensitive skin may want to use a lower temperature.
Guys with rougher skin that takes longer to open up will definitely want to use something hotter.
If you have multiple people using the shaving cream warmer in your house then it really pays to have some control over the temperature.
Size
Finding the space to put your shaving cream heater may factor heavily into your decision. If your bathroom is shared by your wife or girlfriend, then good luck finding a spot to lay a postage stamp, nevermind a hot lather machine.
If your space is limited, then so may be your choices.
The kind used by barbers are often very large or at least long. The kind that uses an aerosol can directly in the body generally takes up a lot less shelf space and will probably be the only choice for many guys.
Our List of the Top Hot Lather Machines
This list is going to run the gamut from the economic to expensive so you can see what the range of options are.
My recommendation when setting a budget is make sure you spend to the upper limit of what you can afford. If you can spend $100 don't go for the $29 model. You do get what you pay for, especially in terms of longevity.
I'll start out with the expensive one for barbers that can even be used at home.
Andis Razor Lather Machine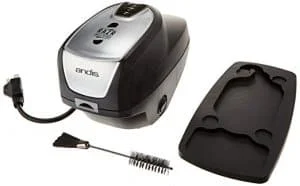 If you're looking for classic barbershop products then when you see the Andis brand you know you're in good hands.
For years I had been using an old school Lathermaster but finally needed to replace it. It was an obvious choice to go the the Andis Razr.
It's the most expensive one on our list, but it is also built for professional use and will hold up to use in a shop.
There are a few reasons I think this works best in a professional setting.
For starters, it only takes 15 minutes to warm up. When I come into the shop, the first thing I used to do was turn on the lather machine since it would take so long to heat. Now I can turn the Razr on when my first client sits in my chair and it is ready by the time I need to shave his neck.
It is also very easy to fill without making a mess. I don't know exactly how much the volume it takes is, but the chamber is definitely bigger than the old dispenser I had.
It also produces a much cleaner lather than the previous one I had. By that I mean that it comes out more uniform and doesn't drip. For some reason the older versions of these machines wouldn't always produce a thick lather and it would just run out into your hands. The lather is just the right consistency when it dispenses.
Another plus is the rubber mat for the counter. It will leak some so at least it won't slip around.
Now, you'll read some reviews where the user complains about how much it leaks. That usually happens when the soap is not mixed to the right ratio with water.
Follow the directions that are on the specific soap you choose to use as it does make a big difference.
Even then, it is going to leak. I have news for you, they all do. Some just more than others.
Overall, this is a very good purchase for a professional that can spend the money since it will hold up well when used dozens of times per day.
Lather Time Professional Hot Lather Machine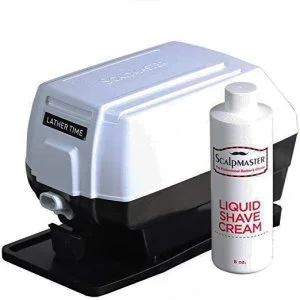 Next on the list of shaving cream warmers is this professional one by Scalpmaster that is affordable enough for home use.
You can get a nice hot lather like a pro to really nail your shave like a barber.
The foam comes out nice and airy yet still wet enough to get your stubble soft. It can be quite hot too so your pores really open up and make for a very close shave. One downside is that it works sort of like a thermostat so the heat kind of comes and goes. Sometimes it will be very hot when it reaches temperature, but then cools down a bit. If you catch it on the cool down then the lather might not be hot enough for you.
This is very common among these types of machines, however.
You'll need to give this a good 20 to 30 minutes head start before you start using it as it takes a little while to heat up.
I love the classic design that does have a modern sensibility at the same time. It is a little slimmer and less boxy as the old one I had before it went out on me. It is not a lightweight, but I like that. I want to feel some weight to it and know that the construction is solid and it isn't going to slide off of my station or bathroom shelf. Keep in mind that it is a bit heavy if you have it on a shelf that can't support too much weight, however.
There is a rubber mat to collect any drips of lather plus will keep it from slipping.
Wahl Professional '19 Hot Lather Machine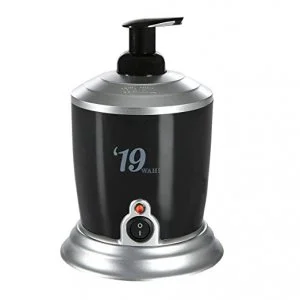 Last on the list of the professional grade shaving cream warmers and the least expensive of the bunch is the '19 by Wahl.
Wahl is another name in the world of barber supplies and clippers and is known for the quality of their machines.
First thing about it is that the body has a slim profile so it takes up very little space in your work area or bathroom sink. This will fit in most bathrooms these days without needing a large area.
The operation is also very easy. Mixing the soap takes place in its own removable bottle. You take it out of the body and mix your soap right in it. Then replace the pump dispenser and insert it back into the body.
It works just like any other pump operation like your shampoo bottle or hair gel. The only difference is that the foam comes out steamy and hot.
As long as you mix it right you will get a thick and juicy lather that will elevate your shave to another level.
The one downside to it is the two handed operation. As a barber, I like being able to use one hand to operate something. Whether it is turning on my clippers or dispensing the lather. It may sound like nit picking but, well, it is actually nitpicking! This is a very minor negative.
One aspect which I do believe is a negative for most is the fact that it takes over 45 minutes to heat up. This is because the chamber is quite large and the whole thing is heated not just at the point of dispensation.
Always keep in mind that you will need to turn this on well in advance of using it.
It does have a small blue light that turns on when it is ready to use which many of the other professional ones don't have.
Cleaning it is much easier than with any of the other shaving cream warmers so that is a huge plus. You can remove the bottle and wash it out in the sink so it is mess free as well as simple.
BaBylissPRO Barberology LatherFX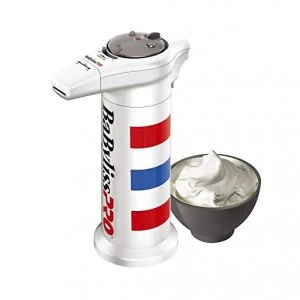 And now for the cheaper, yet not too cheap version of shaving cream warmer for the home comes up on the list.
Babyliss is also a maker of a range of trimmer and clippers for barbers. So, like Wahl and Andis have jumped into the hot lather machine market.
It is designed much like the more economical Conair which I will review in a moment, but it has some higher end features that elevates it.
For one, it works equally well with gel or foam, but has different settings for either. This makes sure that you get a good and hot lather no matter which one you choose. Even the nozzle is different since they will dispense differently.
One thing to note is that the gel does come out very hot. Much hotter than the foam.
Since there is a temperature control setting you can adjust to make sure it is not too hot before you use the gel if you find it not to your liking.
It has an automatic shut off so it doesn't end up overheating if you forget to turn it off after you've finished using it.
It does come with a bowl to directly empty the lather into. I am not sure how useful it is as I never use on. I only use a bowl when doing a wet shave since you're going to use your hands to apply this to your face. Not only that, but putting it in the bowl is only going to cool the lather down. I would skip it, honestly and feel it is a throw in to add value when it actually doesn't.
To me, you only need to know that it works and what it does. The lather comes out instantly hot once it reaches temperature and it is very consistent.
I like the controls of the temperature and different settings depending on which type of shaving cream you use.
Conair HGL1NR/HGL1R Conair Gel and Lather Heating System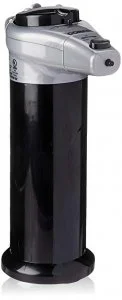 Just about anybody who has thought about getting a shaving cream warmer has surely considered the Conair.
It is cheap and is easy to find. You can get them on Amazon or in any CVS.
Though I think the Babyliss is much better, I understand if you don't want to spend more money for something that works just fine.
It doesn't have the amount of control and personalization the Babyliss has, but it does have temperature control and can be used with either gel or foam. Either one works just as well and really boils down to your own personal preference.
It also heats up very fast. In less than 5 minutes you will be ready to go.Turn it on before you jump in th eshower and a hot lather awaits you once you've dried off. And it takes up very little space. You can find a spot for this in just about any bathroom without sacrificing precious space.
Here's the crazy thing. I actually used one of these in the barber shop for a while.
The problem I was having was that in the summer my chair was right underneath the air conditioner and the blowing cold air would dry out my lather too quickly. So, I got one of these since the foam doesn't ever really dry out.
Here's the rundown of how it went.
For a while it worked pretty well. Though it never got the foam as hot as I would have liked to do a professional shave. Keep in mind that in Massachusetts we can't use the brush and shaving soap and have to have a pre made lather.
The problems started around a year after we got it as it started going crazy when dispensing the foam and it would get everywhere. Then it simply stopped making foam.
That's when we switched to the Babyliss for when I couldn't use the Andis Razr.
I would gladly recommend this to anybody that needs a cheap way to heat their lather at home. If it can handle life in a barbershop, even though it was only for a couple of months at a time, then it can last quite a while at home. Don't expect it to last forever, but do expect it to work really well before it finally kicks the bucket.
How to take care of your shaving cream heater
This section is more about protecting your investment on one of the professional models.
There isn't much you can do to clean your Conair or Babyliss. Unfortunately you are going to get some build up inside the units that you really can't do much about. Remember, these things are not meant to last nearly as long as the professional models.
These hot lather machines are on all day long and eventually will burn out if you aren't careful. Always unplug them at the end of the day. You don't want these running 24 hours a day. Not to mention that it wastes electricity.
They take too long to heat up to keep them off and only turn them on when you need to do a shave, however, so it is fine to leave them on during the working hours.
Also, let them run out of soap on occasion so you can clean out the chamber. You're going to get a build up of soap scum on the sides of the chamber, but especially on the heating unit at the tip.
With a paper towel, wipe up the scum that has built up before it dries out. Use a wire brush, hopefully one is included, to clean out the heating element.
To really give it a deep clean fill it with very warm water and let it sit for a few minutes. Put a bowl down in front of the dispenser where the foam comes out since a lot of the water is going to run out.  Then dispense it like it had foam in there.
Never dunk this thing in water. Especially if it is plugged in!
Alos, follow the instructions on how to mix the soap and which brands are ok to use. Some of the formulas are not suitable for certain models.
Final Thoughts
It's time us men had some things that we can use to spoil ourselves. And shaving is one of those ways in my opinion. It just feels so good to give yourself a proper shave. And using a product like a shaving cream warmer is a very good way to do that.
Now, if you have the means, then using a professional one you would find in a barbershop is a great way to go.
Of course, not everybody can spend a few hundred on a heater for shaving cream so it is understandable if you end up with a budget friendly one like the Conair or Babyliss.
If you have any questions about these or others then I am here to help. Just drop a line in the box below and I will get back to you as soon as possible!
As a barber I love to dish out advice on how you can improve your shave!
I'm an outdoor enthusiast and have sported a full beard since I was in my early 20's. Originally, growing a beard was a way to save time when getting ready each day, but I quickly realized that keeping a neatly trimmed beard takes work and some forethought. That's where this site comes in.
You get to benefit from my years of experience. I've reviewed many of the top hair clippers on the market today and also included some information on what works best for me. A great beard will turn lots of heads in your direction.
Since I never know when I'm going to find myself being photographed, whether it's climbing in Yosemite, or playing volleyball on the beach, it's important to me to always look my very best. Maintaining my beard is part of my daily routine and I hope you'll find some useful tips and information on this site to help you on your journey.