The Best Shaving Cream For Men You Need to Try
I've devoted quite a bit of space on this site talking about the best razors, but a razor won't get you very far without shaving cream. If you don't want to walk out of the bathroom in the morning with some nicks, cuts, and scrapes around your jawline, you'll want to invest in a best shaving cream for men. Not all shaving creams are made equally though. You'll want to look for the best shaving cream for men that you can work into a thick lather over your face but won't clog your razor. Personally, I'm using
Taylor of Old Bond Street's Shaving Cream Bowl from Amazon.com
at the moment, and I absolutely love it. It feels smooth and creamy against my face and leaves my skin feeling silky smooth every time.  
You can certainly pick up any old can of shaving cream at your local drug store, but the ones we'll discuss today are luxury best shaving cream for men without harsh chemicals or toxins that. They will elevate the quality of your shaving experience day in and day out. If you care about your whiskers, you won't want to skimp on shaving cream. In this article, we'll try to give you a few pointers. We'll talk about what chemicals you should avoid, how to properly apply the best shaving cream for men to your face, and how to pick a cream for your skin type. Here goes…  
How to Find the Best Men's Shaving Cream:
The right shaving cream can make all the difference in the world. Say goodbye to razor bumps, irritation, ingrown hairs, and cuts, and try on some glowing, healthy skin for a change. So, what is the difference between the aerosol can of white foam and an old-fashioned cream? The short answer is the ingredients. Shaving foams and gels are full of synthetic perfumes, dyes, preservatives, and toxins that stiffen your beard and clog your pores. Worst of all, even though they may only cost a few bucks at the corner drug store, they're full of air.
1. Find a Cream for Your Skin Type
Do you have oily skin, dry skin, or combination skin? Is your skin particularly sensitive? Don't use a heavy cream, for instance, if you have oily skin because it might end up clogging your pores. If you have sensitive skin, then try an organic shaving cream that's hypo-allergenic and gentle on the skin. Also make sure that you know how to shave for your skin type. Check out this informative video from Gillette to see how you can shave with oily, acne-prone skin.
2. Find the Right Ingredients
Anything that has the following in its list of ingredients should be avoided:
Parabens-Parabens are found in a number of cosmetics and grooming products, but there is strong reason to believe that they're linked to several forms of cancer including breast cancer
SLS-SLES, also known as sodium laureth sulfate, is an inexpensive, effective foaming agent used in personal care items. Although it's an efficient cleaning agent, it is filled with very harsh chemicals. While it's not carcinogenic, it could permanently damage your skin and eyes if used improperly
SLS-Sodium Lauryl Ether Sulfate is known to mitigate the effects of petroleum-based products, but at concentrations higher than 2%, they easily cause nausea and diarrhea and are also possibly carcinogenic.
Fragrance- Artificial fragrances contain thousands of chemicals. Essential oils will leave a pleasant scent without the benzenes, phthalates, and aldehydes known to lead to migraines, birth defects, nervous system disorders, allergies, and worse.
Instead, opt for shaving creams with natural ingredients. Essential oils from jojoba, rosehip, sandalwood, eucalyptus, and lavender have vitamins and minerals that will soothe your skin without stripping it of its natural oils. Some new shaving creams even come with aloe vera. Packed with vitamin E and rich in antioxidants, aloe vera is known to remove discoloration, heal burns, and nourish tired skin.
Our Top Picks
So, here are our favorite 6 shaving creams. We have one for everyone: a shaving cream for men on a budget, men who love to lavish extra attention on their facial hair, men with stiff whiskers, and, well, men of all kinds. There is a shaving cream here for any man who shaves.
#1: Best Smelling Shaving Cream for Men
Taylor's Sandalwood Shaving Cream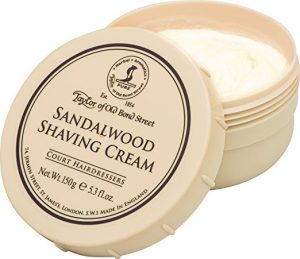 Jeremiah Taylor set up shop September 1st, 1854, and since then he has developed some of the most luxurious shaving products on the market. Known for subtle elegance and reliability, Taylor's Sandalwood Shaving Cream is from one of our favorite London barber shops.
Though it's creamy enough to be a lotion, Taylor's Sandalwood Shaving Cream can easily be worked into a rich lather. Though it's slightly more expensive than most other creams, a finger's worth is more than enough to cover your entire face.
Men love this cream for its understated, yet striking, scent. Taylor's Sandalwood Shaving Cream is woody and earthy with a few sweet, floral notes. Other popular scents include the avocado and coconut, but you can find it in grapefruit, lemon and lime, almond, cedarwood, peppermint, and aloe vera as well.
Though some complain that the cream doesn't moisturize the skin properly, a simple aftershave will do the trick. As far as we're concerned, this old-fashioned shaving cream has stood the test of time, and for good reason.
#2: Best Shaving Cream to Avoid Razor Bumps
 The Art of Shaving Shaving Cream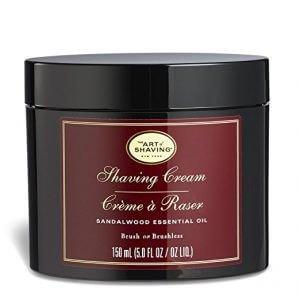 If you find yourself always searching through the bathroom cabinet for the bandaids or neosporin, you know that how painful it can be to nick yourself while shaving.
The Art of Shaving Shaving Cream is your answer.
Thick and luxurious, this best shaving cream for men will protect even dry or acne-prone skin from cuts and razor burn. It glides on smooth and works perfectly with a safety razor. Though it is on the pricey side, one container lasts an entire year.
This cream is designed to lift your hairs to prevent tugging and pulling. Plus, the natural coconut oil will moisturize and nourish your skin leaving it silky smooth.
#3: Best Shaving Cream for Sensitive Skin
 Pacific Shaving Company Natural Shaving Cream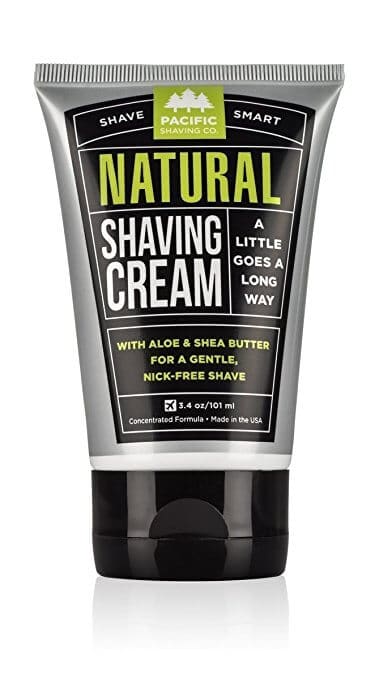 Pacific Shaving Company sells organic best shaving cream for men that are free of toxins, parabens, carcinogens, and worries. Pacific Shaving Company Natural Shaving Cream is perfect for men with sensitive skin. Made with shea butter and aloe vera, Pacific shaving cream is cool and refreshing.
This best shaving cream for men also comes in a handy tube making it ideal for travelling. As opposed to aerosol cans, gel tubes can fly with you. Though the package is too large for a carry-on, you can easily store it in checked luggage.
This all-natural shaving cream isn't too thick, so it won't clog your pores. However, you might have to be careful with a safety razor because without many of the chemicals you find in cheaper shaving cream, it won't work up to a lather. That being said, this best shaving cream for men won't ever leave your skin red and irritated.
Best Cheap Shaving Cream for Men
 Cremo Original Shave Cream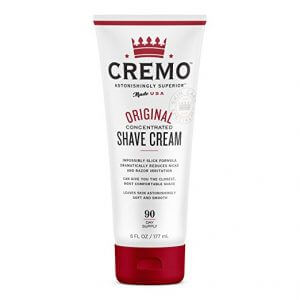 At less than $6 a pop, Cremo Original Shaving Cream won't break the bank. Cremo was invented by two friends who simply wanted a shaving cream that worked. When they shared Cremo with their friends, the cream became a success and the company was born.
Your razor will effortlessly glide over the contours of your face because Cremo minimizes friction with its slick, smooth formula. A pea-sized amount of cream mixed with water is enough to cover your entire face with a thin lubricating layer, foam-free layer.
Though some report that the fragrance is a bit overpowering, you can still get a nice barber shop-like shave with Cremo for the half the price you might spend on a luxury cream.
Best Lather Shaving Cream for Men
Prosaro Shaving Cream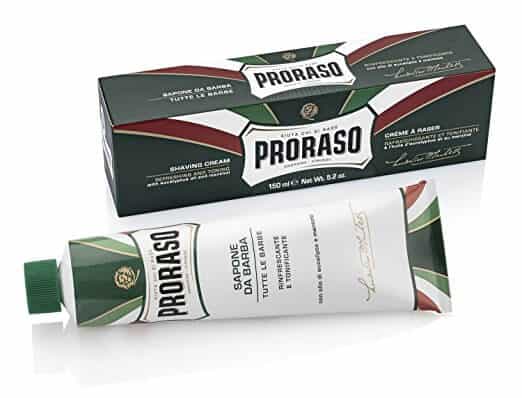 Prosaro Shaving Cream is a classic shaving cream created in Italy in 1948 and is still widely used today. Users love it because it works into a rich lather quickly through what's called a hot-soap process. The soap allows the razor to glide easily across your chin and jawbone area preventing any cuts or nicks. Even with a nickel-sized amount, Prosaro will leave your skin hydrated and healthy even if you're shaving in a hurry. Eucalyptus oil helps tone and clean your hair, and menthol gives the shaving cream a clean, fresh scent that is slightly overpowering at first but quickly dissipates. Overall, the cream is slightly thinner than you might expect, but only because it's free of parabens and harsh chemicals. A single tube lasts close to an entire calendar year and can be used with any beard–short or long, thick or thin and any razor–safety, cartridge, straight, etc. Prosaro is a staple in barber shops all over Italy, and it's about time it made it into your morning shower routine.  
Using the Proper Tools
The right product will get you pretty far, but you'll never master the fine art of shaving without the proper tools. Most barbers agree that a brush will give you a far more comfortable shave than you'd get by applying the cream with your hands. Shaving brushes are made with horse hair, badger hair, boar hair, and synthetic fibers, and they help lift the hairs on your face so your razor can easily slice through them without catching and tugging at your skin. Ideally, you should mix the shaving cream with a bit of water in a separate bowl. Not only will this allow you to regulate how much water you add, but it will allow you to spread the cream evenly across your face. You should still make sure to wash your face with warm water before applying shaving cream because the cream will lather on better if your skin is wet. If you still find that your razor is irritating your skin, you might consider using a pre-shaving oil to prep your whiskers. Otherwise, chances are you need to change out your razor.
What is Your Favorite Shaving Cream?
Without the right shaving cream, you're bound to leave the bathroom with a dry, itchy chin and red razor bumps all over your neck. The right kind of shaving cream though can totally transform your morning routine. Leave a comment below to tell us which is your favorite shaving cream.