Put the tweezers away.
I understand that it seems easier and more effective to rip out your nose hairs, but besides the painful experience, you are actually doing
something quite dangerous.
Yes, it takes longer for the nose hair to grow back, but it isn't worth risking serious infections by pulling it out.
Using the best nose trimmer is quick, and pain free so adding it to your regular grooming routine shouldn't be an issue. We're talking about taking less than 2 minutes every few weeks to take care of an embarrassing problem.
I picked the five best nose hair trimmers to review and give some details so you can decide which one is best for you.
No time to read the full article? Then check out the comparison table below to see how they rank at a glance.
What to look for in the best nose trimmer
You don't need to get too technical when looking for the best nose hair trimmer, but there are a few things to consider so you don't end up frustrated by a bad purchase. If your nose clipper doesn't work the way you like, then you are less likely to use one later, so best to buy the right one first. There are two main types of nose hair trimmer with a third option that is less common and I don't recommend anyway. I'll go into more detail about that in a minute. For now, we'll talk about the two you're most likely to find in the best nose hair trimmer. Rotary
These types of rotary hair cutters work for both ear and nose hair. The way they work is that there are two small blades that spin around.
Your skin is protected from the sharp, whirring blades by a domed cap with slots cut out of it.
The nose or ear hair goes into the slots and the blades inside cut them down. You can't get right down to the skin, so a little stubble will be left.
Which is fine, since you won't see the stubble inside the nose.
A good rotary system nose hair trimmer will have a smaller head so it is easier to maneuver inside the nostril. You may be tempted to buy one with a larger head feeling it will work faster, but it may not cut all the hairs since you can't move it around.
Make sure the head has a guard that covers the top of the blades so it doesn't end up cutting the skin. This guard will also let you cut the hairs at an angle making sure you quickly cut those hairs growing from all directions.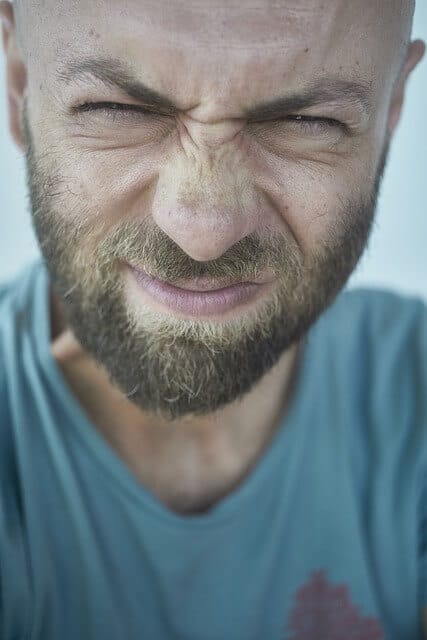 Foil Guard
These types of trimmers are very similar to regular beard trimmers with blades that rock back and forth. The teeth are covered by foil similar to electric razors, which distinguishes them somewhat from the beard trimmers. In essence, the best nose trimmers work the same way.
The guard makes using the trimmer safe, but it also makes it harder to cut some longer hairs. Typically the stubble is also left a bit longer than the rotary nose trimmers.
The benefit to this type of trimmer is you can use it on your nose, ears, eyebrows or even to trim other hairy bits on your face and body.
The downside is the shape and size can make it tricky to cut the hairs inside your nose.
When I have used these types of nose trimmers, inevitably there are a few hairs that are just so stubborn that they don't end up getting cut. This defeats the whole purpose of the trimmer.
The last type that I definitely don't recommend is the side action trimmer. These are just like clippers or trimmer with the blade that goes back and forth, with the difference being that there is no guard. The blade is pretty exposed, save for high sides that act as a sort of buffer. To use these properly means needing to have the angle just right so as to not slice your skin to shreds. In other words, virtually impossible inside your nose, even with the best nose trimmer. The best nose trimmers are definitely effective, don't get me wrong, but you're so likely to cut yourself that it just doesn't make sense to use them. Wahl makes a nose hair trimmer with this type of blade, as it uses the same system as their hair clippers. As much as I like the Wahl brand, I just can't recommend these. Battery Operated, Manual and Rechargeable
Which of these types has more to do with how you want to use them than which type is better.
Since they are small and it only gets used sporadically, batteries generally will last quite a while. So, the added expense of buying them really don't factor in when considering a nose trimmer.
Unless you are a prepper. In which case, you probably are already familiar with the manual nose trimmers that don't need any power source aside from human. They operate the same way as a battery powered or rechargeable one, with rotary blades usually, but they are powered by hand. Either by a lever or by rotating manually.
Rechargeable ones, are obviously battery powered, but with a lithium ion battery that is recharged by a docking system or power cord that plugs it into an outlet.
All of these types have their place, so it's up to you which of the best nose trimmer suits your needs.
Overall Best Nose Trimmer
ToiletTree Professional Water Resistant Heavy Duty Steel Nose Trimmer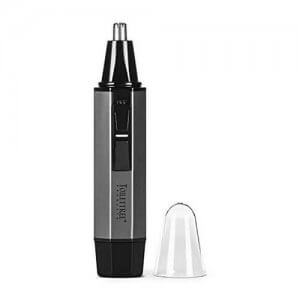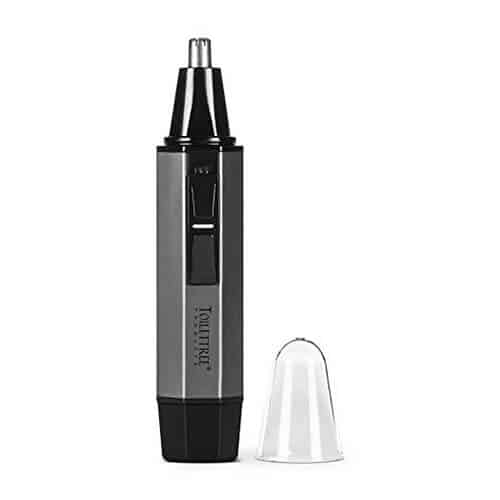 | You'll love it for these | But you won't like these |
| --- | --- |
| Water resistant. Use it in the shower | Seems to be hit or miss as to longevity |
| | |
| Doesn't nick or pull hairs when cutting | |
| | |
| | |
Let me get that one con out of the way early because for most it will be a non issue, but it should be noted. The ToiletTree nose clippers are pretty heavy duty and are built to last. It seems that some users get a defective one that doesn't last long, though. If you have read the reviews on Amazon, you will see a smattering of reviewers that say that the nose hair trimmer stopped working after only a few weeks. Luckily, this is not the norm and the manufacturer gives a no questions asked replacement if it stops working. With that out of the way, what you get for the relatively high price for the best nose hair trimmer is a well built and durable product. It cuts through wiry nose hairs much better than other nose hair trimmers without any pulling. And, it works just as well in the shower, so you can save time in your grooming routine by killing two birds with one stone. It also cleans easily as you can just rinse the cut hair from the trimmer under the faucet. It is a rotary type nose clippers with the head just the right size. With slots open on the top and sides, the hairs get right in there and cut quickly. An LED light will help you out when using these nose clippers in front of a mirror by letting you see the hairs that you might not see without it, especially if you have a poorly lit bathroom. You'll get the closest trim of any nose hair trimmers out there, so you can go longer in between uses. And since you will use the nose clippers less often, you can expect a battery life of around 6 to 8 months depending on the quality of the battery. VERDICT:  You really can't go wrong with this trimmer. It works just as well on your ears and is built well. You may end up spending a few dollars more than some of the more common brands, but you get a much better product.
Best Manual Nose Hair Clipper
Groom Mate Platinum XL Nose and Ear Hair Trimmer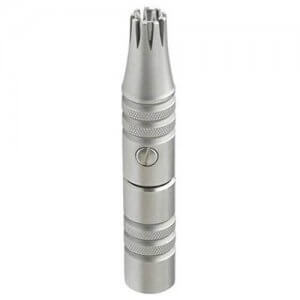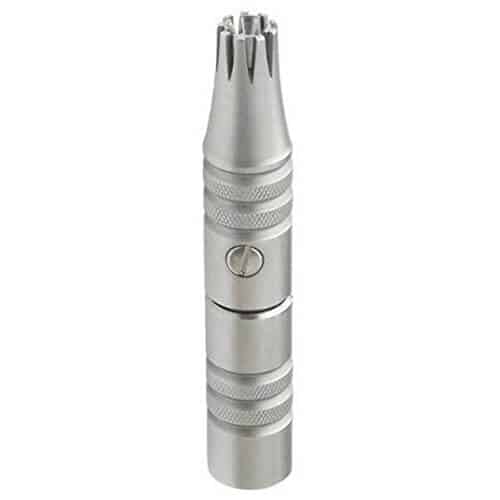 | You'll love it for these | But you won't like these |
| --- | --- |
| Sturdy stainless steel construction | Takes a slight bit of dexterity to use |
| No batteries or other power needed | |
| | |
| | |
I am not a doomsday prepper, but if i were, I am not sure how important my nose hair grooming would be to me when the Zombie Apocalypse starts. Though this excellent hand operated nose hair trimmer is popular with preppers and survivalists, it can be used by anybody for any reason. In fact, I would say that it makes sense to use these trimmers regardless of if you think the grid can fail at any moment since the blades are much sharper and more effective than the battery operated ones. The patented blades are designed to stay sharp even years after you bought it. Being made completely of stainless steel means it can stand the test of time. You'll likely get years out of this trimmer since there are no plastic parts to wear out and no internal electronics to eventually fail. To use it, you will need both hands. One to guide the trimmer and the other to rotate the body to turn the blades. If you do it right, you won't pull any hairs and will have a nice close cut. To do it without pulling your hairs just means you have to complete a rotation before you try to remove it. If you insert it in the nostril and turn it just a little, then there may be hairs in the blade area that didn't end up cut. When you take the trimmer out that hair will be ripped out.   Other than that there is no learning curve to using this. To clean it you can use a toothbrush or trimmer brush to wipe the cut hair away or run it under water. You can even use it in the shower since it is not electric. Make sure that you properly dry it off totally so it doesn't get discolored or corroded. There is really only one downside to this and that is the head is a bit large. It might be tough to maneuver in your nostril. You likely won't need to do anything to maintain it aside from clean off the cut hairs, but if you do need to clean it out or lube the inner workings, there is a screw on the side to open it up. Verdict: Easy to use, maintain and can last a lifetime, this is a top notch nose hair trimmer that is worth the money. Whether you are traveling, living off grid or are a minimalist that likes to keep things simple, then you will always find this trimmer to be very useful.
Philips Norelco Nose Trimmer 5100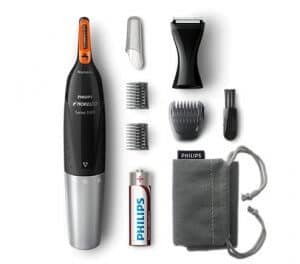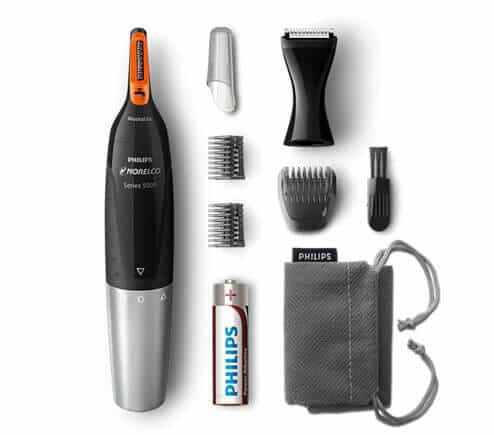 | You'll love it for these | But you won't like these |
| --- | --- |
| 3 in 1 nose and ear trimmer includes a hair attachment for trimming sideburns | Sideburn trimmer is a bit weak |
| Made mostly of stainless steel | |
| | |
| Easy to clean, just run under water | |
Philips Norelco nose trimmers are just what you would expect from a company that has mastered the art of creating excellent grooming products for men. Philips Norelco NoseTrimmer NT5175/49 has a few features that really set it apart from the rest of the pack of nose hair trimmers for men. For starters, they are great for those with sensitive nostrils as it doesn't pull the nose hairs. With a unique curved foil guard blade, the blade doesn't scrape against the sensitive nasal membrane that ends up making most people sneeze like crazy. In addition, the way the hair is fed into the blades make sure that the nose hairs don't get pulled. It is not good to pluck your nose hair with tweezers, so it makes sense to go with a nose trimmer that doesn' t pull. The shape of the head, plus the curve of the body where the foil guard trimmer attachment connects makes for easy access inside your nostril. To cut evenly, all you need to do is rotate it around inside the nostril to quickly shave your nose hairs. It will leave a bit of stubble, but that is a good thing. You need a little bit left to still act like a filter as that is the actual purpose of hose hair. Cleaning the trimmer is easy as it comes with a small brush to wipe away any nose hairs. You can also run the trimmer blade under the water to rinse off any hairs and snotty bits to keep it clean and running smoothly. If you allow the trimmer to build up gunk, it will slow it down and results in it taking more effort to cut the nose hairs. You get just about everything you need with these nose and ear trimmers. Two trimmer guards for evenly trimming your eyebrows. A detail trimmer attachment for edging your beard and sideburns, a beard comb attachment and a protective cap to keep the tip clean when not in use. One thing I will say, though is that even though the Norelco Nose Trimmer NT5175/49 is probably one of the best nose and ear trimmers, it is not great with the detail trimmer unless you really only need it to even out your sideburns. Its main function is as a nose hair trimmer that also works to trim ear hair and eyebrows, so if you buy it for that, then consider it a bonus that you get other attachments for grooming. Just don't expect a very good beard trimmer out of this.
Best Vacuum Nose Hair Clipper
Panasonic ER430K Nose and Ear Trimmer with Vacuum Cleaning System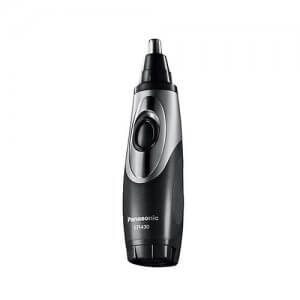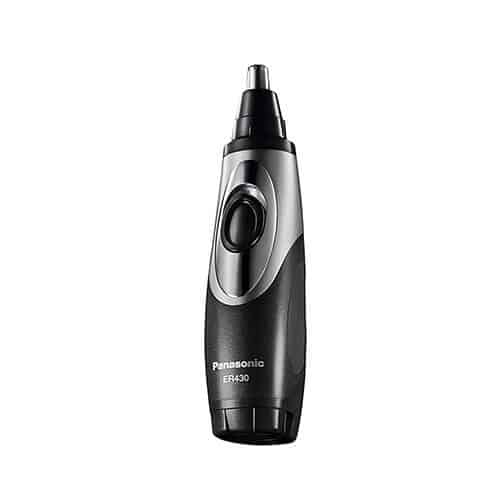 | You'll love it for these | But you won't like these |
| --- | --- |
| | Runs through batteries quickly |
| | |
| Curved blades for close cut | |
| Safety cone prevents nicks and pulled hair | |
Anytime I can use a grooming tool that requires no clean up, I am happy. So, it should come as no surprise that I love a nose hair trimmer with a vacuum to clean up the loose hair. Instead of making sure you were properly leaning over the bathroom sink to catch the falling hairs, you can walk around the house and do it anywhere. And it can be used in the shower since it is a wet/dry trimmer. There is a collection chamber that just needs to be emptied on occasion. That's all there is to cleaning up! Having curved blades is such a little detail that I love, as it can really get a close cut without nicking you. In fact, if you're looking for sneeze less nose trimmers if you have a sensitive nose, then this is definitely one you want to try. The size of the head is nice and small so it fits into just about anybody's nostril. I only wish the body were a little slimmer as it is a bit big in the hand. That said, it is still easy to maneuver. Though it is marketed as having a 90 minute battery life, I find it is a bit less than that. It really depends on the quality of the battery, but don't expect more than an hour of use before you need a new battery. That means you will likely need to replace the battery every 20 to 30 uses. Considering you will likely only trim your nose hairs once or twice per month, then you should be able to get a few months out of a battery. Verdict: With the wet/dry feature and the handy vacuum, you'll love the fact that you can use this anytime and anywhere. If you are wary of using a trimmer since you sneeze a lot when trimming your nose hairs, then this is the ideal option for you.
Best Small Nose Hair Clipper
ANVAVA USB Rechargeable Nose Clippers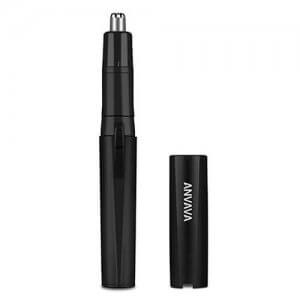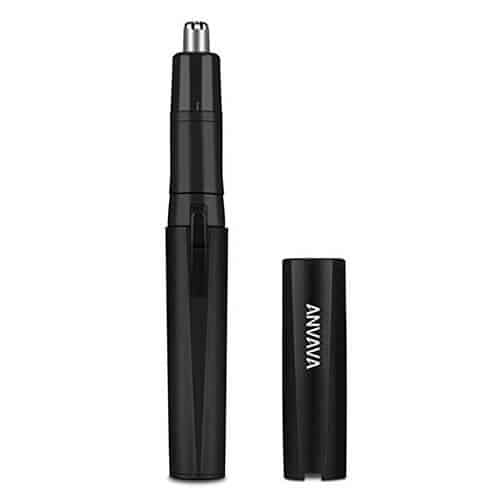 | You'll love it for these | But you won't like these |
| --- | --- |
| | |
| | |
| Lasts 40 minutes per charge | |
| | |
| | |
If you need a really small nose and ear trimmer for whatever reason, then the smallest I have found is this very slim Anvava nose hair trimmer. About the size of a pen, this nose and ear trimmer fits easily into any Dopp bag or carry on for travel. For such a small size, it is quite powerful. 10k rpm means that you can make quick work of your nose grooming, taking less than a couple of minutes to trim. The powerful motor will cut easily through even the most wiry and thick nose hairs. Since a full charge lasts 40 minutes, you can easily get 20 sessions before needing to recharge. This probably adds up to several months before it runs out. Good thing, since it does take a while to charge at around 3 hours. Clean up is very easy as the top simply pops off and you can either brush it out or run it under water. Don't be tempted to use this in the shower. It is only the cap that can get wet. And make sure it is completely dry before you replace it. The head is very small, so it fits into any nostril easily. The top is open, so be careful of the angle you use it. If you push the top against the skin, you may get a nick or two. If you move it side to side, this won't be an issue. Verdict: If space is limited, either in your medicine cabinet or toiletry bag, then the small size of this powerful nose trimmer is just right.
Final Thoughts on Nose Clippers
You may have noticed that I only featured the rotary system for the best nose hair trimmer reviews, besides the Philips Norelco nose trimmer 5100. That's because they are the only nose and ear trimmers that I would use myself. I really don't like the foil nose clippers as the straight blade is hard to use effectively. I have a sensitive nose and when I use the foil ones, even the best nose trimmers of that kind, I end up sneezing like crazy. To me, the rotary ones are just easier to use and work very well. As I said, the Norelco nose hair trimmer is the exception as it is designed with curved foil guards so it doesn't scratch the inside of your nose. If you really want to know more about foil guard nose hair trimmers then drop a comment below and I will see if I can help you choose one. Otherwise, if you are in the market for a new one, want the best nose trimmer out there and don't have a preference for one type over another, then check out any on the list of the top rated nose clippers in this article and you can't go wrong.
I'm an outdoor enthusiast and have sported a full beard since I was in my early 20's. Originally, growing a beard was a way to save time when getting ready each day, but I quickly realized that keeping a neatly trimmed beard takes work and some forethought. That's where this site comes in.
You get to benefit from my years of experience. I've reviewed many of the top hair clippers on the market today and also included some information on what works best for me. A great beard will turn lots of heads in your direction.
Since I never know when I'm going to find myself being photographed, whether it's climbing in Yosemite, or playing volleyball on the beach, it's important to me to always look my very best. Maintaining my beard is part of my daily routine and I hope you'll find some useful tips and information on this site to help you on your journey.