It's easy to get swept up into what the next big trend in men's grooming is. Usually it involves a product or treatment that women have already been going crazy about and then gets marketed to guys.
Some of them are just fads, (remember the detoxifying foot pads?) some of them are actually beneficial.
In the case of facial masks for men, it's a case of women having been doing this for ages, and men finally feel like they can do it too without being judged.
It isn't some grand marketing scheme, face masks do actually work and now guys can finally start taking advantage of the detoxifying properties of a good face masque.
Don't worry, bearded guys, you can use a face mask, too. This clay based face mask from Amazon.com is best for facial hair.
In this article I will outline how and when to use a face mask and review the best face mask for men according to skin type and issue.
For those that don't have time to read the whole article, then here is a comparison table of the best face mask for men to quickly get you the information you need.
When to Use a Face Mask for Men
Is it worth it for men to use a facial mask?
Not everybody needs one, but everybody can benefit from one, for sure.
The thing is, men actually need skin care products more than women do. Especially these best face mask for men and creams too!
Our skin is 25% thicker and takes more of a beating than a woman's. Then there is the issue of excess sebum production. Men excrete more sebum which can clog pores and keep the waste in your skin from getting out. It's important to detox your face and you can do that by using the best face mask for men.
Why do women take better care of their skin then if they don't need to as much as guys? Women tend to show their age faster than men, so they use a lot of products to slow this down. But, as far as skin health, men definitely need to do a better job.
If you suffer from oily skin and have a hard time finding a face cream that keeps your skin looking fresh, then a mask is definitely the way to go.
Masks will get down deep into the top layer of the skin, remove excess sweat and dirt from the pores and open up your skin for additional products to get easily absorbed.
For guys with blackheads, there is no better way to get rid of them than by using one of the best face mask for men. Especially peel off masks for men. These grab onto the blackhead and you simply peel them right off of your face. Then you have a clean slate to use a good face cream to keep them from coming back.
Another time to use a face mask is if you work outside or spend a lot of time outdoors. Air pollution is a threat to your healthy skin that you might be trying hard to take care of. A great way to detox your skin from the impurities that accumulate is to use a deep cleansing face mask.
Lastly, if you have acne that is coming back too frequently even after using good acne fighting products, then one of these best face mask for men can give your acne cream a boost by giving your pores a serious cleanse.
How often should you use a facial mask?
Basically whenever you feel like your complexion needs a boost. A good rule of thumb is to do it once a week.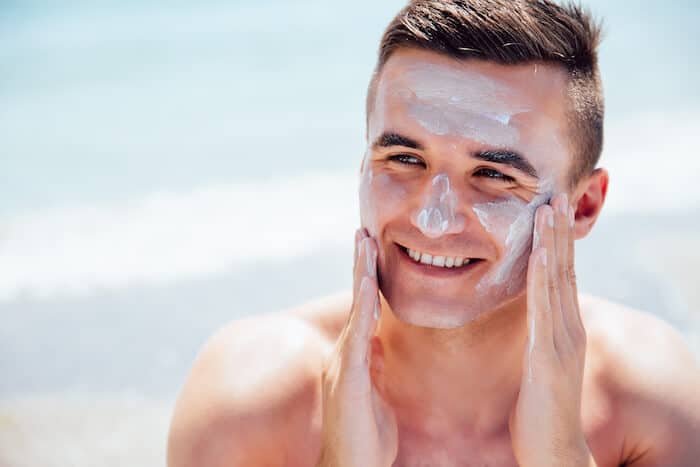 How to Apply a Face Mask for Men
Here is a step by step guide on how guys should use a face mask:
Step One
Wash your face well before applying to make sure you have as many impurities removed as you can. This will ensure that these best face mask for men can work it's magic. Here's a list of some good soaps to cleanse your skin.
Step Two
Thoroughly dry your face. Be gentle, though and don't scrub too hard with the towel. You just need the skin dry to apply the mask. Scrubbing too hard with the towel can end up making your skin feel sensitive and the mask my irritate your face.
Just pat it dry and wait a few minutes before applying the mask.
Step Three
Follow the instructions on the label for the application. Different types of masks will require a different process. Keep in mind that you don't want to get too close to the eyes as your skin can be more sensitive there, not to mention the risk of getting some in your eyes.
Don't leave the mask on for longer than is recommended to avoid irritating your skin.
Step Four
Wash off the mask thoroughly. You shouldn't need to use a face wash to get this completely off of your skin as many masks wash off easily enough with just warm water. Doing this in the shower is probably the easiest way and less messy to boot.
Step Five
Now that you have your skin brand new and ready to soak up whatever comes its way, apply a good moisturizer.
Using a good one will rehydrate your skin, get nourishing vitamins deep in the layers and keep the moisture locked in to protect your skin for longer.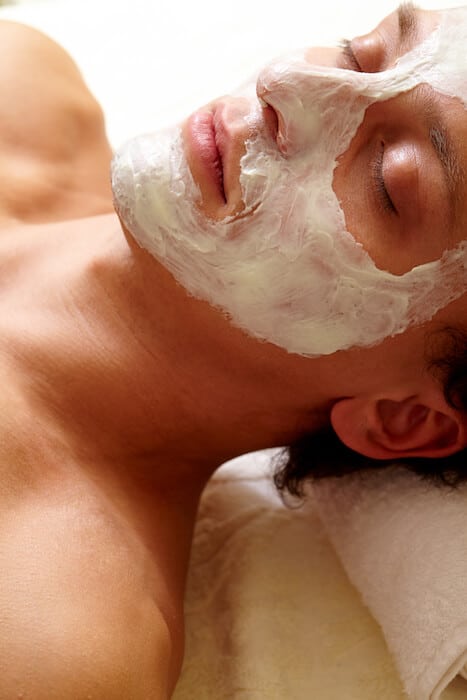 The Top 5 Best Facial Mask for Men
Best Natural Face Mask for Men
RUGGED & DAPPER – Face Mask for Men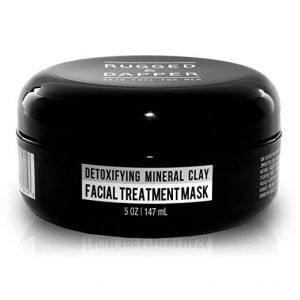 The best way to cleanse your pores and detox your skin is to do it naturally with homeopathic ingredients.
This natural face mask by Rugged and Dapper uses ingredients found in nature that for centuries have been known remedies to improve our skin.
Specially formulated for mens skin, it is highly effective at unclogging pores, removing impurities from the skin and tightening the pores to reduce future acne outbreaks.
Made with Kaolin clay, spiruline, sea kelp and other natural ingredients, it is suitable for all skin types.
These ingredients and more will reduce your wrinkles and lines while nourishing your skin and leaving you with a smooth and rejuvenated complexion.
It has an invigorating tingling sensation when applied and the feeling of absolute freshness on your skin when it is washed off.
In addition to being all natural it is vegan and animal cruelty free.
I love Rugged and Dapper skin care products, so if you need a good moisturizer for when you've washed the mask off, then you should pick up this one from Amazon.com if you don't already have a trusted brand.
Best Facial Mask for Acne
New York Biology Dead Sea Mud Mask for Face & Body

When you have persistent acne and it seems like your usual brigade of skin cleansing products are no longer getting the job done, then it is time for a face mask.
This one with Dead Sea minerals and salts will clean out your clogged pores, remove excess oils, regulate your sebum production and stimulate blood circulation. This is considered as one of the best face mask for men out in the market today.
Detoxifying the skin by removing the dead skin cells also helps to keep the acne from returning.
All of this while still being gentle on the skin.
It works well on any skin type, but is exceptional for those with oily skin. It shouldn't irritate sensitive skin, but since it is rich in mineral salts from the Dead Sea, it should be tested on a small patch of skin first to see how you react.
If it doesn't cause any irritation, it is gentle enough to be used daily while you try to get rid of your acne.
If you really want to beat acne, then using this in conjunction with a good anti acne product like a pad is a great way to go. Once your skin is detoxified and exfoliated by the mask, the skin is cleaned deep into the pores and ready to absorb any of the cream or treatments you prefer to use.
Following up after your acne has cleared by using this once a week will keep your next outbreak at bay. If you do continue to break out, you will see a big reduction in how many pimples result.
Best Men's Face Mask for Oily Skin
Fine Vine Activated Charcoal Mud Mask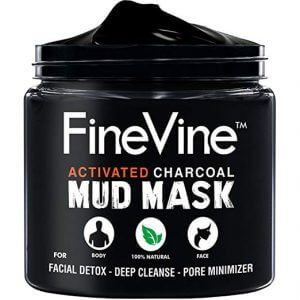 Activated charcoal is so hot right now. Its purifying qualities as well as being highly absorbing makes it a great way to regulate the excess oil in your face.
By using this you are not only clearing out the dead skin cells in the pores, but you are tightening those pores so they don't produce as much sebum later. This keeps your skin from getting oily later.
It does not dry your skin out, though. In fact it works very well at keeping your skin properly hydrated by using ingredients like, aloe vera and shea butter.
The Dead Sea mud detoxifies your skin which allows nutrients to stay in the cells as well as providing more oxygen by improving circulation.
This works great on other parts of the body, too. If you feel like your back or shoulders could use some love, especially if you have back acne, the apply this in the same way you would on your face.
Best Men's Face Mask for Blackheads
Black Mask Peel Off Mask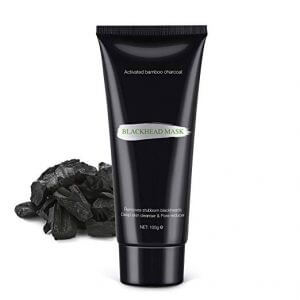 Activated charcoal makes another appearance, but this time in a peel off mask for men.
If you have blackheads, there is no better way to get rid of them than with a charcoal based black mask facial for men.
The charcoal works to absorb all the sweat, impurities and toxins which then just get peeled away.
The mask penetrates deep into the pores and absorbs into the layers of skin. Once you let it set it hardens, which can feel a little tight, when you peel it off, it literally pulls all the blackheads off with it.
Chamomile and green tea will leave your skin hydrated and feeling fresh and invigorated.
This best face mask for men works on any skin type, but since it does have some plant based ingredients that may cause irritation, it pays to do a patch test by applying it on a small area of skin and then waiting a few hours to see if any irritation or rash develops. This probably won't be the case as it is very gentle, but it pays to be safe about it.
Peeling it off can be a challenge. Whichever way you prefer to take a bandage off should be the way you peel this. If you like going slow to minimize the pain when removing a band aid then do the same. Others prefer to just rip it right off quickly to get it over with.
I wouldn't recommend using this as a peel of mask for guys with facial hair. It could rip out some of your hairs and not only be painful but damage your glorious beard. Try one that is clay based and washes off instead of a peel mask.
Best Korean Sheet Mask for Men
MEDIHEAL Teatree Care Solution Essential Mask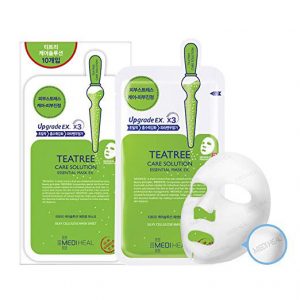 Korean sheet masks are all the rage at the moment. And you heard it here first, this is going to be the next big thing in guys grooming.
What are Korean sheet masks?
They are cotton sheets that are soaked in serums that will aid in combating various skin problems.
This serum is packed with vitamins and ingredients like hyaluronic acid, which is incredible at keeping moisture in your skin.
Instead of applying a cream, you open up the packet and lay the soaked mask on your face.After 15 or 20 minutes, you remove it, gently rub the remaining liquid on your face into your skin and then apply your favorite moisturizer afterwards.
These sheet by Mediheal are soaked with tea tree oil and other natural extracts to deliver a refreshing and invigorating way to treat blackheads and detox your skin.
If you suffer from dry skin, then this is a great way to get some moisture back into your skin where it belongs. It will tone your skin leaving you with tighter pores and a glowing complexion.
If you have mild acne that flares up occasionally, then you will see fewer outbreaks in the future.
Best Exfoliating Men's Face Mask
Avant Charcoal Face Mask for Exfoliating and Hydrating

If you have a lot of blackheads due to clogged pores, or even see some dark spots on your skin you would like to get rid of, then this exfoliating charcoal face mask is a great option.
One of the best all around deep cleansing face mask, this is great at exfoliating and cleaning deep into the pores.
The Kaolin clay is remarkable at detoxifying the skin and removing the impurities that cause blackheads and other blemishes. There are micro exfoliating volcanic mineral that gently exfoliate the skin and leave it soft and glowing.
If you have oily skin then using this weekly will help regulate your sebum production and keep your skin from getting greasy. Used in conjunction with a skin moisturizer and you will be doing your face a big favor.
The ingredients also help boost collagen production for plump and youthful looking skin.
So, if you are looking to exfoliate, remove blackheads, get rid of dark spots and tighten up sagging skin, then taking 15 minutes per week to do this sounds like a great deal.
Final Thoughts on Face Masks for Guys
After reading the reviews on the best facial mask for men products, I hope that you have settled on the one that you think will be best for you.
As you can see, there is one for every type of skin and each has its specialty for getting rid of certain skin conditions.
If you have any doubts about it, then just try one and see what you think. And of course, let us know either way if you found results or not by leaving a comment in the box below.
Though I love it when I can point somebody in the right direction by recommending a winning product, there are times when it falls flat and I like to know those stories, too.