It's important to multitask these days as guys are busier than ever.
If you can find a way to remove your hair while you do something else, that would classify as a big win.
If you use one of the best hair removal creams for men, then you can do just that.
Apply some hair removal cream to the area you want hairless and find something else do for a few minutes.
Then wipe it off, apply a hair removal cream aftercare lotion from Amazon.com and enjoy the feel of a baby's bottom. We tend to call all hair removal cream Nair these days, much like a bandage is automatically called a Band-Aid. The truth is that there are a lot of different hair dissolving creams for men that are alternatives to Nair and work best on certain body parts.
These days you can find a hair removal cream for your head, pubic hairs, body and even face. To find which one you need depending on your affected zone, then read on for all the reviews. If you don't have time, then just take a glance at this comparison table below for the best hair removal creams for men.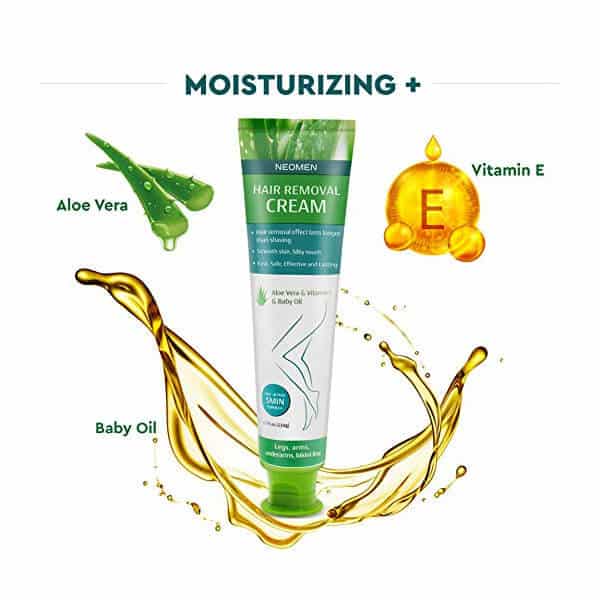 NEOMEN Hair Removal Cream

Best for:
A gentle and safe way to rid yourself of unwanted pubic hairs that also moisturizes.

Moisturizing:

★★★★★

Additional Ingredients:
Aloe Vera, Vitamin E, Baby Oil

Price:
$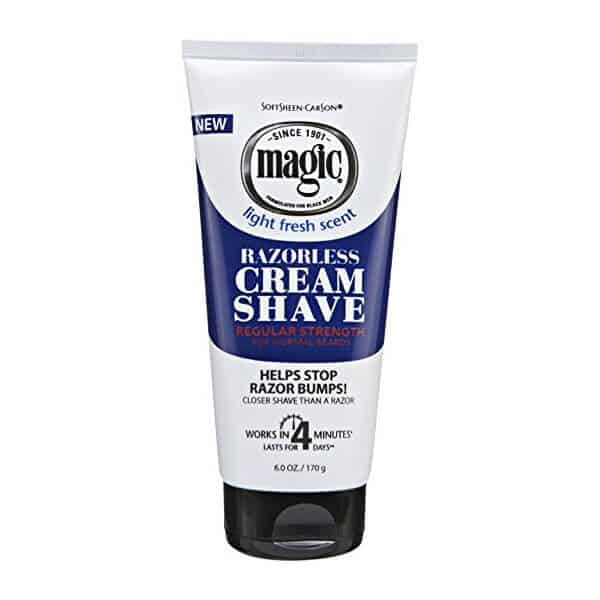 Magic Razorless Cream Shave Regular Strength

Best for:
Guys that hate to shave or are tired of getting ingrown hairs from razors.

Moisturizing:

★★★

Additional Ingredients:
Shea Butter

Price:
$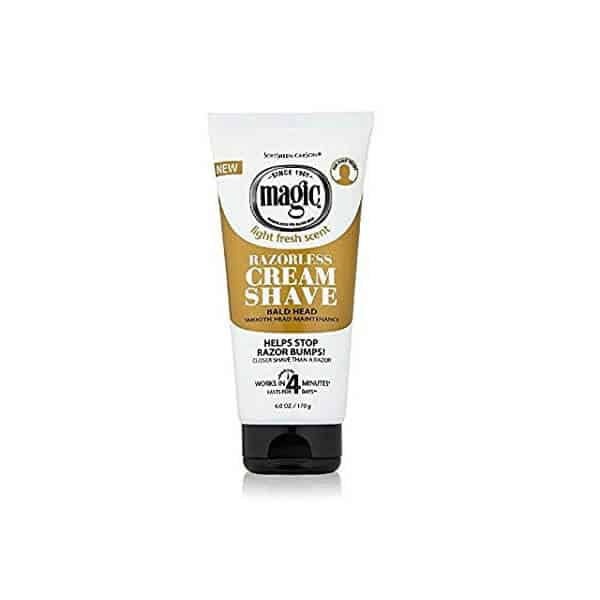 Magic Razorless Cream Shave Bald Head

Best for:
When you don't want to deal with taking the time to shave your head but want a nice baldie.

Moisturizing:

★★★★

Additional Ingredients:
Olive Oil, Shea Butter, Aloe Vera

Price:
$$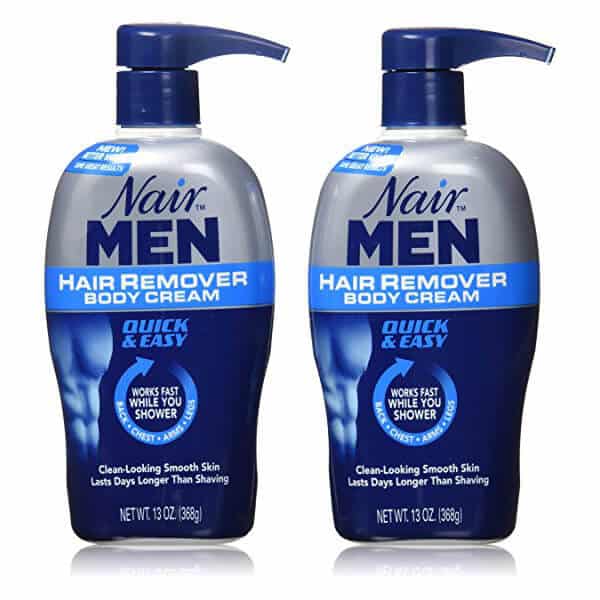 Nair Men Hair Removal Body Cream

Best for:
Use this for any part of the body except for the face and genitals. Chest, Back, Arms etc.

Moisturizing:

★★★

Additional Ingredients:
Aloe Vera

Price:
$$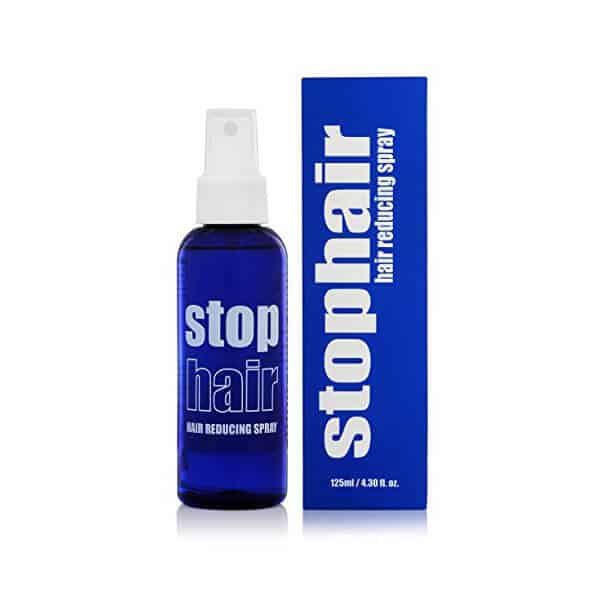 Stop Hair 100% Natural Hair Growth Inhibitor

Best for:
Use after hair removal cream to stop future growth of hair with an all natural product.

Moisturizing:

★★★★

Additional Ingredients:
Glycerin

Price:
$$$
What to Look for in a Men's Hair Removal Cream
The very first thing to look for is whether or not the best hair removal creams for men is best for the area you want to get rid of hair or not. If you're going to use a depilatory cream for your genitals, then you don't want anything too strong. To remove the hair on your back with a hair dissolving cream can withstand some stronger ingredients, so you don't have to be too careful there. Some creams are made as razorless shaving creams and can be used on your face. But, that doesn't mean that they all can. I'll go over all the different types of hair removal creams in a minute.
When your hair is dark, you'll really want a cream that penetrates deep to the roots to dissolve away the entire follicle. Since your hair growing in is going to be dark stubble, you'll want to get as much time as possible before that happens.
Also look for one with a moisturizer since you will be using your depilatory cream more often than if your hair is fine. These creams can be quite harsh when you use them often and you'll need to repair your skin afterward. More on that in a minute, though.
Consider your hair type
If you have really thick hair, then a gentle formula may end up taking several sessions and could cause some irritation because of overexposure. If your hair is fine, then you can get away with a more mild formula.
Consider your skin type
If you have sensitive skin, then you not only should look for a gentle formula but one that has moisturizers in it to reduce any irritation. Also, check how long it takes for it to work. If it takes more than 10 minutes for it to work and your skin is sensitive, then you may want to skip that one. Look for one that takes less than 4 minutes and you reduce the time the chemicals are on your skin.
What's in your depilatory cream?
Some of you may not care about the ingredients in your depilatory cream. As long as it works and doesn't cause your skin to peel off then that's all you care to know.
For the others that need to know what they are getting into with a product that can cause some irritation, or worse, then read on for a list of some of the possible ingredients.
Thioglycolate Salts and Sulfides
These ingredients are probably the most common ones found in hair removal creams. They are types of acids which will dissolve the hair down to the bulb. These are more commonly used now as they don't have that funny sulfuric smell like the Nair of old. They do have a chemical smell, just not as pronounced so look for these if you are looking for a less offensive odor when you use a cream.
These typically are more gentle while still doing a great job at dissolving the hair, albeit they take a little bit longer to work.
Sodium Hydroxide and Calcium Hydroxide
Dissolving your hair is all about the pH of the ingredients. With a high pH, or alkalinity, will work to break the keratin bonds which is the structure of the hair follicle.
The high pH of these hydroxides means they are very effective at doing this, yet are a bit more gentle than thioglycolate, with the calcium hydroxide being the more gentle of the two.
Diluents
Many of the chemicals would harden up or become hard to apply if not for a diluent to break them up. To make it more lotion like and easier to apply, they add a chemical like hydrogen dioxide also known as water.
Water is the most common since it doesn't irritate the skin, and most importantly for the manufacturer, doesn't cost much if anything at all.
Emollients
An emollient is simply a moisturizer which can come in many forms. Many of today's hair removal creams contain more emollients than harsh chemicals that dissolve the hair.
It is important for the cream to have these to subdue the effects of the alkali that are so prevalent. Many of these can wreak havoc with the skin. Emollients to soothe the skin are usually in the form of aloe vera or other essential oils.
Side effects of depilatory creams
Most people are going to have no side effects from using a hair removal cream at all. They have been recently formulated to be incredibly gentle considering the types of chemicals you can find in them.
Since there are some harsh ingredients, however, you may be one of the few to experience some of the side effects like the ones that follow.
Skin Irritation – The most common side effects that can be considered irritation are dryness, itching, rash and sensitivity. Nothing major in other words and they go away quickly.

Chemical Burns – These generally happen when you leave the cream on for too long. Hair breaks down faster than skin so you don't need to leave it on so long that it burns you.
Tips on Applying Hair Removal Cream for Men
Even though the chemicals used in depilatory creams are not quite as harsh as they used to be, you still need to be careful. Especially if you are using it on tender areas. I always say this when advising about using any grooming products that pose any kind of risk: If it could damage your hair, you can always grow more. If it damages your penis, well, until modern science comes up with a miracle to grow another, you should be as careful as possible. Here are the things to keep in mind when you are about to use the best hair removal creams for men you can buy on the market.
Read the instructions
Seems pretty obvious, but I know guys. We think we already know it all and what's the worst that could happen! Well, this is one of those times you really need to read up.
Follow the instructions
Again, pretty obvious but it bears stating. If it says to only leave it on for 5 minutes, then time it and remove at 5 minutes. Don't push it thinking you can tough it out if it starts to burn. You risk a chemical burn that could have been avoided. If it says not to use it again within a certain amount of time since the last application, then don't try to use it before that. Again, you can really damage your skin if you ignore the warnings.
Do a patch test Since you won't really know how your skin will react to a load of chemicals, it pays to do a small area first and see how it reacts. If you're going to use it on your body, then find a spot that won't be seen after if it doesn't work out. If it is a facial hair removal cream then you might want to avoid any area where it will rub against a collar or anything that will be painful if you end up with a rash. Follow the instructions and then wait a while, up to 24 hours. If it doesn't burn then you're good to go. Any sign of irritation or redness and you may want to consult a dermatologist before you proceed with the entire area.
Check your skin condition Did you get a little too much sun and have a sunburn? Then you definitely want to wait before you use any depilatory. Do you have any cuts, sores or scratches on the area where you plan to remove your hair? Then again, wait until your skin is clear of any wounds, rashes, blemishes or any other skin condition. You really don't want to cause any long-term problems by using a hair dissolving cream on a skin condition.
Hair removal aftercare
A lot of the best hair removal creams for men contain soothing ingredients as well as moisturizers to keep your skin in good shape after you remove the hair. It's a good idea, though to use a skin moisturizer that will hydrate the skin. Ones with shea butter, argan oil or jojoba oil are best. If you have sensitive skin and find your skin a little uncomfortable, then try one with those moisturizers plus soothing ingredients like aloe vera or chamomile extract.
Our Picks for the Best Men's Hair Removal Creams
Best Genital Hair Removal Cream for Men
NEOMEN Hair Removal Cream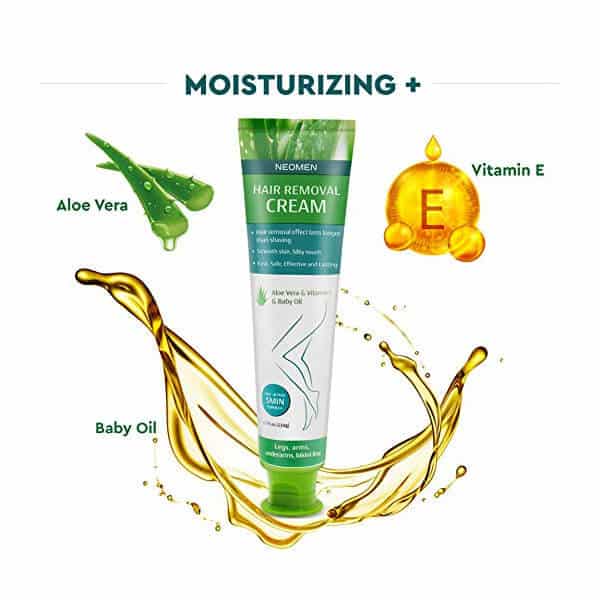 When you're looking for a penis hair removal cream, it is important to be careful.
Try using a hair removal cream for balls that is gentle no matter where you use it on your body. (They recommend not using it on your face, however)
Formulated as a painless hair removal cream for your private parts, it works as advertised even on those more sensitive areas like your scrotum. It is packed with moisturizers to get your skin feeling smooth and soothed as soon as it is wiped off and dried. It comes with a spatula that they recommend using to apply and remove the cream.
They advise not using your hand or a dry cloth as they claim it may damage the skin. In this case, I would definitely say it is best to do it as instructed. Wipe only a small area with the spatula first to make sure it worked. If the hair comes right off then go ahead and wipe it all off. If there is still some hair there then follow the instructions as to whether you should leave the cream on or not.
Super thick hair might not come off on the first pass as it is a gentle formula. Best to size up your pubes and if you think they are especially wiry then try VEET Spray On Hair Removal Cream Sensitive Formula from Amazon.com. This one packs a little more of a punch though so go easy and don't keep it on long.
Best Facial Hair Removal Cream for Men
Magic Razorless Cream Shave Regular Strength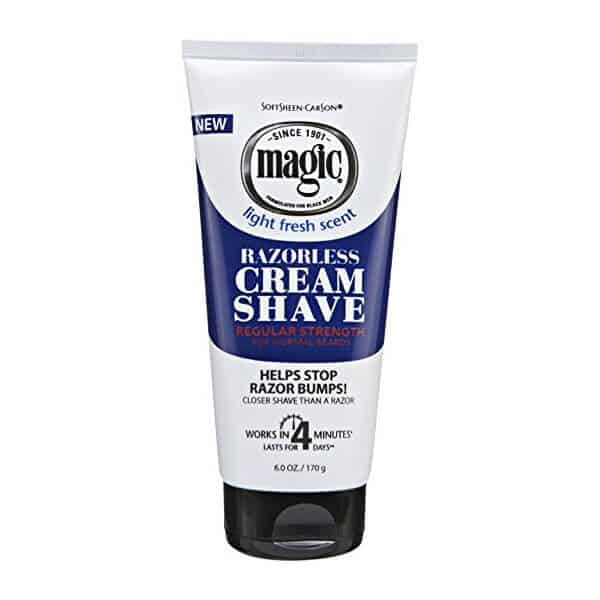 Whether you just hate shaving or you are tired of getting ingrown hairs from your razor, a good bet is to use a razorless shaving cream. The best brand is definitely Magic Cream.
It may seem a bit extreme to use a facial hair removal cream, but as long as your face is not too sensitive, you can apply this, go about your morning for the next 6 to 9 minutes, then wipe it off revealing a smooth face.
This is especially handy and one of the best hair removal creams for men with darker skin color.
Since so many black guys have wiry beards that are tough to shave without discomfort, plus are prone to ingrown hairs, then using this cream is a great idea. When you apply this, make sure your skin is dry so it works as advertised. Once you have it on for 4 minutes, check a small patch to see if it removed all the hair. If it hasn't, wait 6 minutes up until it is gone or until the full 9 minutes. This works well on stubble, but not too close to the skin. If you have recently shaved it is best to wait.
A Monday morning after letting it grow through the weekend is your best bet. The best part is that once you take your beard off, roots and all, it will take longer for it to grow in. You should get up to 4 days before you see any stubble depending on how thick your beard is. After you use this, don't be tempted to throw on some aftershave! You should definitely put on a face moisturizer from Amazon.com once you have wiped it, rinsed it and dried your skin after to soothe and hydrate your skin.
Best Hair Removal Cream for Head
Magic Razorless Cream Shave Bald Head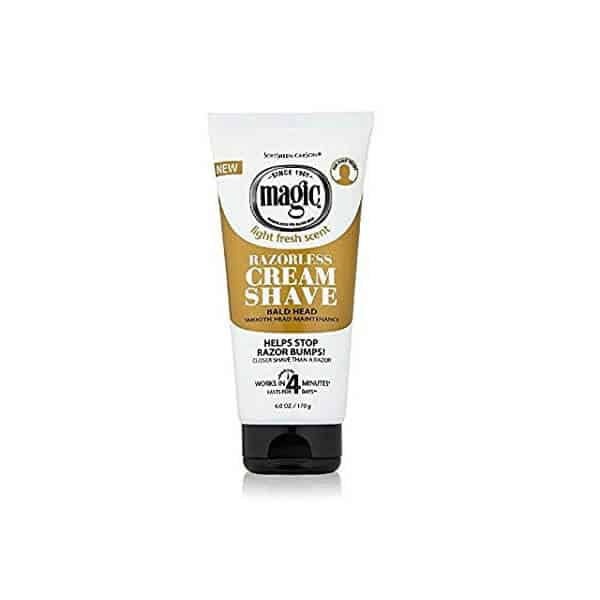 Unless you have a particularly sensitive scalp, using a hair removal cream for your head is the best and fastest way to go from hirsute to hairless in minutes.
Since the hair on your head is very dense, it takes a strong hair dissolver to do the job. Even if your hair is fine or thinning, it has more hair per square inch where it does grow than anywhere else on your body.
Using any old hair remover cream could be tough on your scalp, so that is why I like this one by Magic Cream.
Just like the previous one I just reviewed that is formulated as a facial beard remover cream, but this time for your head hair. It is gentle enough to use on your head or other parts of your body. One bit of advice, however, is that you may need to use a little bit extra to make sure that all the hairs come off. It may take some trial and error to get it to where you know exactly how much to use to make sure you get all of the hairs.
Not only that, but if your hair is very thick or dense, you may need an extra minute or so to remove every hair. Since it is hard to know how your scalp will handle this I highly recommend doing the patch test. I know I recommend it for any application but really encourage you to make sure you do it for your head first.
Best Back Hair Removal Cream for Men
Nair Men Hair Removal Body Cream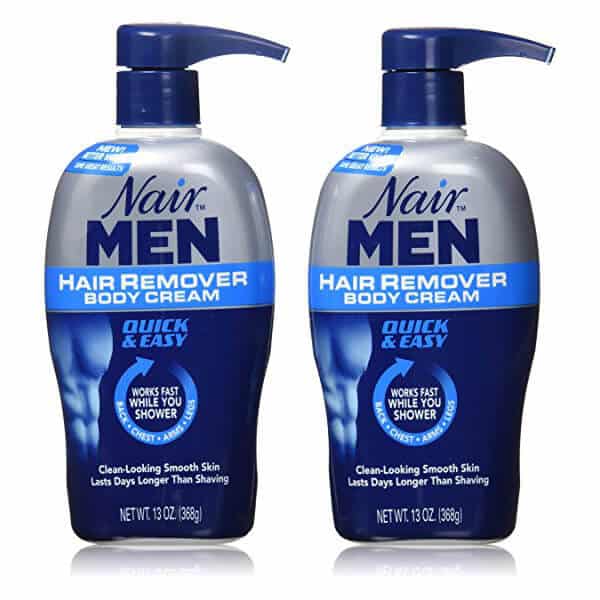 If you have back hair and a friend or lady friend that can help you apply and remove this, then this really is the best way to get rid of back hair.
It is a strong enough formula to take care of even the thickest body hair. If you follow the instructions then you can have a painless and easy experience with removing your back hair with one of the best hair removal creams for men.
If you don't have a friend to help, then you can apply it with this type of a back lotion applicator from Amazon.com. Then wait the time indicated and wash it off in the shower. Make sure the water is only lukewarm, though. If you use hot water it could get really uncomfortable. You can use this pretty much anywhere you have body hair.
Legs, arms, underarms, etc. However, I would not use this for pubic hairs or anywhere on your genitals. It is pretty strong and can be uncomfortable. Definitely go with a gentle one like I reviewed earlier to do that as it is less likely to be too harsh on your jewels. Make sure if you use it as a hair removal cream for your chest that you don't get any near your nipples.
Seriously, really be careful. You can expect to go about 3 or 4 days before you see any regrowth. Once you have a bit of stubble then you can go and reapply. There aren't really any moisturizers in this so putting on a good body lotion that soothes and nourishes the skin is a good idea when you are done.
Hair Removal Cream for Permanent Hair Removal
Stop Hair 100% Natural Hair Growth Inhibitor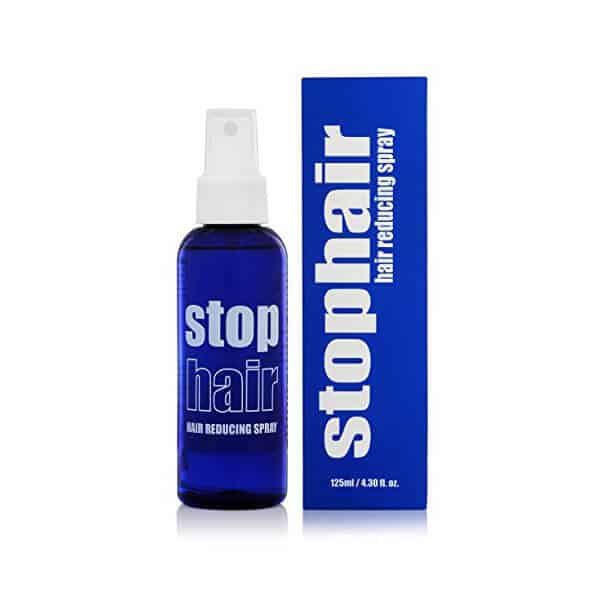 Ok this is not a hair removal cream, but should be used in conjunction with one. And, I have to add, it isn't exactly permanent.
That said, you can seriously delay the return of your hair. If you use one of the best hair removal creams for men they use on their legs, chest or back then your results will be much better than if you try it on your head or face since the hair is not so dense there.
You can see some results on your face, but really what ends up happening is that you just make for a patchy and thin beard when it does regrow. If your pubic hairs are not particularly dense or thick, then you may even get a few months before you need to remove your genital hair with a hair dissolver again. What's really nice about this is that it is all natural.
To be honest, I am not exactly sure how it works, but when you use a hair removal product that gets rid of the follicle, the cream is able to get into where the follicle was an inhibit regrowth. You will likely need to use this for a while before you begin to see results, and the more you use it, the better the results will be. It isn't exactly cheap at almost $50, but it is far less than what you would pay for laser hair removal treatments, especially at a spa.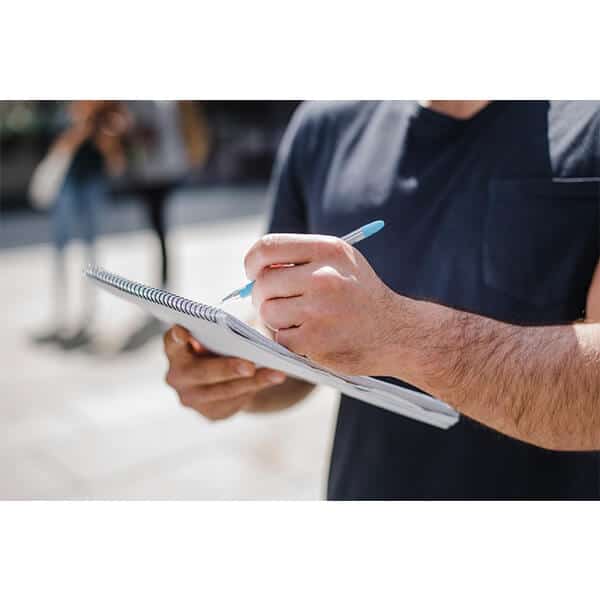 FAQ About Hair Removal Creams for Men
Q: Are there any side effects when using a depilatory cream?
A: Minor side effects like a lingering smell or dry skin after using a hair removal cream are kind of common, but really only uncomfortable for a few minutes at most. Other more serious side effects can be chemical burns which are very painful and can be quite serious. Allergic reactions are rare but also can happen. Doing a patch test is essential to avoid a full-blown allergic reaction
Q: Are hair removal creams bad for you?
A: There are some harsh chemicals in depilatory creams that can be nasty as I just answered regarding side effects. But, if your skin is healthy and you follow the directions precisely, then hair dissolving creams should not be dangerous to use. There do not seem to be any long-term health problems associated with using hair remover creams.
Q: How often can you use hair removal cream?
A: If you had any adverse reaction to the cream, then best to wait a few weeks to try it out again. Assuming that there were no issues or discomfort, then you can use it once a week depending on how sensitive your skin is. Don't use it every day as you could damage your skin.
Q: How long does hair removal last?
A: this really depends on what body part the hair is removed from and how thick your hair is. From your legs or underarms, you could probably get a week or longer. Your private area or face probably 4 days or so. Maybe 3 to 4 days for your chest and back.
Q: Does hair removal cream work on stubble?
A: The best hair removal creams for men is best when the hair is a bit longer since it can dissolve the hair down to the roots. But, it can also work on stubble. Just make sure you are not using it too often so your skin can take a break.
Q: Does hair removal cream cause ingrown hairs?
A: not only does depilatory cream not cause ingrown hairs, it is an ideal hair removal treatment for people that often get ingrown hairs. Since the cream works all the way down to the roots, when the hair grows back in it is growing straight out. Even wiry hair is less likely to become ingrown. Ingrown hairs are caused when the hair grows after the skin has formed over the follicle of the hair. This mostly eliminates that problem.
I'm an outdoor enthusiast and have sported a full beard since I was in my early 20's. Originally, growing a beard was a way to save time when getting ready each day, but I quickly realized that keeping a neatly trimmed beard takes work and some forethought. That's where this site comes in.
You get to benefit from my years of experience. I've reviewed many of the top hair clippers on the market today and also included some information on what works best for me. A great beard will turn lots of heads in your direction.
Since I never know when I'm going to find myself being photographed, whether it's climbing in Yosemite, or playing volleyball on the beach, it's important to me to always look my very best. Maintaining my beard is part of my daily routine and I hope you'll find some useful tips and information on this site to help you on your journey.