What is body spray?
Is it a deodorant? Is it a cologne? What is the point to use a man's body spray?
I'm always saying that there is a tool for every job. A body spray for men is simply just another tool to have your grooming arsenal.
When you need to smell your best but it is not the right time for a cologne, that is the perfect time to bust out a man's body mist to freshen up.
There is a body spray to suit every taste and budget out there. From men's body powder sprays on Amazon.com, to cheap body spray on Amazon.com you'll no doubt find what you are looking for.
In this article I will review the best mens body sprays in a range of scents and prices. If you don't have time to read the whole article, then check out the comparison table below for a concise run down on the top body sprays for men. Otherwise, for more details keep reading for the whole reviews.
When to Use a Body Spray
Before I address when to use a body spray, let me answer a couple of common questions on how to wear body spray.
What is the difference between body spray and cologne?
Body spray is not a perfume like cologne Usually cologne is made of perfume oil dissolved in alcohol. The oil sticks to your skin and lasts hours. It's not aerosol and can either be sprayed via an atomizer or splashed on.
A body spray may actually have some parfum, but in such low quantities that it does not last long. Body spray is more similar to a deodorant than a cologne.
What is the difference between body spray and deodorant?
Technically there isn't much of a difference. The ingredients will vary between the two since deodorants used under your arms are supposed to react directly with sweat to either mask the smell or prevent bacteria from forming to make body odor.
Body spray is a spray for the whole body to just freshen up your scent overall. You wouldn't use body spray under your arms like deodorant as it wouldn't be as effective, and you would still want to wear some deodorant under your arms even when using body spray to not have stinky armpits.
What is body spray good for?
Use a body spray when you want to add some scent to your repertoire but cologne wouldn't be appropriate. For instance, you're going out to dinner at a nice restaurant and cologne would be too strong. You pick up your date and make a nice impression with your scent for the ride to the restaurant. Impression made, the scent wears off before the drinks arrive.
After the gym is another good time to wear men's body spray. You hopefully have taken a shower after, but you really want to get back to the office smelling great so you spray some on before getting dressed.
Then there is the time that we have all experienced when you had a bender the night before and your pores are oozing the smell of the beer you drank last night. Even after a shower, you still smell like a brewery. Time for a body spray to remove the evidence of your good time.
Lastly, unfortunately, we have all had an alarm that didn't go off in the morning. You wake up late for work and don't have time to jump in the shower. Not wanting to smell stale, you spray yourself up with some clean smelling body spray and you're on your way.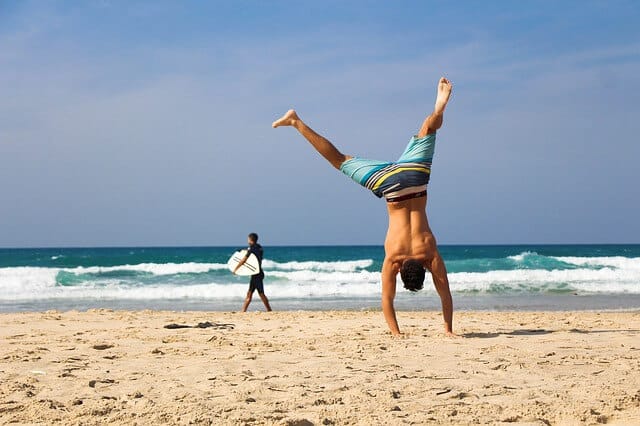 Our List of the Best Body Sprays for Men
Best Men's Body Spray for Summer
Davidoff Cool Water Body Spray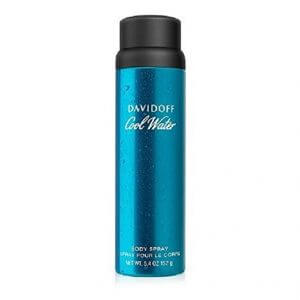 Davidoff's range of fragrances are classics that just make you think of summer by the seaside.
The name Cool Water could not be more appropriate.
The blend has hints of various scents with none of them standing out too firmly. You'll detect subtle fresh mint notes, some lavender and an unidentifiable citrus, in the vein of a bergamot.
It is very fresh, very refreshing and has a classic calone aquatic breeze to it. The heart notes that come in after the crisp top notes are a little floral with neroli coming through the most. The drydown lasts quite a while and has some slight musk qualities to it.
Expect this to last a few hours as it is one of the longest lasting among the best mens body sprays we'll discuss here.
If you don't like sweeter smelling men's fragrances then this is ideal for you. It just has a clean and light scent that will give off a sort of aftershave smell, except that it lasts longer and is applied to the whole body.
Best Natural Men's Body Spray
ASUTRA Premium Aromatherapy Mist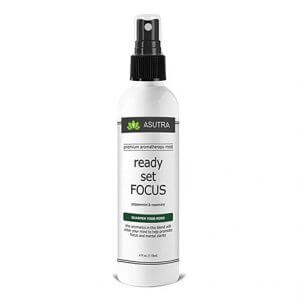 Let's ignore the aromatherapy aspect of this body spray and just focus on whether it is a nice smelling one instead.
If you are into aromatherapy, then let that be a bonus of this spray. For the purposes of this article I want to guide people to body sprays that make them feel good because they smell good. If you do try this one, let us know if you did end up feeling like you had more focus because of it.
Though this is a unisex body spray, it has a scent that works well for men. It has a bright and refreshing peppermint smell followed by some earthy rosemary.
In addition to smelling clean and bright, it also has some skin toning ingredients to keep your skin feeling healthy and soft. It has aloe vera and jojoba essential oils in it to rehydrate your skin. This is great to use after a day at the beach when your skin needs a boost.
It is quite long lasting as it doesn't contain any alcohol and the essential oils really work their way into the skin.
Without any phosphates, no animal testing and hypoallergenic, it is a cruelty free and guilt free grooming product.
Best Old School Scent Body Spray
C.O. Bigelow ELIXIR GREEN Men's Deodorizing Body Spray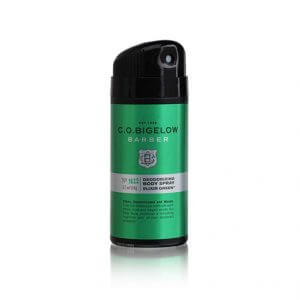 If you love the smell of shaving soap, scented barbershop neck powder or the classic aftershave that leaves you smelling like you just spent the afternoon at the old school barber, then you will love this unique body spray.
CO Bigelow products are a great throwback for guys that love retro or vintage men's scents.
This one in particular has a decidedly woodsy aroma with some earthy hints of musk and oakmoss. Classic old school men's fragrances.
If you are looking for the best mens body sprays for winter or autumn then this is definitely the one. Warm masculine fragrances like the amber that comes through on the drydown will have you dreaming of sitting by the fire after skiing all day. Tumbler of single malt scotch in hand and you feel like it's a good time to be a guy.
It features mostly natural ingredients and fragrances, too.
The only downside is that it is not as long lasting as some other best mens body sprays out there.
Best Vanilla Body Spray for Men
Playboy Male Body Spray, Vegas Scent

Another great scent for winter or autumn, this warm scented body spray is ideal when you are looking for a classic, sensual masculine scent with some vanilla and musk.
It lasts quite a while, too. Expect to get a few hours out of it before it starts to dissipate.
While it is dissipating, you will find a full range of warming aromas. It starts out crisp with some citrus like bergamot and crisp apple. The heart notes that come through in the middle of the drudown are more herbal with some lavender and black tea aromas. Then the basenotes feature those rich, deep scents of the vanilla and musk.
It smells very manly and elegant. Classy, even.
Best Polo Body Spray for Men
Ralph Lauren Polo Red Body Spray for Men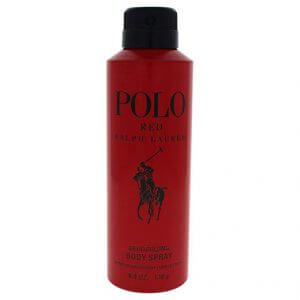 This scent is not for everybody, I should say before beginning.
If you like sweeter men's body spray fragrances, however, you will love this one. That isn't to say it is overly sweet or dessert like. It just starts out with a sweet, spicy note and the drydown gives way to some citrus and spice with some slightly floral notes reminiscent of saffron.
The basenotes are a very subtle woody fragrance.
This is a quickly dissipating body spray, so if you just need a quick, refreshing pick me up then you won't be disappointed.
Polo body sprays are very popular, mainly because the scents are not overpowering and are definitely female friendly. Women seem to love when guys wear polo products so that is another check in the plus column for this deodorant body spray.
Best Cheap Body Spray
Nautica Voyage N-83 Body Spray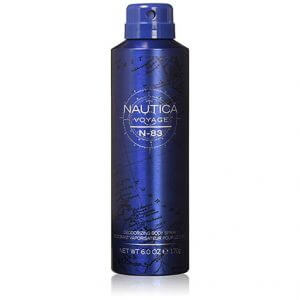 When you want to have the world think that you just spent the day out on your yacht, then this aquatic scent will definitely do the job. And for a great price. You don't have to spend a fortune to feel like have a fortune.
This is also a great fragrance for the workplace since it is very clean, crisp and unassuming.
It starts out with the marine scents that hit the right aquatic notes with a nice calone. As it dries down it starts to feel a little a little woody with some spicy cedar with lavender for a clean pick me up.
The basenotes are more about the musk and amber to round out the sweetness that comes throughout the dry down. Just enough to keep a masculine scent without overpowering.
To make a comparison, though not a precise one, if you remember your dad's Aqua Velva aftershave, you can get an idea of sort of where this one lies on the fragrance profile. Though it has a slightly sweeter scent. It doesn't smell as cheap, either, even though this is one of the most inexpensive best mens body sprays I have found that is still of a high quality.
Best Designer Body Spray for Men
Tom Ford Fleur de Portofino All Over Body Spray

Tom Ford makes some of the best colognes for men on the market, so it is no surprise that this cologne body spray hits so many of the marks that makes people love his fragrances and is considered as one of the best mens body sprays nowadays.
This is the perfect summer body spray and its name definitely suggests it as such. It has a lively citrus fragrance in the beginning, which definitely reminds of a Mediterranean summer day. Mostly orange blossoms, it starts out on the sweeter side. That sweetness gives way to some aggressive floral notes like jasmine and hyacinth. It is a unisex body spray, but there is a slight backbone of woody cedar in there somewhere before the basenotes turn on the sweet honey at the end.
This is quite a complex and long lasting body spray. As your body heats it reveals new layers of fragrances that just keep changing while keeping the same backbeat of citrus and floral arrangements making it definitely one of the best mens body sprays.
Best Way to Apply Body Spray
Applying body spray is not complicated and only takes a second, but there are a couple of things to remember.
First, don't apply it as soon as you dry off out of the shower. Let your skin air dry for a few minutes to let any excess dampness dissipate. If you put the body spray on as soon as you finish towel drying, the moisture on the surface of your skin will prevent the spray from absorbing and it won't last long.
Next, don't spray it on your clothes. You need it to get into your skin for it to last long. Not only that, but the warmth of your skin will allow all the fragrances to come out naturally over time. If you spray it on your clothes, it won't have a chance to let all the complexities of the fragrances to come through and you'll only get about an hour out of the spray.
Lastly, try to use the same or similar scent for your deodorant for your armpits. You don't want the scents to have to battle it out. If you use a powdery deodorant, then that will likely either conflict with the more masculine scent of the body spray, or overshadow it completely. From the list of the best mens body sprays we reviewed above, make sure to pick the one that's best for you.
How long does body spray last?
That all depends on how much essential oils or perfume fragrance oils are used. The more oil it has, the longer it lasts. A good rule of thumb is to only expect to get a few hours, tops out of your body spray.
It isn't a cologne or eau de toilette so the concentration of fragrances is very low. If you need a longer lasting scent then go for an eau de fraiche, which is the lowest grade of cologne that will still last longer than a spray. Hope this review of the best body sprays for men gave you all the answers you need!