Let me get something out of the way before I start the reviews of the best hair thickening shampoos for men.
This is not an article about how to regrow hair with a DHT blocking shampoo.
None of the shampoos I'll review in this article will regrow your hair or stimulate regrowth. These just add a lot of moisture and work on the cuticle to make your hair thicker.
Honestly, for most guys that have thinning hair, this will be good enough to improve the look of their hair.
If you really want to hedge your bets then I will add some of the best hair thickening products that will work great in conjunction with a shampoo.
Read on for all the details!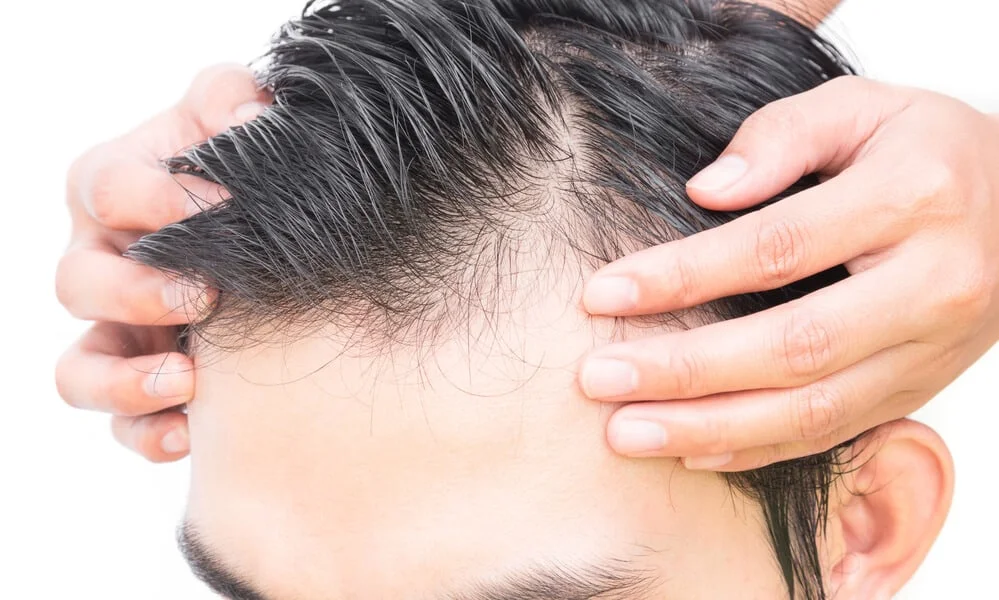 Do Hair Thickening Shampoos Really Work?
If you're asking if hair thickening shampoos work to make your hair feel thicker, then yes they work. If you are asking if they regrow your hair, then no, they can't work to grow hair where there is no root left.
There are shampoos that can stimulate your scalp to encourage dormant hair roots to start growing hair, however.
And when you are using the best hair thickening products, the shampoo can help the weaker, wispy hairs that are starting to regrow to grow in thicker and more healthy.
And some hair thickening shampoos for men will even speed up the growth of your hair.
If you are using Minoxidil or Propecia, then using one of these volumizing shampoos will really help the whole process to work much better than if you used the hair regrowth product on its own.
What To Look For
Before you can find the right shampoo to make your hair thick, you need to understand exactly what you need it to do, and what kind of hair you have. Then you can zero in on what ingredients the best hair thickening shampoo should have and which ones you should avoid.
What is your hair type?
I would actually add scalp to that, too. Why is this important?
Well, each shampoo treats hair and scalp differently. Fr example, there are clarifying shampoos out there that will get rid of dandruff and greasy scalp and hair.
If you have dry scalp and use a clarifying shampoo, you'll have an irritated and uncomfortable scalp.
You can see how it is important to evaluate your hair and scalp to avoid any problems and wasted money.
Normal Hair and Scalp
Most guys have a well-balanced scalp and can use a regular shampoo whether it is a thickening shampoo or not.
The odd thing is that it can be difficult for guys to find a shampoo that is not meant to treat a hyper-specific type of skin or hair.
Oily Skin
You only have oily hair if your skin produces to much oil. Some people mistakenly believe that their hair attracts excess oil.
The fact is that some people have sebaceous glands that work in overdrive. The sebum is good for your hair and keeps it moisturized, but too much makes your hair look greasy.
A bigger problem than that is that the oil can clog the pores of the scalp and lead to acne or other skin conditions from bacteria accumulating in the pores.
A clarifying shampoo is needed to rid the scalp of the excess sebum when you end up with problems like acne, but the trick is to leave it balanced so your hair doesn't become brittle.
Usually, a lightweight shampoo that doesn't weigh your hair down will be good enough for guys with oily scalps.
Dry Scalp and Hair
Most guys have dry scalp and it's because they do it to themselves. Many hair styling products and even shampoos leave your scalp stripped of its natural oil.
A good shampoo should clean the hair and moisturize the skin and follicle while leaving the scalp balanced. This includes hair thickening shampoos. They should moisturize and repair the hair as well as clean it so the scalp is not left a desert wasteland afterward.
And, many hair styling products contain alcohol which leaves the hair dry and brittle.
Thin/Fine Hair
Most people that are looking for the best hair thickening shampoo for men have hair that is fine or thin. Not only in the sense that it is becoming thin as it is falling out. I mean the strands of hair individually are not very thick or are very fine, like a thread.
This is the biggest reason to use a thickening shampoo so those follicles end up looking thicker so your head looks more full and less balding. You're not trying to cover anything up, you're just trying to make your hair look better and as a result more manageable.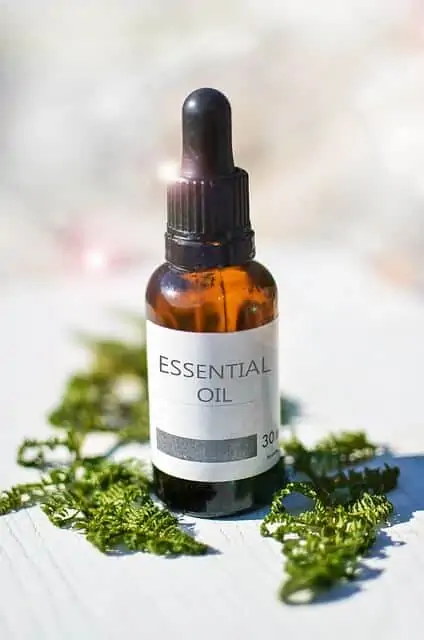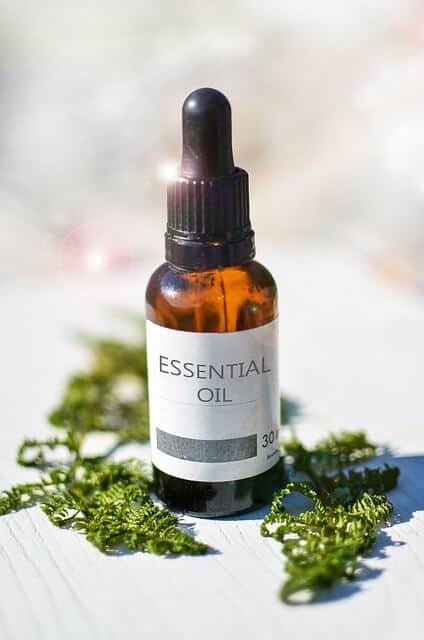 Best Ingredients To Look For
I find the best hair thickening products are ones that are all natural or at least mostly natural. They are generally easier on your skin and hair and don't cause any side effects.
There are plenty of carrier oils and essential oils that work to thicken your hair, stimulate your scalp and are very moisturizing.
Argan Oil
This is one of the best things you can use in any hair product. It works to repair the cells in your hair and skin. For moisturizing, there are not many better ingredients natural or manmade than argan oil.
Besides making your hair thicker and fuller, it can also slow down your hair loss so you can keep the hair that you still have.
Castor Oil
Since castor oil is very high in Ricinoleic Acid which is a fatty acid and is high in Vitamin E. This helps keep your hair healthy and will dramatically thicken it.
Castor oil also helps balance your pH on your scalp so it regulates the amount of natural oil called sebum. This keeps your scalp from being too dry or too oily for a healthier and thicker head of hair.
Jojoba Oil
This is one of the closest things to your body's natural oil called sebum. Because it mimics sebum so well it is one of the best things you can use in your hair when you want it to look healthier and thicker.
Mango Butter
Derived from the fatty mango seed, this butter helps strengthen your hair and lock in moisture. It is very rich with nutrients your hair needs to build up a strong cuticle. This will make your hair thicker and very soft while still preventing breakage. If you have thin wispy hair it will benefit a lot from a thickening shampoo made with mango butter.
What To Avoid
There are a lot of shampoos that contain harsh chemicals that can end up damaging your hair and scalp and even lead to some health problems down the line.
Why are they there in the first place?
Many of these chemicals can give you some short term benefits in appearance so it seems like they are working well. And they are much cheaper than using naturally derived ingredients. After some time they will end up having the opposite effect that they supposedly treat.
Ingredients like Parabens, SLS (sodium lauryl sulfate) petrolatum (or any other petroleum-derived ingredient), phthalates, DEA, TEA MEA or any silicones.
Best Hair Thickening Shampoo for Men
BRÖÖ Craft Beer Thickening Shampoo

As the BRÖÖ company says, it is true that everybody looks better with beer!
But, why put beer in shampoo? Does it thicken your hair?
Well, no it doesn't. It does have some other benefits that make your hair healthy and there are thickening ingredients in the shampoo that do help make your hair thicker.
With aloe vera gel and coconut oil, it will give your hair thickness from the cuticle out and lock in moisture so it stays strong.
The beer also does contribute quite a bit to keeping your hair healthy so it does indirectly make your hair thicker. Namely, it strengthens the hair by giving it a good dose of protein and B vitamins.
You may even find the bonus of your hair growing faster by using it. Peppermint oil is in there that has been found to be as effective as Minoxidil at regrowing hair by stimulating dormant follicles.
Plus it has a shot of caffeine to stimulate the scalp so it can bring more blood to the scalp and nourish and strengthen the hair.
Don't worry about smelling like a brewery after you've washed your hair. It doesn't smell like beer. In fact, the scent is quite bright and citrusy with some notes of vanilla.
It is all natural and doesn't contain any harsh chemicals like the ones I mentioned in the last section.
The best part is that it is pretty cheap, too. There doesn't seem to be much need for healthy and natural products to cost more than the ones loaded with synthetic chemicals.
Jack Black True Volume Thickening Shampoo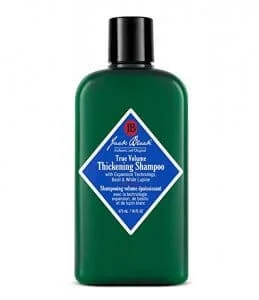 A mostly natural shampoo that thickens and cleans equally well is the True Volume by Jack Black.
It is not cheap, so keep that in mind as you read. In fact, it is almost three times as much as the BRÖÖ shampoo from the last section.
I love Jack Black products as they all work really well at whatever the problem is they need to solve. In this case, it does a great job at thickening your hair.
It has a blend of tons of botanicals that work to create volume in your hair.
There are a few essential oils that will moisturize your hair and then lock it in so that it has a thicker follicle. All while not weighing your hair down.
For instance, it has creatine and a bunch of other proteins like White Lupine and Wheat protein to strengthen the cuticle of your hair.
It may not be totally natural but it is sulfate free but it has a proprietary blend of ingredients called Expansion Technology, so that makes it worth the added synthetics since it is so effective at giving thin hair more volume.
If your hair is flat and dull from an irritated scalp or from a skin condition, then the tea tree oil and clary sage oil included in the blend will disinfect and soothe your scalp to help give your hair a healthy foundation to grow.
The scent it very light but bright and slightly floral without being feminine. It lathers up nicely and leaves your hair feeling clean but not stripped of its oils.
Brickell Men's Daily Strengthening Shampoo for Men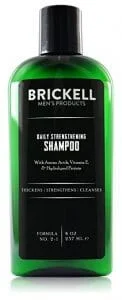 This hair thickening shampoo for men is a great way to treat all aspects of your hair issue.
It will not only thicken your hair follicles to make your hair look much fuller, but it will also stimulate the scalp to encourage dormant hair roots to grow again. And when the hair does begin to grow, it won't be thin and wisp. It will grow as normal hair that is thick and healthy.
Ingredients like tea tree oil and peppermint oil are known to have the same properties as Minoxidil at regrowing hair.
Then it comes in packed with vitamins that will restore your hair. Vitamin E helps prevent loss so once you get that thicker hair it will stay that way for long. With proteins like silk, it will rebuild your hair from the inside out. The cuticle, which is like the backbone of your hair, ends up stronger and actually thicker.
Glycerine and amino acids add sheen and softness to your hair making it look much healthier. Just this alone will give your hair more volume, but add in all the other factors and you can see why this is one of the best hair thickening shampoos out there.
And it is free from parabens, phthalates, SLS and so many other harsh ingredients that it is safe to use long term.
The scent is very invigorating as it is minty and bright. It also feels invigorating as the tea tree oil does its thing on your scalp.
How long does it take to show any difference? In about 3 or 4 days you will see some changes in your hair's volume. After about a week, then what you see is pretty much the full effect that you'll get from the shampoo.
You'll need to keep using it to maintain that volume and thickness, however.
Now, I understand this is not cheap, but it is expensive because it is so well formulated. It simply works better than others and is, in my opinion, the best hair thickening shampoo on this list.
Best Hair Thickening Products to Use with Shampoo
Just using shampoo is going to be enough for most guys to get a thicker head of hair. To really hedge your bets, it pays to add some other products into your hair care routine.
Here are a couple that I think will help:
re:line Biotin Hair Thickening Conditioner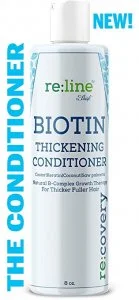 Biotin is one of the building blocks of your hair and is found in many of the best hair thickening products. It is a B Vitamin complex that adds strength and volume to your hair starting from repairing the cells of the hair and skin.
Having a high does in a conditioner is ideal to add to your post shampoo routine.
It also includes castor and coconut oil to clarify your skin in case your scalp is the reason your hair is thinning. If you have dandruff then this is a great, natural way to take care of it without using any harsh chemicals.
Aloe vera will soften and hydrate your hair to make it feel soft and look thick. Then, there is saw palmetto which is a DHT blocker. DHT is a hormone linked with testosterone and is the reason many men are thinning on top. They produce too much DHT which causes the roots to die or go dormant. By blocking the production it can regrow dormant hair roots and slow the thinning of your hair.
Your hair will feel incredible after using this conditioner and a bonus is that it will help thicken your hair.
BOLDIFY Hair Thickening Spray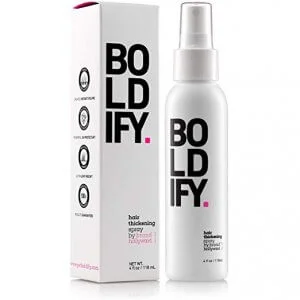 Using most hair styling products when you are thinning usually amplifies the fact that you are losing your hair.
That doesn't mean you can't style your hair if you are thinning. It just means you need to use the right product.
Boldify is a hair spray that thickens your hair and allows you to style it without weighing it down.
Even very fine, wispy hair can be styled and then given some hold with this hair spray. And it also makes it appear thicker so it is a double win.
It can work on all hair types so straight, curly, long or short can benefit from its styling ability.
It isn't all natural or anything but it also doesn't contain harsh chemicals like parabens or sulfates.
It's one of the best hair thickening products because it goes on very light and works quickly. So quickly in fact that you need to work quickly before it sets to get your hair in shape. It can be reset throughout the day by wetting your hands slightly and then running them through your hair.
If you have found a product that styles your hair without weighing it down, then you can use both of these at the same time. The benefit is this also thickens your hair so it plays well with other products.
How to Use Hair Thickening Shampoo
No, it isn't exactly rocket science to use shampoo. There are, however, some tips to make sure you are getting the most out of your thickening shampoo. Remember, you are not just cleaning your hair with this. You can get a deep clean from any shampoo, but since you are looking to thicken your hair you need to do things slightly differently.
Don't overuse it
You may be tempted to use a lot of it at once and to shampoo every day to make sure you are giving your hair a fighting chance. Oddly, you'll probably do the opposite.
You shouldn't be washing your hair every day even when you aren't thinning, but it is really important to give your hair a break. Shampoo every other day at the most and then use some of the best hair thickening products I listed on the in-between days.
Otherwise, you may dry your hair out and leave it brittle and thin.
The other thing guys tend to do is use too much of a portion. Only use as much as directed on the label. I can't say how much as every shampoo is going to be different. Not only are you wasting it if you use too much, but you will weigh your hair down since it will likely leave a residue. Again, this is the opposite effect that you are looking for.
Massage it in
Once you have a good lather going, give your head a nice massage with the tips of your fingers. This will stimulate the scalp and also make sure that the nutrients and proteins have a chance to get absorbed into the scalp as well as the hair.
Take about 3 or 4 minutes of good scrubbing before you rinse it out.
Rinse it well
After you've massaged this into your scalp for about 4 minutes then it should be time to rinse it out. Make sure you have given it a few minutes before you rinse so you aren't just rinsing away the benefits that the shampoo contains.
Make sure you rinse it well as you want to make sure there is nothing left on your hair. You probably won't need to repeat the process as after the scrub down you gave it was probably enough. Check the label to make sure and follow the instructions. Remember that they want you to buy more so if they suggest repeating to take that advice with a grain of salt.
Final Thoughts
Thickening shampoos are some of the best hair thickening products you can use. And the ones on this list are real standouts that you can't go wrong with.
As long as you don't expect a miracle you should see some good results. Results that will make people notice.
Will they regrow a full head of hair? No.
Will they reverse your balding? No.
Will they cover all of your bald spots? Once again, no.
What they will do is give the hair that is left a healthy shine, softness, and volume that will make it look incredible. Just because you are thinning doesn't mean your hair has to look bad.
Just using these shampoos alone will make people see that your hair is healthy, albeit thin.
Do you have any questions about these hair thickening shampoos for men? Leave a comment in the box below and I will get back to you as soon as I can! I love getting questions so don't hesitate to ask.
I'm an outdoor enthusiast and have sported a full beard since I was in my early 20's. Originally, growing a beard was a way to save time when getting ready each day, but I quickly realized that keeping a neatly trimmed beard takes work and some forethought. That's where this site comes in.
You get to benefit from my years of experience. I've reviewed many of the top hair clippers on the market today and also included some information on what works best for me. A great beard will turn lots of heads in your direction.
Since I never know when I'm going to find myself being photographed, whether it's climbing in Yosemite, or playing volleyball on the beach, it's important to me to always look my very best. Maintaining my beard is part of my daily routine and I hope you'll find some useful tips and information on this site to help you on your journey.