I'll be blunt. For me, no barbershop or home can be considered as "completed" without a set of hair cutting scissors. It doesn't matter if they're the top professional hair shears or just your regular hair scissors.
Perhaps this rather stern view I hold is due to me being a barber for a few years…
Anyway! Both home users and barbers will find different benefits in using hair shears.
My top pick for standard hair shears would be Got Glamour cobalt from Amazon.com. If you want the best thinning scissors, I recommend Equinox Razor Edge.
For home users, a set of the best hair shears means your quality haircut on a better budget than hair clippers. You should definitely spend as much as your budget allows. A good pair of shears will last a lifetime with proper care. I still have shears my father used when he was a barber decades ago. The better quality shear, the easier it is to get good results.
For barbers, the best thinning scissors or texturizing shears will complement your stylist efforts and shape a better cut.
A long time ago, I was into fancy scissors like this pair I owned: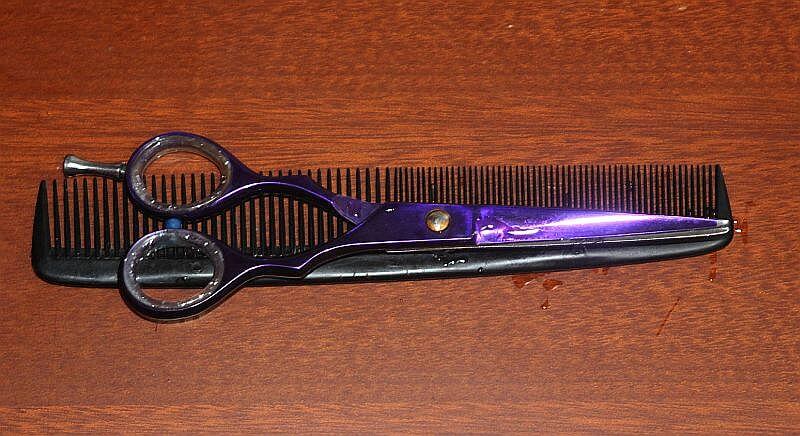 After that, my preferences shifted to simply, yet practical tools.
I won't simply throw some reviews of the top rated and best hair shears your way, though. I'll focus on details like the different types of scissors for cutting hair and how to use thinning scissors.
Snip-snip!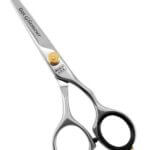 Got Glamour Cobalt

Scissors type:
Hair shears.

Size:
6" or 7" as per choice.

Blades:
★★★★★

Ergonomics:
★★★★★

Left-handed use:
No.

Price: $$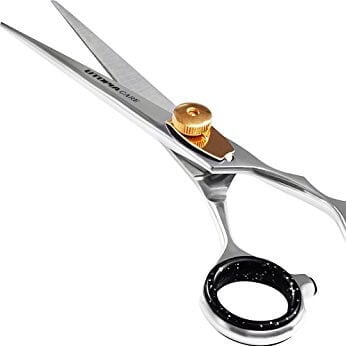 Utopia Care Razor Edge

Scissors type:
Hair shears.

Size:
6.5"

Blades:
★★★★

Ergonomics:
★★★★

Left-handed use:
No.

Price: $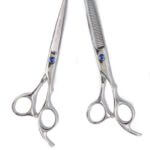 Mosher Salon Tools

Scissors type:
Hair shear + thinning scissor set.

Size:
6" for both tools.

Blades:
★★★★★

Ergonomics:
★★★★½

Left-handed use:
Yes.

Price: $$+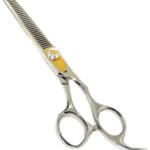 Equinox Razor Edge

Scissors type:
Thinning scissors.

Size:
6.5"

Blades:
★★★★★

Ergonomics:
★★★★½

Left-handed use:
Possible, but not that convenient.

Price: $$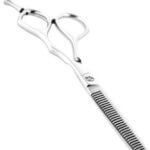 Suvorna Razeco e15

Scissors type:
Thinning shears (texturizing-ready.)

Size:
6.5"

Blades:
★★★★★

Ergonomics:
★★★★½

Left-handed use:
Possible, but still inconvenient.

Price: $$-
The best hair cutting shears
Best performance hair shears:


Got Glamour cobalt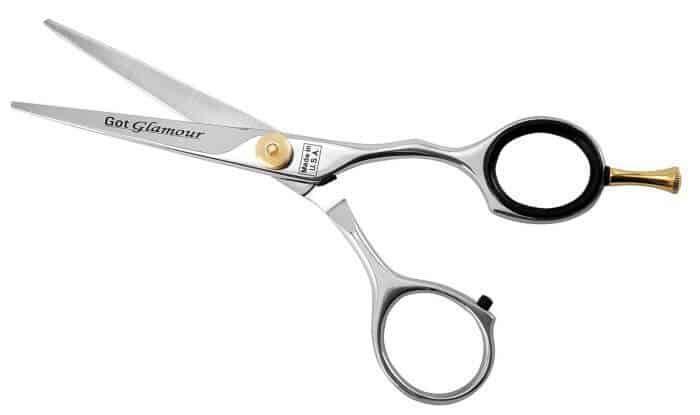 No doubt: Got Glamour's tools wins the award for the best convex hair scissors on the market. Let's start with two things. First, they are made in the USA with American traditions in mind. Second, their steel is strengthened by cobalt and molybdenum.
You're edge is going to stay sharp for way longer than you would expect before it needs to be sharpened. With cheaper types of steel scissors you find the hair getting bent or folded in between the blades and pulling the customers hair.
This is uncomfortable for them and annoying for you. It makes it look like you don't care for your equipment and they may not trust you to sit in your chair the next time they need a cut. It's annoying for you because you're trying to do a good job but are getting tied up by underperforming tools.
What this effectively means is that your barber scissors will last longer, while the molybdenum adds flexibility to the way the hair shears move. To top it off, these best hair shears come in either 6″ or 7″ size. You can pick the length you prefer, unlike other fixed size models.
At 1.4 ounces, the 6″ Got Glamour is very light and won't tire your hands. To further reduce fatigue, you have a delicate offset handle. Ultimate control and stable stance are guaranteed by a removable finger insert and stylish pinky rest.
If you have bigger fingers, just remove the insert and continue with your work. I picked this set as the best hair shears for stylists exactly due to their ergonomics and readiness for long haircuts. The sharpness of the convex blades outshines other similarly priced competitors.
If you plan to do cutting over a comb, then the longer ones would be best. If you plan to take the hair between your fingers and cut scissor over finger, then the shorts ones are what you want to avoid nicking your knuckles.
The only downside I'd like to mention is that these best hair shears aren't a great fit for left-handed people. You might want to consider another model in case you cut with your left hand.
Best budget hair cutting scissors:


Utopia Care Razor Edge
Utopia Care's scissors win my pick for the best hair shears if you're on a budget. The first thing you'll notice here is the classy design. A pair of silver blades with gold elements. The set also includes black rubber finger inserts.
The knob makes it easy to adjust to get just the right tension according to how you like your shears. And if you want to change it on the fly, say if your customer has some thick hair, then it only takes a second to loosen them up.
I like tools that require minimal fuss but maximum versatility. The less time you spend messing around with your tools the faster you can cut hair and make more money.
Onto the important things: this set of best hair shears comes with convex blades made of solid Japanese stainless steel. They will be a bit heavier, but quite durable. At 6.5″ instead of 5.5″, they are also better to use if you want less cuts with more coverage.
Another good feature are the removable rubber inserts. If you have bigger fingers, you surely struggle with tighter scissor inserts. Here you have a simple and quick solution for a better fit.
The haircut scissors will also come with a leather storage case for extra convenience.
Some weaker points: there are better professional shears for left-handed stylists out there. The Utopia Care set also isn't the sharpest tool. However, considering their price, these are the best hair shears for tighter budgets.
Though they might not start out as sharp as some other, more expensive shears, they keep their edge a lot longer than others. The Japanese steel is high in carbon and is much stronger than your typical steel. I always recommend any kind of cutting instrument, like shears or knives, be made out of either Japanese or German steel.
If you're using these professionally, you'll eventually need to send them out to be sharpened anyway. You'll need to do this at some point even with the sharpest scissors. In fact, they may even come back sharper than before you sent them out. I have had shears that were not that sharp when I got them and they came back sharper than when they were new. It pays to have a local guy in your area that does this service. Ask around and I am sure you will find one.
Best hair shear + thinning scissor set:


Mosher Salon Tools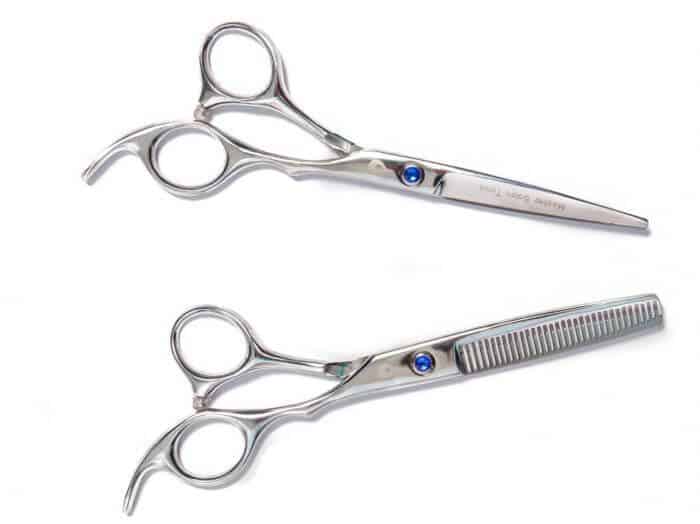 In case you wanted a combination of regular hair scissors and a thinning shear, Mosher Salon has got you covered. 6″ in size, this 2-in-1 package is reserved for those who value professional quality and ergonomics.
If you're left-handed, rejoice: both shears here are a good fit for lefties so you're good to go. What makes these especially good as scissors for hair stylists is the product's focus on ergonomics and blade sharpness.
With Japanese steel quality and handmade, hollow ground convex blades, these will go through any hair type. Perfect for longer styling sessions and quite versatile as you've got two types of barber scissors at your disposal. These are great for bulk cutting. In other words when somebody has a lot of hair and you want to get through the bulk of it quickly before getting down to the detail work. You can cut quite a bit of hair at once very easily with these very sharp shears.
One thing to keep in mind is that you're likely going to need a second pair of shears. One reason is to have a backup that can do the job in case you damage your primary pair. But also because some shears are better at different kinds of hair.
What I like about these shears is that they can handle a lot of different hair types. From thin and fine to thick and curly. And for the price that versatility is a real bargain.
For your convenience, you're also getting an exquisite leather case. It's above the average quality and adds a neat touch to the package you're already getting. Very comfortable to carry around too.
What you might not like here is the fact that there are no removable inserts. In other words, if you have quite big hands, these otherwise top rated best hair shears might not fit you optimally.
In this case, you can opt in for Equinox's set of 6.5″ scissors with removable inserts from Amazon.com.
Best thinning and texturizing shears
Best value thinning shears:


Equinox Razor Edge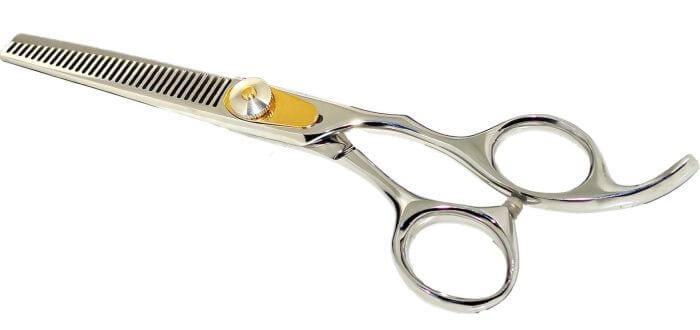 Equinox have more than 2000 reviews with a 4.7/5 rating at the time of writing this list. This is a brand every stylist is familiar with. There's a good reason for that: the flawless quality of their tools, be it texturizing shears, hair thinning scissors or standard hair shears.
The design of these 6.5″ hair thinning scissors is sleek and simply exquisite. I really like the golden painted tension screw on top of the clean metal. The blades' texture makes sure no hair clogs the thinning blades which usually is a major gripe for any stylist.
I love being able to adjust the tension with the simple twist of a knob instead of needing to break out a screwdriver. Mid haircut, you don't want anything slowing you down. The longer it takes to do a haircut, the less money you end up making.
Speaking of blades…You've got convex hollow ground blade made of the highest quality Japanese 420 steel. Coarse, curly, straight hair…it doesn't matter, these barber blending scissors cut with precision and sharpness.
Equinox offer two types of best thinning scissors. With Style B thinning shears from Amazon.com, you have rubber removable inserts. I suggest you pick this variation if you have bigger hands.
Honestly, there's not a single drawback I can mention with this model. The brand also gives you a 30-day money back guarantee, which further shoots these as the best thinning scissors I'd recommend you.
Best texturizing shears:


Suvorna Razeco e15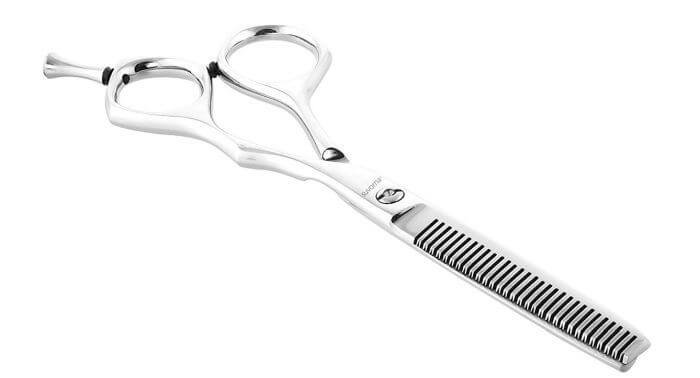 Suvorna is another well-known brand that produces high quality best thinning scissors and best hair shears. What you might notice with this model is the extremely polished looks. No ornaments, no detractions from their core concept: to provide precise, sharp and professional cuts.
The 6.5″ Razeco e15 features 30 blade teeth for outstanding layering, thinning or texturizing. The stainless steel is strengthened by carbon – it'll stay sharper and last longer than usual scissor blades. No compromise on performance, as expected of Suvorna and their convex blades.
Moving on to ergonomics, once again you have a detachable finger rest here. Your thinning scissor will also come with black rubber inserts. Unlike other thinning shears, these inserts will not be installed straight out the package.
In other words, if you have bigger hands, you can just get to work and snip some hair. Suvorna have thought about convenience and you'll also receive a pouch to store these blending scissors in.
The pouch isn't just a throw in. Keeping your shears stored securely is very important. They will actually stay sharper when you don't have anything scratching them. Not only that, but by keeping them out of the air, they will keep their edge for longer. If you oil them up before you put them in a pouch, you're sure to be using those shears for years to come.
As a downside, the aforementioned inserts might be a tad too big for the holes and not fit properly. This can be frustrating if you have especially small hands. Also, they are not an eye-candy like other models…but if you're a result-driven person, that won't matter at all.
The different types of scissors for cutting hair
As with many other things in our lives, scissors aren't a uniformed tool. There's quite a few types of best hair shears that differ in their purpose and in the way you can use them.
Regular hair scissors vs
Thinning hair shears
This is simple: with regular hair scissors, you just aim to shorten the length. You'll notice that both pivoted blades here are flat, just as other purpose scissors.
Thinning scissors, however, are for more detailed work. Instead of cutting in bulk and reducing length, they are used to lower the hair thickness. You will see that either one of the pivoted blades or both of them have small teeth. It's exactly those teeth that achieve blending and texturing.
There are three main things that you will need to use the thinning shears for. The first is to remove much of the bulk from the hair. If the hair you are going to cut is very thick, wiry or curly then you'll need to run the thinning shears through it to remove the volume.
Then you can really take care of a cowlick by using a thinning shear on it. If somebody has a severe cowlick or whorl and don't want it cut short, your only option is to either leave it in which case it looks awkward, or to thin it out with the thinning shears so it doesn't go wild.
Lastly, the transition between where you stopped cutting with the clippers and did your blend in with the regular shears can sometimes have a line showing. Using the thinning shears to cut the ends right at that transition line is the best way to help that blend in look more natural.
One word of warning! Don't overdo it with the thinning shears. It may look great when the customer leaves the shop, but if you went overboard there will be some flyaway hairs that grow out and look frizzy. This is because the thinning shears cut every other hair so some are longer, and some are even frayed at the ends which will eventually lead to split ends.
Within these best thinning scissors, you will find another two types.
Regular thinning shears vs
Blending scissors
As I mentioned before, both types of scissors here aim to reduce density and "design" a hairstyle. However, there are two important nuances:
Hair thinning shears are better at styling bigger volumes of hairstyles. Blending shears cut less hair for a natural transition and delicate work.

Thinning scissors often have teeth on both their blades. With blending cutting shears, one of the blades will have teeth, while the other remains flat.
Here's a very interesting video on why and when would you use blending scissors, instead of the regular thinning ones.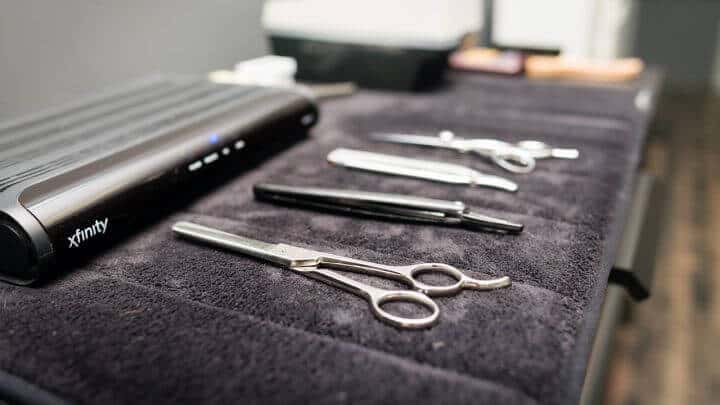 Tips when thinning hair with scissors
Be careful with your hair type
Probably you already considered that, but your hair type also plays a role in using even the best thinning scissors. An important reference point in using the proper hair cutting scissors for your hair should be the blades.
Shears that have a higher amount of teeth are perfect for fine, medium and straight or wavy hair types.
If you have curly hair, you should opt for scissors with less teeth with more width between them. These are perfect as chunking scissors that will remove the bulkier curly hair types. Wider teeth won't work properly on straight hair, so don't experiment with this!
Don't forget to sharpen your scissors
Especially if you use your best hair shears often, you want to sharpen them from time to time. What I advise you to do is to perform basic maintenance every 6 months to an year. This depends on how much you use them.
The best thing you can do is ensure that you keep your shears sharp so you don't have to get them sharpened as often or at least prolong it.
First, always make sure that you keep your scissors clean. Hair is very acidic and will dull your blade if you are letting the hair sit on the blade. Wipe the hair off before and after every cut.
Keep the joint oiled, too. This is more for comfort than for it dulling the scissors, but you may think your shears are dull when really they just need some oil.
You should also wipe them down with alcohol at the end of the day. You're getting dirt, grime, styling products and even sweat building up on the blade which will also cause it to go dull. Using some alcohol to sort of dissolve it will go a long way towards keeping your shears sharp for as long as possible.
I warn you: this can be a bit complicated with higher end cutting shears. You'll also need a special sharpening stone. It's all up to you, but for beginners, I advise you leave that to a specialist the first few times. Here's the general process summed up in a video.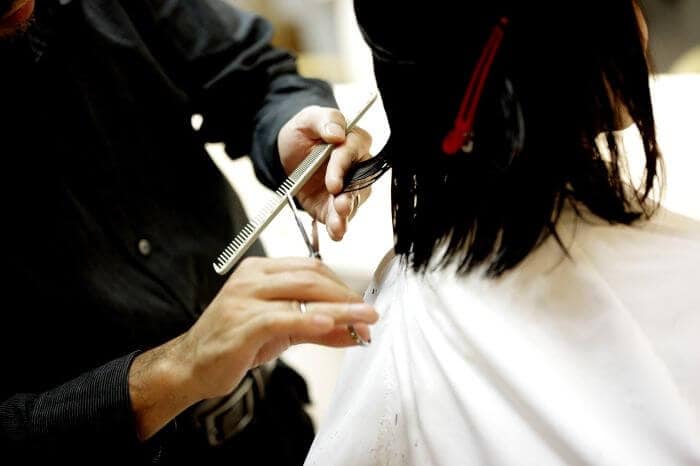 Match the scissors to your dominant hand
If you're left-handed, don't feel pressured to stick to right-handed scissors. There's quite a few left-handed best professional shears around. Your convenience is the most important thing, after all.
How to use thinning scissors
Honestly, layering your hair/thinning your hair out with scissors isn't such a big deal if you want something simple. Here are the most important steps you should follow. Don't worry, you'll get better with practicing!
Prepare your hair
This is crucial. Your hair should be brushed/combed and dry, by all means. Aim for absolutely smooth locks with no tangled ends.
Using the best thinning scissors on wet hair is a catastrophe. Moist hair clumps together, so you risk cutting way more than you intended initially. Don't make this mistake and dry your hair out properly.
Pick a hair section
This is your starting point. Grab a section of your hair with your hands and place it between the scissor blades.
Pull the hair away from your body so the hair is properly stretched. This will also help you navigate the blades a few inches away from your scalp so you don't hurt yourself.
Of course, this depends on how long your hair is. With longer hair, cutting 3-4 inches away from your scalp is advisable.
Thinning time!
With your hand holding the strand, hold the hair shears with the other one. Aim for a 45 degree angle for precise, safe cuts.
The scissor's tip should point upwards, not downwards initially. Then, glide the cutting shears down your hair (now the tips will be pointing downwards.)
Optional: comb through the thinned/cut section to remove strands that haven't fallen off yet.
Rinse & repeat
Do the same for all other hair sections. If you have especially long/curly hair that messes with your hair cutting, you can use hair clips. They will keep the other sections steady while you work on them one by one.
If you're a professional, then you can't go wrong with any of the shears on this list. Even if you do your own hair or for your friends and family at home, you're sure to find professional quality for a DIY budget!
If you have any questions about any of these shears then drop a comment in the box below!
I'm an outdoor enthusiast and have sported a full beard since I was in my early 20's. Originally, growing a beard was a way to save time when getting ready each day, but I quickly realized that keeping a neatly trimmed beard takes work and some forethought. That's where this site comes in.
You get to benefit from my years of experience. I've reviewed many of the top hair clippers on the market today and also included some information on what works best for me. A great beard will turn lots of heads in your direction.
Since I never know when I'm going to find myself being photographed, whether it's climbing in Yosemite, or playing volleyball on the beach, it's important to me to always look my very best. Maintaining my beard is part of my daily routine and I hope you'll find some useful tips and information on this site to help you on your journey.