Use The Best Face Wash For Men & Attract Gorgeous Women With Glowing Perfect Skin
French President Emmanuel Macron has allegedly spent €26,000 not on military defense spending or economic stimulus packages, but on make-up.
Worse still, his predecessors have actually spent even more on personal grooming services. Most men would balk even at the thought of doling out hard-earned cash on foundation and powder for the fear of appearing too feminine. However, there's a clear distinction between skin products and cosmetics.
You're not wasting your money if you're purchasing the best face wash for men. A face wash clears your skin of dirt, grime, and oil to keep your complexion clean and clear. In fact, there's nothing sexier than healthy skin.
That's why today, we're on the search for cleansers for men. Whether you need the best men's face wash for acne, men's face wash for oily skin, or an exfoliator that won't dry out dry skin, you've come to the right place.
Don't have time for a long article? Here are our top three:
Check Rugged & Dapper Facial Cleanser for Men on Amazon.com
Check Lather & Wood's Face Scrub on Amazon.com
Check Brickell Men's Purifying Charcoal Face Wash for Men on Amazon.com
All women are attracted to a glowing complexion. After all, healthy skin is a clear indication of a healthy body. Keep reading to discover the face washes that can wash away acne, hydrate dry skin, eliminate ingrown hairs, and leave your skin feeling fresh and clean.
Best Face Wash for Oily Skin
 

Rugged and Dapper Face Wash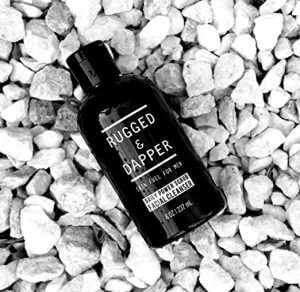 Rugged & Dapper Facial Cleanser for Men is the perfect all-in-one face wash for men and so is considered as one of the best face wash for men. A cleanser, exfoliator, and toner, it's tough enough to reach deep out into your pores and clean out the dirt, grime, and oil that causes you blemishes and acne, but it's gentle enough to use on a regular basis. Ideal for men with oily skin, this face wash is your one-and-done answer to a bright, clear complexion. This is one of the best face washes for men because it's just as tough as chemical cleansers, but it's made with natural ingredients. So, it will leave your face feeling tight and squeaky clean, but won't dry out your skin. Rugged & Dapper is made with aloe vera, willow bark, burdock root, vitamin C, and tea tree oil, all ingredients that have been scientifically proven to cleanse organically and effectively. Oh, and it's paraben and cruelty free and completely vegan. Rugged & Dapper comes with sleek, simple packaging and leaves your skin with a fresh, masculine scent. You'll never have to worry about confusing your face wash with your girl's cleansers, and she'll be sure to notice the difference.
What I really love about it is how holistic it is.
What I mean by that is that it treats your skin as a whole and doesn't just clean it.
It also hydrates your skin, locks in the moisture and prevents it from drying out later. It will slow down the aging process and protect it from the damaging effects of the sun and pollution.
If you've used any of Lather & Wood's other products–the shave soap, pre-shave oil, aftershave, etc.– Lather & Wood's Face Scrub is the next product you're going to want to try.
This is the best face wash for men with dry skin because it comes with jojoba oil exfoliating beads. Jojoba oil closely resembles sebum, the oil your skin produces to naturally moisturize your skin. As exfoliating beads, they help eliminate dead skin cells that are clogging your pores. So not only are they biodegradable, but they also moisturize as they exfoliate.
Men with dry skin tend to stay away from exfoliating scrubs because they're harsh and can quickly dry out your skin. However, men with dry skin still need to exfoliate. Lather & Wood's Face Scrub provides the perfect compromise. If you're a man with dry skin, Lather & Wood will wash off any dirt or dead skin so when you shave, your razor won't drag all of that debris across your face.
This is, essentially, your remedy against ingrown hairs, razor bumps, and acne, and it has a deep woodsy scent you'll love.
Pair it with a face moisturizing cream and you have a match made in Heaven. After exfoliating, your skin is ready to absorb everything. Why not give it something it really needs like some added vitamins and moisturizing agents?
Clean skin is great and all, but you're really doing yourself a favor if you keep it hydrated and looking plump. As a bonus you will even look younger!
Best Face Wash Product for Men With Normal Skin
 

Microdermabrasion Face Scrub for Men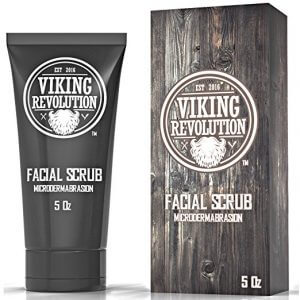 Microdermabrasion Face Scrub for Men is the perfect middle ground. It exfoliates your skin and preps your facial hair for a close shave but won't scrub away layers from your skin. It does not use microbeads, and it has just the right amount of grit to clean your face, but not enough to be considered abrasive. There's nothing worse than an exfoliating scrub that leaves your skin red and raw. Here, you'll never have that problem. This best face wash for men is mild enough to use every day, but tough enough to help you make the most of every shave.
A good reason to use an exfoliant formulated especially for men is because it takes into account that you will be shaving. Your skin has much different needs than a woman because of this. Men's skin goes through a lot more abuse than a woman's so it seems like exfoliant might be rough on a guys skin.
And in some cases it would be which is why I recommend this one.
Best Face Wash Product for Men With Sensitive Skin
 

Brickell Men's Purifying Charcoal Face Wash for Men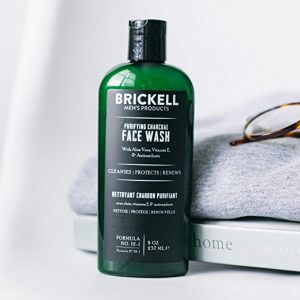 Charcoal usually belongs on your grill, not on your face. However, you'll be surprised to hear that it has incredible purifying properties. Activated charcoal clears the skin of bacteria, cancer-causing free radicals, and other irritants. Along with aloe vera, jojoba oil, and olive oil, Brickell Men's Purifying Charcoal Face Wash for Men will nourish your skin while cleansing it.
This organic face wash has a delicate blend of lemongrass, eucalyptus, and mint essential oils that give it its characteristic scent, and not only is it vegan and totally cruelty free, but it's also free of sulfates, parabens, silicones, phthalates, synthetic fragrances, gluten, PEG's, and glycols.
Because it's made from natural ingredients, Brickell's costs more than your average cleansers. However, you know you're paying for the best face wash product for men and not just synthetic fillers. This is truly one of the few non-toxic cleansers, and not only is it free of synthetic chemicals, but it's also free of estrogen.
Any men who are serious about their workout routine should try to eliminate any personal hygiene products that contain estrogen. It can interfere with testosterone production and muscle development not to mention give rise to breast cancer. Disturbing the hormonal balance in your body is a serious issue, and doing so arbitrarily could result in a number of serious side effects you don't need.
When you're working out, you are actually putting your skin through some abuse. Even using the showers at the gym are pretty bad for your skin. Cleaning your skin with a facial cleanser that is formulated especially for active men is as ideal as it gets for your skin health and hygiene.
Best Face Wash Product for Men With Acne
 

Real, Acne Face Wash for Oily Skin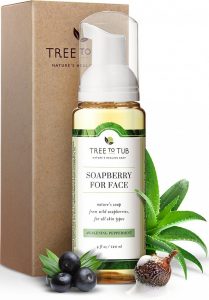 Real, Acne Face Wash for Oily Skin was developed from ancient Eastern medicine practices. Soapberries are antibacterial, anti-inflammatory, and hypoallergenic, and they produce a rich lather. In fact, soapberries have been used in Chinese and Ayurvedic medicine to alleviate eczema, psoriasis, and acne for hundreds of years before modern pharmaceuticals came along.
The key to perfectly, soft skin is pH balance. If you happened to snooze through chemistry in 11th grade, we'll catch you up now. pH balance is the scale that measures acidity and alkalinity. The skin on your face should have a pH of 5.5, and this best face wash for men helps to restore that balance to keep your skin plump.
Normally, the skin should be able to self-regulate, but factors like environmental pollution, stress, and poor diet choices can render the skin more acidic. While a healthy diet is normally your first line of defense against acne, a stabilizing face wash will do wonders for acne-prone skin.
You're doing your future self a favor by treating your acne before it ends up scarring your face.
Since we have access to these types of products, we may as well use them instead of making our body do all the heavy lifting. Your skin will thank you for it, too.
How Do I Find the Best Face Wash Product for Men?

The best face wash for men really comes down to individual differences. Everyone has different skin, and the face wash that works for one man might not work for another. You'll of course want to avoid synthetic fragrances, parabens, sulfates, and other harsh chemicals and unnatural fillers, but besides that, there's room for flexibility.
Best Men's Face Wash for Oily Skin: If you have oily skin, you'll probably be tempted to find the harshest exfoliating scrub you can find; however, you should still hold off for something a bit lighter. Harsh exfoliants will strip your skin of any natural oil, ironically causing your skin to produce more oil naturally to compensate. You'll also want to avoid any product that claims it's oil-based as well because you won't want to clog your pores.
Best Men's Face Wash for Dry Skin: If you have dry skin, you'll need a lighter face wash that reaches into pores without irritating the surface of the skin. If you want to use an exfoliator, you'll need a very gentle one. You could also supplement with an exfoliating scrub once or twice a week.
Best Men's Face Wash for Normal/Combination Skin: If your face is normal or you find that you suffer from both dry and oily skin, you'll need a mild best face wash for men. You can always follow up with a water-based moisturizer, but a cleanser shouldn't strip your skin of its natural oils especially since you don't suffer from excess oil production.
So What is the Best Face Wash Product for Men?
You tell us! How do you look for a face wash? What is the best face wash for glowing and fair skin? Do you prefer an exfoliating scrub or a gentle cleanser, and how do you prevent acne? Leave us a comment in the box below to tell us how you choose your face wash. We personally read all responses, and we really do care about your opinion.