The 6 Best Face Moisturizers for Men
Ever bought a nice leather jacket or pair of shoes? While that piece of tanned leather might have looked great the first day you bought it, if you didn't take the time to treat it properly, it probably started developing creases and wrinkles after only a few months.
The same could be said for your skin. Your skin, like cow's skin, is not invincible. It requires moisture and hydration on a regular basis. That's why we're discussing for the best face moisturizers for men today.
Just because you have a Y chromosome doesn't mean you don't have to worry about your skin. There's nothing more attractive than glowing, healthy skin.
That doesn't mean you have to smell like peaches and cream though. There are these best face moisturizers for men that  have either neutral or masculine scents, and they're designed for men with all different kinds of skin.
Whether you have normal, dry, oily, or combination skin, there's a product here designed for you. Whether you prefer a light, water-based moisturizer or even natural oils (hello Ancient Greek Remedy Oil on Amazon.com!), we have something that will keep your skin soft, smooth, and supple.
Best Facial Moisturizer for Men With Normal to Dry Skin
Rugged & Dapper 

Face Moisturizer for Men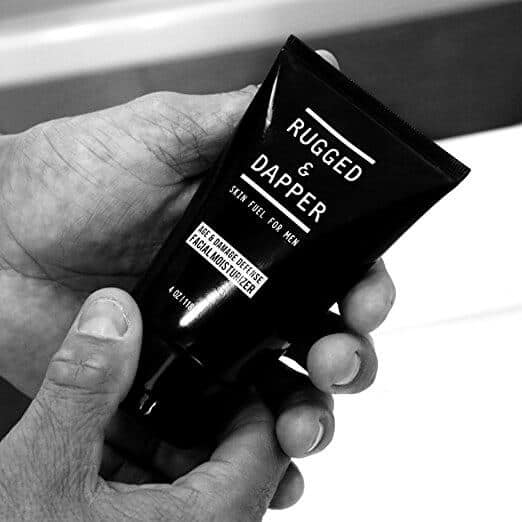 Rugged & Dapper Face Moisturizer for Men is a heavy oil-based moisturizer that absorbs immediately and never leaves a greasy residue. This is the best face cream for men with normal to dry skin. It has a neutral scent that evaporates quickly. While it's definitely on the pricey side, and the pump mechanism doesn't always work that well, this is a high-quality moisturizer I have come to stand by.
You'll also love that it's filled with natural ingredients, which is why it made it to our list of best face moisturizers for men.
The aloe vera will soothe sunburned skin, treat wounds, help to heal minor infections, improve skin discoloration, and even help combat conditions like eczema, acne, and dandruff. It's nutrient dense, naturally anti-aging, and one of nature's best moisturizers.
Combined with green tea, this is one of the best face moisturizers for men you can find. Green tea has been celebrated in Asian countries for decades, and for good reason. It's packed with antioxidants and has been shown to reduce inflammation, which, in turn, helps prevent psoriasis, protect against damage from the sun, and even inhibit acne and blackheads.
It naturally helps to tone your skin, and the tannins, which are responsible for the leaves' slightly bitter taste, helps to shrink pores and reduce sebum production. So, even though the lotion is somewhat heavy, the natural ingredients help to improve your skin and limit the production of excess oil.
Best Men's Facial Moisturizer With SPF
 

Jack Black Double-Duty Face Moisturizer SPF 20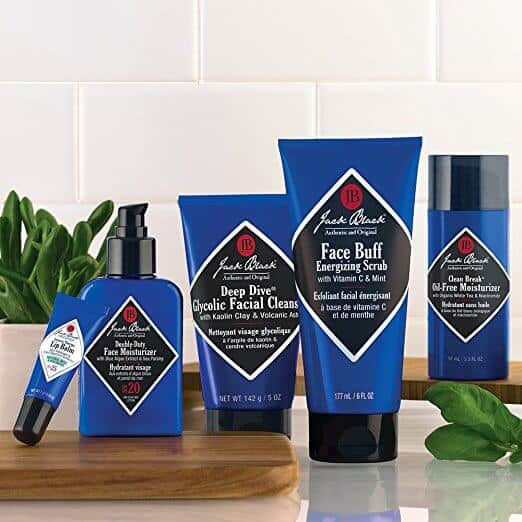 Jack Black Double-Duty Face Moisturizer is a non-cosmetic product that's both dermatologists approved and certified organic. It's a simple, light moisturizer that's highly effective and very gentle. Jack Black Double-Duty Face Moisturizer is designed for men who are willing to pay a bit extra for high-quality skincare.
Completely vegan, paraben-free, and fragrance-free, this is arguably the best face lotion for men who are conscious of their environment and careful about their health. It's ideal for spring and summer weather when you're looking for highly-absorbent products that won't leave an oily, greasy residue. Best of all, because it's free of harsh chemicals and preservatives, it's fine for acne-prone skin as well.
It also doubles as sun-protectant. With UVA/UVB protection with SPF 20, this lotion will protect you from incidental sun damage. Seen as up to 90% of visible skin damage is a result of sun exposure, this moisturizer can prevent premature aging as well.
Even if you think that you don't need SPF because you feel like you're not outside often enough, trust me. You do need it. Especially if you live somewhere in the Southwest like Arizona or California. Or, someplace with a high elevation like Colorado.
The sun takes its toll on your skin without you even realizing it. You may as well get a face moisturizer that does double duty and offers a ton of protection.
This men's facial moisturizer with sunscreen is particularly potent primarily because of its ingredients. Jack Blacks is made with blue algae, a microorganism otherwise known as cyanobacteria that are packed with vitamin E and well-renowned for its skin-tightening properties. The vitamin E helps neutralize damaging free radicals, and the bacteria's fatty acids penetrate deep into the skin giving an overall tighter and firmer appearance.
You'll also find that this moisturizer is filled with sea parsley, an excellent source of vitamins A & C, rosemary, an herb known to combat bacteria and promote healing, and phospholipids, which help the skin hold on to its moisture.
So, what you essentially get is a two pronged attack. The first order of business is for the cream to repair the skin and tone it which smooths it out.
The second phase is preventative. By trapping the moisture in the skin, it keeps it from drying out later. You'll end up using less of this than you think because it helps skin hold onto the moisture so well.
Best Men's Face Cream with Retinol
XFACIO Labs Organic Natural Wrinkle Cream with Retinol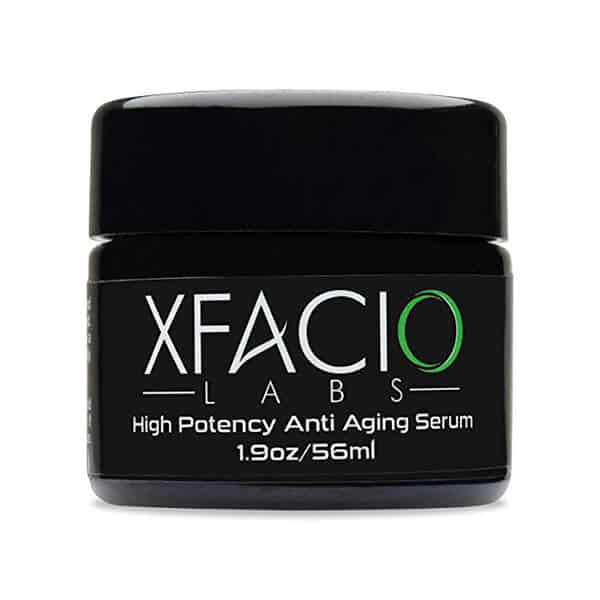 If you are a man of a certain age, as I am, then you may be noticing some slight wrinkles forming and a little bit of sag to the skin.
Don't throw in the towel, just yet, lads! You can put a stop to the sagging process by using this skin cream with retinol.
You may have heard about face moisturizers with retinol if you are in your teens and twenties since it is a common ingredient to help reduce acne.
And this cream does, in fact, help to keep pimples at bay. Even if you only occasionally, it is still worth it to try a retinol based skin cream for acne.
Even if you are older and still get acne, or maybe I should say especially if you are, then this is really the ideal ingredient in a face moisturizer. I love products that multitask, so it's nice to be able to use the same cream to moisturize and to prevent acne instead of needing a bunch of different products.
But, the reason for this best face moisturizers for men review is how well this works to tighten up the skin. It can reduce or remove most wrinkles, erase acne scars and reduce dark spots on the skin.
Even if you are not trying to look younger, using the best anti aging cream for men will definitely leave your skin with a healthy glow about it.
In addition to the retinol, there is a combination of natural ingredients like aloe, jojoba oil, argan oil and plant stem cells, among others.
There is no magic bullet, so give this anti-aging serum time to work. You should start seeing some results in a week to a month, depending on how much heavy lifting you are making this cream do.
Best Face Cream For Men With Oily Skin
 

Brickell Men's Daily Essential Face Moisturizer for Men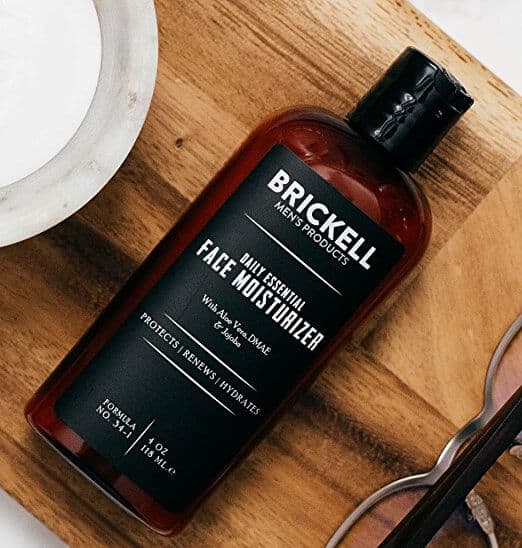 Brickell Men's Daily Essential Face Moisturizer for Men is the perfect men's facial moisturizer for oily skin. Totally oil-free, this water-based moisturizer is guaranteed not to clog your pores. Plus, made with aloe vera, green tea, hyaluronic acid, and jojoba, it's fast-absorbing, rejuvenating, and hydrating.
Brickell was the product of two unsatisfied men. Josh Meyer and Matt Bolduc came together one day to found a line of premium men's skincare products made with natural ingredients. Noticing a severe lack in the market, the two men seized their opportunity and have continued to release high-end, high-quality men's skincare products ever since.
Brickell's face cream is sold in both a scented and unscented form. The scented bottle smells of peppermint, eucalyptus, and lemongrass, a pleasantly refreshing scent. It's also vegan and has never been tested on animals. This face cream for men is totally free of sulfates, parabens, petrochemicals, gluten, PEG's, silicones, phthalates, synthetic fragrances, glycols, and worries.
While the bottle costs $35, it should last you at least 60 days if not more. After two months of regular use, I still had half a bottle left. So, even though the lotion will cost a pretty penny, they give you a fairly generous amount.
This is really ideal for guys with schizophrenic skin. Sometimes it is to greasy and other times you have dry patches. Instead of switching up the face cream for when your skin or oily or when it's patchy, just use this one. It will help your skin regulate itself and look natural no matter what phase your skin is in.
I personally consider this the best face lotion for men though because it's made right here in America.
Best Men's Face Moisturizer for Sensitive Skin
Mountain Falls Best Oil-Free Facial Moisturizer for Sensitive Skin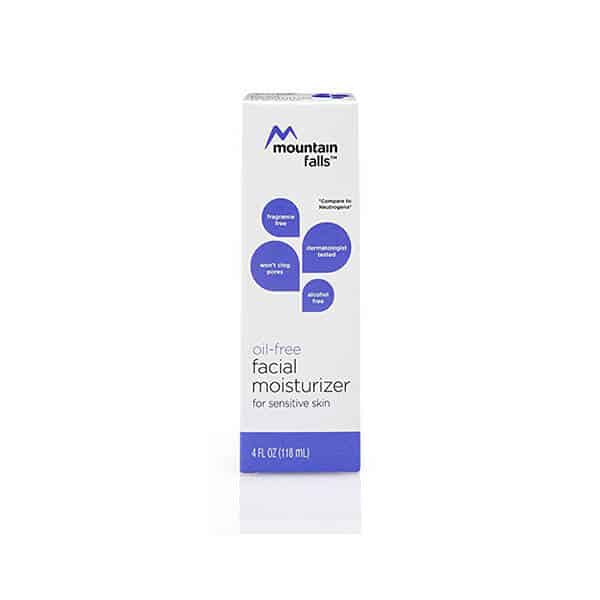 Oil-free, fragrance-free, hypoallergenic and alcohol-free, this moisturizer for men with sensitive skin is like a wonder product for guys that have trouble finding products that don't leave them irritated.
Some people have skin so sensitive that even some essential oils can be problematic. Eliminating the oils from the ingredient list but still able to hydrate the skin is what so many guys look for and have trouble finding. Another side benefit of not having oils is that it is non greasy and doesn't leave the skin with a greasy residue.
Alcohol is another culprit. It's best for anybody, sensitive skin or not, to try to go for skin care products that don't have alcohol. It tends to dry the skin out. For people with sensitive skin, though it does worse than that. That dryness can cause redness and rashes that leave their skin in worse shape than if they just didn't use skin cream.
It goes on very easy and lasts the whole day. Even while being gentle on the skin, it is still a workhorse.
If you have had trouble finding the best face moisturizers for men that won't cause inflammation and irritation, then try this one out.
It may not have the same brand recognition as the others in this list, but it does everything the others do without using a big advertising budget. I like recommending these smaller labels that deserve some recognition.
Best Face Moisturizer For Men With Dry Skin
 

Ancient Greek Remedy Oil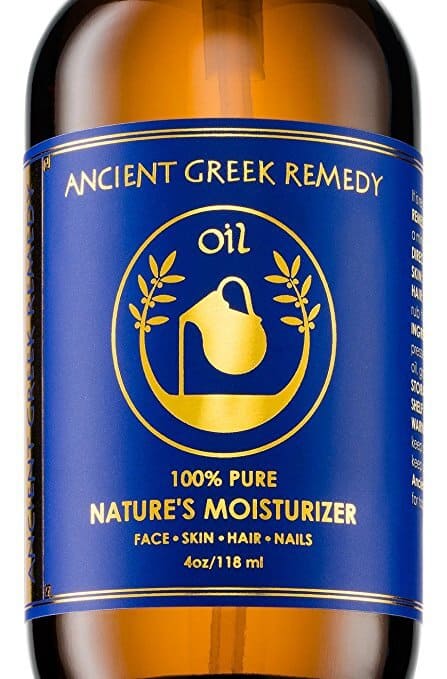 Ancient Greek Remedy Oil is the best face moisturizers for men for dry skin. Made from four carrier and essential oils, this simple blend is entirely organic and draws upon the natural healing powers of these plant-based oils to nourish dry skin. With a distinctive masculine scent and a very attractive price tag, Ancient Greek Remedy Oil is the perfect way to keep your skin well-hydrated.
This moisturizer contains only four raw ingredients: olive oil, grapeseed oil, almond oil, and lavender oil with vitamin E. It's completely organic, non-GMO, paraben-free, vegan, and has never been tested on animals.
Indeed, these four oils are some of nature's best beauty products. Not only does this moisturizer hydrate dry skin, but it also helps to combat psoriasis and eczema, smooth fine lines and wrinkles, reduce age spots, and prevent stretch marks. You can also use it to moisturize dry hair or strengthen brittle nails.
Though the spray nozzle unfortunately isn't very effective given the viscosity of the oil, overall, this was rated as one of the best skin creams available on Amazon because it can tackle the even the driest of skin with ease.
Is The Best Men's Face Moisturizer Enough?
You've got one of best face moisturizers for men, but is it enough? As it turns out, no. Even the best lotion cannot reverse years of skin damage. Your skin reflects your overall health, and if you've been mistreating your body for years, your skin will show it. Follow these four tips to make sure your skin is in tip-top shape.
Keep hydrated. Moisture must come from the inside and the outside, so drink up!

Eat well. As they say, you are what you eat! If you're loading up on junk food, you're not doing any favors to your skin.

Lather on the sunscreen. If your moisturizer doesn't protect you from the sun, make sure to lather on sunscreen yourself. UVA rays are the number one cause for premature signs of aging.

Apart from the best face moisturizers for men, a man needs to get enough sleep. Your body needs sleep to reset and recharge. There's a reason why they call it beauty sleep!
Best Face Moisturizer for Men…Your Thoughts?
What do you think is the best facial moisturizer for men? Do you use an oil-based lotion or a water-based one? Is SPF important, or should you apply sunscreen separately? Leave a comment below to tell us what you think.