6 Best Disposable Razors For Easy Shaving
In today's modern world, everything moves at a faster pace. Sometimes, I think time just moves faster than it used to back in the 80's and 90's when we sent letters to each other through the post and took the time to read the newspaper. Alas, how times have changed. The modern man just doesn't have the time or patience to use a good old-fashioned straight razor or safety razor. Enter: best disposable razors. They may not be as high quality as razors of the past, but the best disposable razors will give you a good, close shave quickly and efficiently. Are disposable razors any good? Disposable razors are better than they used to be, and they won't cost you an arm and a leg like cartridge razors will. Today, you'll find blades with lubricating strips, gel reservoirs, rotating flex heads, and precision trimmers.Take the Schick Xtreme 3, for example, which comes with a scented handle. Talk about luxury! Plus, with fewer blades, the best mens drugstore razors are less likely to irritate your skin.
In this article, we'll discuss the four best disposable razors on the market today, and then we'll take time to talk about how long you should really be keeping your disposable razors.
LONGEST LASTING DISPOSABLE RAZOR
BIC Flex 5 Disposable Razors, 8 
ct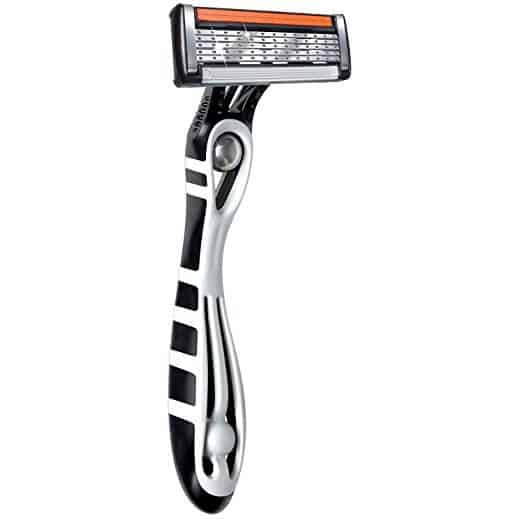 BIC Flex 5 disposable razors are more than just simple razors you throw in the trash at the end of the day. Its sleek black and white skeleton design sets the BIC Flex 5 apart from its competition, and the precision blades on the back of the razor are perfect for shaving difficult spots, which is why they made it to our list of the best disposable razors.
The ball lodged in the handle of the razor adds weight to the razor head thereby balancing the entire head against the body. When a razor is too handle-heavy, it's easy to try to press harder. If you're too heavy-handed with the razor though, you'll cut too close to the skin and even below the skin. It's precisely when you cut below the skin that hairs begin to curl in on themselves.
Overall, a balanced handle will do the work for you so you just have to glide the razor across your skin. Because they're so balanced, the BIC Flex 5 are perfect for sensitive skin. Use them on your face, on your head, on your chest, on your legs….these razors can do it all. They do the work of a cartridge razor with the convenience of a disposable razor.
So, how many shaves can you get from this razor? The BIC Flex 5 can last several weeks if you use them properly. It also depends on how thick your beard is, but if you shave once per day five times per week, then you could probably get around 15 shaves before you need to replace your razor. A cut above the rest, these razors are sure to impress.
BEST DISPOSABLE RAZOR FOR SENSITIVE SKIN
BIC TWIN SELECT DISPOSABLE RAZORS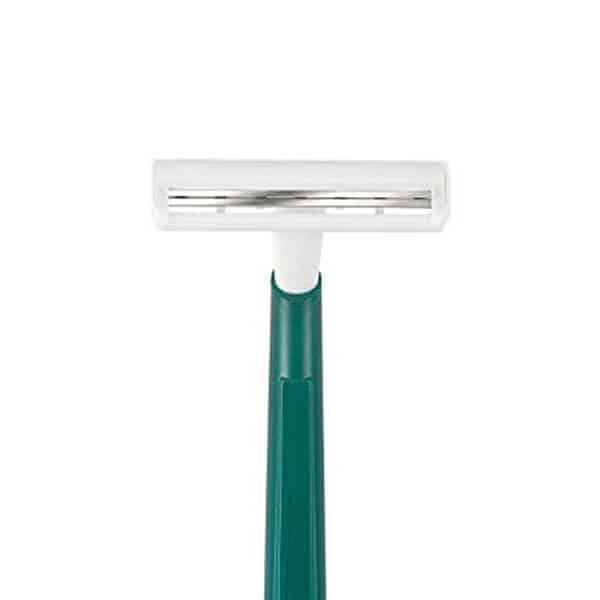 Are BIC razors any good? I hear that question a lot. The answer is that, yes, they can be very good considering they are cheap use and throw away razors. For guys with sensitive skin, these BIC razors will get the job done without irritating your skin. At first glance, it doesn't seem like it would be good for sensitive skin. After all, it is a disposable razor without a lubricating strip. The main reason that it is good for sensitive skin is the quality of the two blade system. The blades are among the sharpest disposable razor blades which cause less drag and a smoother shave. And without that gloop that some lubricating strips can leave on your face. The other point is that there is a bit more space between the blades, so the skin isn't pushed into the second blade after the first blade makes its pass. The bottom line is that BIC razors have a reputation for just being the cheapest and best disposable razors out there, but the reality is that they are well made and do the job exactly as advertised.
Best Cheap Disposable Razor
 

Schick Xtreme 3 Disposable R

azors for Men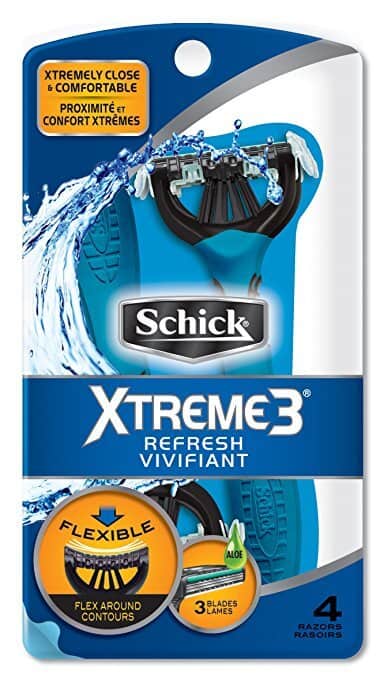 The Schick Xtreme 3 Disposable Razors for Men are only slightly more than a dollar per blade, but as these are the best throw away razors, they provide the best value for your money. An inexpensive package of 8 of best disposable razors will last you around four months, and you'll enjoy comfortable shaves day after day.
These disposable blades come with triple blades that won't clog or irritate your skin like five-blade razors so often do. Plus, the blades are flexible, meaning they have enough give in them to bend slightly. They'll easily contour the curves of your jawline and your chin. The aloe and vitamin E comfort strip lubricate your skin as you make passes moisturizing and hydrating as you go. Aloe vera in particular is known for its healing properties. Not only is it rich in nutrients, but it also improves elasticity, reduces inflammation, and eliminates fine lines and wrinkles.
The Schick Xtreme 3 is really one of the best disposable razors though because it offers a bit of luxury at the lowest prices. The handle has a rubberized grip that prevents slippage even when wet, and it's scented to provide you with a pleasant shaving experience.
BEST DISPOSABLE RAZOR FOR SHAVING HEAD
PERSONA 3 BLADE DISPOSABLE RAZOR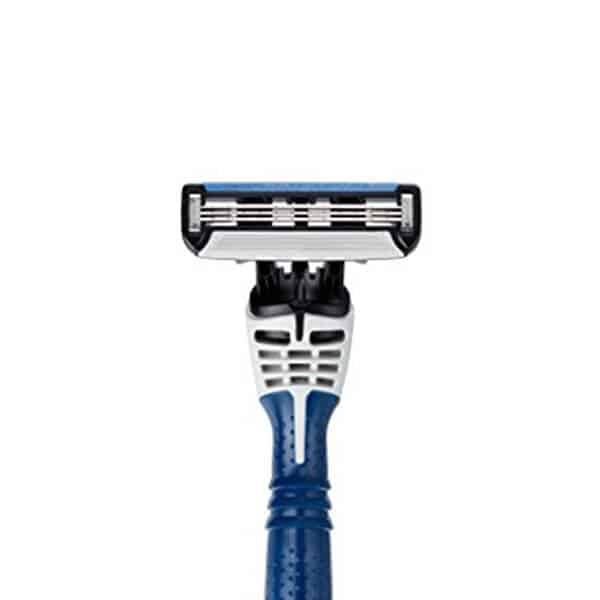 Persona is a razor blade brand that deserves way more love and attention than it gets. Barbers all know how good their blades are so it is a surprise that their disposable razors are not very well known. There are a couple of reasons that these are ideal for shaving your head. First, these are among the sharpest and some of the  best disposable razors on the market today. They will cut through dense head hair like buttah. The other reason is that they feature an anti-clog cartridge. This is essential when using a disposable razor on your head. Your head hair may be finer than your beard, but it is way denser. When I say dense, I mean there is more hair per square inch than your beard. This density can clog your blades and make it harder to get a good head shave. The head pivots nicely to be able to follow the contours of your head. The lubricating strip keeps the blades moving smoothly across the skin without leaving any residue. An ergonomic handle makes it easy to hold, especially if you shave your head on the shower. A virtual guard on the bottom of the cartridge helps reduce nicks. All in all, this is a disposable razor for head shaving that should be on your radar even if you don't shave your head. Pick one of these best disposable razors up and see the difference between a cheap disposable razor and one that provides more value than you would ever expect.
Best Disposable Razor for Black Men
 

Bump Fighter Mens Disposable Razors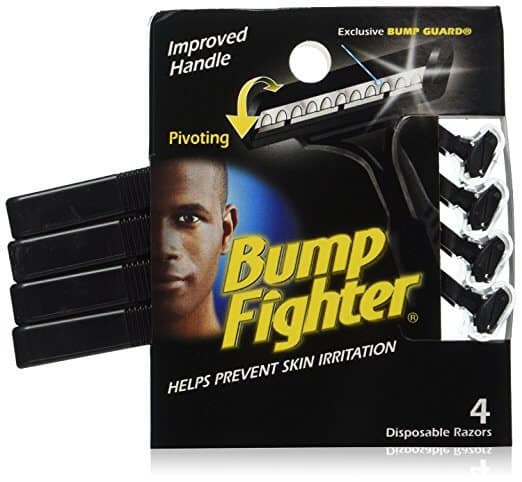 The Bump Fighter Men's Disposable Razor is a razor with a bump guard to prevent the blades from cutting too close to the skin. It's  designed to help any men who suffer from razor burn.
This razor was specifically designed with black men in mind. Black men, who tend to have very curly hair, often experience razor burn. Because the hair follicle is so curly, it tends to curl back in on itself when the hair is cut below the surface of the skin. As opposed to straight razors and safety razors which cut parallel to the skin, cartridge and disposable razors often cut below the skin, causing ingrown hairs.
It's rare to find disposable razors that give a decent shave without cutting too close to the skin, but this one does the trick. It won't give you a perfect shave. It should leave a slight layer of stubble on your skin that you'll feel if you rub your hand against your cheek against the grain, but that's okay. Because the blades are much smoother than the blades on your average disposable razors, the Bump Fighters will probably only last you 3-4 shaves. However, they'll save your skin from irritation and keep it healthier in the long-term.
If you want to know more about how to avoid razor bumps, read our full article by clicking here.
BEST TWO BLADE DISPOSABLE RAZOR
Gillette Sensor2 Disposable Razors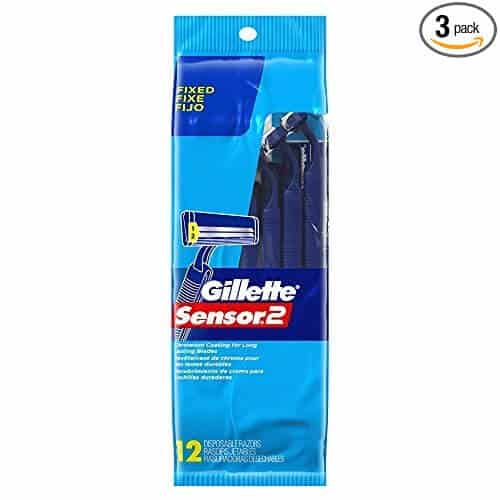 Some of us like the features and the frills offered by the latest Gillette razors, and others like classic, simple disposable razors. The razors you find on the shelves today can moisturize your skin, rotate in six directions, play your favorite songs, text your girlfriend, trim your ear hairs, and check your email for you. Okay, perhaps we're exaggerating, but the point still stands. A razor is really designed to do one thing–shave your hair. Two good blades is good enough to get the job done if they're made of high-quality steel. A lubricant strip may be nice, but when they start to get old and fall off, they're not as pleasant. A good, old-fashioned shaving brush with some shaving cream will do a much better job anyway. The Gillette Sensor2 disposable razors give you just what you need at a price you can't refuse. A pack of 36 blades only costs about $20, and each one should last you between 3 and 5 uses if you use them correctly. At that rate, you can practically go 6 months and maybe even a year without restocking.
How Long Should Disposable Razors Last?
Even the best disposable razors will wear out pretty quickly simply because the blades are not all that durable. However, how often you need to change your razor blades might change depending on your grooming habits.
First of all, the main reason your blades dull is actually not because of use. The water droplets left on your blade will cause the blades to rust and corrode. You can preserve the life of your disposable razors tremendously if you simply blot them dry with a towel after showering and then store them in a dry place.
Salt also wears away at the steel of your razor, and because your skin is very saline, it has a powerful effect on your blades. You should be cleaning out your razor thoroughly after each use if you want it to last longer than a couple of days. Better yet, sanitize it first with a bit of alcohol like a professional barber would. Cleaning them will also help you prevent breakouts and skin infections.
Lastly, you should be using some sort of shaving soap or cream. The soap will soften your skin making it that much easier for the razor to cut the hair. By prepping properly, you take a bit of pressure off of the razor.
That all being said, you shouldn't expect your razor to last for months on end. After all, the blades are fairly thin, and the steel isn't very strong. How often you need to replace your razor blades depends on all of these factors. If you take proper care of the best disposable razors though, you might very well be able to get a couple weeks out of them.
Your Best Disposable Razor?
Do you use disposable razors? Why are these your shaving tool of choice, and which do you think is the best disposable razor? We want to hear your comments, questions, and concerns.