If you are seeing more hair in your shower drain than you are comfortable with. Or, you could make a wig with the hairs left on your pillow case.
Then you are likely starting to think you need to get control of your hair loss and find a product to slow it down or stop it altogether.
Can you do something about your hair loss?
If your balding is from an excess of DHT, or dihydrotestosterone, then there are tons of best DHT blockers that actually do work to reverse the effects of thinning hair.
Pretty much everybody is familiar with Rogaine on Amazon.com, but there are other treatments available, too.
Of course, you can always just go the bald route and really embrace it!
If that look isn't for you or you want to prolong your years with hair, then read on for our detailed reviews of some of the best DHT blockers.
There are a few different kinds and which one is right for you depends on a few things, which we will cover.
If you don't have time to read the whole article, then you can take a look at the comparison table below of the best DHT blockers to see how the products stack up.
Do DHT blockers really work?
The short answer is maybe.
It really depends on which product we are talking about and what the ingredients are.
Unfortunately, there are plenty of snake oil products out there that really amount to nothing more than scams when it comes to claims of preventing baldness.
So much of that market is unregulated so there are some pretty bold claims being made.
One thing to keep in mind with any baldness product is that there is no cure for baldness and the best you can hope for is to to slow down your hair loss.
In some cases you will find yourself with a thicker head of hair after using these best DHT blockers, but mostly you are just trying to slow down the inevitable.
So any product that claims that you can grow all of your hair back and look like you once did should be taken with a grain of salt.
Another factor is what is actually causing your hair loss.
In most cases it is male pattern baldness which is genetic. What happens is a surge of testosterone breaks down into dihydrotestosterone which ends up damaging the follicles of your hair and sending them into sleep mode, essentially.
But, in other cases it could be a health issue. Thyroid issues could be the culprit and in that case these best DHT blockers won't work.
If you find your hair loss came on all of a sudden, and it is patchy and doesn't follow a pattern, then make sure you see a doctor first. Your GP should be able to find out if there is something else contributing and can set you up with a treatment that will cure the disease first and then your hair loss problem should clear up.
As with any type of hair loss treatment, your mileage may vary.
What ingredients to look for in a DHT blocker
Luckily, there are a number of natural ingredients that can block DHT from causing your hair loss.
Whether you are looking for a shampoo, supplement, serum or conditioner, if they include any of these ingredients then it is a good bet that they should work for you:
Saw Palmetto
Made from an extract of the fruit of the saw palmetto tree, this works to stop testosterone from breaking down and becoming the DHT which stops your hair follicles from growing new hair.
It's considered to be a natural Propecia since it mimics the effects of finasteride, which is the chemical found in hair loss pills, Propecia.
Biotin
Biotin is found in many types of foods, so most people are getting some level of biotin in their diet which helps slow hair loss.
Can you prevent hair loss by eating the food rich in biotin like walnuts, mushrooms and eggs?
If you eat huge amounts of them then maybe. The amounts found in the food are good enough for your body, but not likely enough to keep your hairline from receding.
If your hair is falling out faster than it ever has, then you may need a boost of this vitamin.
Rosemary Oil
If your scalp doesn't get enough blood from poor circulation, then rosemary oil could help your hair to regrow.
In some case, hair loss happens because the roots of your follicles are starved of the necessary blood supply.
If you improve the circulation of the blood in your scalp, which rosemary oil can stimulate, then your hair will be nourished and you should see some improvements in your hair regrowth.
Caffeine
Just like your morning cup of joe will wake you up, topical treatments with caffeine will also give a jolt to your hair follicles.
Exposed to caffeine, the roots of your hair can become stimulated enough to reject the effects of DHT.
It does work somewhat to block the DHT using one of the best DHT blockers, but it has been shown that even when DHT was added to the skin while using caffeine, the roots were still able to grow hair.
Don't think you can just drink more coffee to regrow your hair. You won't get nearly enough caffeine to your scalp where you need it most. The only way to effectively use caffeine as a treatment is to use a hair or scalp product with it as a main ingredient.
DHT Blocker Side Effects
As with anything that treats a problem, there could be some unwanted effects from taking even the best DHT blockers.
If you stick to all natural and best DHT blockers, then you will have much less of a chance of seeing any negative side effect than if you use something like Propecia.
In the event that these best DHT blockers works adversely, then some of the typical side effects are impotence, low sex drive and even increased breast size.
More than likely these side effects will be caused by the supplements and not usually from anything topical.
Again, these things are rare, but it is worth mentioning.
Our Picks for the Best DHT Blocker Treatments
Best DHT Blocker Shampoo
Maple Holistics Biotin Shampoo for Hair Growth B-Complex Formula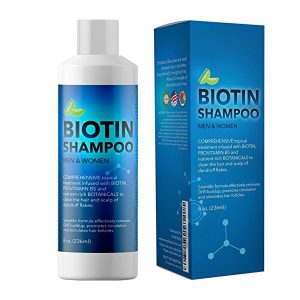 If you have read any of our other articles about natural hair grooming products, then no doubt you already know of my love for Maple Holistics products.
This all natural biotin hair loss shampoo is no exception.
It isn't just a great shampoo to reduce your hair loss and stimulate regrowth, it is a good shampoo in its own right.
What makes this so effective is not just the biotin, it is the addition of zinc. For some reason, zinc and biotin work very well together. Biotin on its own works, but when combined with zinc works much better.
This is a multi pronged attack on your hair loss.
First, the shampoo uses the biotin and zinc to block the production of DHT.
Then your scalp is cleansed with tea tree oil to reduce any inflammation and disinfect. If you have any dandruff, this will clear that up, opening up your pores on the scalp.
Rosemary oil stimulates the root of the hair and gets it ready to start some growth again.
Argan oil then nourishes and strengthens all of your hair, but is especially helpful for the new follicles to grow healthier.
In addition to all of that, it then uses jojoba oil to moisturize your hair to give it a silky texture and healthy glow. If you have used other DHT blocker shampoos you may have experienced dry, frizzy hair as a result.
This shampoo will leave your hair and scalp much cleaner and hydrated than most other hair loss shampoos could achieve.
As your new follicles start to come in, your hair should look fuller in general, reducing the appearance that your hair is thinning. It is very effective as a hair volumizer shampoo that does double duty as a hair loss treatment.
How often should you use it?
I generally advise people to not wash their hair everyday, but in this case since it is a treatment to control hair loss, I think it could and should be used everyday.
I definitely recommend a good DHT blocker hair conditioner, which I will review right below.
How long does it take to show results?
This is a slow process, so you may need to go through a couple of bottles before you start to see any improvements.
The results won't be dramatic, but you should start to see some regrowth after using this for a while.
Make sure you follow the directions to see the best results.
Runner Up for Best Biotin Shampoo
Hair Growth Stimulating Shampoo with Biotin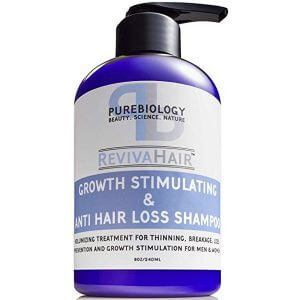 I added this other DHT blocking shampoo even though the Maple Holistics one works so well because it has saw palmetto and Maple Holistics doesn't.
If you tried the other one to no effect, then maybe it could have been from the lack of this essential ingredient and this one by Pure Biology could do the trick.
It has a lot of the same ingredients, including a heavy dose of biotin.
There have been several clinical tests done with this DHT shampoo and all of them showed some promise in many of the subjects. Hair loss was slowed by about 20% in less than three weeks.
Since it takes a while for the effects to really take hold, you may see even better results if you keep using it regularly along with other best DHT blockers if you opt to use more than one of these products.
There is a compound in this called 3HC which acts as a switch to turn on the growth cycle of the hair follicles. In tests they found that in 60 days there was a 60% increase in the hair follicles in the growth cycle.
The addition of keratin contributes to much stronger hair and the regrown hair ends up thicker and less prone to breakage.
A big downside to this shampoo is the fact that it is not sulfate free. Since sulfates end up drying out your hair, you really will need to use a natural conditioner afterwards to keep your hair healthy.
Best DHT Blocking Hair Conditioner
Botanical Hair Regrowth Lab Anti Hair Loss Conditioner Volumizing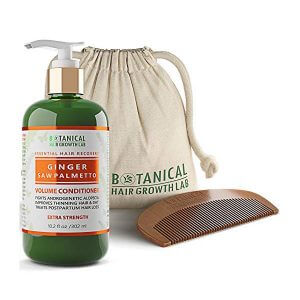 Another one considered as best DHT blockers is this all natural conditioner that will keep your hair loss at bay by blocking the formation of DHT while also hydrating and strengthening your hair overall.
With a healthy dose of saw palmetto, it starts by blocking the DHT from forming and then works on your hair health.
The addition of Ginger stimulates the scalp and improves circulation so your hair roots get nourished. The cell regeneration replaces old, unhealthy cells with new, virile ones.
This is absolutely packed with ingredients that can help regrow your hair. Rosemary oil, caffeine, peppermint extract, cayenne pepper extract all combine to make this a powerhouse of a product to stimulate your scalp and regrow your hair.
Sage extract will prevent dandruff from forming and chamomile will soothe the scalp from any possible irritation caused by some of the other essential oils.
The argan oil strengthens and nourishes your hair.
What you are left with is tons of volume, great shine and no frizz.
Your hair that hasn't fallen out will end up looking much thicker, which will hide the hair loss.
If you use this in conjunction with other best DHT blockers like a biotin shampoo, your results should be improved.
After having washed your hair, apply this and leave it in for 5 minutes before you rinse.
If you want to really make sure you get all the effects, then you can apply it and put a towel on your head for 30 minutes.
It will definitely start tingling pretty intensely due to the tea tree oil, cayenne pepper and peppermint oils in it. It shouldn't burn though.
After the 30 minutes, then rinse it and style your hair as you normally would.
Best DHT Blocker Supplements
DrFormulas HairOmega 3-in-1 Hair Growth Vitamins with DHT Blocker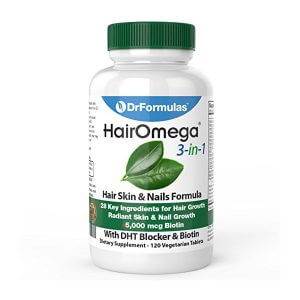 An easy and effective way to block DHT is to take a pill. Make it part of your daily morning routine and stop your hair loss from the inside.
This supplement not only will block DHT and potentially reverse your hair loss, but it also strengthens your hair, skin and nails.
With 5,000mg of biotin, it supplies wya more than you could possibly get by diet alone.
Besides blocking DHT, it also improves your circulation, giving the hair follicles the necessary supply of blood to be able to regenerate. A boost of zinc seals the deal which in conjunction with the biotin does wonders to rebalance your hormones.
Saw palmetto is also an ingredient that works well to inhibit DHT production in the scalp.
This increase in circulation also aids in healthier skin all over.
Your other hair, plus the regrown hair gets significantly stronger due to the silica, Vitamin C and cysteine. Cysteine supports the growth of keratin which is the building block of hair and fingernails.
An added bonus from taking one of these best DHT blockers in the form of tablets is that it will boost your overall immune system.
Taking four of these tablets a day will give you a thirty day supply per bottle.
How long will it take to see results?
It is hard to say for certain, but don't expect to see much of a difference in less than a couple of months. Typically you need to give a hair loss treatment, whatever form it takes, about 4 months before you can tell these best DHT blockers are working or not. It could take longer than that, so patience is key.
Make sure you stick with it long enough so you don't end up wasting your time and money.
Best Topical DHT Blocker Serum
Amplixin Intensive Biotin Hair Growth Serum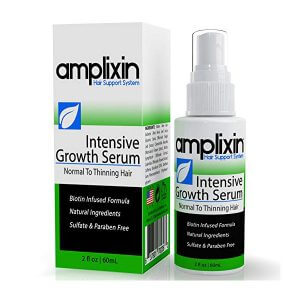 One of the best ways to block DHT is through the use of a leave in oil or serum. Since you actually leave it in it can be more absorbed by the scalp.
Of course, to really hedge your bets, you can use this together other best DHT blockers like a shampoo or conditioner.
It contains a good amount of biotin and saw palmetto to block the production of DHT. There is also caffeine to stimulate the roots of the hair and improve the blood circulation in the scalp.
If you have dry scalp or suffer from dandruff, there is sage extract as an ingredient which is a natural way to get rid of dandruff. In fact, if your dandruff is particularly bad, then it could even be that leading to your hair loss.
The sage helps clean out your pores and encourages the growth of new skin cells. If your pores are clogged with dead skin cells, aka dandruff, then this alone could give your hair growth a boost.
Aloe vera will soothe your scalp in case it has been drying out and keep the moisture in the skin where it belongs.
Your hair will be much stronger from using this and results in less breakage. If your hair is brittle or dry in addition to your hair loss, then will love the way your hair looks when it is stronger and healthier looking.
It goes on lightly and does not leave any kind of residue. Just let it dry out and then put whatever kind of hair styling products you normally use.
Use it at least three times per week to get the results you are looking for. Within a week or so you will at least notice that your hair looks thicker and has more volume.
As far as how long it takes to see your hair growing back, well, it could take a while. Give these best DHT blockers a few months to do their work and see how it goes.
More tips to keep your hair from falling out
Using these best DHT blockers to prevent hair loss and stimulate growth is only half the battle.
There are a couple of things that you will also need to do to keep your hair on your head where it belongs.
Hair Styling Products
If you are going to be styling your hair, make sure you go on easy with the gels and pomades especially.
When you lay the product on too thick, it can damage your hair and cause the strands to get weak and break.
More importantly, it can clog your pores and kind of smother your hair. This can lead to your hair not growing as thick as it used to.
Also, avoid petroleum based hair products. Usually labeled as petrolatum, it can get deep into your pores and damage your scalp.
If you already have trouble keeping your hair, then you don't want to make it worse by damaging your scalp.
Avoid Wearing a Hat
Ok, it is a myth that wearing a hat can cause baldness.
What isn't a myth is that if you wear the same hat all the time, it likely has dirt, grime and bacteria in it.
This can cause your scalp to get dirty which will clog pores and may cause you to see some thinning of your hair.
If you're already seeing some hair loss, then don't make it worse by wearing a hat all the time.
Don't Dye Your Hair
Like wearing a hat, you won't go bald because you dye your hair.
If your hair is already thinning then you don't want to damage your hair any further by dying it.
Dying your hair in general is very damaging and weaker hair is not what you want when you are trying to regrow your hair or stop it from falling out.
Final Thoughts on DHT Blocking Products
I've already mentioned it but it bears repeating. Don't expect a miracle from any of these best DHT blockers and you won't be disappointed.
You can definitely see some nice results as long as you don't think you will end up with a head full of long flowing hair by using one of the inhibitors.
Hair that is regrown will probably never be as thick and strong as the rest of your hair, so you may have to be content with it being a little wispy. Which to some is much better than bald patches.
To others, it just isn't worth the time and effort.
I am firmly in the second category. I went with the bald look and have never turned back.
But, to each his own.
If you are more comfortable with a little bit of extra coverage than I encourage you to give some or all of these best DHT blockers a try!