You've just been diagnosed with sleep apnea but you have a beard. Time to shave it off then, right? Nope! You don't need to shave your beard or mustache if you need to use a CPAP machine and mask for your sleep apnea. Since it is vitally important that you have the right mask that doesn't leak, you thought there was no way to keep your beard. You have options to keep your beard and still get your sleep apnea therapy. In this article I made a list of a few of the best CPAP mask for beards that work great for bearded guys and still have a solid seal. There are some good options for leak free CPAP masks that will give you the treatment you need so desperately. Sounds too good to be true, I know. Just read on and see the reviews of the best CPAP mask for beards and accessories that will get your apnea under control while keeping your facial hair.
What to look for in a CPAP mask for guys with beards
I wish I could tell you that you could be picky when it comes to the best CPAP mask for beards and that you have tons of options. The problem is that wouldn't be true. It isn't easy to find a mask that will seal properly when you have facial hair. Luckily, there are a few options as CPAP brands have come a long way in the last few years and make better masks than ever before. They understand that the beard trend is not going away and have put some masks on the market with bearded men in mind. CPAP Mask Styles
Nasal Pillow
These look like nose plugs, but they actually seal the nasal passage and direct airflow directly up your nose.
The pads are called pillows and nowadays they are as comfortable as a pillow, too.
These are the best CPAP mask for beards as they seal directly onto the nose.
There are a couple of downsides to using nasal pillows, though.
First off, if you need a high pressure airflow, these don't always deliver. And it is very important to go with the prescribed system by your sleep doctor.
Another downside is if you are a mouth breather sleeper, these won't work.
If you breathe through your mouth while you sleep, then the nasal pillow system is useless.
Full Face CPAP Mask
Less comfortable than the nasal pillow system are the full face CPAP masks.
These are ideal for guys that breathe through the mouth when sleeping as it covers the nose and mouth.
If you close your mouth to breath the mask will keep pumping and you will just breathe through the nose.
What is the downside?
Guys that have beards have a tough time keeping a good seal from these masks.
Fortunately, there are gel cushions that can adapt to the contours of your face and keep a tight seal over a beard. There are also CPAP sealer gels from Amazon.com to help fit over facial hair, but I will talk more about those in a bit.
Another negative is that guys who sleep on their sides tend to find that some full face masks will lose their seal and leak.
Of course, there is a hack for that, too!
Nasal CPAP Mask
If you aren't a mouth breather at night, but need high pressure airflow, then the Nasal system is a great way to go.
Your mustache might interfere somewhat with the seal, but since there is not much area, it is far easier to manage than with the full face mask.
Again, the only negative is that the guys who breathe through their mouth or snore with the mouth open won't be able to use these.
Comfort
Sleep doctors generally agree that the biggest problem with getting people the therapy they need for sleep apnea is that their patients don't use their CPAP machines when they should.
The problem is that they aren't always comfortable.
Make sure you get the right kind, with or without a beard, to be able to stick with the therapy which could ultimately save your life.
Accessories for comfort
Headgear Strap Covers from Amazon.com
Having a strap rub against your face as you move around is not the best way to get sleep.
These strap covers will keep the rubbing against your face down to a minimum so that your mask is more comfortable.
Heated Tubing Wrap from Amazon.com
Breathing in cold, dry air all night can do a number on your lips and leave you with a sore throat every day when you wake up.
Using a heated hose that will feel more comfortable as you breath is a must.
Use this hose cover to keep the hose from getting cold at night so it can stay warm.
Retracting Reel CPAP Tube Hanger Holder from Amazon.com
Another bugaboo with using a CPAP machine is that the hose is always banging around and can end up on your face, waking you up at night.
Use a retracting reel to keep the hose pulled away from you, but will let line out to allow you to move positions.
Snugz Mask Liners from Amazon.com
Then there are the masks themselves.
Advances in design and material have made the best CPAP mask for beards more comfortable, but every face is different so they won't all be cozy to wear for everybody.
If you feel like your get marks or irritation from your mask, then try a mask liner for more comfort.
The Straps
Besides needing headgear for your CPAP mask that is comfortable, if you have a beard it is essential that you have one that provides a tight seal.
If you are an active sleeper then it is even more important to have the right headgear.
If you have a CPAP machine that doesn't quite seal well over your beard or mustache, then it could be the headgear comes loose as you move around at night.
Trade in the stock headgear straps for one that might do the trick better and see what happens.
The Best Nasal Pillow CPAP Mask for Beards
Respironics DreamWear Gel Pillow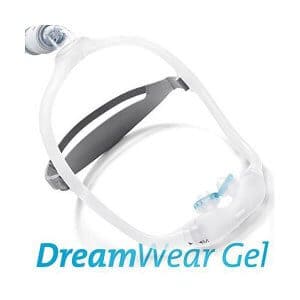 Whether you have a beard or not, this is one of the best nasal pillow masks on the market due to its unique design.
The straps that hold the cushions are the hose that supplies the airflow to the nose. This makes it probably the quietest best CPAP mask for beards. You can hardly hear the air moving through the hose at all.
With this type of design, the hose is placed at the top of the head which keeps it out of the way. It doesn't matter what machine you use, as the hose connection is pretty much standard in size, so you aren't relegated to using a Respironics machine.
This is great news as it makes it one of the best CPAP mask for beards for active sleepers, too. You can move about much more freely without the hose getting tangled up.
The joint has a swivel providing even more range of motion for the hose.
Since the straps are not on the side of the face, and instead you have soft silicone for the hose, it is much more comfortable. Which is a nice bonus! If you are tired of having straps rub against your skin at night, then give this a try instead.
Not only that, but they also are able to stay in place better which results in less leaking. They will give you a very nice, strong seal.
The rest of the headgear is very simple and is just one basic strap in the back. Keeping the material to a minimum also adds to your comfort. And it is easy to adjust to get the right fit.
As for added comfort, the pillows are made out of a very soft gel to provide a great seal but also not feel like they are pushing so hard on your nostrils. Less leaks also keep the noise to a minimum.
They are available in small, medium or large to fit any size nose.
There are very few parts which make it very easy to clean.
The only real negative I can think of is that the quick disconnect is not so quick. You may find it is easier to just take the whole mask off to get up to go to the bathroom at night. It is easy to slide right back on without needing to adjust the straps.
If you are not a mouth breather then I highly recommend this best CPAP mask for beards. Quiet, leak free, lots of mobility and comfortable all add up to a real bargain especially when you consider the low price.
If you are a mouth breather, a nice little hack is to use an anti snoring chin strap in conjunction with a nasal pillow system. It may take some time to get used to it, but it will keep your mouth closed and allow the CPAP to give you the therapy you need.
Best Nasal CPAP Mask for Beards
WiZARD 210 Nasal Mask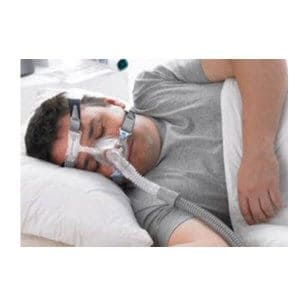 If you need high pressure airflow and a nasal pillow won't cut it, then this is a very good nasal CPAP that will keep a seal if you have a mustache. There is a pro and con to this wrapped up in the same item that I will get out of the way up front. The straps are great as they go up far enough over the top of the ears that they don't end up rubbing them all night. That is also the downside as it means it has a cushion on the forehead that can press a bit against the skin. Also, you won't be able to wear glasses while wearing this if you want to use it while you watch TV. This is the lesser of two evils though and how much it leaves a mark depends on where on the forehead it sits. It is cushioned and will be comfortable for most people, however. And, it is very lightweight. As far as the seal, it does have a slim profile and depending on your top lip and bushiness of the mustache, it shouldn't leak. It has a very ergonomic shape and the cushion allows you to pull the mask on tightly without it causing any irritation. This is ideal for getting it securely over your mustache. A swivel on the hose connection will allow you to move around somewhat freely. There is a quick release snap on the side of the mask that attaches to the strap for ease of getting out of it. Quick trips to the bathroom at night will actually be quick. The headgear is very ergonomic, as well and fits the contours of the head for a great fit. It is made of a nylon like material that has a bit of give to it and is soft against the skin. It is also compatible with any hose or CPAP machine. The cost of this is far lower than what you would expect from a similarly designed nasal CPAP mask.
Best Full Face CPAP Mask for Beards
ResMed Quattro FX Frame System with Cushion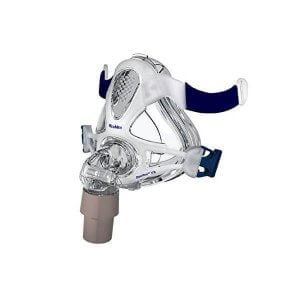 It is no secret that finding the right and best CPAP mask for beards is a real challenge. Heck, finding the right mask in general is a real challenge and you are likely to go through several before you settle on the right one!
That's why it is a very safe bet to start your search for the right mask by going with Resmed. They are the leaders in CPAP machines, masks and accessories and have patients in mind when they design their gear.
What makes this ideal for guys with beards is that it is a small CPAP mask that still covers both your nose and mouth.
Your beard tends to be thinner just under the lip and that is where the bottom of the mask rests. The narrow profile will extend the sides to only just past the edges of your mouth, also where the beard is not so thick.
This is ideal for keeping a nice seal. Preventing leaks and keeping the noise to a minimum is the right recipe for keeping you asleep. To really keep noise down it incorporates a unique air diffuser for when you exhale. This also is designed to direct air away from the face.
Another factor for comfort is that this is 45% lighter than the last generation of ResMed CPAP masks. And the cushion is very soft while not moving around.
While it is appreciated that the design removes the need for an uncomfortable forehead pad, the connection for the straps on the side of the face are a bit too rigid.
This can be solved with a pair of the strap covers that I had mentioned earlier in the article.
Since there is no bridge, you can wear glasses while you have the mask on. If you wear glasses and need to adjust the machine or set an alarm, or even look at your phone before nodding off, then it is a nice feature to already have your mask on and adjusted beforehand.
This mask as it is only comes with the actual mask. You will need to purchase the headgear separately. This strap works well with the Quattro FX and is somewhat stretchy and very comfortable. It has an underside of a soft foam material to reduce any irritation and rubbing.
The bane of every side sleeper wearing the full face mask, bearded or not, is the fact that your pillow can push the mask slightly off and then it won't stay sealed.
In this case you really need a special CPAP pillow. These pillows have contours on the sides that allow for the mask to not make contact and keep the seal.
It also works well for stomach sleepers.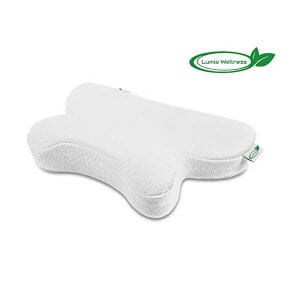 Getting the most out of your CPAP mask
The reality for most CPAP users is that they usually have to go through a few different ones before they find the best CPAP mask for beards that's perfect for them. To make sure you have the perfect one for your face, especially considering that you have facial hair, is to check how it fits in multiple positions. Try it sitting, standing, lying on your back, side and stomach. Shift positions in bed without trying to ease yourself into position to see how the hose moves around. Keep in mind that when you're asleep you won't be trying to move slowly to avoid tangling a hose. When you notice air leaks in a certain position, then try to adjust the straps to see if it helps. Once you can stay in every position without it leaking then you have the right fit. You should also practice taking it off and putting it back on. Especially if you don't have a quick release feature on the straps. If you have to adjust in the middle of the night to stop it from leaking, then you will likely not use it as much as you should. Not to mention that the longer you are awake and trying to fit it, the less time you are sleeping. The most important tip is to give it time and be patient. Keep messing with it to see if there really isn't anything that will prevent leaks. Swapping it out for another best CPAP mask for beards model doesn't guarantee that the next one will work any better.