How To Find The Best Cartridge Razor For Men
The day the cartridge razor for men came out was truly a wonderful day. Not only are they easy to use, but they're relatively safe and efficient. Though cartridge refills will cost you a pretty penny, they offer unparalleled convenience. One day I would have thought that electric razors were the quickest, most effective way to get a nice, clean shave, but today, I wouldn't give up mySchick Hydro 5 for the entire world.
It's gentle on the shave, lasts for quite a bit and delivers close results that have made me a happier man overall, which is why it made it to our list of best cartridge razor for men: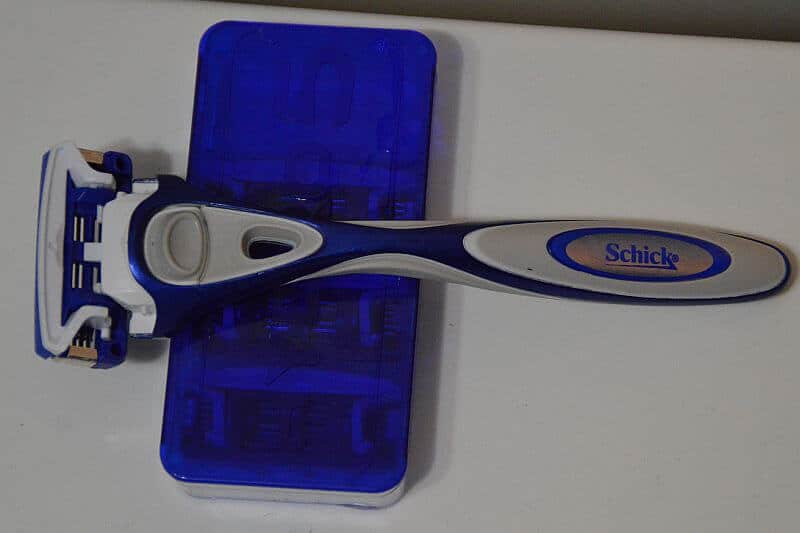 Of course, it's not the ONLY choice you have. A few brands offer cartridge razors that give you an incredibly smooth shave without the dreaded nicking. Here are 4 options I would personally recommend you:
If you can't be bothered to spend an extra fifteen minutes in the shower with a safety razor and you don't want to spend the time learning to use an electric one, then a cartridge razor will save your life. I always keep my cartridge razors in the shower for those days where I need to hop in and out of the shower in a jiffy. In this post, we'll talk a little bit about what the advantages are to using cartridge razors, how to get the most out of your razor, and of course what the best cartridge razor for men on the market are.
Safety Razor vs. Cartridge Razor
Any avid shaver has an opinion on the greatest shaving debate of this century: safety razor vs. cartridge razor. The great debacle comes down to this.
Are you willing to spend a bit more for convenience and safety, or are you a traditional, non-disposable blade that can give you a closer shave if you are willing to put in the extra time.
It's no secret that Gillette and Schick make a fortune selling the best cartridge razor for men because the refills will cost well over a $1 per cartridge though they cost mere pennies to manufacture.
Over the long run, you will pay more, but since the blades are set into the razor's frame at an angle, they don't make direct contact with your skin the way safety razors do.
Safety razors have very sharp blades, and if you haven't perfected the art of shaving with them, you'll likely be left with a few cuts around your jaw bone. If you're travelling or on the run, a cartridge razor will cut off that extra stubble in no time flat.
Cartridge razors with five or six blades might cause your skin more irritation, but you simply cannot beat the convenience. With a disposable razor head, all you have to do is shave and toss.
Keep the plastic handle, and pick up a new box of best cartridge razor for men every few months or so.
To prolong the life of your cartridge and to also experience a better shave, the more prep you do on your face, the better.
What I mean by that is to make sure you use a lot of hot water to get the skin and stubble really soft and to use a good shaving cream.
The best thing to do, even when using a cartridge is to apply a shaving cream or soap with a badger hair brush. You'll get the stubble properly soaked and the hairs will be sticking up instead of against the skin. You'll be amazed at how much your shave is improved by doing this.
The 4 Best Cartridge Razor Out There [Handpicked]
#1 Best 5-Blade Cartridge Razor:

Schick Hydro 5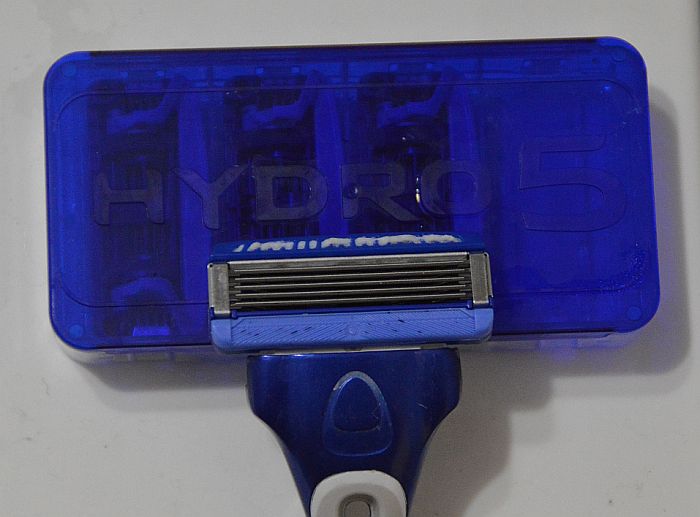 The Schick Hydro 5 replacement cartridge packs cost significantly less than Gillette ones, but it offers a fairly close shave nonetheless. The razor heads won't last as long, and the blades are not as fine, but it will leave your skin feeling silky smooth. The Schick Hydro 5 only costs $10, and an 8-pack of replacement cartridges will cost slightly less than $20, and each razor head will last you about two weeks. Even for such a great price though, you get incredible value. The razor handle is made of an ultra glossy chrome with a rubber grip handle for easy use. The back of this best cartridge razor for men has a built-in precision trimmer, and the front of the razor has gel reserves. As opposed to a lubricant strip which easily wears off after only a few uses, the gel reserves will keep your face well lubricated every time you use it. Get ready to feel real hydration! All in all, I love using the Schick Hydro 5. It's relatively inexpensive and offers very high quality. This razor is for anyone who can't afford the high-end luxury razor but still want that baby doll face.
#2: The Best Gillette Razor:

Gillette Fusion 5 Proglide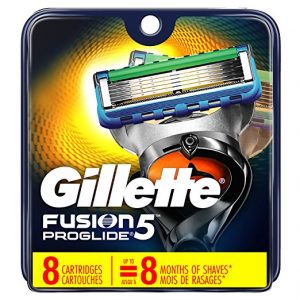 The Gillette Fusion Proglide 5 isn't cheap, but it's worth every penny.
The flexball handle allows the razor to bend with the contours of your face so you can get the sensitive areas around your neck. It also comes with finer, thinner blades that glide over your skin without pulling at your facial hair.
The lubricant strip contains a touch of mineral oil to keep your skin smooth and soft, and the back of the razor head has a precision trimmer for your upper lip.
If you take good care of your razor by washing it frequently and drying it after use, one cartridge should last you up to an entire month. Of course that could still vary depending on how thick and course your hair is and how frequently you shave.
I have a fairly thick beard with sensitive skin, so I shave every other day or so.  When I use these razors, a cartridge tends to last me close to a month.
The ironic thing is that your razor will last longer if you have a bit of longer stubble. Since it is softer, the razor cuts through it easier. When your stubble is just growing, it is thicker and rougher and takes a greater toll on your razor blade.
That being said, a package that only costs a bit more than $25 should be able to last you from January at least through June.
Remember, the easiest way to preserve your razors is to dry them regularly. Water causes the blades to rust and dull, so prevent them from oxidizing and add weeks to the lifespan of your razor.
Most people never realize this, but you should be able to get quite a bit of use out of one Gillette razor if you're careful.
Though this razor pack is expensive, you won't be able to find a smoother shave anywhere. It glides effortlessly over your jaw, neck, and upper lip, and leaves your skin feeling fresh time and time again.
#3 Best Cartridge Razor for Budget Shaving:

Dorco Pace 6 Plus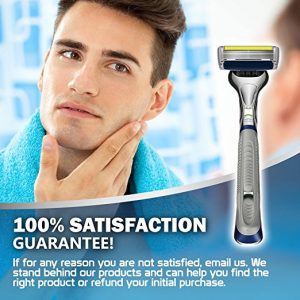 It seems like prices for cartridge razors are rising by the minute, and they show no signs of slowing down.
You can trust that Dorco will always sell you affordable razors. If you want a nice, clean shave without breaking the bank, then Dorco is your way to go.
The handle is light, and the cartridges easily pop off when you press down the tab on the back.
Best yet, the customer service on the Dorco team is impeccable. Even if you post a negative review, they'll contact you personally and send you a replacement product. They are proud of their company and are willing to stand behind each and every one of their products.
You can be sure that if you buy from Dorco, they'll work with you personally should anything go wrong.
In fact, the Dollar Shave Club razors are made by none other than Dorco.
The difference between this razor and the Gillette Fusion razors is that the Dorco Pace doesn't have a flexball handle so that it can't adjust to the contours of your face. If you can do without some of the fancy accessories though, you'll save loads of cash.
#4 Best Cartridge Razor for Convenience:

Micro Touch Triple-Blade Razor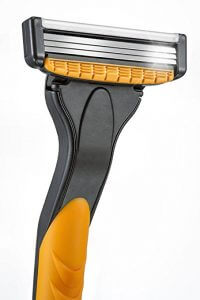 The Micro Touch Triple-Blade Razor is a modest little razor that makes it easier than ever for you to shave every morning.
Not only does it have a simple plastic handle, but it comes with two fewer blades. With only three blades, this razor will be easier to maneuver, and because there are fewer blades, it will irritate your skin less.
Best of all, this razor comes with twelve replacement cartridge heads, so you won't have to reload until the following year. The non-stick coating on each of the stainless blades prevents build-up letting you shave even longer before replacing the blades.
Make the Most of Your Best Men's Cartridge Razor
Even though I love these best cartridge razor for men because they're portable and convenient, they can irritate your skin if you don't prep your skin properly.
If you're not using beard balm or oil, you're bound to leave the shower with an itchy chin and dry whiskers. You won't want to skimp on good-quality shaving cream either. Even the best cartridge razors will irritate your skin if you aren't prepping with any lubricants.
You might even want to exfoliate with a nice face scrub first to take off any dead skin cells.
In fact, the cleaner and healthier your skin, the better your shave will be. While the pre-shave oil will smooth down the skin and reduce friction, aftershave, moisturizers, or even a bit of aloe vera on a regular basis will keep your skin soft and supple.
The better your can keep your skin nourished, the less likely you'll be to cut yourself.