I'll admit that years ago when the beard trend just started popping up, I thought it would be a passing trend like any other and be gone in a few years.
Boy, was I wrong! Not only did the trend not go the way of the dodo bird, but it also seems to still be growing more popular.
What that means is that there are many more men in desperate need of the best beard grooming kits to get their beard under control.
It is not enough to just grow a beard and that's it. It needs to be taken care of. To keep your beard from getting weird, we put together this list of the best beard care kits on the market to make it easy to set up your beard maintenance routine, with helpful tips on how to groom a beard.
Treat your beard right and it will treat you right, so think about getting a beard grooming kit!
If you don't have time to read the whole article, then let me highlight what we think is the best beard care kit out there. We love using organic grooming products so it's logical that we would recommend Maison Lambert Organics from Amazon.com based in Paris, France. It has everything you need and is well crafted. The full Maison Lambert review is further down if you want to read more about it.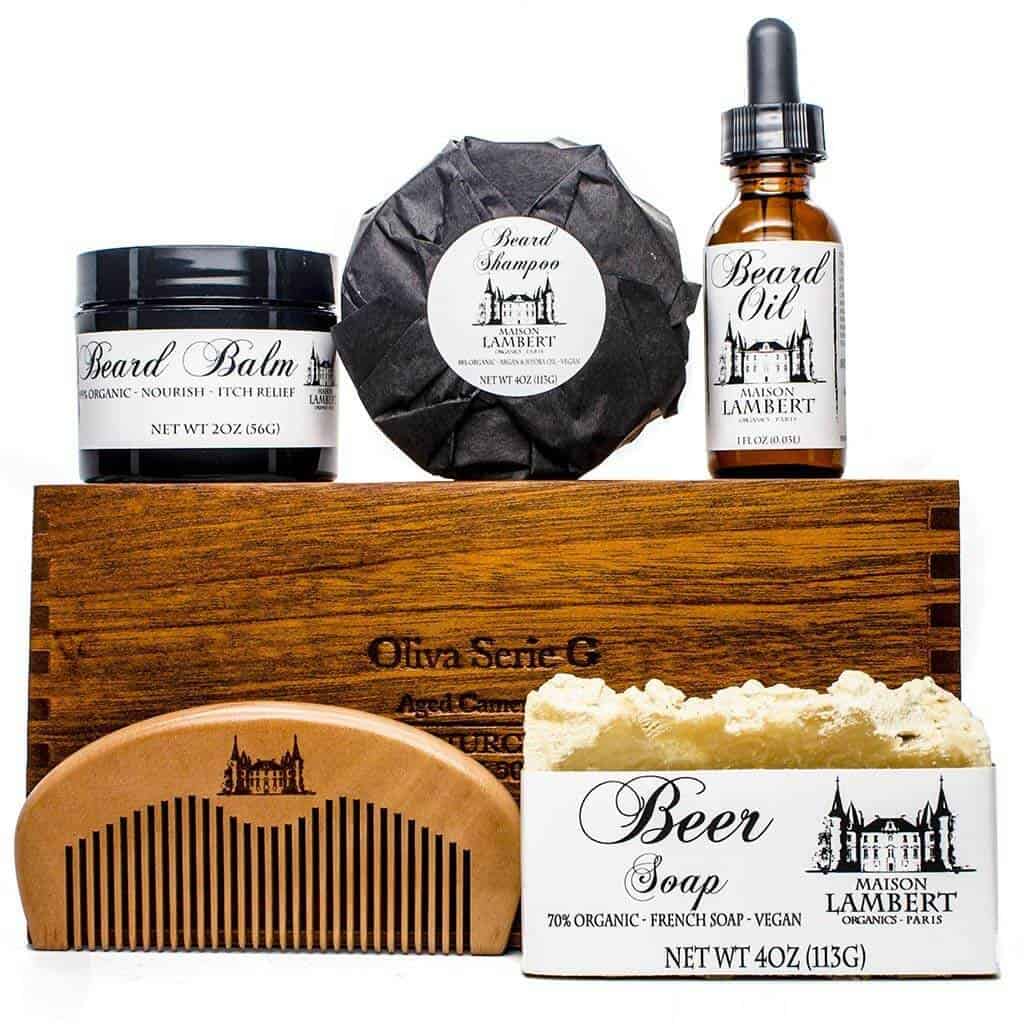 Maison Lambert Ultimate Beard Kit

Best for:


People who like the finer things in life. Well crafted and elegant.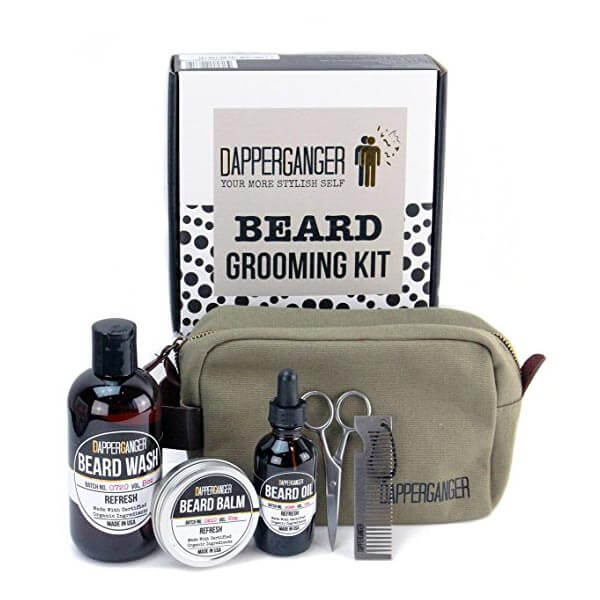 DapperGanger Organic Beard Kit

Best for:


People with sensitive skin and vegan friendly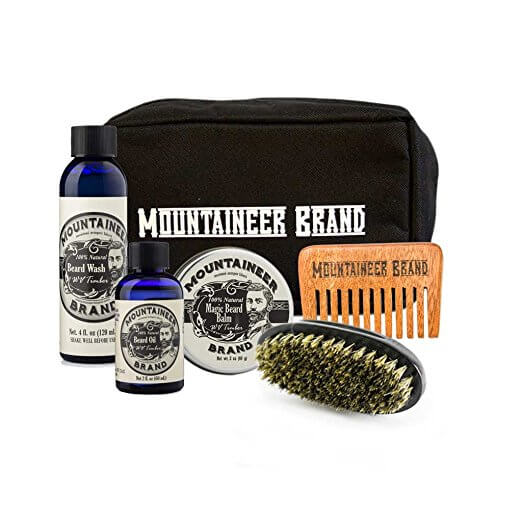 Mountaineer Brand Beard Care Kit

Best for:


Guys with long and thick beards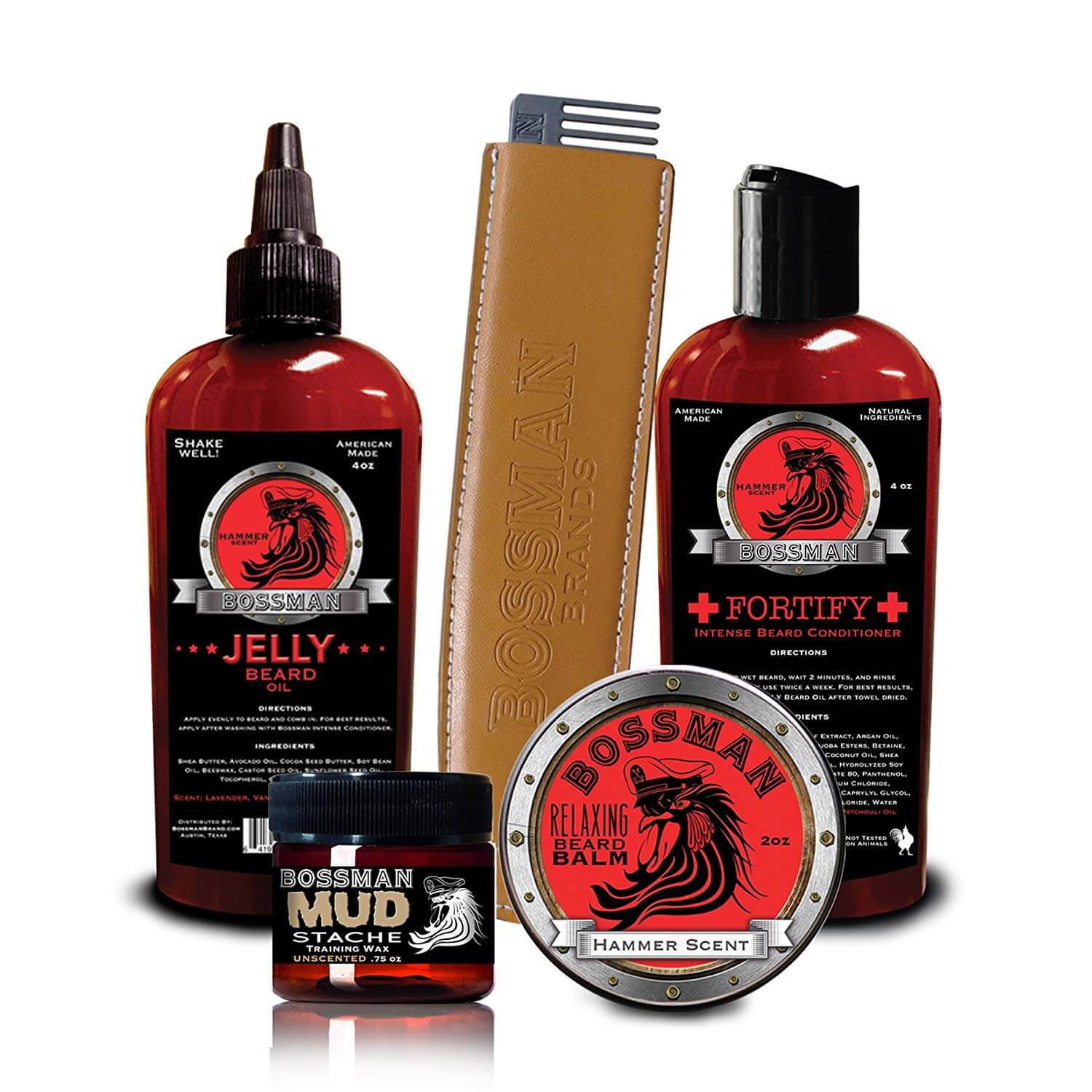 Bossman Complete Facial Hair Care Kit

Best for:


People that have long mustaches to style.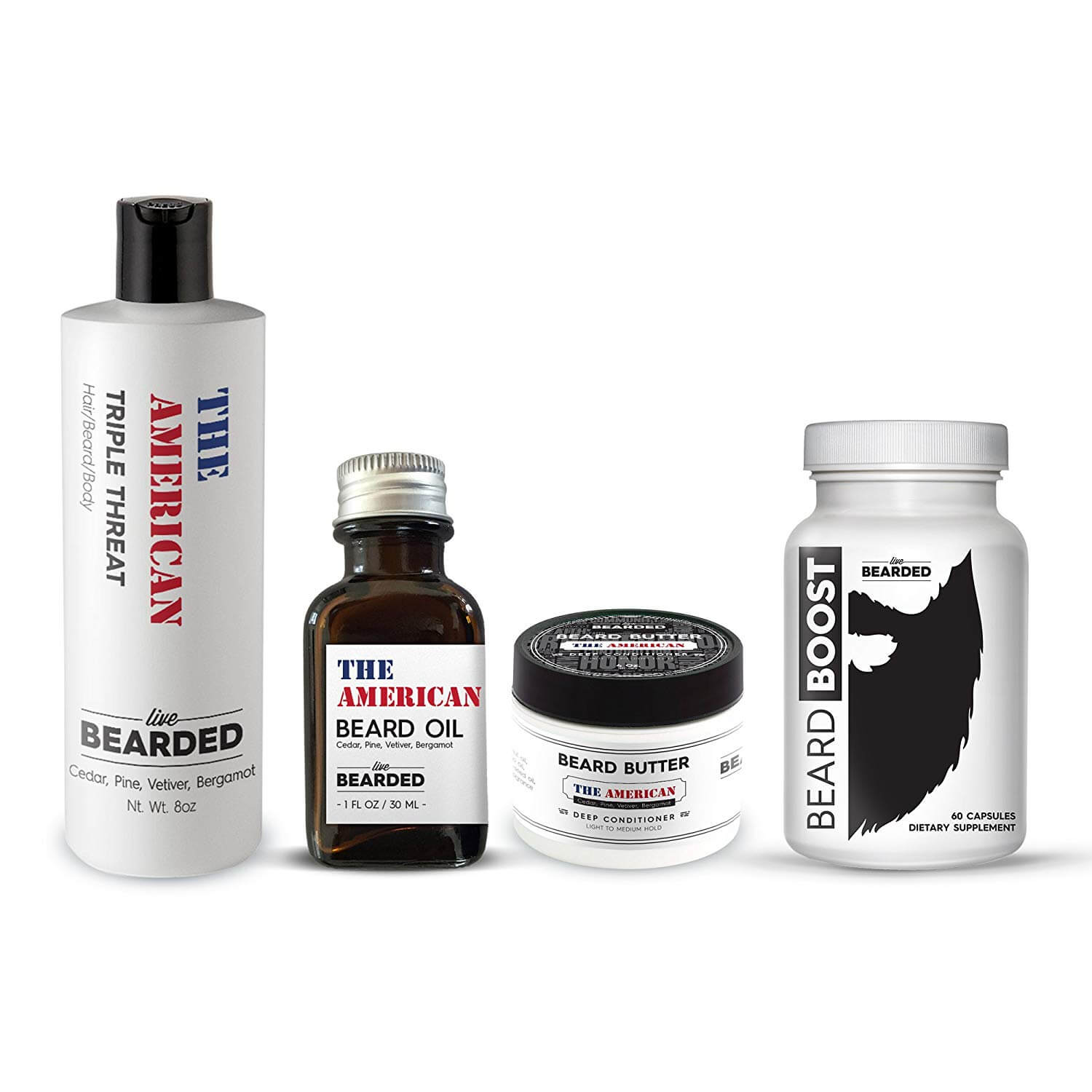 Live Bearded Beard Growth Kit

Best for:


Guys with patchy or thin beards. Also for guys who want to grow a beard quickly.
How to Choose the Best Kind of Beard Grooming Kits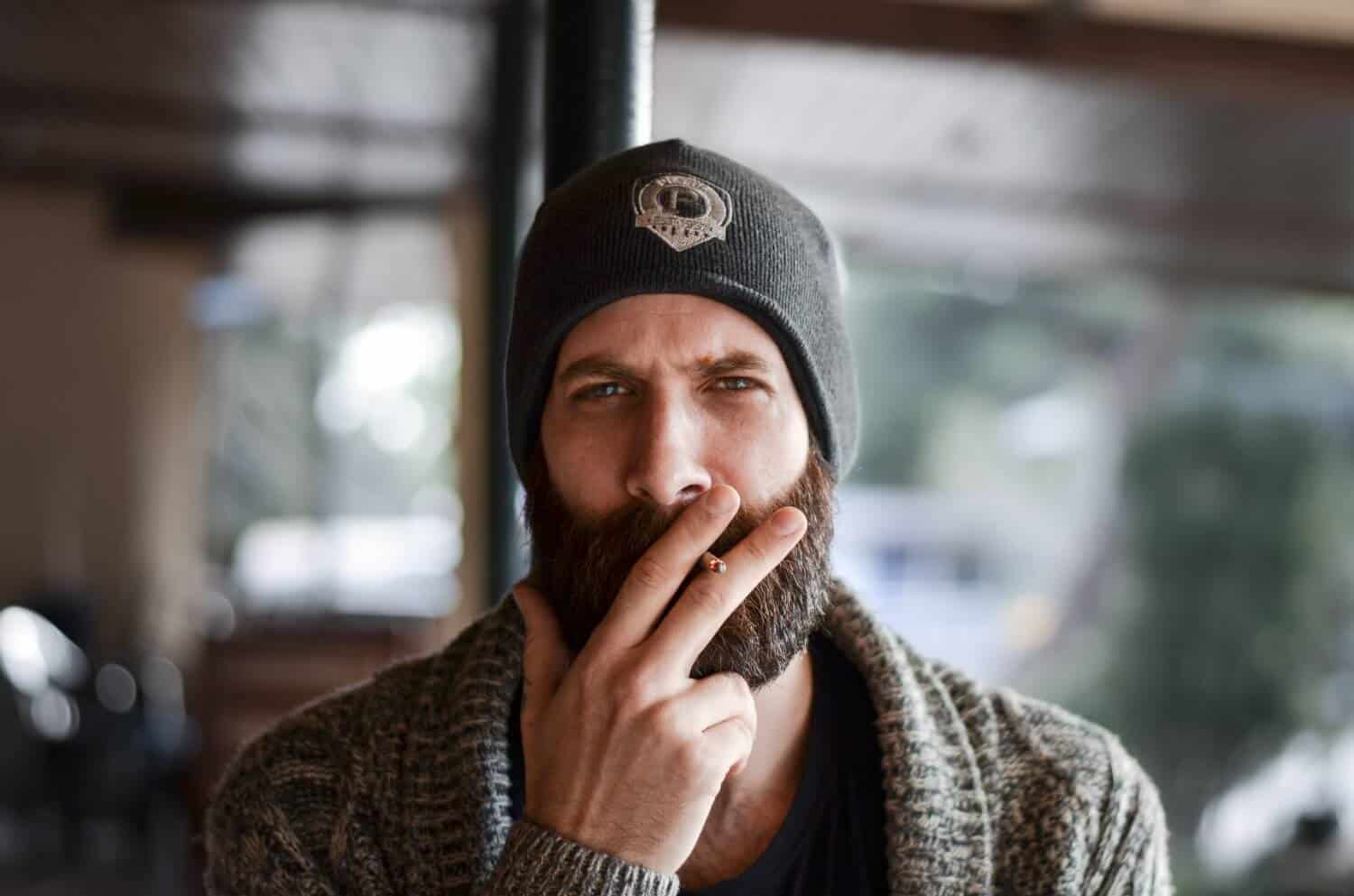 Let me expand on a point I made in the introduction to the best beard grooming kits and how to groom a beard.
Just growing a beard is only half of what it means to actually have a beard. A well-groomed beard will bring some well deserved attention and can benefit you in all the same ways that dressing well and being well groomed in other non facial hair areas. But, you are asking how to grow a beard.
To achieve this and make your life easier in the process is to get the right beard care kit.
What should the best kind of beard grooming kits have in them? Here is a simple list of the must have items in your beard grooming kit and what features they should have:
Beard Oil
No respectable beard care kit would be without beard oil. Applying beard oil is the very minimum you can do to keep a glorious beard. It hydrates your beard preventing split ends, fly away hairs and keeping "bearduff" at bay. Your skin can get really dry under your beard, so beard oil is essential to keep it from going flaky.
The best beard oils should contain argan oil, jojoba oil, shea butter or almond oil. Any of these ingredients will keep your beard under control and healthy.
Beard Shampoo
I'm often asked, "Should I use a beard shampoo or can I just use my regular shampoo on my beard?" The answer is that your beard is not like your hair and needs a special beard shampoo.
Using your hair shampoo on your beard can lead to a dry and scraggly beard. Beard shampoos are designed for the porous and wiry beard hair and will hydrate and repair any damage to the hair and follicle.
Beard comb or Beard Brush
The best beard grooming kits will have both as they serve different functions, but any self-respecting beard care company will make sure one or the other is included.
A beard comb is mainly used to get beard oil or other grooming products evenly distributed throughout the beard. It should be made of wood or other natural material. Don't use a plastic comb on your beard as it will actually do some damage. Beard combs can be used to style a beard in the absence of a beard brush.
A beard brush is meant to give your beard shape and to get all the hairs lined up to keep those fly-away stray hairs in place for a neat looking beard. Make sure the kit does not have a brush with plastic bristles as this will end up splitting the ends of your beard. The best beard brushes are made with natural material like boar bristles.
Those are the basics that should be in every beard kit.
Other nice to have items include beard balm, which is similar to beard oil but works well on longer beards and generally lasts longer.
Beard conditioners help keep your beard hydrated and soft to the touch. Since using a beard oil or balm can achieve the same results, it is not 100% necessary to have, but some do love the luxurious feel of a conditioned beard.
Lastly, a handy travel case included in the beard kit is always a nice addition, or at the very least a box to keep everything in one place.
Are beard trimming kits worth it?
Or does it make more sense to buy the products individually instead of the best beard grooming kits?
This is a personal call.
Buying the best beard grooming kit definitely saves money. Especially since there is usually a product or tool thrown in as a freebie.
If money is no object then, maybe it makes sense to buy individually instead of the whole best beard grooming kit. However, we usually buy beard grooming products from Amazon and getting individual items can sometimes mean all the products coming separately. Which means more expense and time to get everything you need. It's nice to have a beard trimming kit with everything in one box ready to go.
Buying a beard trimming kit is also a great gift option for the bearded loved one in your life. Getting the beard care kit takes all the guesswork out of the equation.
At the end of the day, there is no right or wrong answer to this question. We believe getting a beard care kit is the best way to get started in your beard care regimen, but we wouldn't say you would be wrong to buy everything individually instead of opting for a beard kit.
Here is Our List of the Best Beard Care Kits
Maison Lambert Organics Ultimate Beard Kit
Review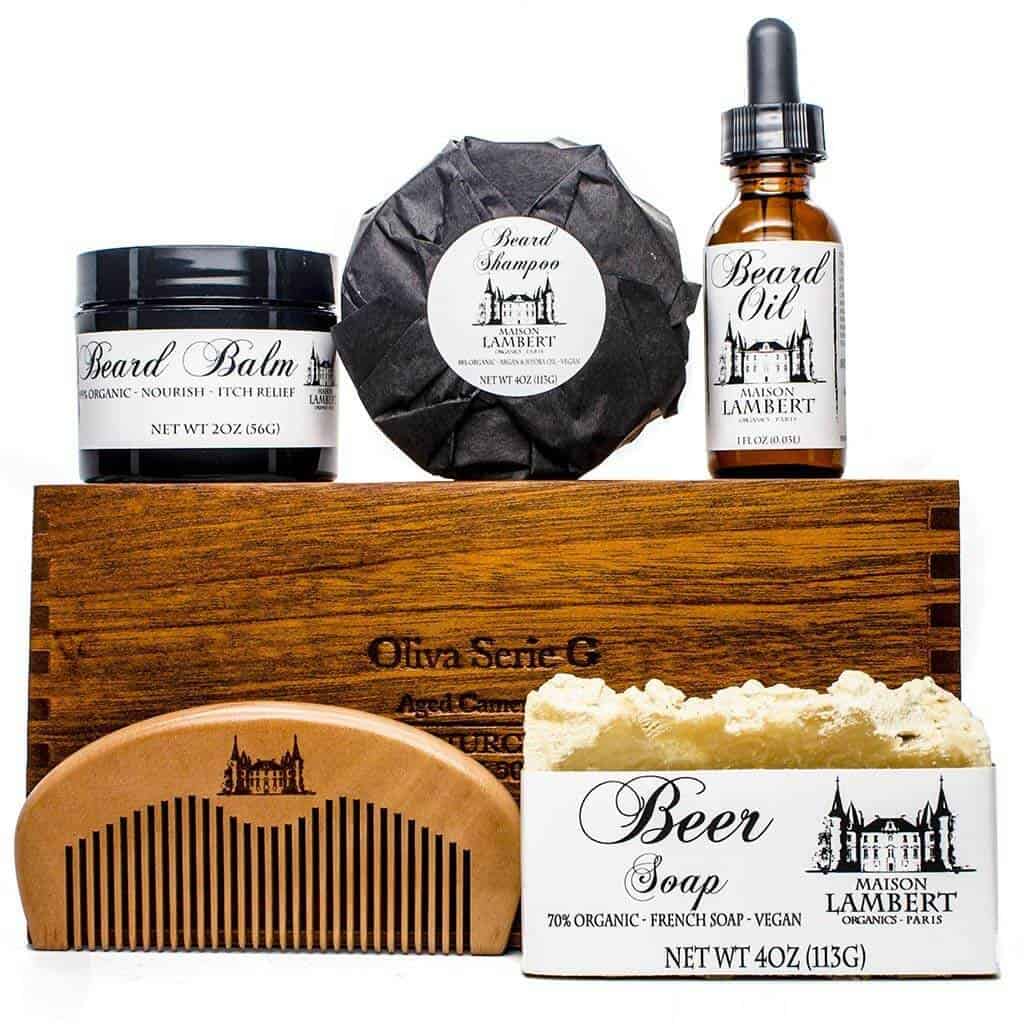 INCLUDES: Organic Beard Balm, Organic Beard Oil, Organic Beard Shampoo, Wood Beard Comb, Organic Body Soap (Freebie!), Wooden Cigar Box.
Almost entirely organic, and all vegan, it uses all natural ingredients for a guilt-free way to take care of your beard. Free from harsh chemicals, it will leave your beard healthier than ever and way more manageable than if you didn't use any beard grooming products.
The essential oils in the beard shampoo, like argan oil, will hydrate and repair your beard from any damage. The beard oil keeps it hydrated and will also heal the skin underneath, keeping it fresh and flake free. Beard balm coats the beard with a gentle conditioner that leaves it looking bright and glowing without a greasy texture that inferior beard balms can't achieve. Keeping every hair in place is the wooden beard comb.
A bonus free item in this kit that is one of our best beard grooming kits is the beer based body soap. It lathers up great and rinses off without any residue.
The scent of all the products is very inviting, with hints of vanilla and lavender, without smelling feminine at all. It is subtle, so it won't distract. The scent is really for your significant other as they will be the one close enough to notice it.
Raving about the box it comes in may seem superficial since it does nothing for your beard, but it really adds to the whole package. It looks cool and will complement the style of any bathroom or on a bureau. Opening it is very satisfying as the classic scent wafts out every time making it feel like opening a special gift.
The only downside to this kit is that it does not include a beard brush. Other than that, it has everything you need and I have no doubt that this kit will be reordered once it runs out. It's that good.
Edit

| You'll love it for these | But you won't like these |
| --- | --- |
| | |
| Vegan and all natural ingredients | |
| Leaves beard healthy and hydrated | |
| Includes everything needed for beard care | |
| | |
DapperGanger Beard Grooming Kit Review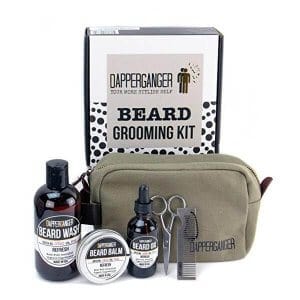 INCLUDES: Organic Beard Oil, Organic Beard Balm, Organic Beard Shampoo, Beard Trimming Scissors, Metal Beard Comb, Vegan Dopp Bag.
This is yet another beard care kit we can heartily recommend due to it being organic and vegan. Well, the one item that is not vegan is the beard balm despite it being organic.
Made in the USA, this kit has all the items necessary for you to tame your beard, including some beard trimming scissors. The beard shampoo has all the right ingredients to clean and hydrate your beard. The beard oil is a nice blend of almond, safflower, sunflower and avocado oils to keep your beard fresh and full. Then the beard balm brings it all together with coconut oil, argan oil, avocado oil, soy, and beeswax. The beeswax keeps your beard styled naturally.
The scent is called Refresh because it is exactly that. Refreshing. It is a blend of lemon, rosemary, and mint for an invigorating menthol type of aroma.
To keep the ends from fraying and getting the oil and balm evenly distributed, there is a handy little metal comb. With a bottle opener. I'm not sure how many guys are drinking beer while grooming their beard, but I am pretty sure there will be more if they are using this grooming kit.
This kit, that is one of our best beard grooming kits is great for guys with sensitive skin.
Edit

| You'll love it for these | But you won't like these |
| --- | --- |
| All natural and US Certified organic | |
| | |
| Bottle opener on beard comb (yes, really) | |
| | |
Mountaineer Brand Beard Grooming Kit Review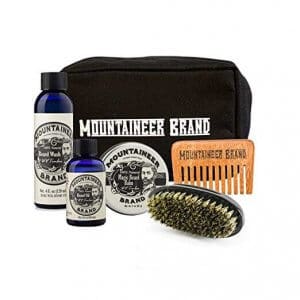 INCLUDES: Beard Oil, Beard Balm, Beard Shampoo, Wooden Beard Comb, Beard Brush, Dopp Bag.
From the state of West Virginia, an area where they know a thing or two about beards comes these best beard grooming kits.
The name definitely makes sense, as when you think of a mountaineer, beards definitely come to mind. And flannel.
The scents used are manly and very woodsy. The only gripe I have about the scents, though is that the different products use different scents. It seems better to have a consistent aroma across all the products.
Aside from that little nitpick, the products in this beard grooming kit are excellent since they use great ingredients. Essential oils in all the beard grooming products will keep your skin hydrated and flake free, while the beard oil will leave your beard silky. For longer beards, the beard balm can't be beaten for keeping it uniform or styled as well as full looking for those will thinner beards.
The wooden beard comb has nice wide teeth to detangle the beard without pulling. A boars bristle beard brush will get your beard smooth and even.
Perfect for throwing in a backpack or gym bag, the canvas dopp bag makes it an easy and stylish way to take your beard grooming on the road and is a nice inclusion in this beard grooming kit.
Edit

| You'll love it for these | But you won't like these |
| --- | --- |
| | Different scents for different products doesn't make sense |
| | |
| | |
| | |
Bossman Complete Facial Hair Care Kit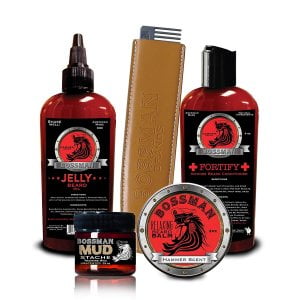 INCLUDES: Jelly Beard Oil, Relax Beard Balm, Metal Beard Comb, Fortify Intense Beard Conditioner, Mudstache Mustache Wax.
This facial hair grooming kit comes with it all. Which is why it is called a facial hair kit and not beard care since it takes your mustache into account. Those with longer mustaches definitely need this kit. The Mudstache mustache wax is perfect to style those whiskers that need a little more TLC from a product than the rest of the beard.
Another very positive thing about this kit, which is one of the best kind of beard grooming kits is the size of the products. Too often beard care, or other grooming, kits have more what could be considered travel size products. This has normal sized bottles that will last quite a while.
The scent is the same across all of the products to make everything uniform. It is earthy and woodsy with just a hint of patchouli. Don't worry if you're not a fan of patchouli, as it blends well with the other scents and doesn't stand out on its own.
The beard oil is unique as they call it a jelly. It is thick so it lasts quite a bit longer than an ordinary beard oil, yet is still thinner than a beard balm to make application a breeze.
The beard balm is great for styling the beard while the conditioner leaves it feeling soft and inviting.
The only thing missing is a beard wash. I'm kind of stumped as to why it doesn't have one.
Edit

| You'll love it for these | But you won't like these |
| --- | --- |
| | Doesn't include beard wash |
| | |
| | |
| | |
Live Bearded Beard Grooming Kit for Beard Growth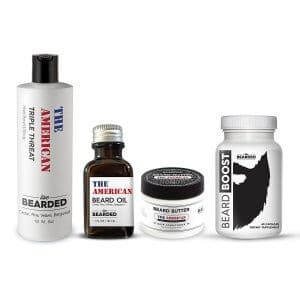 INCLUDES: Beard and Body Wash, Beard Oil, Beard Butter, Beard Boost Growth Supplements.
Let's start with the beard boost growth supplements. This is a unique addition to a beard care kit as most beard growth products are applied to the skin. Instead, this is in the form of pills, whose vitamin mixture supposedly will help your beard grow. The results are guaranteed, so it seems worth a shot to grow a beard quickly since you can get your money back if it doesn't work for you.
As far as the rest of the beard grooming kits go, the grooming products are excellent. The beard wash is an 8-ounce bottle so if you just use it for your beard it will last ages. It can also double as a body wash. The beard oil is great at keeping the skin and beard hydrated for a flake-free, healthy skin and glowing beard. The beard butter is like a leave-in conditioner that will help style the beard and keep it shiny without being oily.
The scent is awesome, it smells like Irish Spring soap should actually smell like but doesn't. The vetiver has an herbal, slightly grassy scent and the pine and cedar bring a bit of earthiness. The scent is invigorating but dissipates to a subtle scent that is just noticeable so it doesn't overpower.
The only thing missing from this beard kit is a case for it and a beard comb or brush.
Edit

| You'll love it for these | But you won't like these |
| --- | --- |
| | Doesn't come with beard brush or carrying case |
| Great woodsy and fresh scent | |
| Large beard body wash size | |
| Beard butter is a great conditioner | |
The Wrap Up On the Best Men's Beard Kit
If you have a question about any of these beard grooming kits or any that aren't listed here, then drop us a line and we will answer as soon as we can.
If you feel like this list helped you then you know what to do. Help others out that you know need their beard taken care of by sending them this list to find the best beard kit.
As with most things, the key factor on how to groom a beard is having the right tools. With any one of these beard maintenance kits, you will find all the essential tools you need to get yoru beard in gear!