Let's face it…no one likes patches. You're a man, and you want a full beard so that everyone knows it, but you don't want to turn to prescription drugs or chemical treatments. If only, there were a magic pill that stimulated beard growth. Well, there might not be a magic pill, but you can find beard growth vitamins.
Beard vitamins are normal multivitamins formulated specifically to support hair growth. Since they're just vitamins, they have no nasty side effects. Essentially, they help maximize your body's ability to grow hair. After all, your body needs fuel to grow hair. Many of us don't get the nutrients we need from our diet and so we turn to supplements, like Iron Beard from Amazon.com, to help us out.
Below, we're going to go through some beard growth vitamins reviews and discuss some of the key ingredients in each. Then we'll talk about whether beard vitamins work and what side effects you might need to be aware of.
Beard Grow XL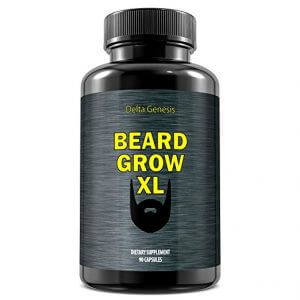 Beard Grow XL beard growth vitamin pills are proven to make a difference in your facial hair. While they won't magically turn a few baby hairs into a full-grown man-mane, they will help to thicken the beard you already have. If you're patient, you should start to see noticeable growth within 3 weeks of use. Completely hormone free, this multivitamin is essentially just that–a dietary supplement. However, it does contain gelatin, so it's not suitable for vegetarians.
Packed with biotin, which is an essential building block for hair, plus zinc for healthy pores and follicles and then folic acid which boosts the blood red cell count to provide even more strength to your hair, you're getting a lot in a little capsule.
There is also saw palmetto which is the natural version of minoxidil. It helps block DHT, a hormone that may be responsible for your beard not growing to the best of its ability.
At over fifty bucks for one bottle, Beard Grow XL is pretty expensive especially for a 30-day supply. However, if you economize your use , you can make it last far longer. The instructions on the bottle recommend 3 vitamins per day. However, beard vitamins aren't necessarily more effective once you pass a certain point. 100% of your daily biotin needs is more than sufficient. Taking 200% won't help you any more  than 100% will. You can easily take one vitamin per day. You'll still see the same effects, and the bottle will last three times as long.
In fact, it can even be dangerous to take certain beard vitamins in excess. Vitamins A, D, E, and K are fat-soluble vitamins that can accumulate in your body. Water-soluble vitamins are excreted through urine, and so consuming them at higher-than-normal rates doesn't pose a significant problem. At abnormally high levels, fat soluble vitamins can become toxic and might even prove harmful to vital internal organs.
Even when not dangerous, excess Vitamin A can actually lead to hair loss. It pays to get checked out before you take any kind of supplement as you may find that your hair loss is from a lack of, or excess, vitamins or hormones.
Iron Beard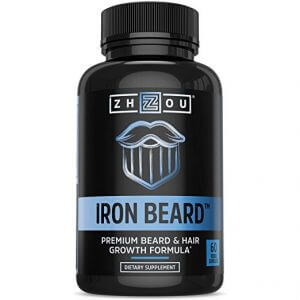 You've heard it all–eat your vegetables, get enough protein, and add some quinoa in there as often as you can…well, sometimes even a healthy diet isn't sufficient. Vegetables and lean protein are great for the hair, but unless you sit and calculate your mineral intake every day, you still might come up short. Iron Beard can fix that for you.
Iron Beard beard growth vitamin tablets are oral supplements designed to support hair growth. These tablets are heavy in the B-complex vitamins, which have been shown to support metabolic function and boost hair growth, and zinc, a deficiency of which has been linked to hair loss. Besides these classic vitamins though, Iron Beard includes a unique herbal blend designed specially by Zhou Nutrition. The Iron Beard complex includes the following:
Pumpkin Seed Extract: Known as "pepitas" in Spanish, pumpkin seeds may be small, but they are nutritional powerhouses. They are packed with zinc, protein, and iron, vitamins proven to combat hair loss. If nothing else, it will prolong the growth cycle of your hair which should result in a faster growing beard.
Nettle Root Extract: Stinging nettle is a green-leaved plant with small purple flowers native to Europe and North America. The roots have been used to treat enlarged prostates by blocking DHT, a hormone which also happens to be responsible for hair loss in men.
Fo-ti Powder: Fo-ti is a root used in traditional Chinese medicine to reverse the graying of hair and even help regrow it. It's not common in the West, and you probably won't find much nutritional information on it from the USDA, but  it's well-known as a longevity tonic in the Orient.
Saw Palmetto: Saw palmetto is a plant with small berries originally used by Native Americans to treat a variety of ailments including an enlarged prostate and decreased sex drive. The extract helps to block 5-alpha-reductase, an enzyme that converts testosterone to DHT.
Not only will Iron Beard help your beard grow faster and thicker, it will also make it softer and smoother. Essentially, it will be perfectly strokable. Who can argue with that?
Virilitas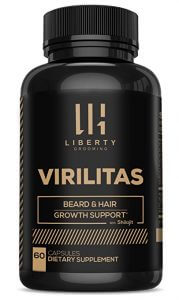 Virilitas beard growth vitamins stand for all that is intensely masculine, like beer, football, cigars, and, of course beards. You'll be faster than a speeding bullet, more powerful than a locomotive, able to leap tall buildings in a …okay, it won't turn you into Superman, but you just might be able to claim your virility that much more assertively.
Luckily, chest hair is coming back into fashion because you may actually find yourself with some body hair growing in as well as your beard.
That is a great sign that this beard vitamin does actually work.
It's a who's who of hair growth vitamins that all combined will add up to some serious hair growth boost. From stimulating the roots of your hair follicles, to improving blood flow to the roots, your beard should see some positive results after a couple of months.
The secret ingredient in Virilitas beard vitamins is natural shilajit. Shilajit is a resin found in the Altai Mountains sometimes referred to as rock sweat because it oozes out when the sun appears. A long-held secret of Ayurvedic medicine, natural shilajit has been used in India for thousands of years as an anti-aging tonic because it's rich in fulvic acid and contains nearly every mineral on the periodic table. Heavy in sulfur, iron, magnesium, and zinc, Shilajit is a common ingredient in beard treatments.
Aberlite Beard Growth Vitamins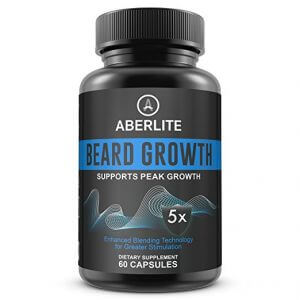 Aberlite Beard Vitamins might not work overnight, but they are one of the most reliable and fast-acting hair growth supplements available on the market. Better yet, it doesn't require any sticky creams or balms. A few simple pills is all. Plus, the pills are small and easy to swallow and completely FDA approved.
One month will give you a 60-capsule supply, which, according to the directions, should last you a month at two pills a day. In these beard vitamins, you'll find vitamins A, C, D, and E, the B-complex vitamins, zinc, iron, potassium, magnesium, and calcium carbonate along with a special proprietary blend. Not only will these vitamins support healthy beard growth, but they'll also keep your hair, nails, and skin strong and healthy.
I always like to say, treat your beard with supplements for a healthy beard and body and as a bonus you may even see some growth. Whether it makes your beard grow faster or it starts coming in fuller and thicker, the real benefit is that your hair in general will be healthier and that is something to be excited about.
Pair these vitamins with a healthy dose of protein and plenty of water, and you've got a recipe for success.
Do Beard Growth Vitamins Work?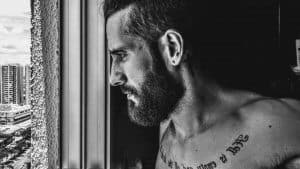 Yes, and no. Beard growth vitamins aren't meant to be prescription treatments. They're just meant to improve your natural hair growth patterns. Hair, like any other body part, requires the right nutrients. As it turns out, most of us aren't even close to hitting our daily nutrient requirements.
In fact, according to the National Health and Nutrition Evaluation Survey of 2007-2010, 94% of Americans were severely lacking in vitamin D, and 39% of Americans lacked vitamin C–two nutrients that are absolutely essential to hair growth. A supplement provides you with the nutrients necessary for healthy hair growth.
That being said, beard vitamins are not topical hair growth treatments like minoxidil foams, for instance. Beard vitamins give your body the fuel it needs to support healthy metabolic function, but vitamins cannot create hair follicles where none exist. Nutrients won't change your genetics either, but they will make a difference in your appearance. The change might be subtle but significant enough that your friends will notice.
No matter what, you should be taking a holistic approach to growing your beard when you use supplements. Don't just pop a pill or two and call it a day.
Use these supplements in conjunction with other treatments to hedge your bets.
Add a beard oil or beard balm that has essential oils that will treat your skin and hair to promote growth.
Use a beard brush or comb to get your beard growing better and faster.
Improve your diet and exercise routine. Increased blood flow from exercise will boost the nutrients getting to your hair from the supplements.
If you come at your treatment from different angles at the same time, you should see some positive results.
Vitamins for Beard Side Effects
Actually, these beard vitamins, unlike prescription treatments, don't usually have side effects. As long as they're just vitamins, they're totally safe and completely natural. You won't have to worry about hair growing from weird places like, for instance, out of your ears or nose, like you might with an oral minoxidil treatment (a.k.a. Rogaine). Plus, you can always check to see whether the vitamins are F.D.A. approved.
You'll want to stay away from additives and preservatives though. If it isn't a vitamin, mineral, or plant extract–i.e. if you can't pronounce the name–it's probably not a good sign. Sometimes a few chemicals are necessary to bind the ingredients, but you'll want to avoid them as much as you possibly can.
Final Thoughts on Vitamins for Beard
So, have you ever done a beard vitamins before and after comparison?
We want to hear your opinions.
How long do you have to wait before you notice a real difference? How much hair can you expect to grow? Is a healthy diet sufficient?
Leave a comment in the box below to let us know what you think about these beard vitamins. We always read your comments, and we love responding to questions, so drop us a line!