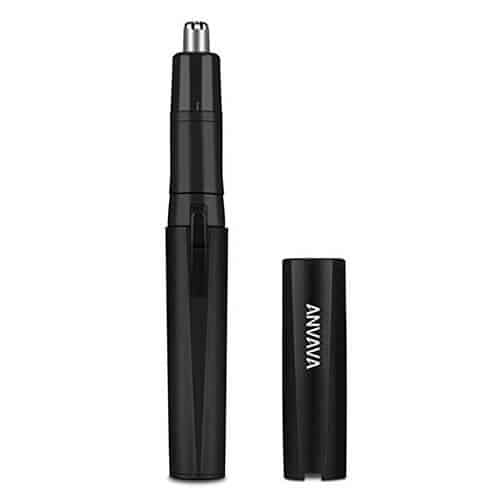 How powerful does the best nose hair trimmer have to be?
And, just how small do they need to be?
For anybody that needs both of those features and more, there is the Anvava nose hair trimmer that is tiny, roughly the size of a pen, and powerful. Its motor operates at 10,000rpm.
Besides those two things, there is a lot to like about these.
Are they the best nose hair trimmers out there? Certainly one of the best, in my opinion. Even considering that they don't have a household name at this point..
If you have read my other best nose hair trimmer reviews then you may have already heard of them.
If not, then read on for the full Anvava nose hair trimmer review to learn more about these nose hair clippers to see if they are right for you.
Some Things I Like About the Anvava
Slim Profile – I already mentioned that these are slim, but why is that a good feature you ask? Well, when a grooming tool takes up little space, it is more likely to find a place in your Dopp bag or carry on when traveling. Which means it gets used more.  

Also, it is easier to maneuver. You need to be able to get it into the nooks and crannies, sometimes without seeing what you are doing. This helps.

Protective Cap – Whether your trimmers are sitting on a bathroom shelf, inside the medicine cabinet or in your Dopp bag, you want that tip staying clean. Imagine the tip collecting dust and other nastiness from your bathroom. And then you want to put that in your nostrils?No thanks. At least the cap will keep your clean trimmer tip clean. You are cleaning it right?

Stylish – Admittedly, this is probably not high on the list of must haves for the best nose hair trimmer. I mean it isn't a glamorous piece of kit. But, I really like the fact that it looks like a pen. If it is left out on your bathroom sink when you have guests, it won't look out of place there.

Sneeze Less – If you have a sensitive nose that makes you sneeze like crazy when trimming your nose hairs, then you will be pleased to know that this is very gentle against the skin of your nostrils. It doesn't buzz quite as much as some other nose hair trimmers out there.

Quiet – Some trimmers can really buzz way too much. (I'm looking at you Panasonic ER430K!) Which can be a problem if you have a sleeping partner that you don't want to disturb. And, it can be annoying to listen to a lot of noise while you may be trying to listen to some music or something while you trim your nose hairs. The best nose trimmers should be nice and quiet, like this Anvava nose hair trimmer.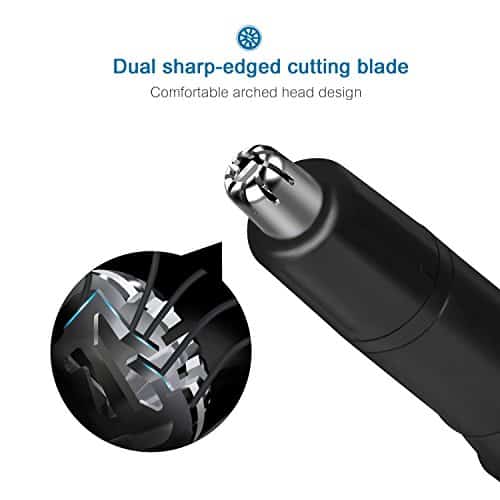 How Do the Anvava Nose Hair Clippers Work?
The Anvava nose hair trimmer is a rotary style trimmer. In other words, it has dual blades that rotate around in a safety cone. This system is different than other foil guard trimmers that rock back and forth quickly similar to a hair clipper.
At 10,000 rpm, it is incredibly fast and can trim nose hairs in seconds. In less than a minute you can use the nose trimmer to buzz down those pesky, wiry hairs no matter how thick they are. And it cuts extremely close, too. The nose trimmer gets as close to the skin as possible while still leaving enough stubble to let the nose hair retain its actual function.
Which is to filter out any particles from the air before you breathe it in.
In fact, you shouldn't use any nose trimmers too far up your nose so that way you can leave enough of the long ones for that purpose. Those hairs way up in the nose can't be seen anyway.
For more tips on nose hair removal, check out our guide on how to safely trim your nose hair.
How to Use the Nose Trimmers
The first thing you need to do is to charge the Anvava nose hair trimmer before you use it.
Hook it up to a USB port either on your computer or you can use an adapter that plugs it into a wall outlet.
It takes about three hours for the nose hair trimmer to reach a full charge. After that you get forty minutes of run time. Which if you use it once a week for 5 minutes, then you will get eight weeks before it needs to recharge.
As I stated already, these nose hair clippers work quickly and in most cases, you only need a minute to fully trim your nose hairs.
Now you want to simply turn it on and stick the safety cone into your nostril. Move it around slowly and let it do its work. Since there is a protective cover with vents on the top of the head, it allows the nose hair in but prevents you from nicking yourself.
Use a mirror to take a look and make sure you got all the hairs and you're done.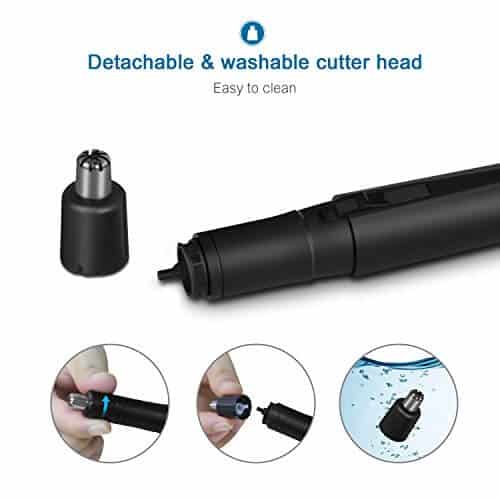 How to Clean the Anvava Nose Hair Clippers
Keeping your equipment clean is important for any tool. It will last longer and work much better if you make sure it isn't getting gunked up with anything.
The last thing you want to do is to put the tip of a trimmer that still has the remnants of your last nose trimming session. Sorry for the visual, but that's pretty gross!
To clean it off, use the included brush and just wipe away any loose hairs or snotty bits.
If it looks particularly grimy, you can pop off the tip and rinse it under water.
Aside from that, there is nothing to maintain.
What I Don't Like About the Anvava
Let me first say that these are minor quibbles. If you have read other nose hair trimmer reviews then I am sure you've heard the same or similar complaints. None of them are deal breakers, in other words.
Runs Hot – If you can manage to trim your nose hairs in a minute or so, then they will stay a normal temperature. If you end up needing a few minutes, then they tend to heat up a little bit.

Tip Pops Off – I love that the tip can be rinsed under the water to really make sure they get fully washed off. The problem is that it tends to get a bit loose over time if you take it off frequently.

Can Only Be Used Dry – Try to remember that you can't take these trimmers in the shower to get your nose hair groomed. Not a big deal, really, but considering how busy we are these days, it would be nice to do this quickly in the shower and save a few minutes in the morning.
One more thing almost not worth mentioning is the fact that these are marketed also as ear, beard and eyebrow trimmers. Though they can be used to trim ear hair just as well as they trim nose hairs, they really come up short when trimming a beard or eyebrows. They really aren't designed for that.
If you buy these only expecting them to be the best nose trimmer that also does ear hair, then you won't be disappointed.
Is the Anvava the Best Nose Trimmer?
I understand that this is not the sexiest of devices to try to get you excited about.
And, it isn't a brand that has a lot of recognition.
I urge you to give it a try for your nose hair removal needs as it works really well and the price is right.
There aren't a lot of bells and whistles, which I like.
I mean, it's a nose hair trimmer. There isn't much else it should do except for trim your nose hairs really well. Most of those add-ons for other trimmers are there just for attention to get you to buy, but really don't get used.
Instead, this one focuses on power, cutting ability, size, and reliability. That's all it needs to do really.
Not sure which nose hair clippers are right for you?
Drop us a line in the comment section below and we will get you the info you need.
Anvava Nose Hair Trimmers