You've surely heard of Oster's 76 Classic clippers – the brand's most popular model. Everybody loves them, right?
Well, Oster model 10 deserves even more love. Think of it as the Classic 76's little brother that packs the same punch.
That's right: the 10 features the same vintage design while also retaining the powerful motor and quality blades of the 76.
There are some differences too, of course. I'll start with comparing Oster Model 10 vs the Classic 76. After that, I'll expand into the full Model 10 clippers review.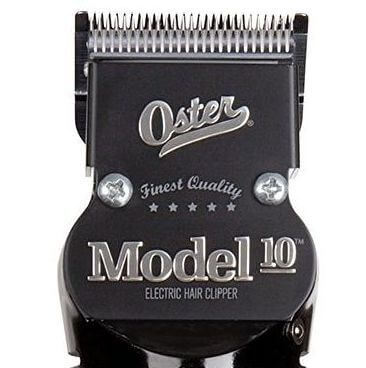 Oster Model 10 vs Classic 76
As I mentioned already, this clipper is a slightly minimized version of the classic 76. It's a representative of Oster's barber-grade line, a cut above the Outlaw and Fast Feeds.
The main difference would be the size. Oster Model 10 is slightly lighter and smaller. You can maneuver with it easier and it won't tire your hands as much as the 76.
If you're worried about motor/blade discrepancies, don't. Both clippers use the same universal speed motor. Their blades are also the same and they both are Oster detachable blade clippers.
In fact, blades across the 10 and the 76 are completely interchangeable. You'll receive #000 and #1 size blades with both products.
Another semi-substantial difference is the cord. The Classic 76 has a 9 feet cord, while the Model 10 clippers come with a 10 feet long cord. Now, for me that's not that big of a deal.
However, some barbers prefer more free range to work with. Paired with the more mobile body of the 10, the cord makes it a better pick if you're also keen on that.
That said, as the video below shows, both can get pretty loud. If you want quiet detachable blade clippers in the same price range, you can go for Andis BGRc. You can read our review here.
Overview of the Oster Model 10 hair clippers
| You'll love it for these | But you won't like these |
| --- | --- |
| 100% professional clipper | |
| | |
| Great haircuts with a single pass | |
| | Still requires some skill |
| Oster 76's smaller & lighter brother | |
| Easy to use for an Oster pro clipper | |
Model 10: a homage to American style & quality
Following in the Oster classic 76 footsteps, Model 10 features vintage looks and screams quality and tradition. One look and you can tell this has been a professional hair clipper favorite for generations of barbers. There's many reasons for that and the first one is this Oster hair cutter's high quality motor.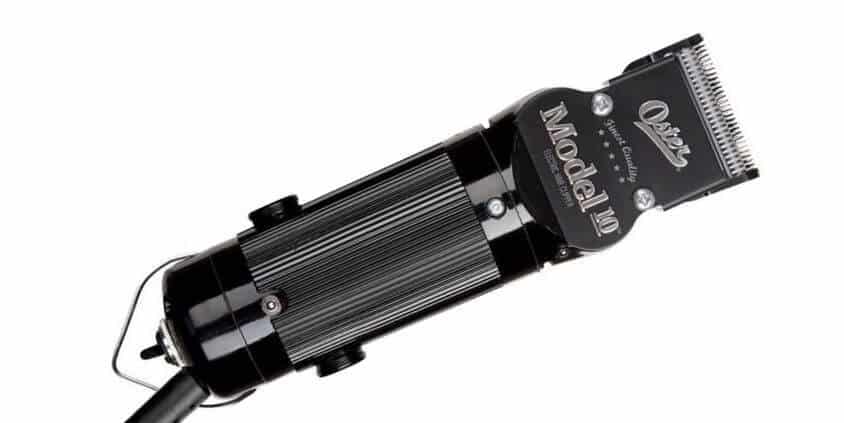 The Oster clippers model 10 feature a single speed universal motor. If that doesn't speak anything to you, we're talking about a spinning rotor that "feeds" the motor so you get less vibration, more power, and as quiet of a operation as possible. The universal motor is way better than usual electromagnetic motor-powered hair cutting machines. It's also Oster hair clippers' trademark and one of the main reasons I love this company.
This powerful motor is shielded by a very durable body. Oster model 10 clippers look tough, because they are tough. The casing here is made of extremely hard plastic. If you've ever thought plastic can be a squishy material, the Oster model 10 will make you think twice.
Oster Model 10 blades: masterful art made of steel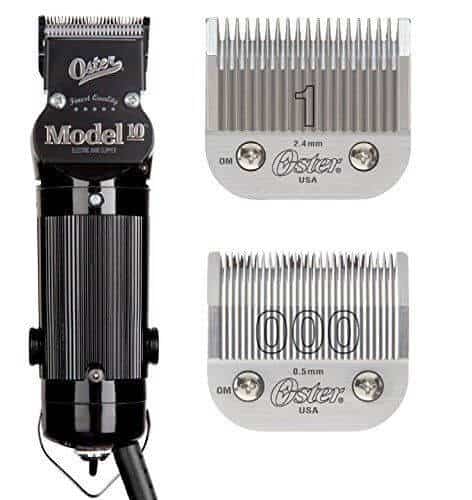 It's no secret Oster clipper blades go through rigorous testing to ensure their sharpness and toughness. The brand loves the cryogenic approach – throwing its models' steel amidst freezing temperatures.
The Oster model 10 blades have had the same fate and come to you thoroughly tested and ready to cut through any type of hair with ease.
Same as the Oster classic 76 clipper, we're looking at detachable blades here. This means that you have no side lever to adjust the cutting length. You can only swap between the #1 sized blade and the #000 (for closer cuts).
The good news is that the Oster model 10 blades are interchangeable with the classic 76 ones.
In case you've decided to swap between the Oster brothers (or plan to do so), you needn't worry about buying new ones.
What I especially love about Oster blades is their persistence.
No matter what type of hair they encounter, they will simply cut through it without any compromise. As a representative of Oster's professional hair clippers, Model 10 also features outstanding haircuts with just a single pass through your locks.
Weaker points to keep in mind
You can't really touch the quality of the Oster model 10 clipper parts. Blades, motor, body…they're out of this world.
However, this cutter also suffers from the fate of its brother. Yes, I'm talking about heat. Most professional hair clippers would get hot to the touch eventually.
Oster Model 10 isn't an exception. It hasn't got the ceramic wonder of hair cutters like Andis BGRc to cool things off a bit.
In other words, you might have some difficulties with longer haircuts. What I really advise you to do is grab a blade cooler. Whether you pick Oster's own blade wash or another brand's, be sure to take care of the Model 10 blades.
Nobody likes hot steel close to their scalp and you can avoid this with very easy maintenance habits.
While lighter than the 76, the 10 still leans on the heavy side. With a break-resistant body, a powerful motor and heavy-duty blades you can't expect a lightweight solution to your hair cutting needs.
People looking for something compact will find electric clippers like Remington's Shortcut Pro a better fit. Just keep in mind they aren't a barber-grade hair cutter.
A few considerations re: the blades here
I gave the same advice in my Oster classic 76 clippers review: detachable blades can be expensive. If you want to play around with your haircuts a lot, you might consider grabbing some plastic combs.
However, the same as its brother, model 10 just doesn't feel the same with plastic slapped onto it.
People searching for a balding clipper might also be disappointed. Blades size #1 and #000 mean you won't nail the slick bald looks. If you get an additional Oster #00000 blade, though, you'll get the quality bald cut you wanted.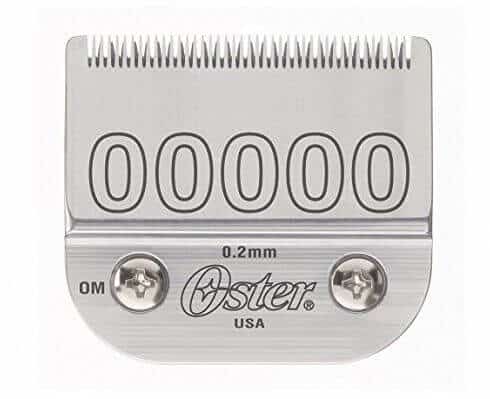 Or you can search for a separate blade that cuts closer. In case you decide to change the blades, be aware that it might get a bit tricky (though not too much).
A personal tip some barbers give is to let the hair cutter run and change the blades in the mean time. It will yield you more accurate results – you don't want to have your Oster model 10 blades get misaligned, right?
Final verdict
My personal preference is the Oster Classic 76. The truth is, though, that the Model 10 is a more approachable version of the purely professional Oster king.
It's also a bit more pro than the Fast Feed which lies in the middle between casual and barber-grade. Oster Model 10 clippers are your gateway to Oster's finest.
You'll get intense action, impeccable cuts and a manly vintage design in the spirit of America's best.
Sure, this fellow leans on the expensive side just like the 76. However, you pay for quality. And in the case of Oster hair clippers quality, you know you're making an investment for at least few years ahead. It's worth it.
Good points
100% professional Oster hair clippers
Powerful universal speed motor
Haircuts with a single pass
Ultra durable body
Easier to use than Oster 76
76's lighter & smaller brother
Bad points
Runs hot
Still a bit heavy
Still requires some skill
Sometimes noisy